One essential piece of furniture that often takes center stage in a baby's room is the dresser. Today's post is all about the best dresser for a nursery.
Oh and in case you missed my announcement on Instagram… I'm pregnant with a sweet little baby girl and due in February 2024. We can't wait to meet our sweet Lorelai!
The nursery is a sanctuary for both parents and newborns alike. It's a place where memories are made, and countless hours are spent tending to your baby's needs.
The perfect dresser not only adds to the aesthetics of the room but also serves as a functional storage solution for baby essentials and tons of cute baby clothes.
Choosing the right one can be a daunting task, but with the right guidance, you can ensure that the dresser in your nursery meets all your needs and provides plenty of storage space.
---
---
Affiliate links are used in this post. Thanks for your support of my small business.
Baby Nursery Dressers: Before You Buy
Keeping Safety Top of Mind
Safety should always be the top priority when selecting furniture for a baby's nursery. When choosing a dresser, consider the following safety features:
Stability: Ensure the nursery dresser is sturdy and stable to prevent tipping. Look for dressers with wider bases and anti-tip mechanisms.
Hardware: Check that the dresser comes with secure drawer pulls and knobs that can't easily be pulled off or become choking hazards.
Drawer Locks: Opt for dressers with drawers that have built-in safety locks to prevent curious little hands from opening them.
Non-Toxic Materials: Make sure the dresser is made from non-toxic, child-safe materials and finishes. Look for certifications like GREENGUARD or JPMA (Juvenile Products Manufacturers Association) to ensure the dresser meets safety standards.
Size and Space
Before you start shopping for a dresser, measure the nursery space available. Consider how much room you can allocate for the dresser without crowding the nursery and if you need a double dresser or single, large drawers.
Storage capacity is critical if your baby nursery is in a small space or room.
The size of the dresser should complement the room's dimensions and leave enough space for other essential items like the crib, changing table, and play area.
Functional Design
The functionality of the dresser is essential. Here are some aspects to consider:
Changing Table Combo: Some dressers come with a removable changing tray or changing table on top, providing a convenient multi-purpose solution. If space is limited, this can be a practical choice.
Drawers vs. Shelves: Decide whether you prefer a dresser with drawers, shelves, or a combination of both. Drawers offer concealed storage for clothing and other baby items, while shelves provide open storage for easy access.
Changing Pad Compatibility: If you opt for a separate changing table, ensure the dresser's top is compatible with a changing pad for seamless diaper changes.
Number of Drawers: Think about how many drawers you'll need to store baby clothing, diapers, and other essentials. A dresser with a mix of smaller and larger drawers (like my top pick, which can be seen later in this post) can be versatile.
Quality and Durability
Investing in a high-quality dresser is a wise decision, especially if you plan to use it for multiple children or pass it down as an heirloom. Look for dressers made from solid wood or sturdy materials. Check the construction and joinery to ensure it's built to last. It's worth spending a bit more for a dresser that will withstand years of use.
Aesthetic Appeal
The nursery dresser should blend seamlessly with the room's décor and create a soothing atmosphere. Consider the following design elements:
Color: Choose a dresser color that complements the nursery's color scheme. Neutral tones like white, gray, or natural wood are popular choices.
Style: Match the dresser style to the overall theme of the nursery. Whether you prefer modern, traditional, rustic, or eclectic, there's a dresser style to suit your taste.
Hardware and Details: Pay attention to the dresser's hardware and decorative details. These small elements can add character to the nursery.
Longevity and Adaptability
Think beyond the newborn stage when selecting a dresser. Will the dresser still be suitable as your child grows? A timeless design and a neutral color palette can make the dresser adaptable for years to come.
Budget Considerations
Set a budget for your nursery dresser and stick to it. Keep in mind that while there are budget-friendly options available, spending a bit more on a quality dresser can be a worthwhile investment and a great choice, as it can last through multiple children.
Brand Reputation and Reviews
Research the brands you're considering and read customer reviews. A reputable brand with positive reviews is more likely to provide a quality product and excellent customer service.
Eco-Friendly Options
If sustainability is important to you, explore eco-friendly dresser options. Look for dressers made from sustainable materials or those that are Greenguard Certified, meaning they have low emissions of volatile organic compounds (VOCs).
Storage Solutions
Consider the storage needs of your nursery. Some dressers come with built-in organizers or dividers in the drawers, making it easier to keep clothing and accessories neat and organized.
Accessibility and Ease of Use
Test the drawers and cabinet doors to ensure they open and close smoothly. You should be able to access baby essentials without any difficulty, especially during late-night diaper changes.
Maintenance and Cleaning
Babies can be messy, so choose a dresser with finishes that are easy to clean and maintain. Avoid materials that are prone to staining or require special cleaning products.
Assembly
Check whether the dresser comes fully assembled or requires assembly. Some parents prefer ready-made furniture to save time and effort, while others enjoy the DIY aspect of putting furniture together.
Delivery and Returns
Review the store's delivery options, return policies, and warranties. Ensure that you have a hassle-free experience in case the dresser arrives damaged or doesn't meet your expectations.
Selecting the perfect dresser for your nursery involves careful consideration of safety, functionality, aesthetics, and budget. Take your time to research and choose a dresser that not only fits your immediate needs but also grows with your child.
By prioritizing safety and quality while aligning with your style preferences, you'll create a nursery that's not only beautiful but also functional and safe for your little one.
My Fave Dresser for a Baby Nursery
I instantly fell in love with the Madeline dresser, which is greenguard gold certified, by Delta Children. It's a white dresser in a classic design with spacious drawers and an included changing station (changing topper) that is removable.
I knew this was the best baby dresser for us and provides plenty of space for our Lorelai's cute clothes and diaper-changing essentials.
​The top drawers are will be perfect to hold extra diapers, plus all those random small items that come with having a baby. The other two drawers have plenty of room to hold fabric bins that will keep her clothes organized by size.
Here's a peek of it in our unfinished nursery (still undecided on leaving the paint color as is)…
Overall, it's a beautiful dresser that we know will last her for years to come and hence why it's one of my top picks.
In this guide, we'll explore a variety of stylish dresser options to help you elevate the charm of your nursery.
Best Nursery Dressers for Every Budget & Style
Modern Minimalism
For new parents who appreciate baby furniture with clean lines and a clutter-free look, modern minimalism is an excellent choice. Modern dressers typically feature sleek designs with minimalist hardware and understated colors. Consider dressers with the following characteristics:
Sleek Lines: Look for dressers with a simple design, straight lines and minimal ornamentation. These designs create a sense of simplicity and sophistication.
Neutral Tones: Choose dressers in neutral colors like white, gray, or black to maintain a timeless and elegant appearance. These colors can easily blend with any nursery decor.
Hidden Hardware: Modern dressers often have concealed drawer pulls or handles, giving them a seamless and uncluttered look.
High-Gloss Finish: Some modern dressers feature a high-gloss finish, which adds a touch of luxury and reflects light beautifully.
Metal Accents: Consider dressers with metal accents or legs for an industrial twist on modern minimalism.
Vintage Charm
Vintage-inspired nurseries have a timeless appeal, and a dresser with vintage charm can be the perfect addition to a special nursery for a baby girl. Here are some elements to look for in vintage-style dressers:
Ornate Details: Seek dressers with ornate carvings, molding, or decorative hardware. These details add a touch of vintage elegance.
Distressed Finish: Opt for dressers with a distressed or weathered finish to create a well-loved, vintage look.
Antique Colors: Choose dressers in antique-inspired colors like pastel blues, soft pinks, or vintage whites.
Curved Silhouettes: Vintage dressers often feature curved or serpentine fronts, adding a sense of romanticism to the nursery.
Bun Feet: Look for dressers with bun feet, a classic feature of vintage furniture.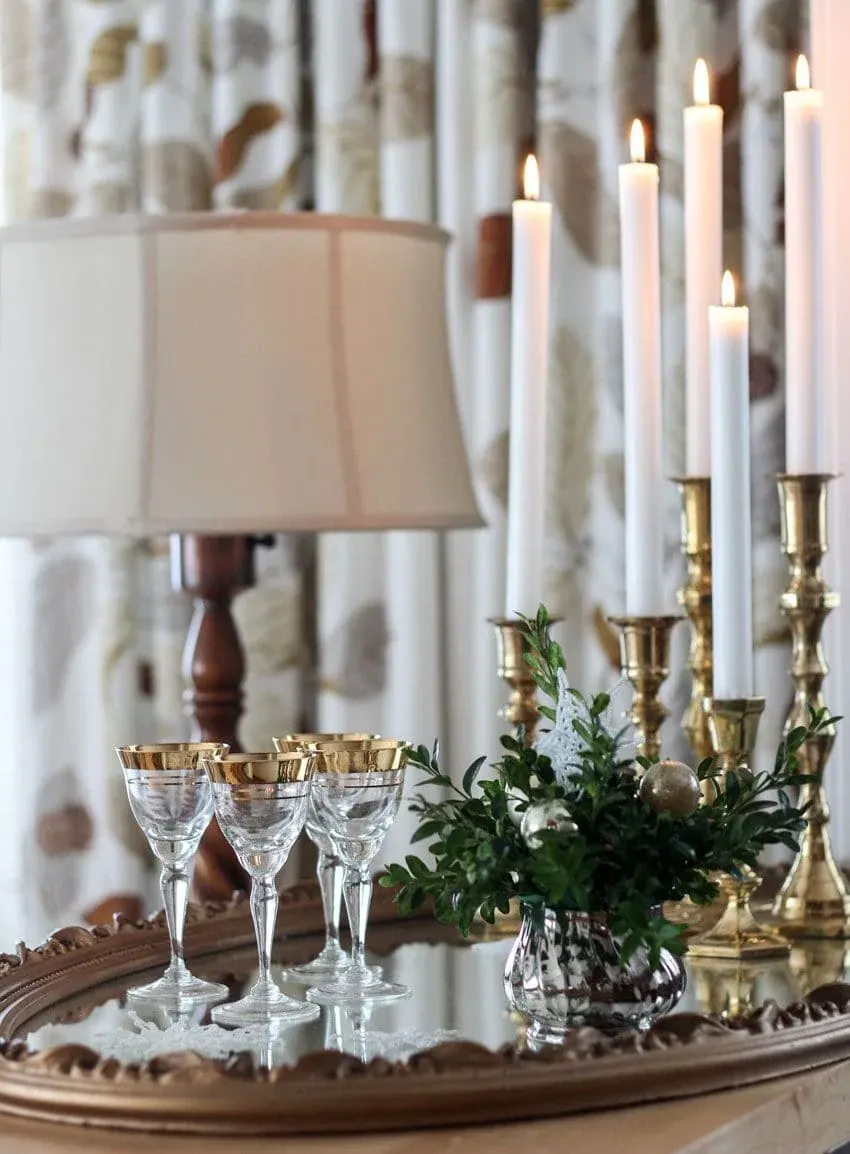 29+ Vintage French Decorating Ideas
Check out this post that features creative ideas for secondhand, vintage items to look for to achieve the french aesthetic.
Bohemian Eclecticism
A bohemian-style nursery embraces a mix of colors, textures, and patterns. When selecting a dresser for this style, think eclectic and unconventional:
Bold Colors: Consider dressers in vibrant, unexpected colors like turquoise, coral, or mustard yellow to infuse personality into the nursery.
Patterned Drawer Fronts: Some dressers feature patterned or mosaic-style drawer fronts, adding an artistic touch.
Mismatched Hardware: Embrace the eclectic vibe by mixing and matching drawer pulls or handles of different shapes, sizes, and materials.
Reclaimed Wood: Look for dressers crafted from reclaimed or salvaged wood for a rustic, bohemian feel.
Global Influences: Incorporate dressers with global influences, such as Moroccan-inspired patterns or Indian craftsmanship.
Mid-Century Modern
Mid-century modern design has experienced a resurgence in popularity, and its timeless appeal makes it an ideal choice for a stylish nursery dresser. Key features of mid-century modern dressers include:
Tapered Legs: Look for dressers with tapered wooden legs, a hallmark of mid-century design.
Simple Geometric Shapes: Mid-century dressers often feature clean lines, geometric shapes, and minimalistic hardware.
Natural Wood Finishes: Opt for dressers with natural wood finishes like walnut or teak, which exude warmth and sophistication.
Vibrant Colors: Mid-century modern also welcomes playful pops of color, so consider dressers with colorful drawer fronts.
Built-in Changing Tables: Some mid-century dressers come with built-in changing tables, adding functionality to style.
Classic Elegance
Classic elegance never goes out of style, and it can create a timeless nursery design. Dressers that exude classic elegance have the following attributes:
Rich Woodgrain: Look for dressers made from high-quality woods like cherry, mahogany, or oak, showcasing their natural woodgrain.
Carved Details: Classic dressers often feature intricate carvings, beveled edges, and raised panels, adding a touch of opulence.
Antique Brass Hardware: Opt for dressers with antique brass or gold-tone hardware for a luxurious finish.
Deep, Rich Colors: Consider dressers in deep, rich colors like espresso, deep navy, or rich burgundy for a regal appearance.
Cabriole Legs: Some classic dressers feature cabriole legs, which impart an elegant, curvaceous look.
Contemporary Chic
Contemporary style is all about staying current with the latest design trends. Dressers in this category are likely to incorporate the following elements:
High-Gloss Finishes: Contemporary dressers often feature high-gloss lacquer finishes, creating a sleek and polished appearance.
Metallic Accents: Look for dressers with metallic accents or hardware, such as chrome, stainless steel, or brushed nickel.
Geometric Designs: Some contemporary dressers boast unique geometric designs or asymmetrical elements.
Acrylic or Glass Panels: For a truly modern look, consider dressers with acrylic or glass drawer fronts, adding a touch of transparency.
Artistic Flair: Contemporary chic dressers may include artistic or abstract motifs, showcasing individuality.
Where to Find Nursery Furniture
Baby Specialty Stores
Baby specialty stores offer a wide range of baby furniture and accessories, often curated specifically for new parents. Some popular options include:
Pottery Barn Kids:
Known for its high-quality and stylish furniture, Pottery Barn Kids offers a beautiful selection of cribs, changing tables, and nursery décor. Their furniture is designed to grow with your child, making it a long-term investment.
Crate & Kids (formerly Land of Nod):
Crate & Kids specializes in modern and functional baby furniture. They offer a range of cribs, dressers, and storage solutions designed to complement contemporary nursery aesthetics.
Restoration Hardware Baby & Child:
If you're looking for luxury baby furniture (the above dresser is $3,500+), Restoration Hardware Baby & Child is a top choice. They feature elegant cribs, dressers, and nursery accessories made from premium materials.
If money were no object, I'd definitely would have splurged on the dresser above, but I am more than happy with the one we did land on.
Large Retail Chains
Several large retail chains offer baby furniture alongside a vast array of other products. These stores are accessible in various locations, providing convenience for many shoppers:
IKEA: Known for its budget-friendly yet stylish furniture, IKEA offers a range of cribs, changing tables, and storage solutions for nurseries. Their minimalist designs are perfect for modern nursery themes.
Target:
Target is a popular choice for budget-conscious parents. They offer a diverse selection of cribs, changing tables, and nursery décor in various styles to suit your preferences.
Walmart: Walmart provides affordable options for baby furniture and accessories. You can find cribs, changing tables, and other nursery essentials both in-store and online.
Online Retailers
Online shopping offers a convenient way to browse and purchase baby furniture from the comfort of your home. Several online retailers specialize in baby gear and nursery furniture:
Amazon: Amazon is a go-to destination for a vast selection of baby furniture, ranging from budget-friendly options to high-end brands. Reading customer reviews and checking ratings can help you make informed choices.
Wayfair: Wayfair boasts an extensive range of baby furniture, including cribs, dressers, and gliders. They often have sales and discounts, making it a great option for those on a budget.
Overstock: Overstock, which is now Bed Bath & Beyond, offers discounted baby furniture and décor, with a focus on affordable yet stylish pieces. They frequently have sales and clearance events.
Manufacturer's Websites: If you have a specific brand or manufacturer in mind, consider visiting their official website. Many reputable baby furniture brands sell their products directly to consumers online.
This approach ensures you're getting genuine products and may provide access to exclusive collections or discounts if you sign up for email lists.
Boutique Shops
For a unique and personalized shopping experience, consider exploring boutique shops that specialize in baby furniture:
Local Boutiques: Many cities have boutique baby stores that carry handpicked, high-quality furniture and accessories. Shopping at these boutiques often means supporting local businesses and getting personalized service.
Etsy: Etsy is an excellent platform for finding handmade and custom baby furniture. You can work directly with artisans to create personalized pieces that match your nursery's theme.
Online Boutiques: There are several online boutiques (one of my faves is Maisonette) that curate a collection of unique and stylish baby furniture from independent designers. These boutiques often feature distinctive, artisanal pieces.
Secondhand and Consignment Stores
Budget-conscious parents can find great deals on gently used baby furniture at secondhand and consignment stores. Make sure to inspect items carefully for safety and cleanliness.
If possible, try to get the exact style/model number to do research on any product recalls when buying secondhand or used items. And I highly recommend you buy items that are still assembled… one time in college I got scammed when buying something unassembled and pieces were missing, etc.
Craigslist and Facebook Marketplace: These online platforms often have listings for pre-owned baby furniture at affordable prices. Always meet in a safe location and inspect items in person.
Thrift Stores and Consignment Shops: Local thrift stores and consignment shops may have a selection of secondhand baby furniture. It's a cost-effective way to furnish your nursery sustainably.
Garage Sales: You might stumble upon fantastic deals on baby furniture at neighborhood garage sales. Be prepared to haggle for the best prices.
Custom Furniture Makers
For those seeking truly unique and custom nursery furniture, consider working with local or online custom furniture makers. They can create one-of-a-kind pieces tailored to your specifications, ensuring your nursery furniture is both stylish and functional.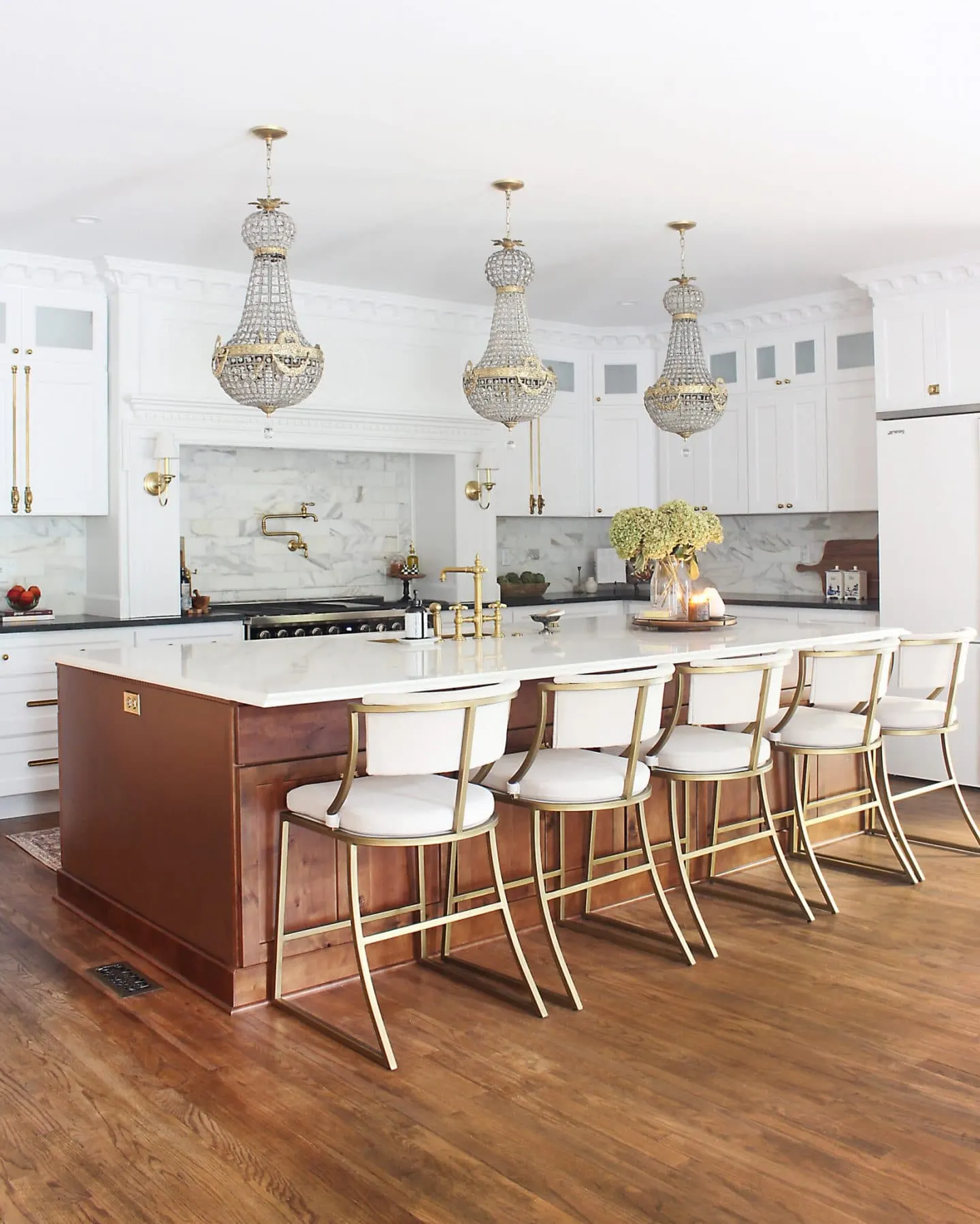 Need Kitchen Island Centerpiece Ideas?
This post features over 40 kitchen island centerpiece ideas for any holiday, season or decor style.
The Best Baby Registries
If you're expecting a baby shower, consider creating a baby registry at a store that offers a wide selection of baby furniture. This allows friends and family to contribute to furnishing your nursery. Popular registry options include:
Amazon Baby Registry: Amazon offers a comprehensive baby registry program that includes a wide range of baby furniture and accessories.
Plus, they offer a completion discount, easy returns, and Prime shipping on most items.
Target Baby Registry: Target's baby registry allows you to add baby furniture, giving your loved ones the opportunity to purchase essential items for your nursery.
You can also snag an awesome registry gift bag (in-store only) filled with up to $100 in freebies and coupons for your little bundle of joy. Target also offers a completion discount that will come in handy AND a year's worth of exclusive Target Circle baby deals.
Pin for Later!