Now onto the finds I am really, really proud of. :o)I have these 2 images saved onto my computer that really inspire and drive my vision for my office. Here they are: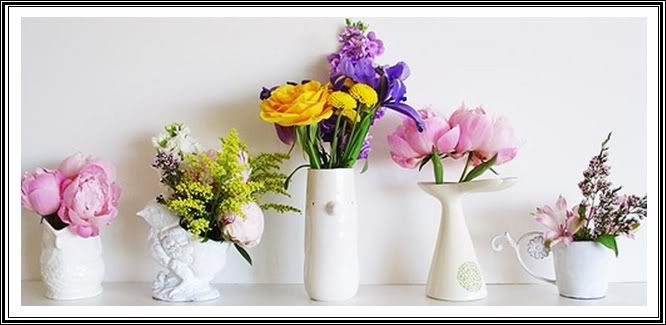 I love the all white vases and the punch of colors in the flowers.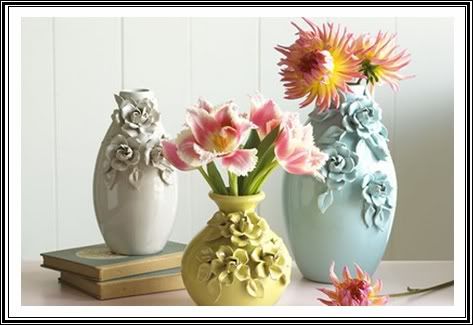 I love the flowers ON the vases. Looks homey, chic, shabby, and cute all at the same time.So, here's what I found that to me, coincides with the above pictures: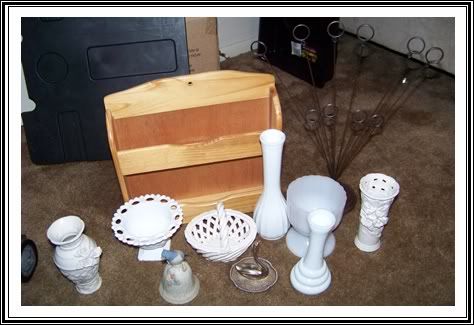 The letter holder in the background was $2 at Goodwill, and I think I will hang this on the door to my office. It's going to get a severe makeover though, trust me. The various vases, etc. were all $0.25-$1.00 each at Goodwill/Dollar Tree. And if you look in the background in the right side, you'll see a giant clippy picture holder thingy. That'll be made over as well, and it'll be filled with my lovely wedding pictures.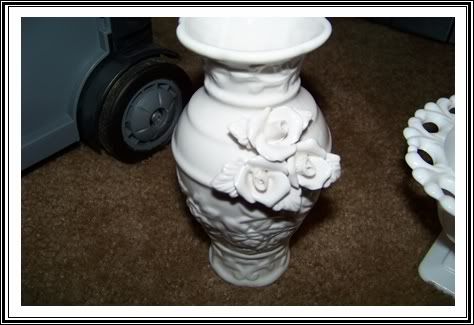 This vase was $1 at Dollar Tree. They have similar versions at Target for $9.99+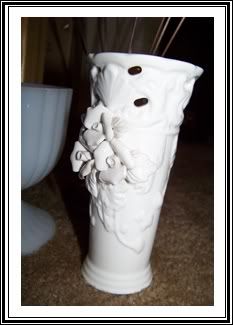 Another Dollar Tree find
Daniel thought this duck was "freakin' ugly", but I see potential in this duck. Wait and see, that's all I have to say. This little guy was only 25-cents!
Usually, I find bird stuff ugly, but again, I have a plan for this bell. 49-cents at Goodwill.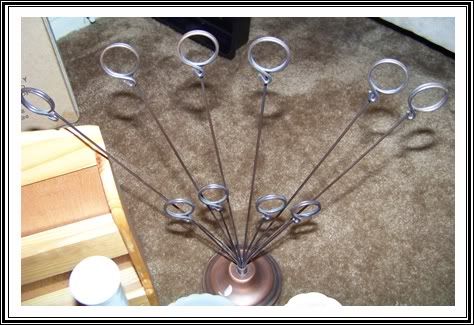 Picture holder I mentioned- $2.00 at Goodwill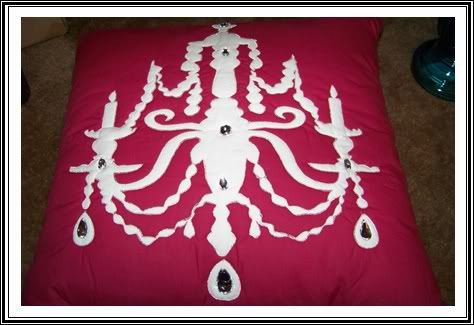 Chandelier pillow from Target- $14.99
12×12 inch cork tiles from Wal-Mart- $5.94 for the pack of 4. I will use spray adhesive to cover the cork tiles with some scrapbook paper or maybe fabric.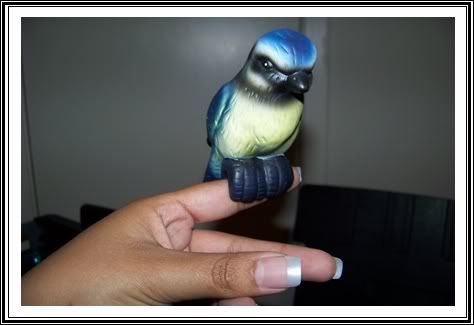 A bird that will be perched on something in my office. He's cute and has potential. Stolen from my mom with her permission. 😛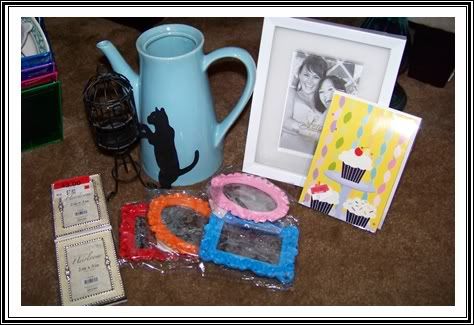 Pretty blue watering can/vase is from Goodwill and cost $2.50. Girls Night Out frame (white) is from Ross for $3.99. Cupcake card was found at Wal-Mart for 10-cents. White frames were found at Wal-Mart on clearance for $3.00 and finally, the little colorful frames I bought at Michaels for 75-cents each. The cat trying to get into the birdcage thing is possibly my favorite find because it's just kind of weird and pretty. $1.00 at GoodwillUp next…part three!