Well, I started this blog as a way to chronicle my adventures in turning my home office/2nd bedroom from wedding central to chic/damask/colorful office. Then my wedding got nearer and then I got married and then I honeymooned…so now I am back in full force and eager to share with you all my fabulous finds. This is going to be a long post so get some wine, coffee, soda, or water and get ready to ooh and aah over all my crap. Actually, it is a really long post, so I am going to break it up into 3 posts. This is post one!YAY!I'll do the kind of boring stuff in this post.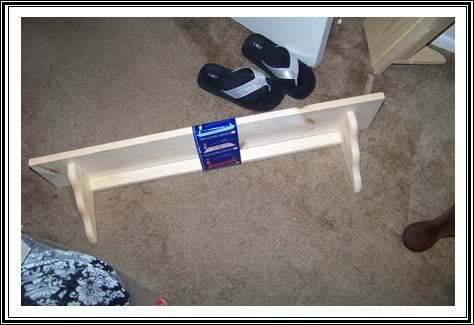 I bought 2 of these shelves at Hobby Lobby for about $6 each. I plan to paint them black and put one on each side of my window.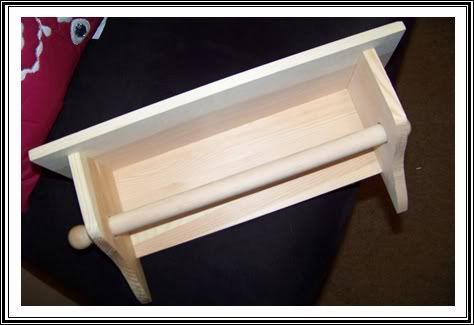 I also bought this little shelf, and I intended to use it for my office at first, but I think I may use this in the bathroom instead. It'll probably be painted white.$4 at Hobby Lobby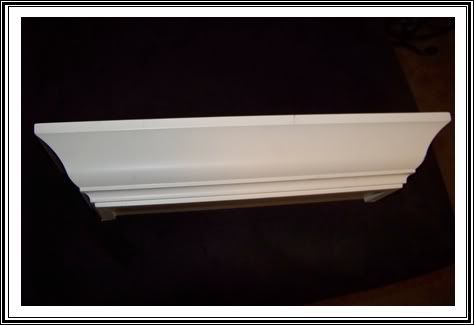 I LOVE this shelf. It is really nice, sturdy, and it is in great condition. I found this at a Goodwill store in San Antonio for $3. I probably won't use it in it's normal type of use though…you'll have to wait and see how I use this shelf. ;o)
Ok, also not for my office, but as I was shopping in my closet, I found this cute Eiffel Tower oil thingy and 4 napkin rings. I am going to do a fabulous dinner place setting with this stuff.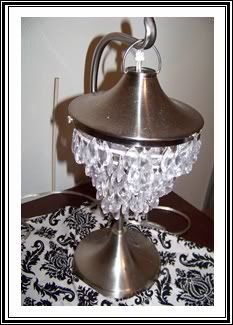 Another item I found while shopping in my closet is this chandelier inspired lamp that I bought at Target about 5 years ago. I may or may not use it in my office because of the following…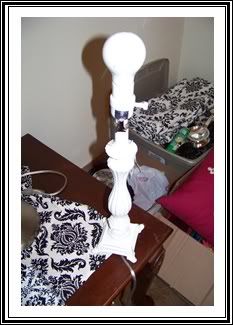 I have been eyeing this Shabby Chic lamp base from Target for awhile. It's $24.99 in stores, but I got it for only $7 at the Goodwill in Beeville because it has a slight crack in the bottom part. Easy peasy to fix that up, and I saved about $17!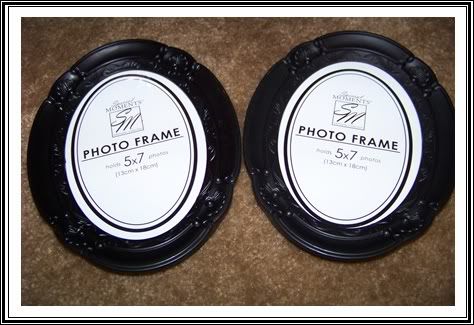 2 frames that I was supposed to use at my wedding, but the stands on the back broke off. I can always hang them on the wall though, and that's what I shall do.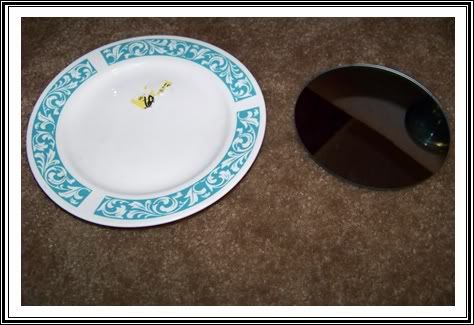 I've blogged about this plate before, and the mirror that will go in the center is from Dollar Tree.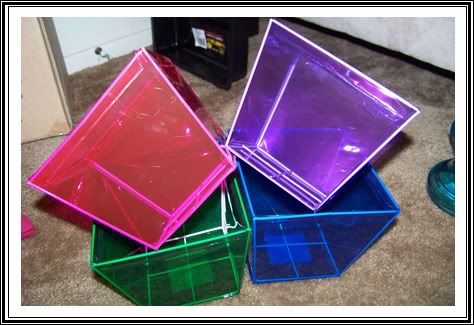 Plastic storage bins from Dollar Tree.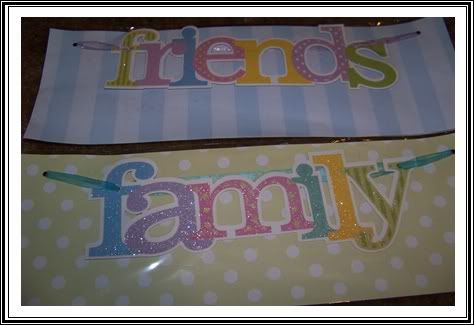 Colorful signs I found at the Target $1 bins a long time ago. They're bright and sparkly and tacky. Love!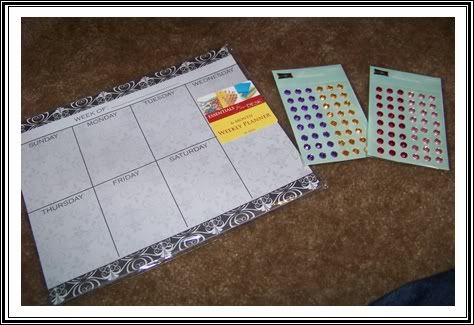 Damask-like weekly calendar (magnetic) found at the Wal-Mart $1 bins along with some bright colored sticky rhinestones from the Michael's $1 bins. Can you all tell I like $1 bins? They're a great place to find cheap decor, embellishments, and ideas.
And finally, one day I was out at Barnes & Noble with my friend Leslie, when I saw this tiffany blue box crying out for me. I walked over to it, and immediately we fell in love. What is inside the box, you ask?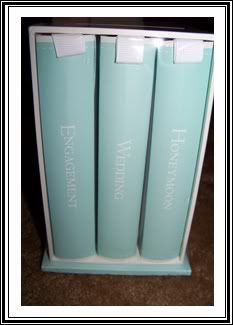 3 photo albums: Engagement, Wedding, and Honeymoon! Perfect. I am planning on creating a My Publisher album, but at $5.00 this set was too cute to pass up. Up next…part two!