If you follow me on Instagram, you know I am always sharing vintage french decorating ideas for my non-existent Parisian home. I have so much french love to share!
I love seeing a french vintage treasures amidst amongst modern or contemporary furnishings.
Below is a vintage french settee I snagged on Facebook Marketplace alongside blush curtains from Amazon, a side table from World Market and a foot stool from HomeGoods.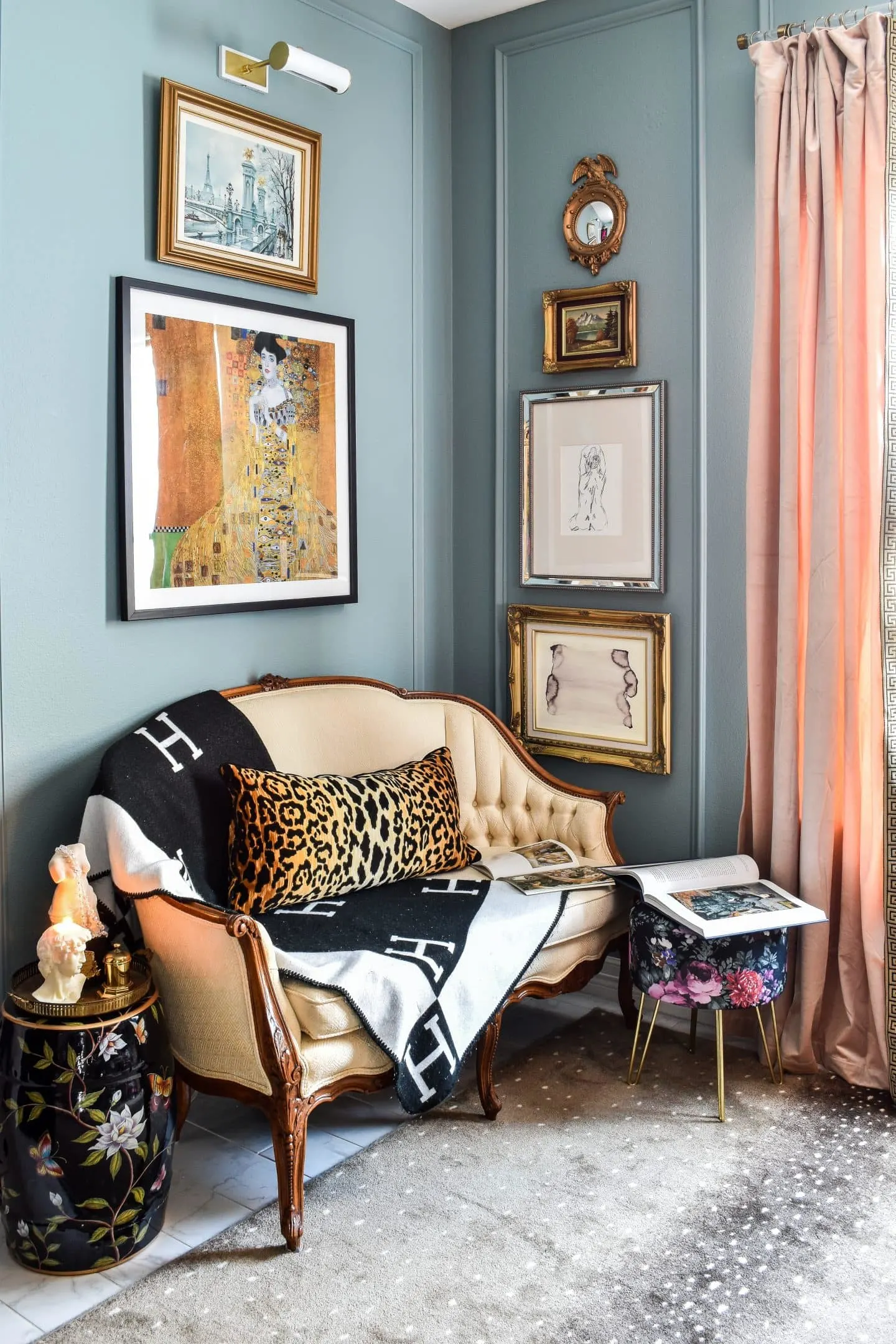 Mixing vintage and new and mixing different decor styles to create a uniquely chic space thrills me to no end.
French Interior Design
What do I love about french interiors? A lot. Seriously have you seen my home office and my patio makeover?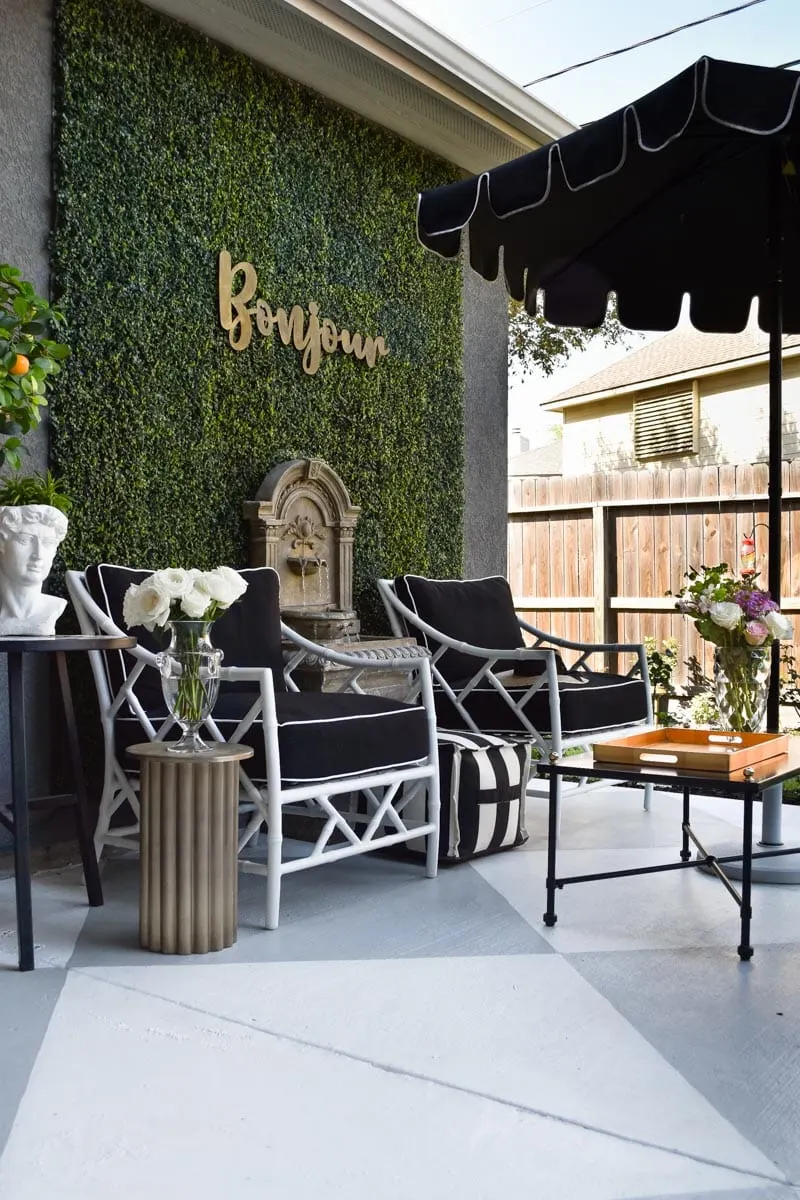 But I think the core of my love for french interiors is both the versatility/timeless + the glamour. The French love them some gilded stuff, and yeah, samesies.
I love seeing french chandeliers in a traditional American kitchen. French style transcends genres, styles and has a place in any home. (Ok, maybe not a minimalist one…)
You'll sometimes catch me sharing Parisian apartments for sale on my Instagram stories because it seems so chic to live there and be immersed in that gorgeous city. I dream of living in Paris for a year.
Although, to be fair, I would also totally love a french countryside cottage that has a train that could get me to Paris, Italy or any of the other lovely regions around.
I feel like those picturesque cottages have a welcoming look that is the perfect fit if you want to feel like you're on vacation everyday and like maybe, just maybe, my life could be turned into a best selling movie.
Vintage French Decorating Ideas
What inspired this post was a little selfish in that it is fun to find images to share, but moreover, I wanted to curate ideas that you could implement in your home.
This way you'll have some items to be on the prowl for when you visit antique shops, estate sales, thrift stores and the like to create your own version of a french country home with vintage pieces.
I know sometimes it is hard and feels nearly impossible to find the vintage item you have your heart set on, so when appropriate I have included some "new" items that have the same aesthetic to make it a bit more feasible.
The ideas below could be taken to create a whole room or space, or you could apply sparingly for a dash of french panache.
French country style and french farmhouse style is so popular, and I adore it, too. While some of the images and decor tips in this post will lend themselves to that type of style, if you love modern french interiors, more Parisian apartment style, more eclectic style, etc. there will be something for you as well.
This post may contain affiliate links, thanks for your support.
Vintage French Lighting
Empire Chandeliers
A vintage light fixture is high on my list of things I'm always on the prowl for. In fact, a pair of empire style chandeliers are the key design elements of the kitchen island in my forever home.
Mallory's kitchen is the perfect example of this. Also take note of the cremone bolts on her cabinets. Spectacular all around.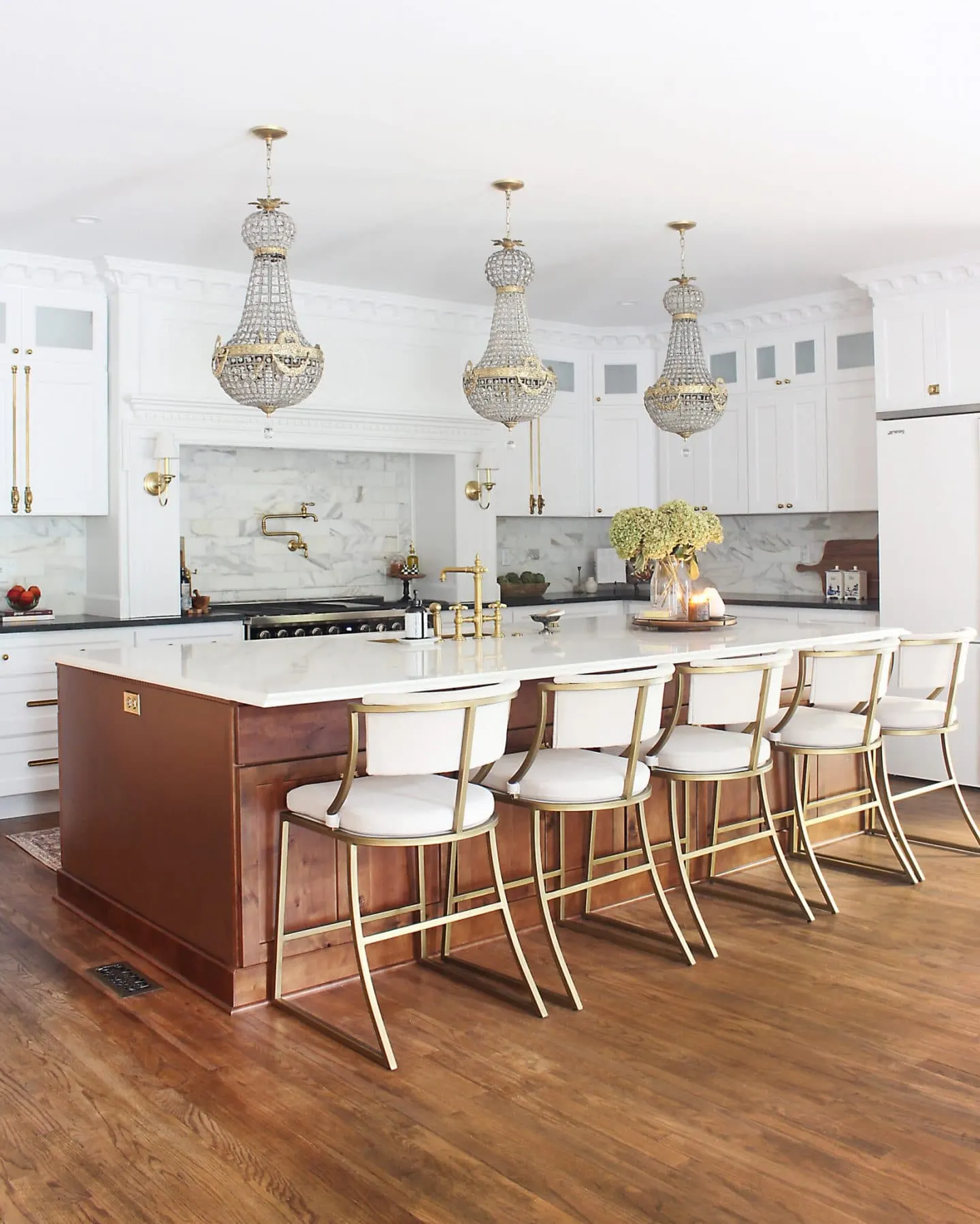 I'm convinced I will find my dream chandeliers on Live Auctioneers. If you're not on that site yet, go sign up and keep an eye out for auctions near you.
Brass Sconces
Another example from Mallory is the use of brass wall sconces that add in more of the french vibes. She also uses simple wood pieces in her styling which is an easy way to add warmth for that perfect touch.
Crystal Chandeliers
When also trying to think of french inspired examples of vintage lighting, my mind immediately went to Lory's kitchen. I've pinned so many pictures of her kitchen island in particular because she has these darling mini chandeliers that add so much style.
This is a good example of how to incorporate french touches via lighting in a small space.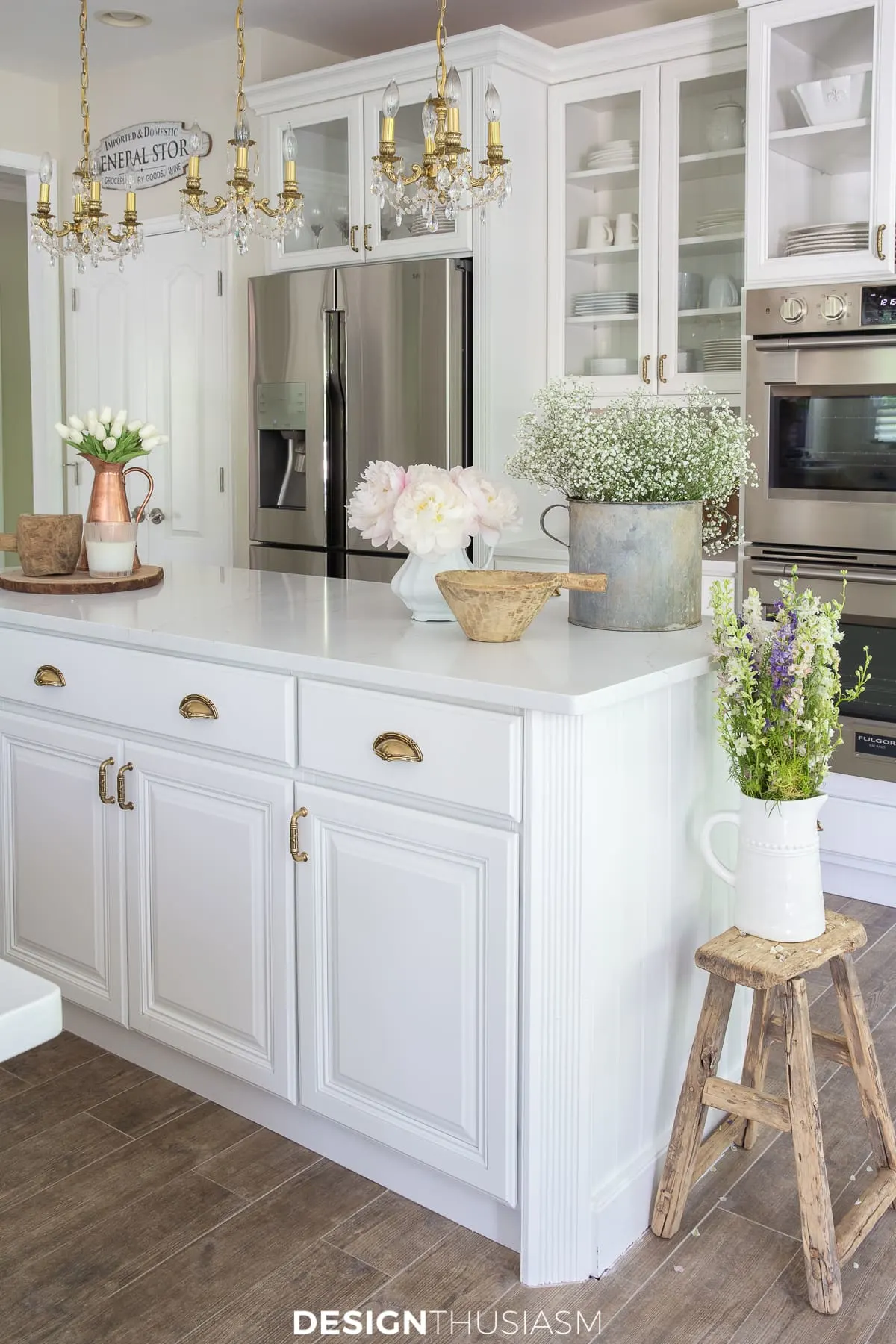 Retro Style Lighting
If you lean more modern rather than the feminine baroque style, you could add in retro inspired french sconces above your nightstands. These sconces, while definitely a splurge, are so perfect for this aesthetic.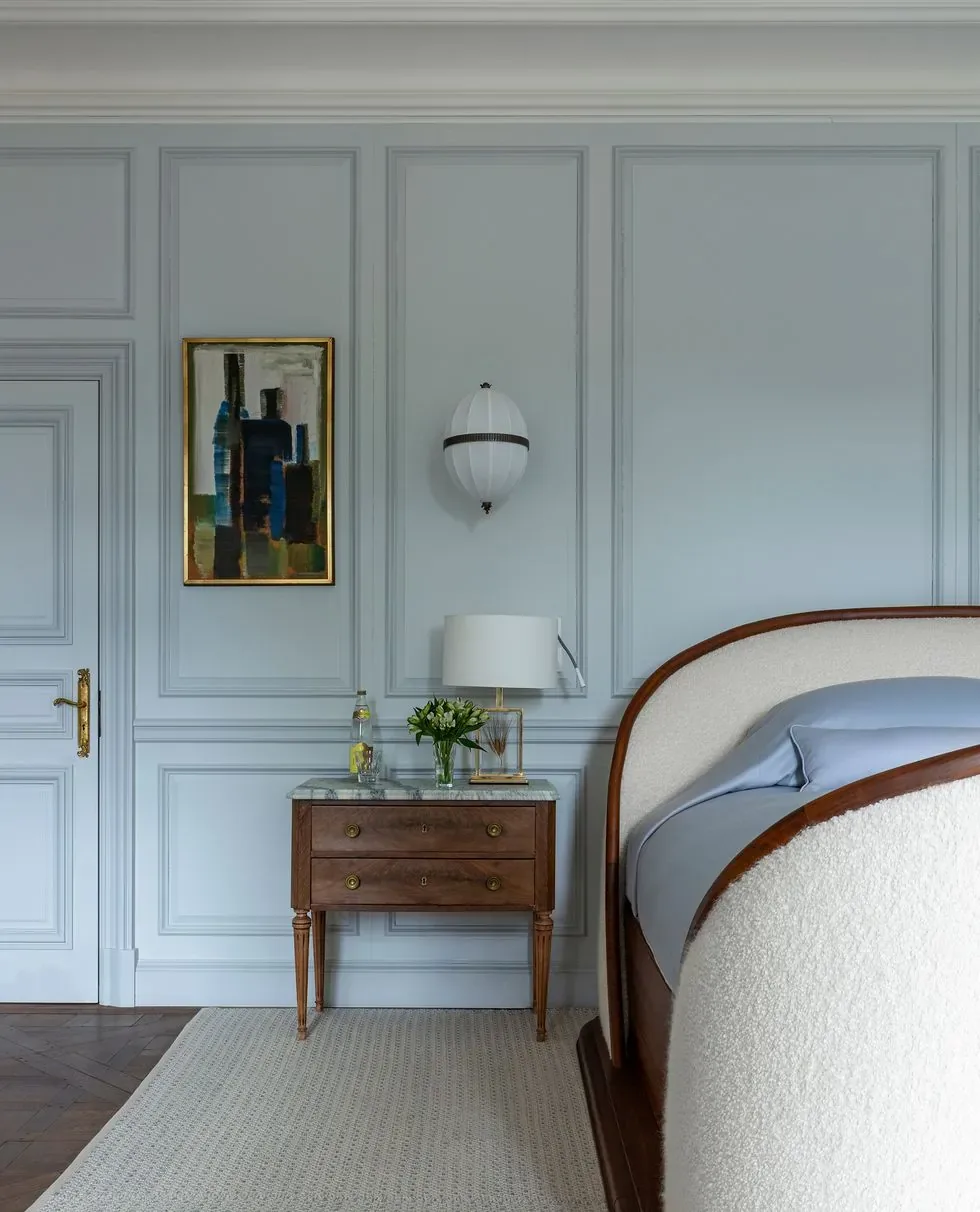 French Style Table Lamps
I have this thing with lamps, and I can't pass up a gorgeous unique lamp. I have to rescue them all. One of the most iconic french lamps is the bouillotte lamp (pronounced: BOO-lot).
In 2020, I found one that was tarnished to hell, but some Brasso and elbow grease brought it back to life. For $15, this was well worth the price and this is one of my favorite lamps in my home.
Modern French Floor Lamps
A trend I am loving is seeing a very decidedly french apartment clad with the ornate fireplace, soaring ceilings, massive gilded mirror….and then seeing a very modern floor lamp.
I feel some of the common features of these modern floor lamps are a thin base and a wide shade. Almost a little more Italian and mid-century modern, if that makes sense. This one from CB2 would be perfect.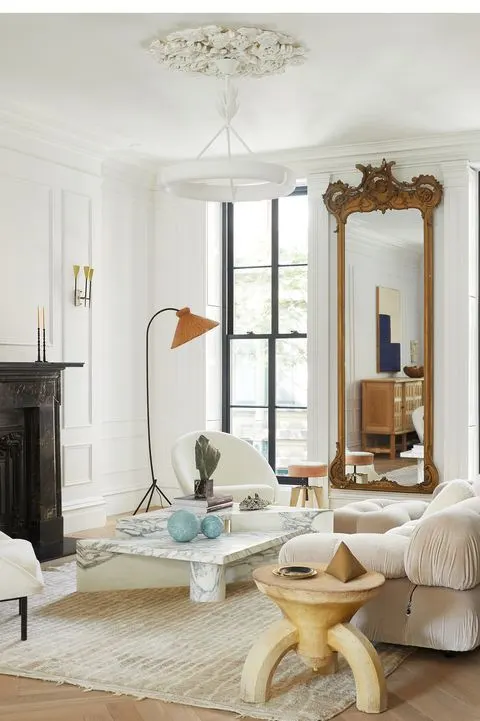 French Bedroom Ideas
When you think about it, we spend a lot of time in our bedrooms. I know for awhile there neutral colors and natural elements were all the rage, and we were enveloped in a sea of GRAY, greige and taupe.
Now, I see a lot more moody colors such dark greens, maroon, navy and even black. Heck, we had a pink accent wall in our bedroom for three years.
White Walls
Then, I decided a white background was quintessentially french, so I repainted our bedroom earlier this year. I recommend the color Alabaster by Sherwin-Williams as the perfect warm, creamy white if you want a decidedly Parisian backdrop for a bedroom.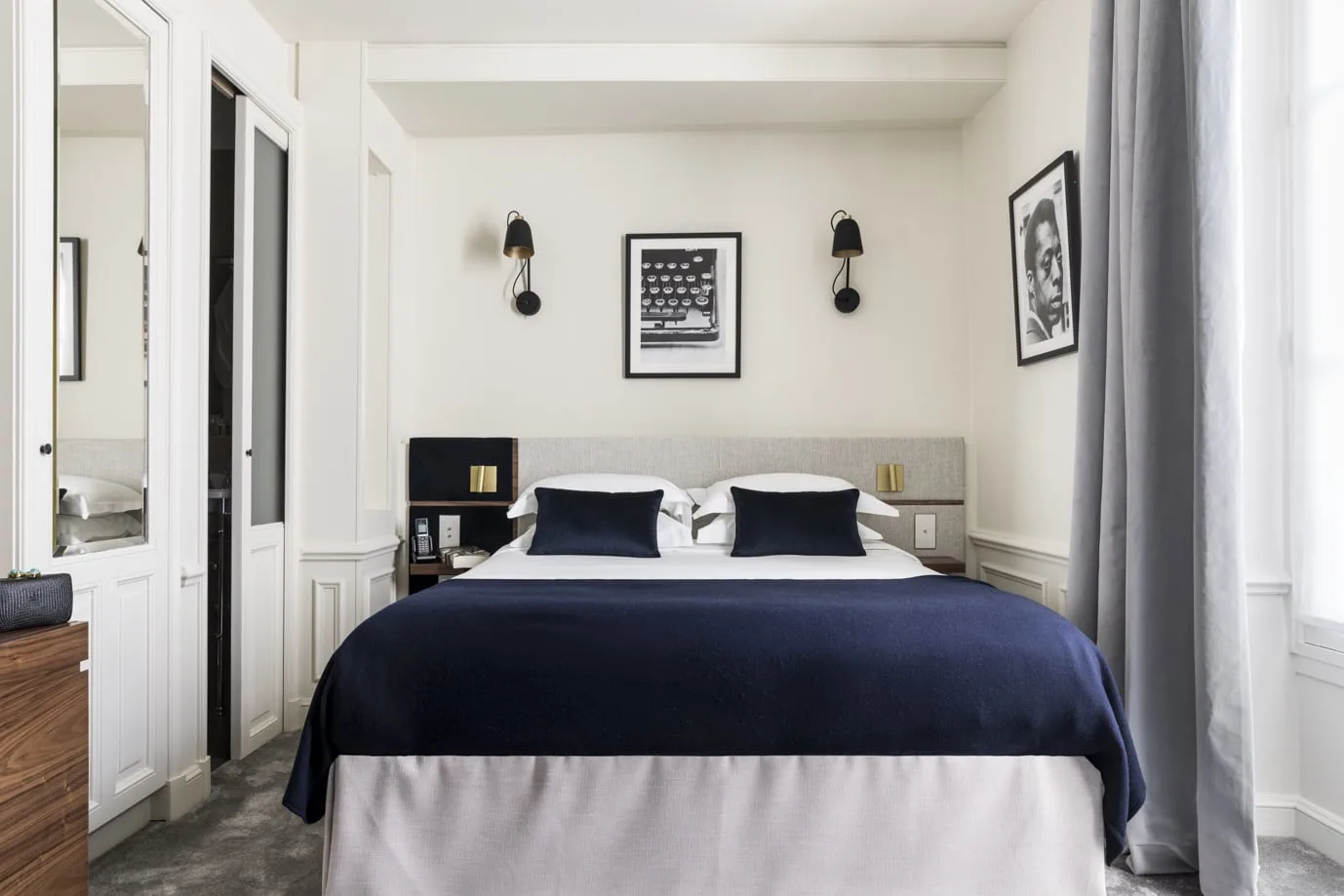 French Blue Walls
While I love my creamy white walls, these ever so slightly french blue walls paired with a neutral color palette make me swoon.
Paint Color Tip: Borrowed Light is a great paint color if you're wanting to achieve this look.
I love the lighting in this bedroom, and the addition of the ceiling medallions brings in some ornate to compliment the fireplace.
Tufted Bed
You could go nuts to create a french bedroom with a regency style nightstand, opulent moldings, and vintage inspired linens, but if you want just a dash of french via furniture, I'd opt for hunting down an antique tufted bed like Courtney's.
That might be a tall order to find secondhand, so here's a comparable option for under $500.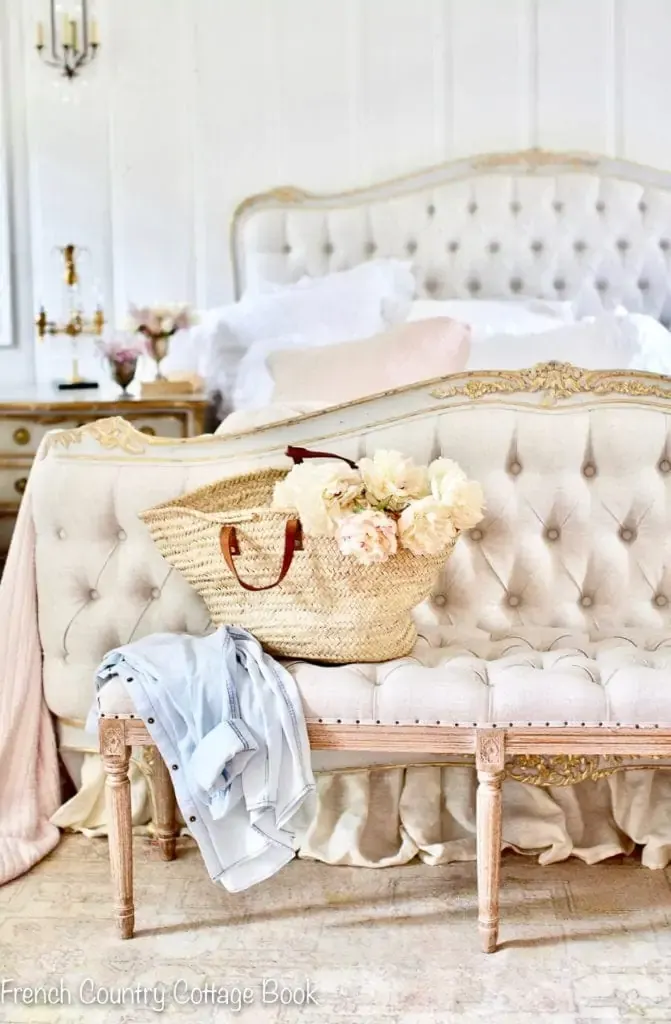 Vintage Sheets & Linens
And finally, a french bedroom ideas list wouldn't be complete with mentioning vintage linens.
I often find floral bedding at thrift stores and estate sales for a few bucks, and to me they are useful as well as a timeless decor staple. It's a way to incorporate bold patterns in an easy, inexpensive way.
Incorporating some floral bedding mixed with other patterns via throw pillows, duvet covers, etc. can evoke a french country bedroom vibe without going overboard.
If you're not a big lover of florals (first of all, how dare you?!), then shopping for secondhand bedding is easy peasy. Focus on finding quality made linen or cotton sheets in classic white or ivory colors.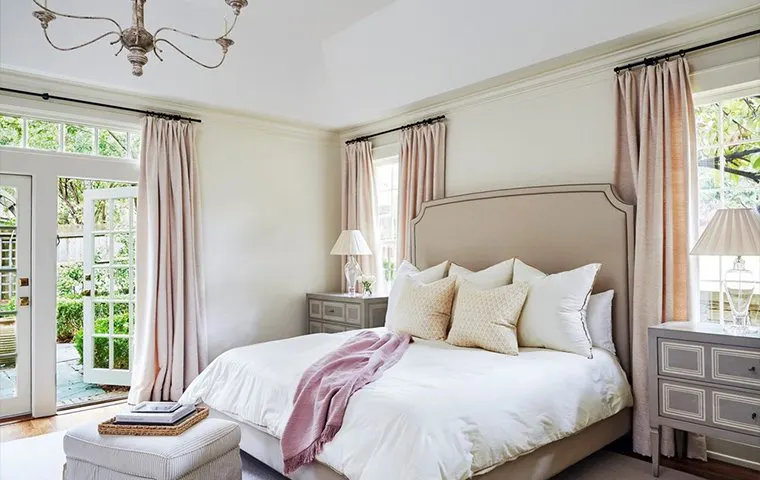 ---
French Kitchens
At any given moment, I fall between two extremes in terms of what my "dream kitchen" is.
On one end of the extreme, I'd love to live in a french country house where I could enjoy a small, functional kitchen with open shelving to display my copperware.
I'd have wire baskets to hold the produce I bought at the farmer's market. It'd have an aged look with wood beams.
And on the other extreme, I want a kitchen like Randi Garrett's so I can make my peanut butter and jelly sandwiches in style, as the Lord intended.
Cafe Curtains to Hide Storage
The best perk of the rustic style french kitchen is I could do stuff like using darling cafe curtains to hide my cleaning supplies. This would be an easy sewing project (or no sew using hem tape), so keep an eye out for fabric at the thrift.
The dainty brass rod and curtain rings paired with the striped fabric is classic. Also note the plaid cafe curtain on the window. (Note: I have a post all about curtains here!)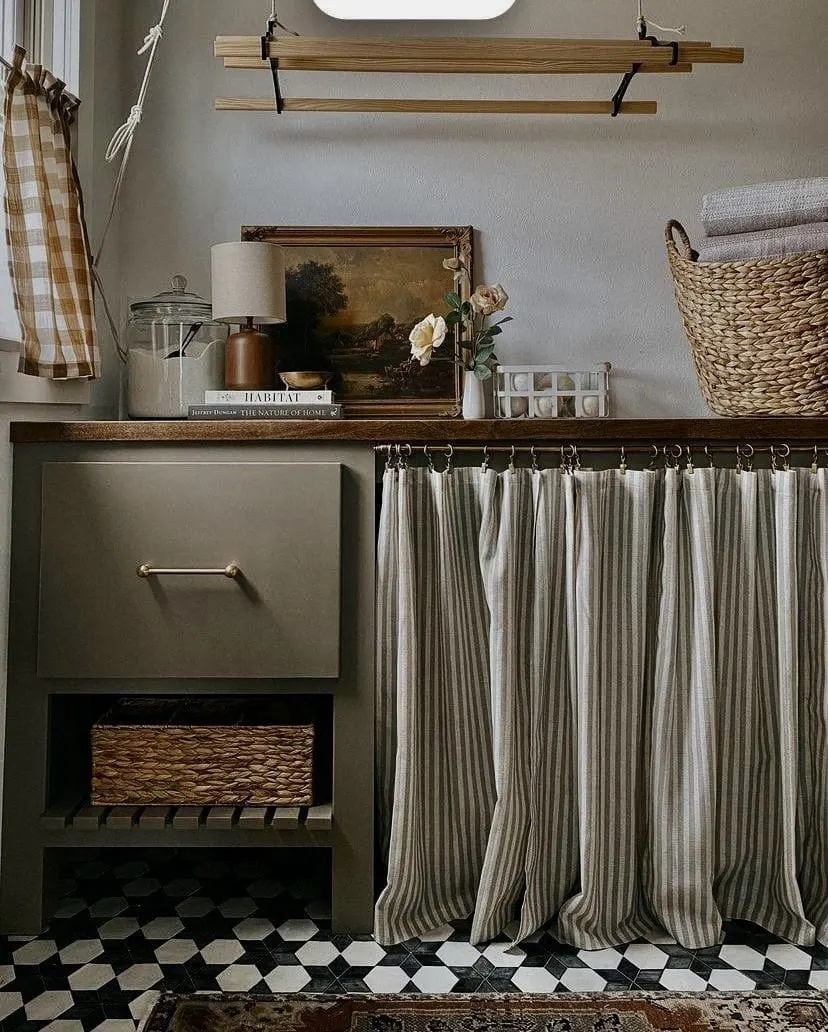 Copper Kitchenware Accents
When I was trying to french-ify my kitchen and asked for tips on how to do so without painting or anything major, so many people suggested styling with some copper pieces.
In my neck of the woods, copper pieces are easily found in thrift store and antique shops for not much money, and it's an easy way to create a vignette with items you likely have.
Indoor Herb Garden
Every time I look at inspiration for french kitchens, they all tend to have fresh florals or herbs. Finding vintage tea cups, brass planters or even glassware is an easy, inexpensive way to start up a little indoor herb garden.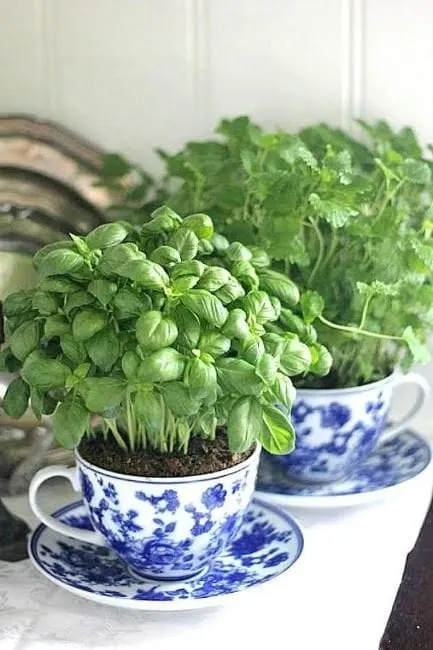 French Living Room
If your husband is like mine, if you state you want a french inspired living room, his mind may go directly to french country decor ideas that he feels are too feminine and frilly OR he may assume everything will be gilded and you'll be living like an aristocrat. So, what do you do?
Bergere Chairs
Incorporate small accents into your transitional home via some accent chairs. Notice how these vintage bergere chairs fit right in amongst the modern art and the Kelly Wearstler lamps.
I've found bergere chairs several times via Facebook Marketplace, so I think with a bit of time and persistence, you'd be able to score some. If not, these are perfect!
Wooden Coffee Table
If you love farmhouse in your own home, or maybe you dig that Restoration Hardware sofa vibe, I'd recommend opting for a french inspired coffee table like the one below.
Definitely buy a coffee table secondhand so you can refinish it or repaint it. This way, it's low cost, low risk.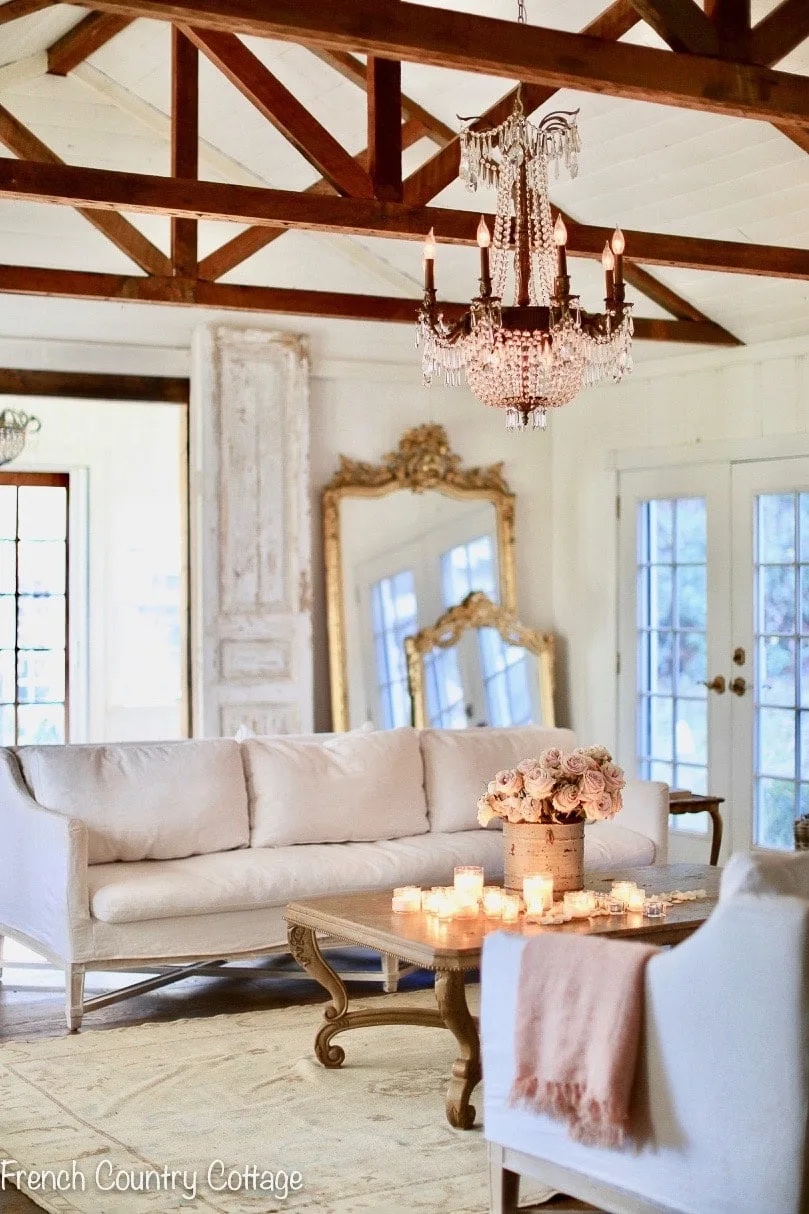 To keep it french-ish, I'd recommend finding an antique coffee table that has some curves to it, maybe has decorative motifs that could be gilded. I have a whole blog post about metallic paint for furniture to create gold accents and I also have tons of DIY paint guides.
Modern French Coffee Table
A more up-to-date option that is less foo foo would be a modern glass coffee table with a unique silhouette as shown here by Champeau & Wilde.
The juxtaposition of new pieces with old pieces, plus the layering of the colors and animal prints is delightfully unexpected.
This sort of coffee table would be (most likely) an expensive find via Chairish or 1st Dibs, but here's a similar style for under $400.
Drapery Panels
When thinking about drapery panels, your mind may wander over to the maximalist, tassels, cornice board, valances galore opulence like this:
Well, instead of that think of THIS:
Classic white (or any solid color) pleated drapery panels (measured to perfection via my curtain lengths guide) adorned with vintage tassel tiebacks or add some trim to the edges using iron-on hem tape. Such a perfect way to have custom drapery on the cheap.
Keep an eye out for curtain panels at estate sales in older homes. I've found many a panel that way for nearly nothing and they tend to be very well made.
---
French Decor Accents
Busts & Sculptures
I have a hard time passing up a good vintage bust sculpture if I spot one. I have quite a few, and I will admit I've bought a few new ones from H&M Home and HomeGoods, but nothing beats the old stuff. The antique pieces have more soul, patina and are often more unique.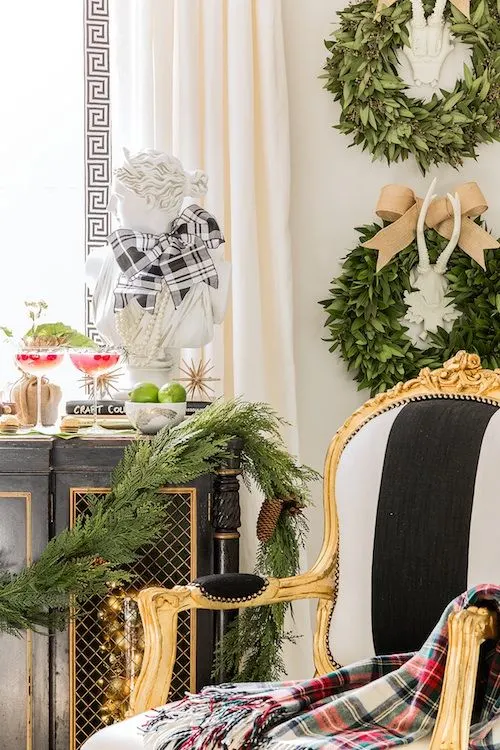 It's easy to get out of hand with busts. After all, you don't want your house to look like a museum of decorative objects, so I recommend using them to make statements such as this pair flanking a fireplace.
Gilded Ornate Mirrors
David Jimenez' work is spectacular (as is his book), and he's a good example of an interior designer who loves Parisian style but melds it well with more modern approaches.
A vintage gilded mirror is high on my "must haves" list for my home. I've often spotted these on Live Auctioneers, and they can be very affordable in relation to buying a dupe from RH or Anthro.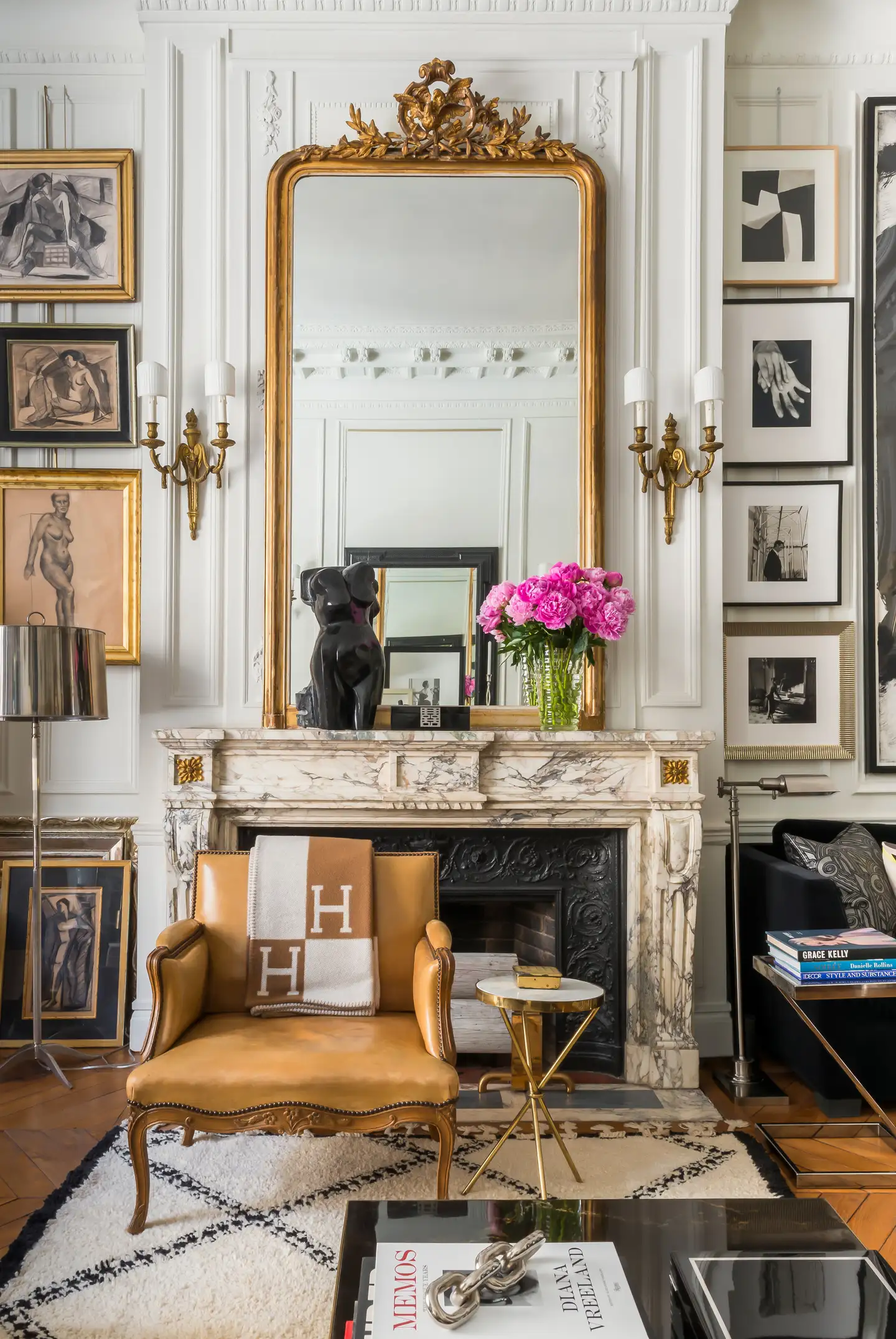 Trumeau Mirrors
It's my opinion that trumeau mirrors are seriously underrated. We all fawn over the gilded mirrors and their dupes, but a trumeau mirror is opulent yet understated. I once bought one on Facebook Marketplace, flipped it and sold it 4x more and I kind of regret selling it now.
I'd look out for these at estate sales and antique shops, OR you could make your own via this super helpful tutorial.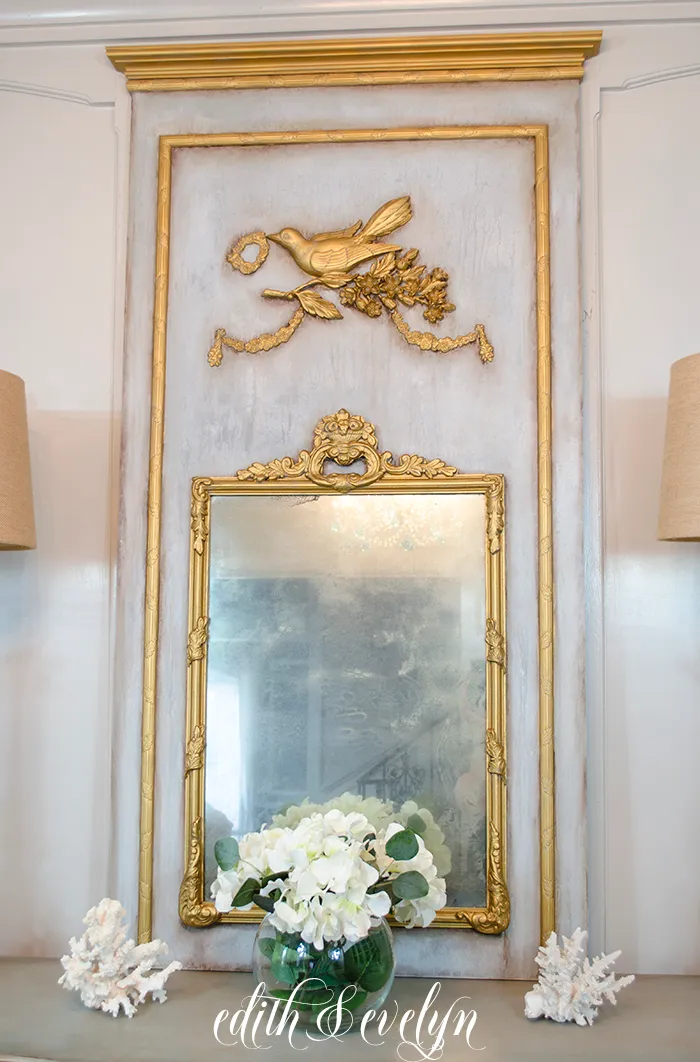 Vintage Candelabras & Candlesticks
Again, you might be instantly thinking candelabra + french= cherubs .
You're not wrong…BUT think on a smaller, simpler scale.
Candelabras and brass candlesticks are super hard for me to pass up at thrift stores because they tend to be UBER affordable. I'd recommend buying a bunch, shining them up and using them on a mantle, sideboard, buffet, etc. with other vintage baubles.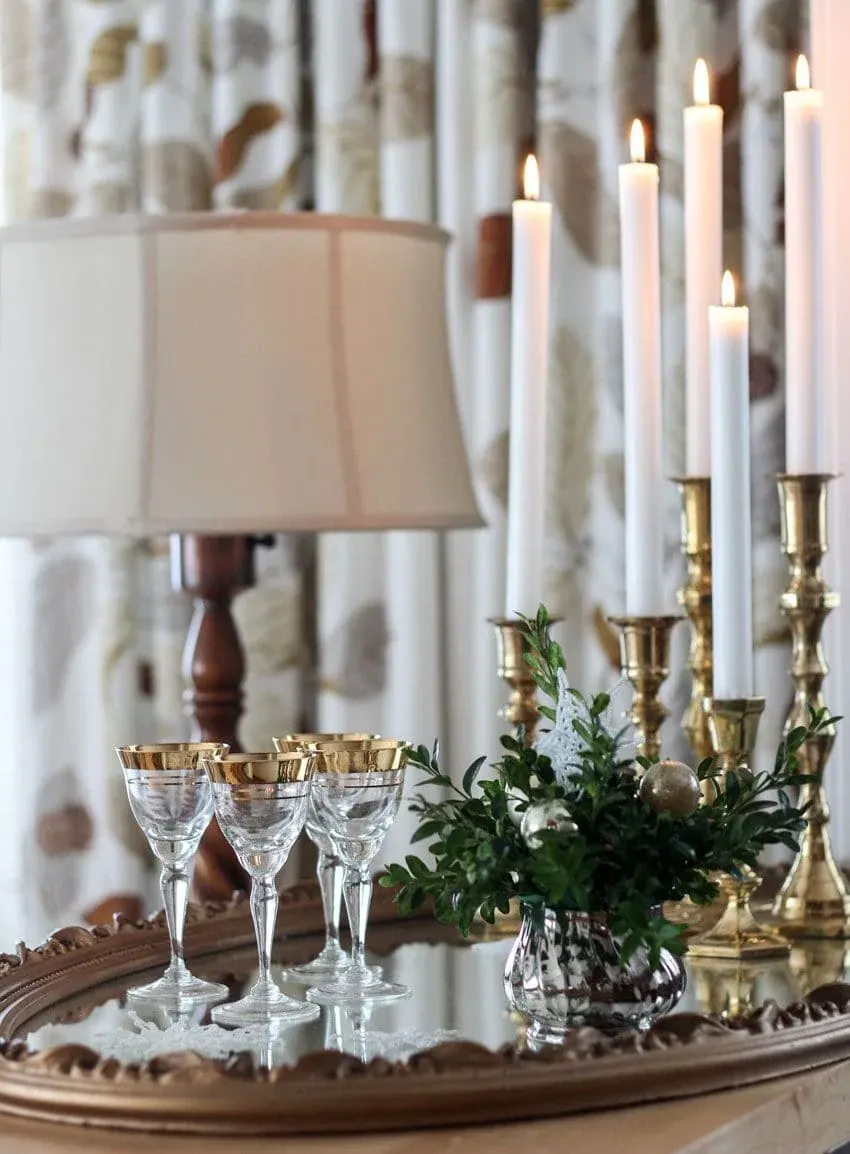 French Art
Art is something I am very passionate about and love to shop secondhand for. This is also probably one of the easiest, quickest ways to add in a french vibe.
For the frames, look for beefy, ornate, gilded styles. As far as art goes, I try to find originals that spark interest, feature dutch florals or just flat out have colors and motifs that speak to me.
I have found a few artists I love on Instagram, and their art is definitely worth a look. One is Transatlantic Chic Studios and another is Elle Yount Atelier.
French Picture Frames
If you're more of a DIY type, I suggest looking for vintage or secondhand frames at thrift stores, gilding them, and then printing some free museum art for the frame for your own curated collection on the cheap.
You could also grab a paint pen, some 11×14 paper and make your own DIY abstract art via my tutorial.
This little oval frame below was $1 at a charity rummage sale and was actually a clock. I took it apart, printed my own artwork and here we are. I love my french Christmas tree that I put in my office every year.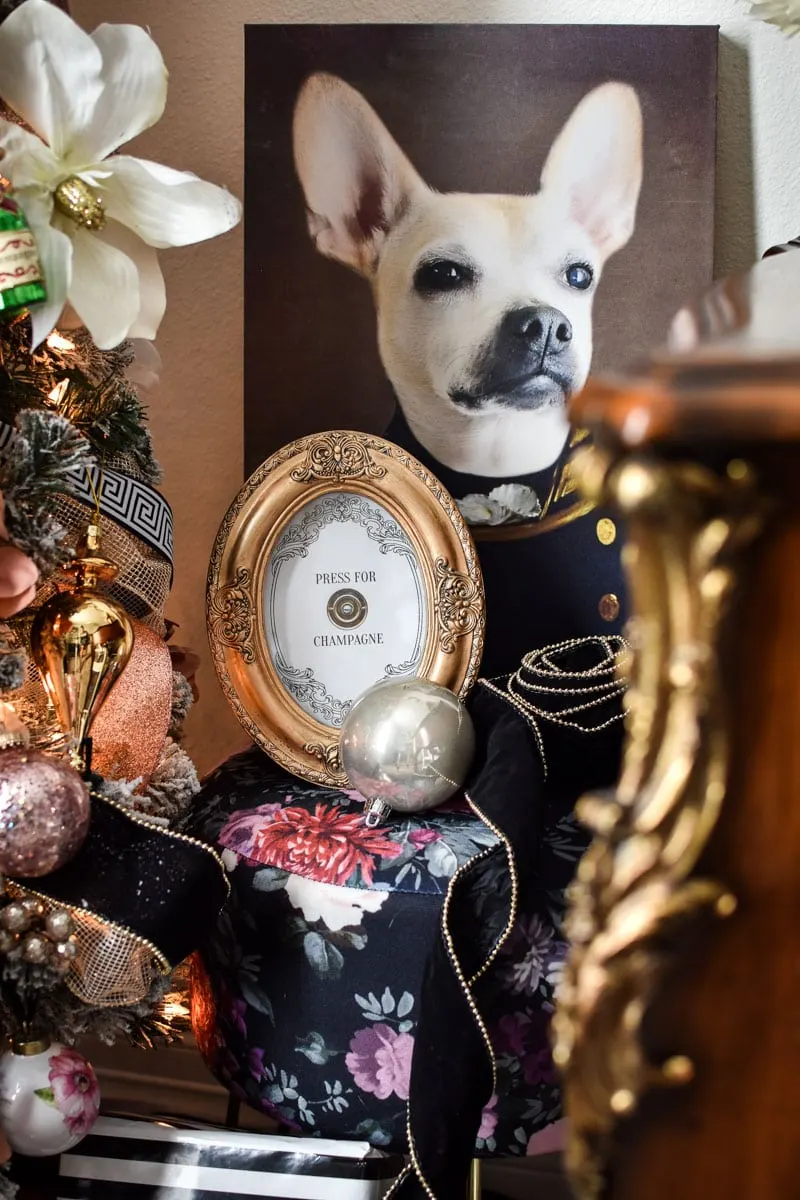 Whatever the case, please, please try to NOT buy mass produced art.
---
---
Antique French Hardware
Half the fun of DIY home renovations or painting furniture pieces is selecting hardware. I love it all. I love the simple brass knobs, the glass pulls, ornate backplates and all the things in between.
Given how quick and easy it is to swap cabinet hardware (and sometimes door hardware), I thought this category was an important inclusion on this list of vintage french decorating ideas.
Cremone Bolts
Let me preface this by stating finding cremone bolts vintage/secondhand is likely not going to happen unless you go to Round Top or Paris.
But, you can't deny the impact of these vintage inspired bolts. I've been considering hiring a carpenter to make all of my kitchen cabinet doors flush so I could utilize these types of bolts.
Door Knobs & Plates
While on a solo trip to Paris in March 2020 (yup, as the world was shutting down…), I stopped and admired so many darn doors. The intricate design, brass handles/kickplate, and bold hues on a grimy city street made my heart skip a beat.
Antique stores usually have vintage knobs and such, would be great to add some character to your home, but you may want to opt for the vintage look with modern features for easier installation.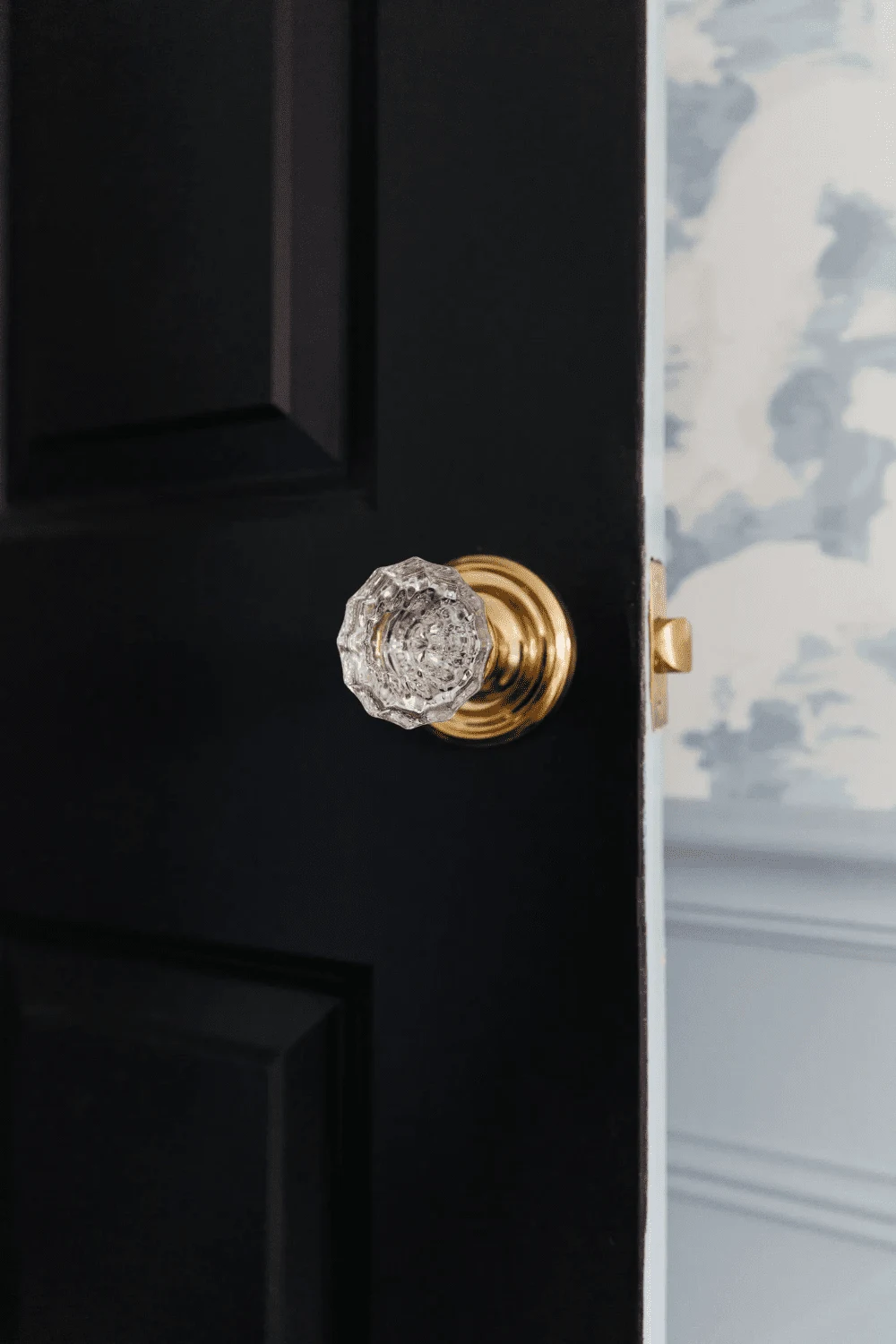 Knobs & Pulls
A quick way to instantly change the look of cabinets or furniture is to swap out the hardware. Cabinet pulls and knobs can be as inexpensive or expensive as you'd like them to be.
I often use eBay to find vintage (or vintage inspired) cabinet hardware or escutcheons (a word I will never pronounce correctly). If you love the armoire pulls below, these are pretty similar and affordable.
In my own home, I've used a skeleton keyhole escutcheon (that was under $10) on the top drawer to add extra flair to a $10 dresser I rescued and painted.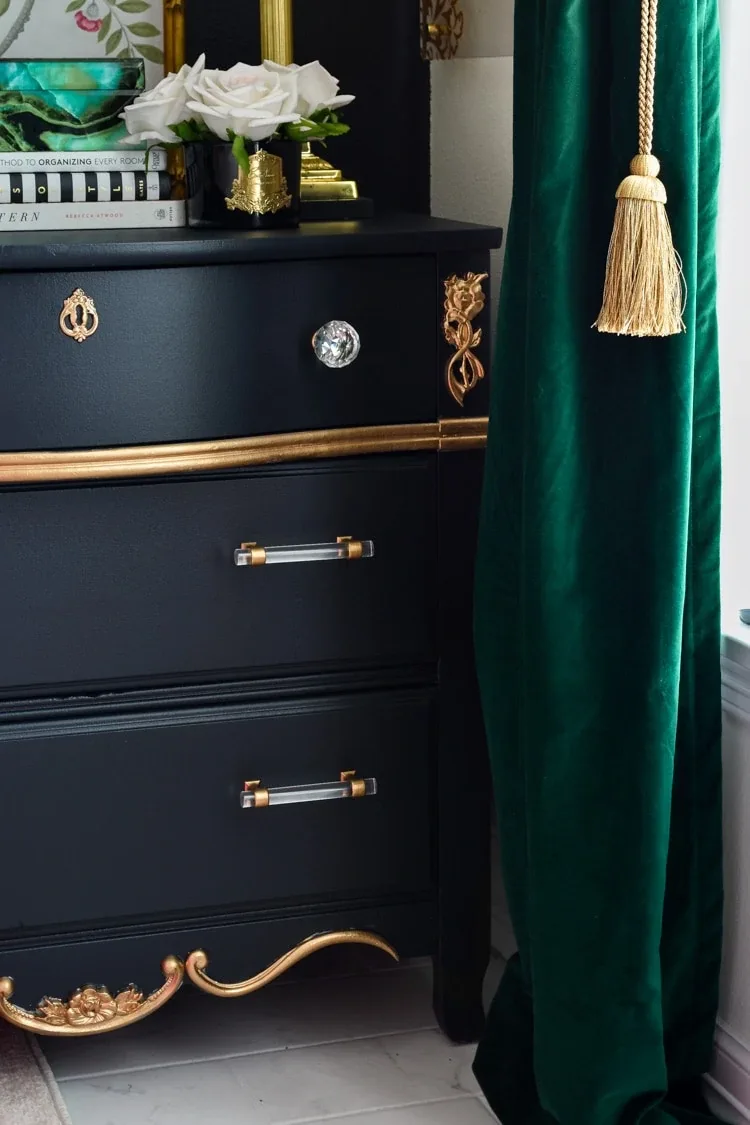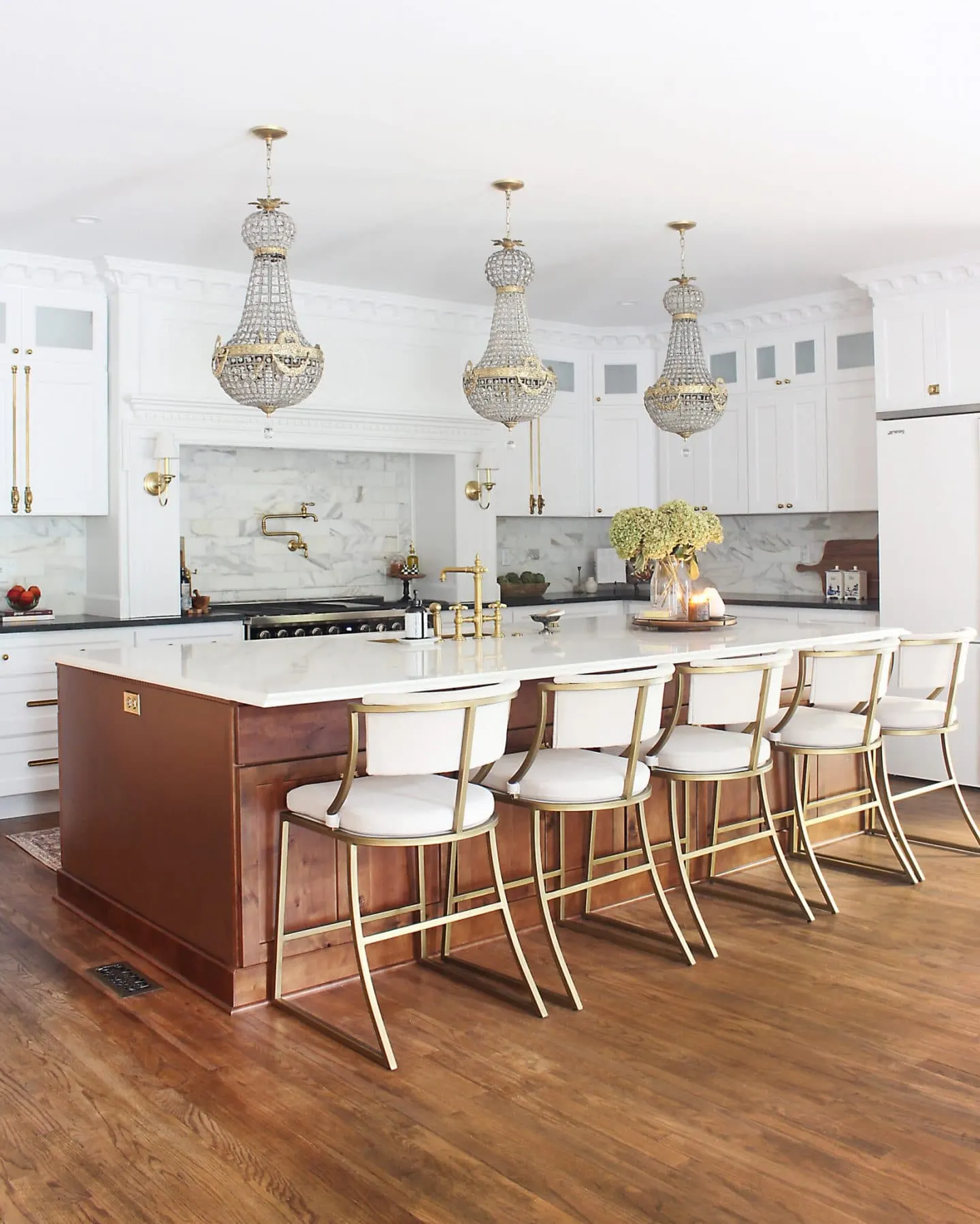 Need Kitchen Island Centerpiece Ideas?
This post features over 40 kitchen island centerpiece ideas for any holiday, season or decor style.
Brass Gallery Rails
In my dream home, I have gallery rails all over the place, but I love how Alyssa from A Glass of Bovino incorporated them into her bathroom makeover. She has a good tutorial you can follow along with sources.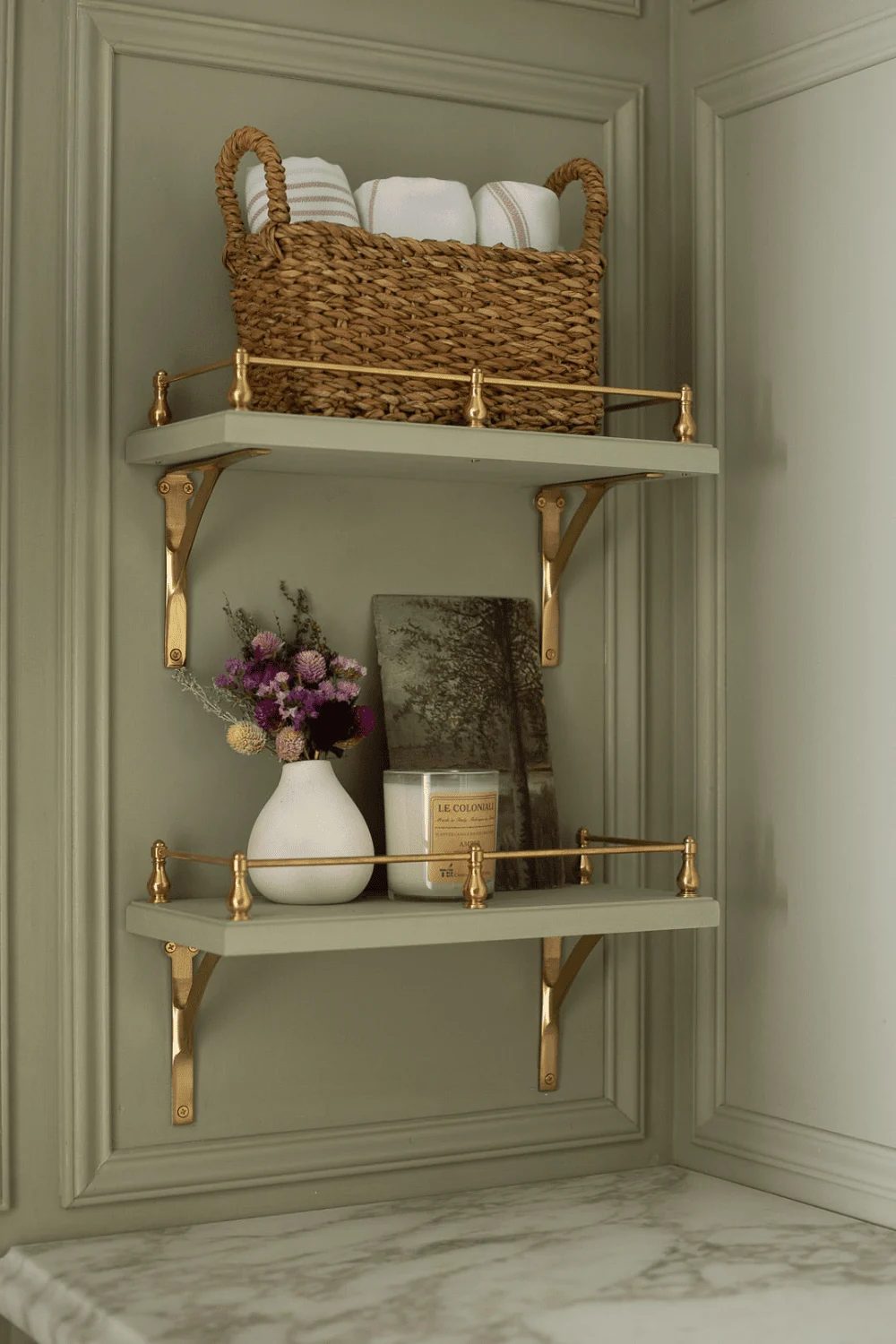 Affordable French Fireplace Mantel Surrounds for Any Space

Love the French aesthetic but not willing to pay $$$$$ for a vintage fireplace mantel? I have five affordable options, with many under $500, for you to create the home of your dreams.
Architectural Details
Brass Open Shelving
I know, there's a lot of brass in this post, but what can I say… it's timeless.
Some people hate open shelving, but I love the vintage Parisian bistro vibes that brass shelving with glass shelves adds to a space. You usually see this in black/gold/white, but it also works with a gorgeous blue.
Think of all the secondhand glassware, decanters and barware this type of set-up could hold. Definitely the perfect setting to pour glasses of Veuve Cliquot.
Add Picture Molding
I personally have added so many molding treatments to nearly every room of this house. Not only does adding moldings give any space an air of formality and adds value to a home, it definitely is also a nod towards the "french look".
Here's a great example by the talented team over at Riverbrook. It's modern, classic and feels timeless.
In our primary bedroom, I went totally girly initially with the pink accent wall and tone-on-tone moldings. I love these ornate molding corners that require no complicated miter cuts to achieve this look.
And in my living room, I did tone-on-tone moldings again, but kept the walls alabaster to allow my furnishings to stand out.