​This post is all about kitchen bakers rack decorating ideas. I actually grew up with a green metal rack in our home, and I remember my grandmother used it for the microwave and other decorative objects. It was great for extra storage space since we lived in an apartment.
A kitchen baker's rack is a versatile piece of furniture typically used in kitchens, but it can also be found in dining rooms, utility rooms, or other areas of the home.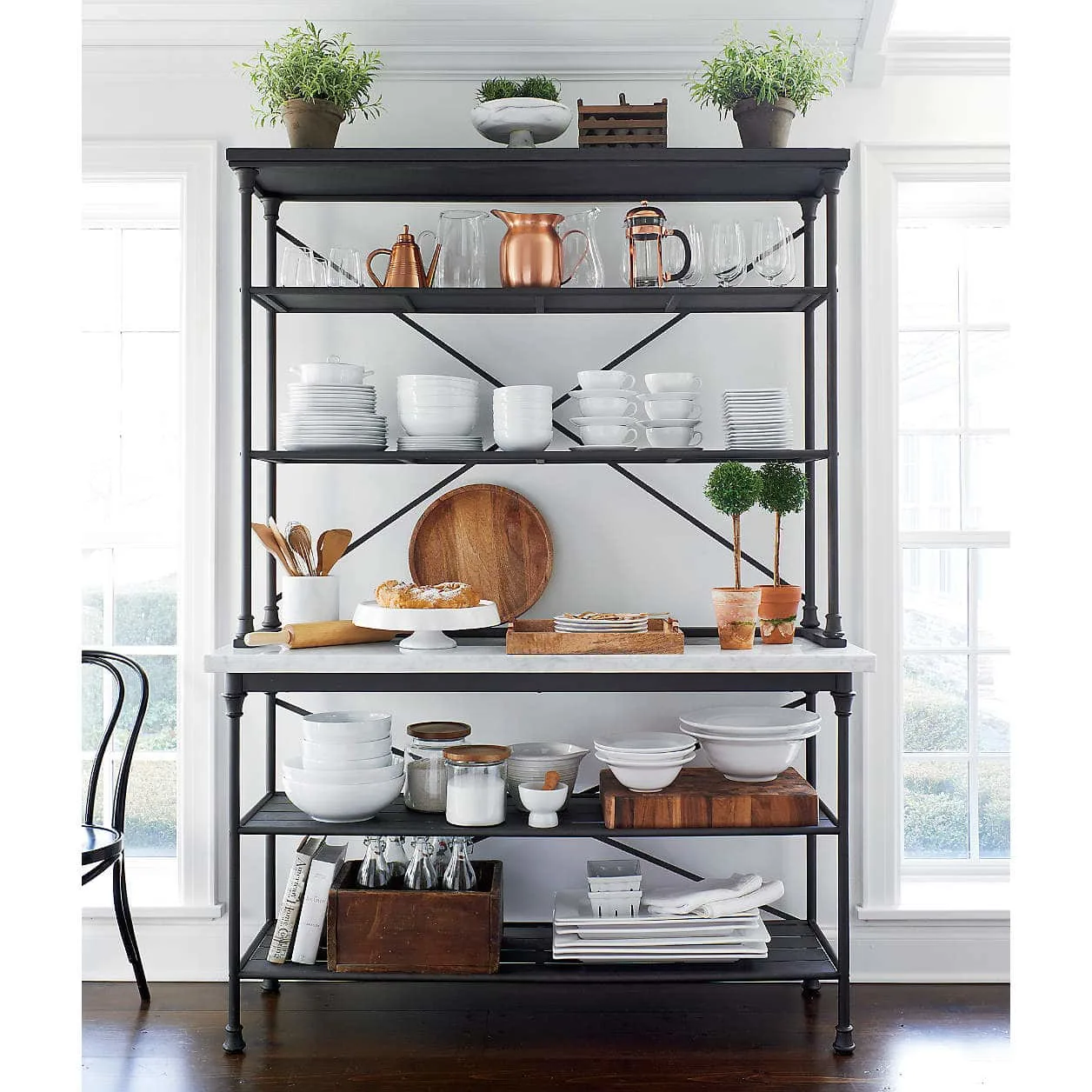 It consists of multiple shelves for plenty of storage space, often made of metal, wood, or a combination of both (or even marble like this one), and is designed to provide additional storage, display space, and organization in a kitchen. Overall, it's a great addition to any room in your home as a storage unit.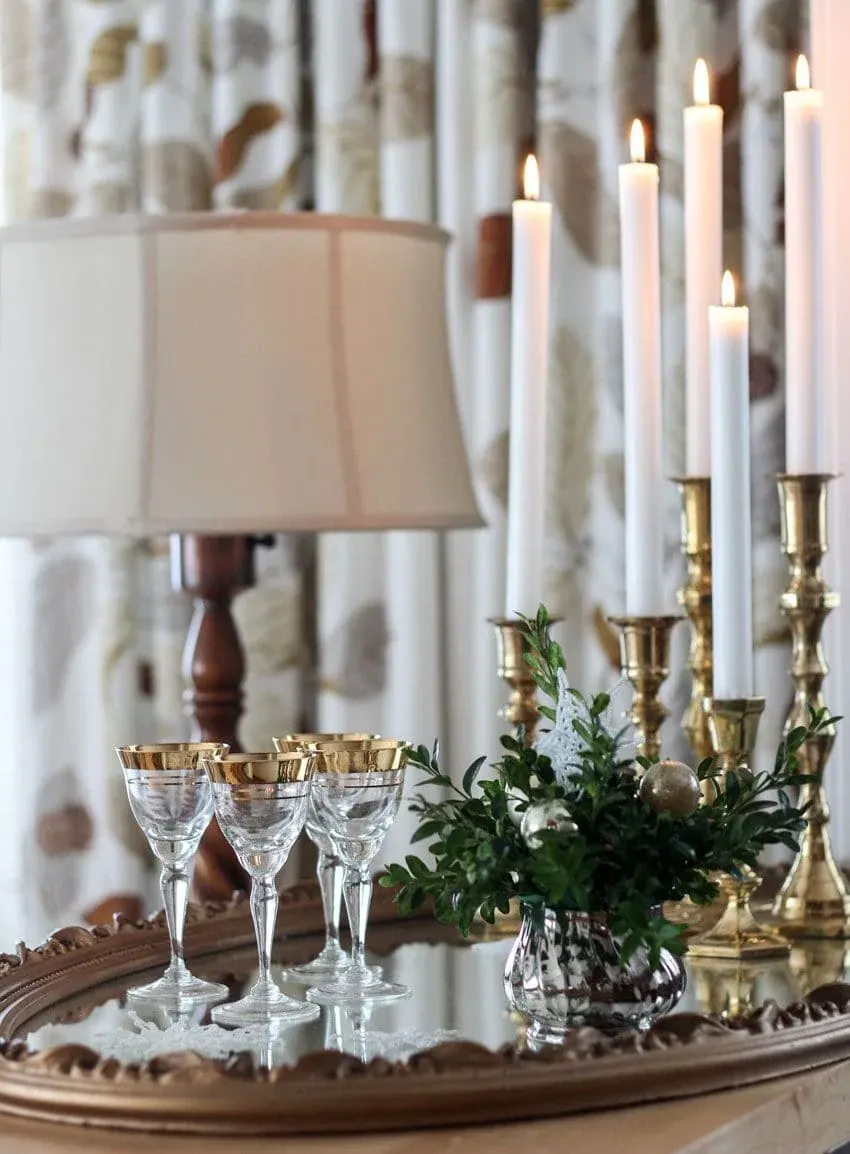 29+ Vintage French Decorating Ideas
Check out this post that features creative ideas for secondhand, vintage items to look for to achieve the french aesthetic.
Kitchen Baker's Rack: Key Features
Shelving: The primary feature is its shelves, which are usually open and designed to hold various kitchen baker's rack decorating items such as cookware, dishes, glassware, small appliances, and decorative items.
Design: Baker's racks often have a decorative design with intricate scrollwork, curves, or other embellishments, making them aesthetically pleasing in addition to functional.
Materials: They can be made from a variety of materials, including metal (such as wrought iron or steel) or wood. Some may combine both materials for a more eclectic look.
Size and Configuration: Baker's racks come in various sizes and configurations (there are small racks, double racks, and even modern racks!), with some featuring multiple shelves, drawers, cabinets, or wine racks. The choice depends on your storage needs and available space. You'll want to pick the right size for the overall style of your kitchens foot print.
Mobility: Some baker's racks come with wheels or casters, making them easy to move around the kitchen as needed, which is great if you have a small space.
Functionality: While they are commonly used for storage and organization, baker's racks can also serve other functions like displaying decorative items, functioning as a bar cart, or holding a small herb garden.
Kitchen Baker's Rack Decorating Ideas
Farmhouse Chic: Embrace the farmhouse style by adding white ceramic pitchers filled with fresh flowers, vintage Mason jars, your favorite dishes, and rustic wooden cutting boards. Display your collection of vintage kitchen tools for an authentic touch.
Vintage Kitchenware: Another kitchen baker's rack decorating idea… If you collect vintage kitchenware like old-fashioned scales, enamelware, glass jars, milk glass, and antique baking tins, arrange them on your baker's rack to create a charming and nostalgic display.
Herb Garden: Turn your baker's rack into a mini herb garden. Use small pots or hanging planters to grow your favorite herbs like basil, thyme, and rosemary. Not only will it look beautiful, but you'll also have fresh herbs at your fingertips for cooking.
Tea and Coffee Station: Create a dedicated space for your tea and coffee essentials. Display your favorite mugs, teapots, and coffee makers. Use decorative canisters or glass jars for storing tea bags, coffee beans, and sugar.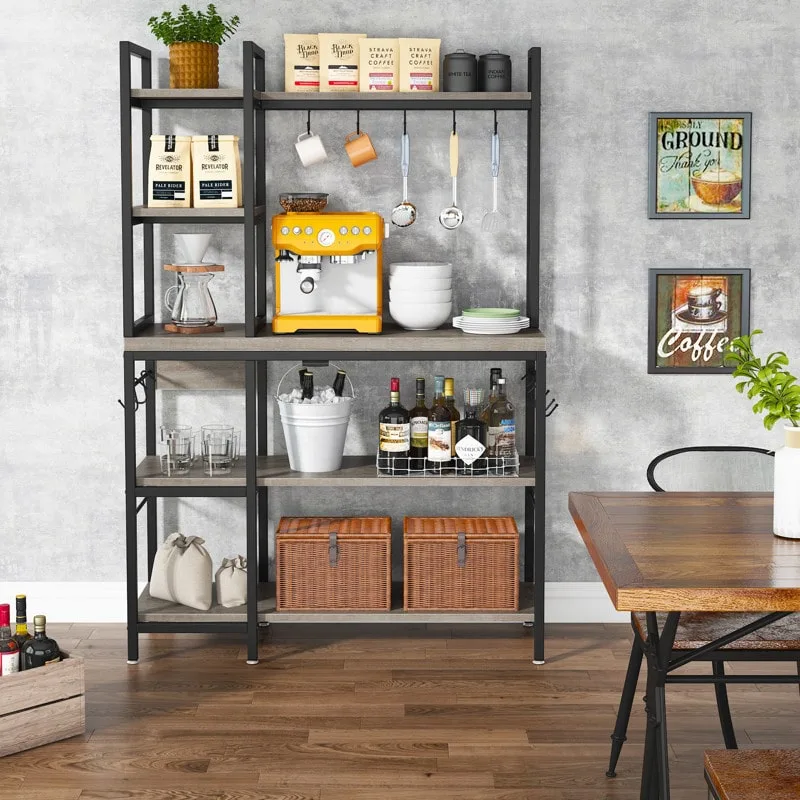 Wine and Bar Cart: If you enjoy wine or cocktails, turn your baker's rack into a stylish bar cart for wine storage or other spirits. Store wine bottles, glassware, cocktail shakers, and a few decorative bottles of liquor. Add a wine rack or wine crate for an organized touch.
Baking Supplies: Since it's a baker's rack, why not use it for extra storage for your baking supplies and kitchen gadgets? Arrange colorful mixing bowls, measuring cups, rolling pins, and cookie jars. Hang kitchen towels or aprons from the sides for a functional yet decorative look.
Outdoor Use: How about an outdoor baker's rack? Using a super inexpensive rack outdoors under a covered area is a unique way to add style to your patio (rather than letting it gather dust in a useless corner of your home).
You can use a baker's rack as a plant stand or even a place to store extra soil and planting tools for when you have to repot your plants. I'd opt for a metal bakers rack for this use and spray paint it with Rustoleum to help slow down the aging process once it is outdoors.
Greenery and Succulents: Decorate with lush green plants and succulents. Place potted plants on different levels of the rack and hang small planters from hooks. The greenery will add life and freshness to your kitchen.
Cookbook Display: If you have a collection of cookbooks, use the baker's rack to display your favorites in your dining room or breakfast nook. Stack them neatly on one shelf and add a few decorative bookends.
You can also prop open your most-used cookbooks for easy access and incorporate other kitchen accessories like a cutting board, canister sets or other kitchen utensils.
Seasonal Decor: So many kitchen baker's rack decorating ideas when it comes to seasonal decor!
Change the decor on your baker's rack with the seasons. For example, during the holidays, you can decorate a beautiful baker's rack with festive items like ornaments, holiday-themed dishware, and seasonal garlands. You can even create a little Christmas village on the top shelf!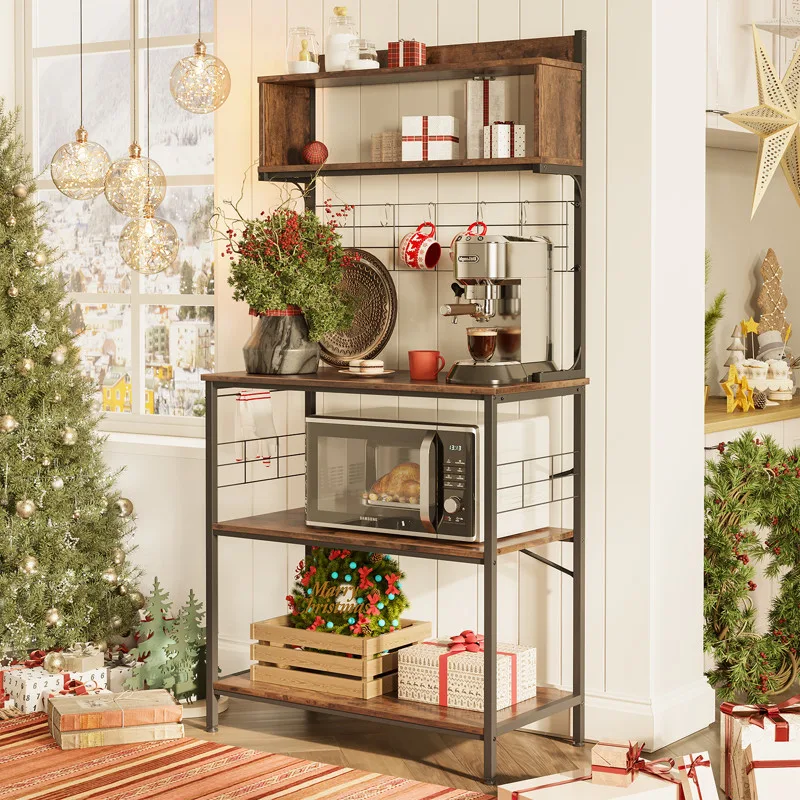 Home Office: ​Increase your storage capacity in an office or craft room with a small bakers rack. I'd try to find one with a gorgeous ornate frame look, but think of all the possibilities and different ways you could use this in any room of your home.
Art and Decorative Items: Use your baker's rack as a platform to showcase your art collection or decorative items in your living room. Place sculptures, framed artwork, or decorative vases on the shelves. This can add an artistic flair to your kitchen.
Bathroom: ​If you have the luxury of a spacious bathroom where you could fit a baker's rack, imagine a bathroom rack with open shelves filled with bath accessories, rolled towels, and wicker baskets filled with extra toilet paper, etc. A touch of charm in a usually utilitarian space and a bit more airy than a storage cabinet.
Remember to personalize your baker's rack to match your kitchen's or home's overall style and your personal preferences. Mixing and matching different elements can result in a unique and visually appealing display.
Rustic Kitchen Decor Ideas
Need more inspiration, DIY tips and budget-friendly ideas for your kitchen?
Check out this post focused on creating chic, rustic cabin kitchen decor that evokes warmth and style.
Where to Buy a Baker's Rack
You can buy a baker's rack from a variety of places, both online and in physical stores. Here are some options for purchasing a baker's rack:
Online Retailers: Websites like Amazon, Wayfair, Overstock, and Walmart offer a wide selection of baker's racks in various styles, materials, and price ranges and with FREE SHIPPING. You can browse through customer reviews and compare different options easily.
Furniture Stores: Many furniture stores, both local and chain stores, carry baker's racks. Visit your local furniture retailers or check their websites to see if they have the style you're looking for.
Home Improvement Stores: Home improvement stores like Home Depot and Lowe's often carry kitchen furniture, including baker's racks. They may offer a range of options, especially if you're looking for more utilitarian or metal designs.
Specialty Kitchen Stores: Stores that specialize in kitchen and culinary products, such as Williams Sonoma, Restoration Hardware or Sur La Table, sometimes carry baker's racks that cater to specific culinary needs or aesthetics.
Antique Stores: If you're interested in vintage or antique baker's racks, antique shops and flea markets can be excellent places to find unique pieces with historical character. I love the character of a vintage look to add some warmth to small kitchen.
Online Marketplaces: Websites like eBay and Etsy can be great for finding unique and vintage baker's racks. You can often find one-of-a-kind pieces with distinct designs. If you hate the color, remember that using spray paint is an easy, budget friendly DIY project that doesn't take much time.
Local Craftspeople: Consider supporting local artisans and craftspeople who may custom-make baker's racks to your specifications. Check local craft fairs, woodworking shops, or online marketplaces like Etsy for custom options.
Garage Sales and Estate Sales: You may come across affordable baker's racks at garage sales or estate sales in your area. This is a great way to find unique and budget-friendly pieces.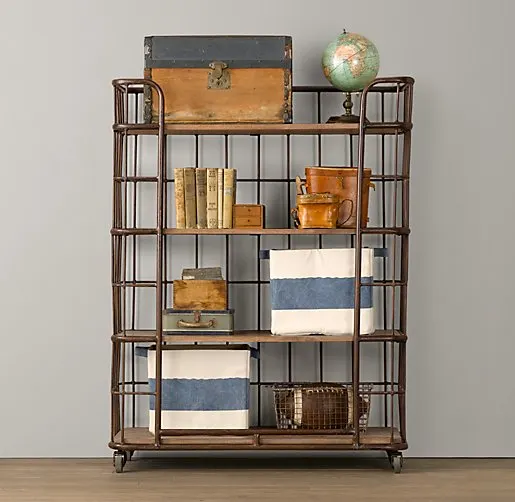 When shopping for a baker's rack, be sure to consider the size, style, and material that best suits your kitchen and storage needs. Additionally, compare prices and read reviews if you're shopping online to ensure you're getting a good deal and a quality product.
19+ Chic & Affordable Christmas Tree Filler Ideas
Want a gorgeous Christmas tree? Incorporate some tree fillers to add visual interest and style!
History of Baker's Racks
The history of baker's racks dates back to the 17th century in France (this might explain my obsession with them), where they were initially designed and used by bakers for cooling freshly baked bread. These early baker's racks were simple wooden or metal structures with horizontal shelves and a work surface on top.
The primary purpose of these racks was to allow hot bread to cool evenly and quickly after coming out of the oven. The open design of the rack allowed air to circulate around the bread, preventing it from becoming soggy.
Over time, the use of baker's racks expanded beyond bakeries, and they found their way into domestic kitchens and other settings. Their versatility, practicality, and decorative potential contributed to their popularity.
Here are some key points in the history and evolution of baker's racks:
18th Century: Baker's racks began to be used more widely in homes and kitchens during the 18th century in Europe. They were often made of wrought iron or wood and featured ornate designs, reflecting the artistic styles of the time.
19th Century: As manufacturing processes improved, baker's racks became more accessible to the general public. Their designs continued to evolve, incorporating decorative elements such as scrollwork, glass shelves, and intricate details.
20th Century: In the 20th century, baker's racks continued to be used in kitchens for various purposes, including storing cookware, dishes, and small appliances. They were also embraced by interior decorators and used as decorative pieces in dining rooms, patios, and other living spaces.
21st Century: Baker's racks remain popular in modern kitchens and homes. They are available in a wide range of styles and materials to suit different design preferences and storage needs. Some designs have adapted to fit contemporary spaces, offering features like wine racks, stemware holders, and adjustable shelves.
Today, baker's racks are not only functional storage solutions but also decorative pieces of furniture. They are often used to display decorative items, house indoor plants, or serve as stylish bar carts. Their historical association with baking adds to their charm and appeal, making them a versatile and enduring addition to both traditional and contemporary interiors.