Bonjour, mon ami!
I am so happy you're here to check out my office reveal. Now before anyone asks, the color is SULKING ROOM PINK. Quirky name; perfect moody color for a home office.
If you're thinking, "didn't Monica just redo her office last August?" you're not wrong, but you're also obviously not following me on Instagram where I share all the deets as it happens.
Think of the August makeover as phase 1 and think of this post as the finished product.
I'm proud to say this room is about 95% thrifted or secondhand finds, and 0% was sponsored.
This is all me. Grab some champs, or the beverage of your choice and let's dive in!
French Antique Desk
This desk was an exercise in patience, and it is a bonafide French antique. Legit. It's made in France, it's old and it's mine. Originally listed at nearly $1,000, I snagged it for $350 last fall, and now the office deserves this desk.
I love the look, the warmth and the history behind the piece. It's paired with a gilded pagoda vintage chair that is terribly uncomfortable and seriously I need to take this in to the upholsterer to add more cushion.
I never did get around to gilding the second one purely because I am lazy and it took way longer than you can imagine. Maybe one day I will do it. For now, some thrifted frames and a gilded switch plate cover add that dash of gold I love.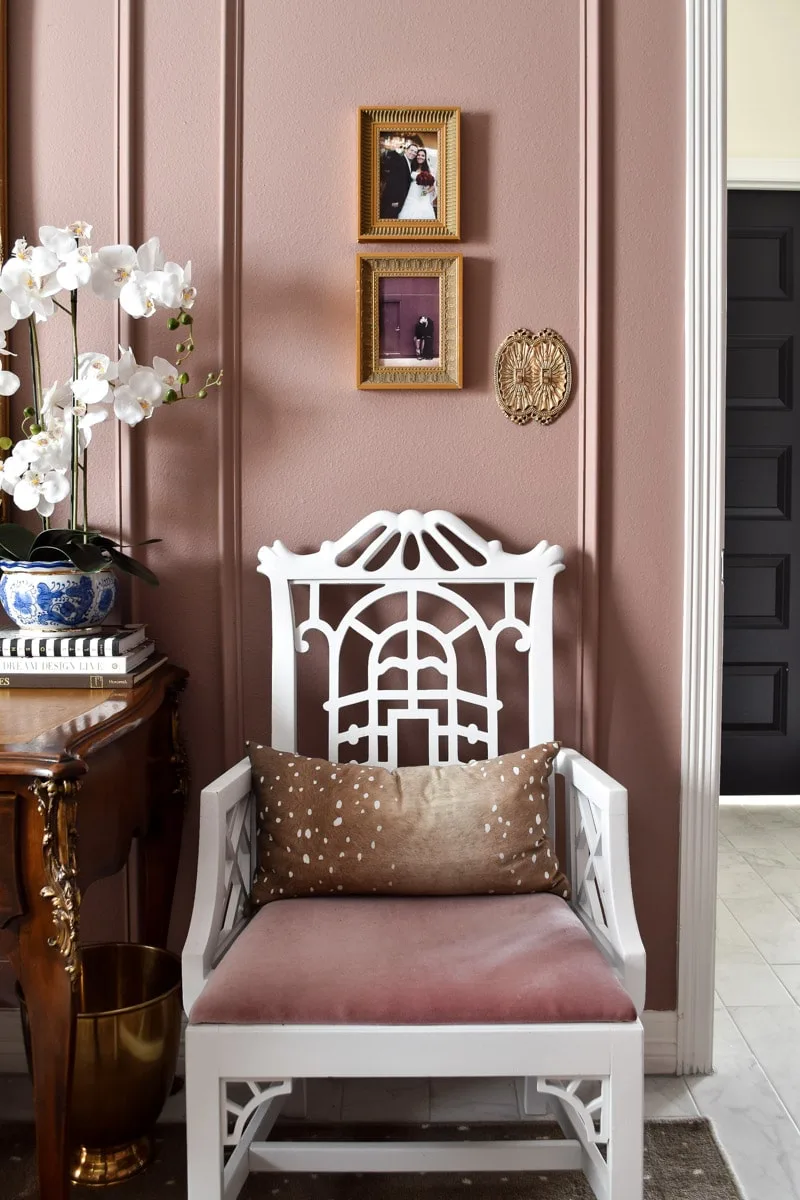 The art above the desk is a creation of mine using digital art, florals and art deco inspired elements. The frame was a lucky $20 find at our local Habitat ReStore, and then the eagle mirror was a lucky FBMP find.
If you're counting, yes, this now means I have 3 federal eagle mirrors in my home. I have a small, medium and large and for now I am done…unless I find one at a fabulous price.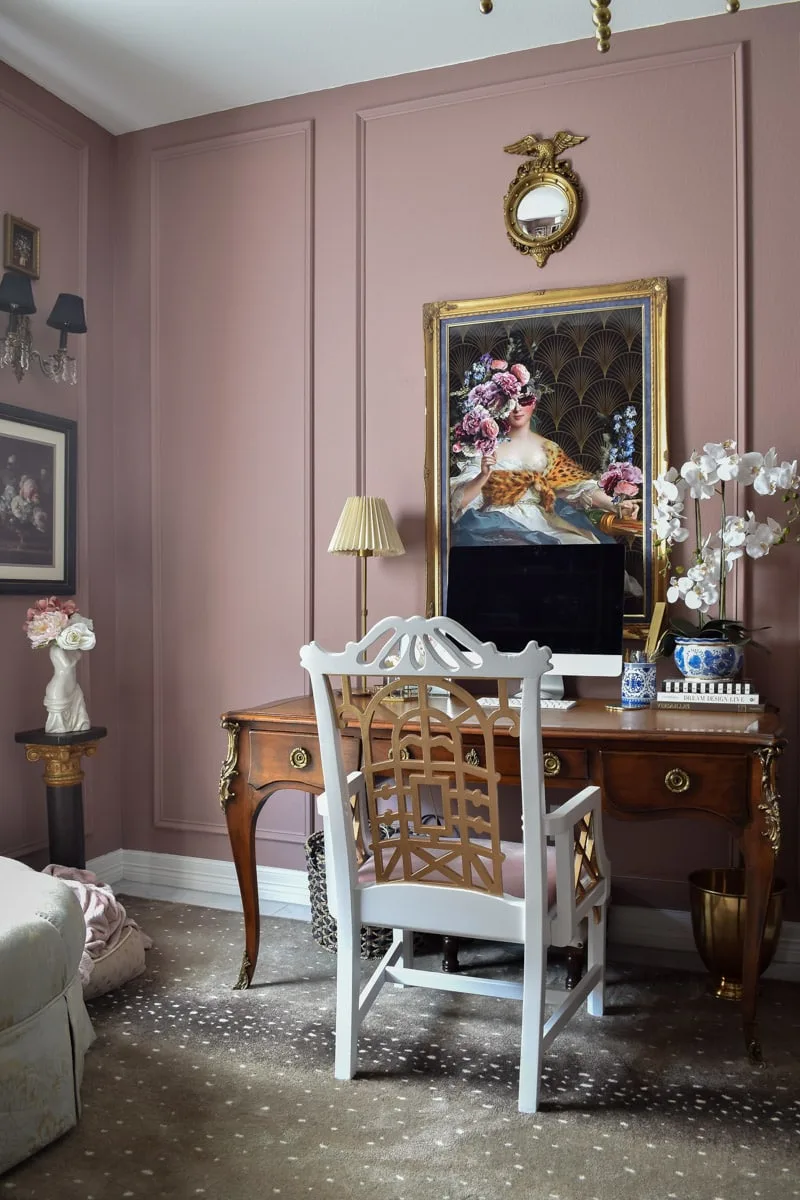 On my desk I have the most darling custom portrait of Pee Wee IN A BERET that was given to me by my very talented friend Victoria Bell. She offers these in her Etsy shop if you'd like to snag one and support a woman owned small business. The pleated shade was $2 at a local thrift store, can you believe it?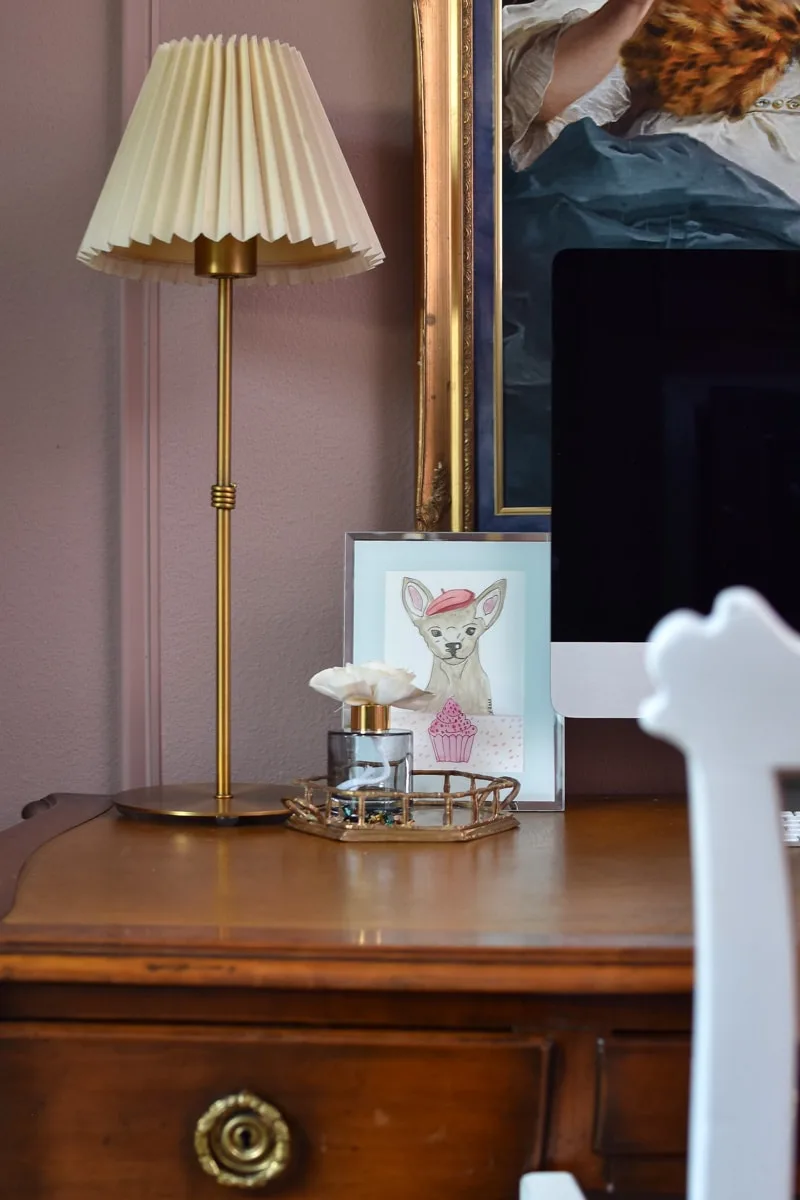 On the right hand side of my desk, I have a stack of books and some chinoiserie accents and florals that bring me joy to look at each day.
The Sofa Wall
Initially I put moldings on just the wall with the sofa, but it looked SO GOOD I committed to getting moldings up on all the walls. This was a weekend project that was a ton of meticulous planning and hard work, but so worth it.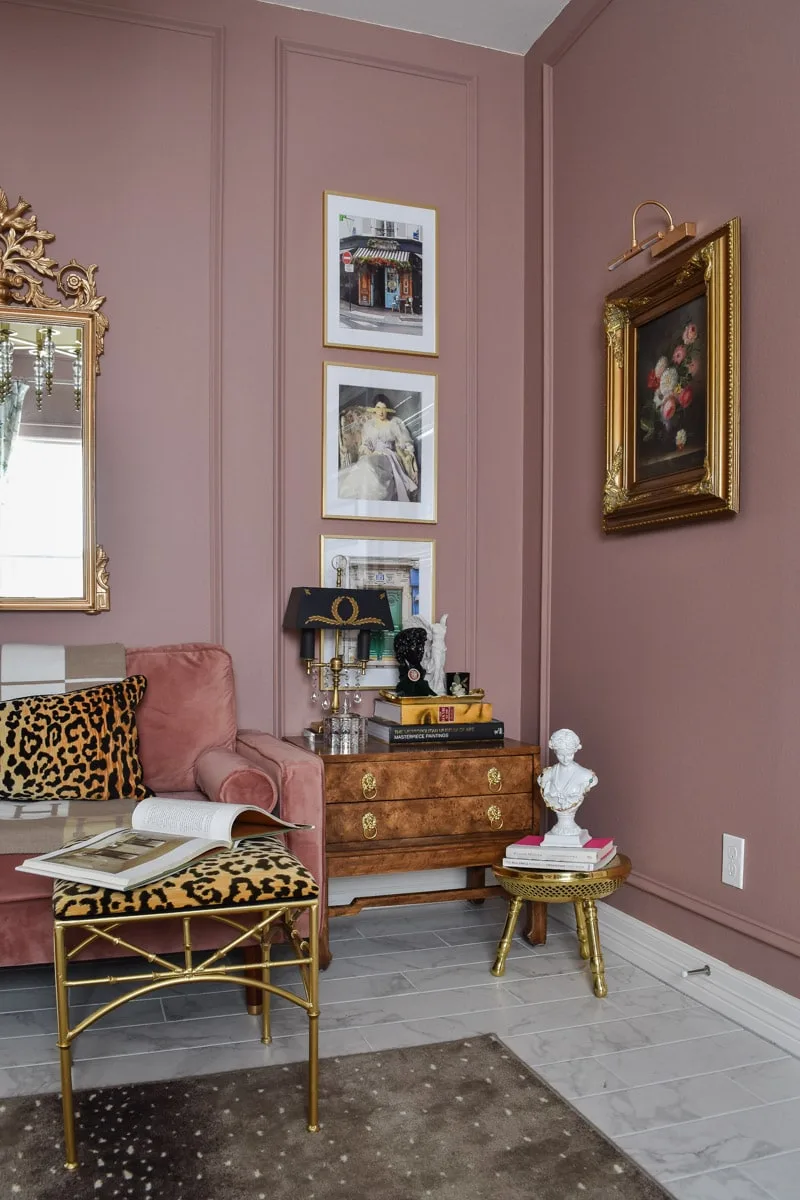 For the sofa wall, I chose to make the center panel a bit wider to really ground the space and serve as focal point for the mirror. That mirror was a brown plastic finish that I then gilded. The mirror was about $40 at my local Salvation Army store, and it was worth every cent. Such a unique piece.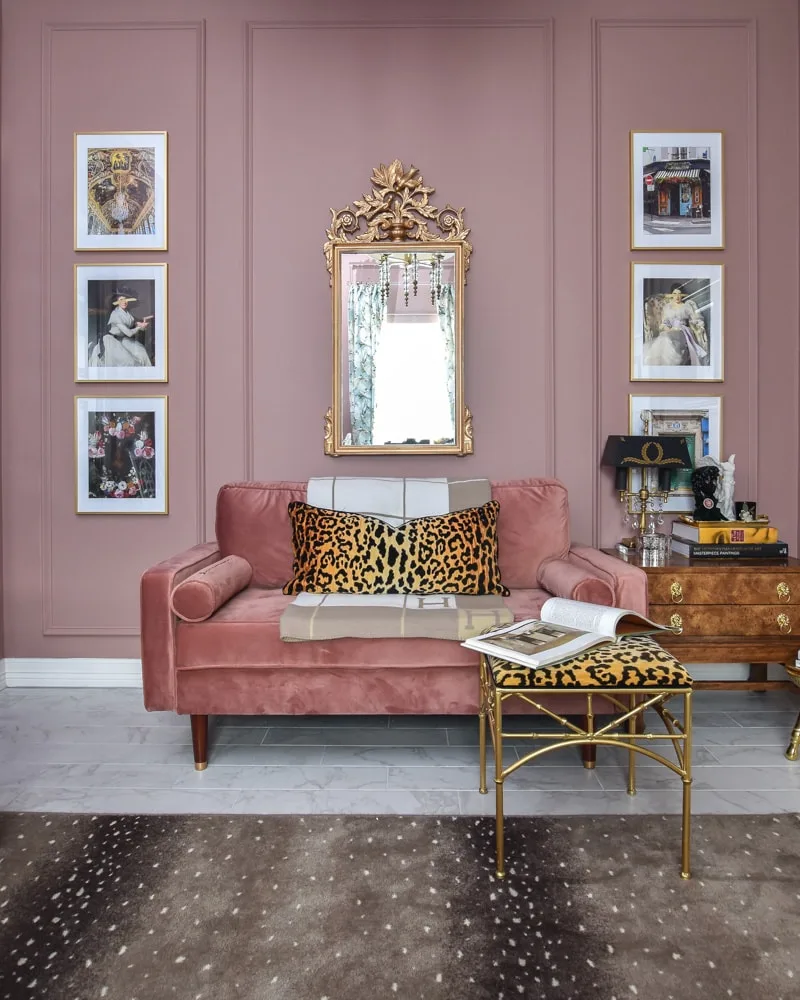 Overall, I usually have my door closed for work video calls, so the left wall gallery isn't covered up too often. I wanted to be surrounded by beautiful art work in this space, so there's a myriad of framed art to feast your eyes on.
This original floral oil painting got a whole wall all to itself, and I love the simplicity and boldness of this choice. It commands attention, and the addition of the picture light makes it seem super important.
The sofa wall is probably my fave wall in this space, but truly that is a hard distinction to make because I've put so much thought and energy into curating this space to be both beautiful, practical and decidely Parisian.
The day I bought this burl wood end table is a day I will always remember because they had two of these beauties and I only bought one. All the regrets. If you can snag a pair of something, do it!
This vintage foot warming stool (people would put coals in it, interesting eh?) was a local find and I loved the bold brass color. For now, it holds some books and the beautiful sculpture bust my husband bought me for my birthday!
Decor & Details
This view below is what you see from the door way looking in, so I wanted it to be neat, stylish and useful. That etagere holds almost all of my Cricut crafting supplies.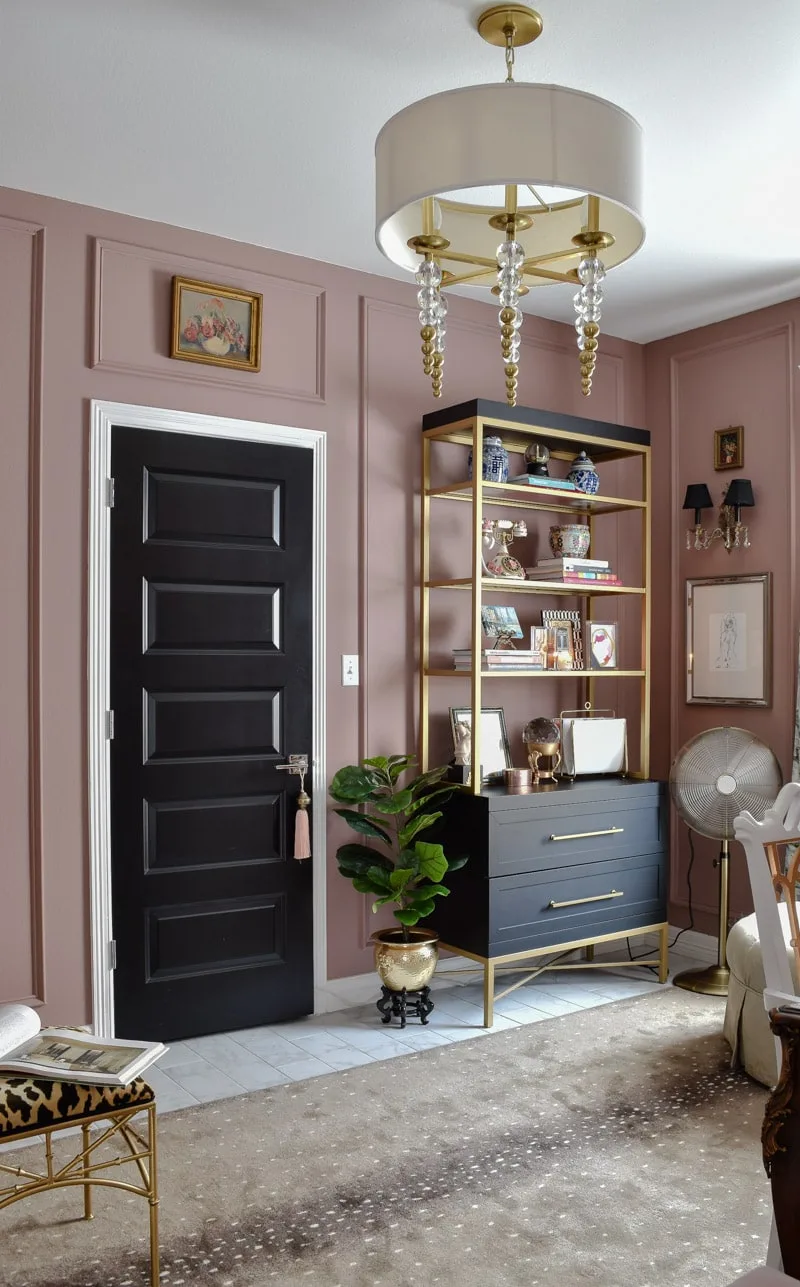 Putting art above door ways is not something I usually do, but I love the unexpected in design. I also love the controversial, which I am assuming might be that gold fan. Look, it gets really hot in Texas!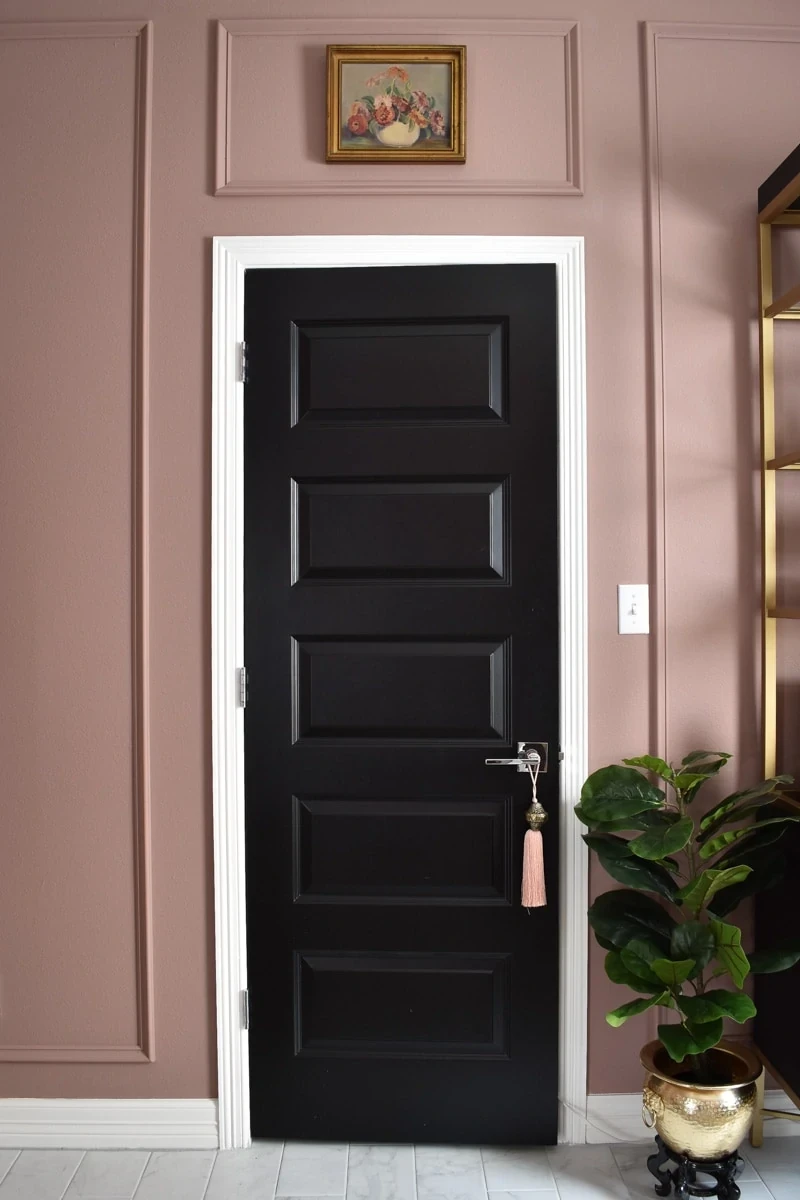 On the etagere, I have a mix of books and decor that inspire me daily. Usually I STRUGGLE with bookshelf design, but when I styled this it all came to me in under 10 minutes, and now I'm afraid I will never change it up.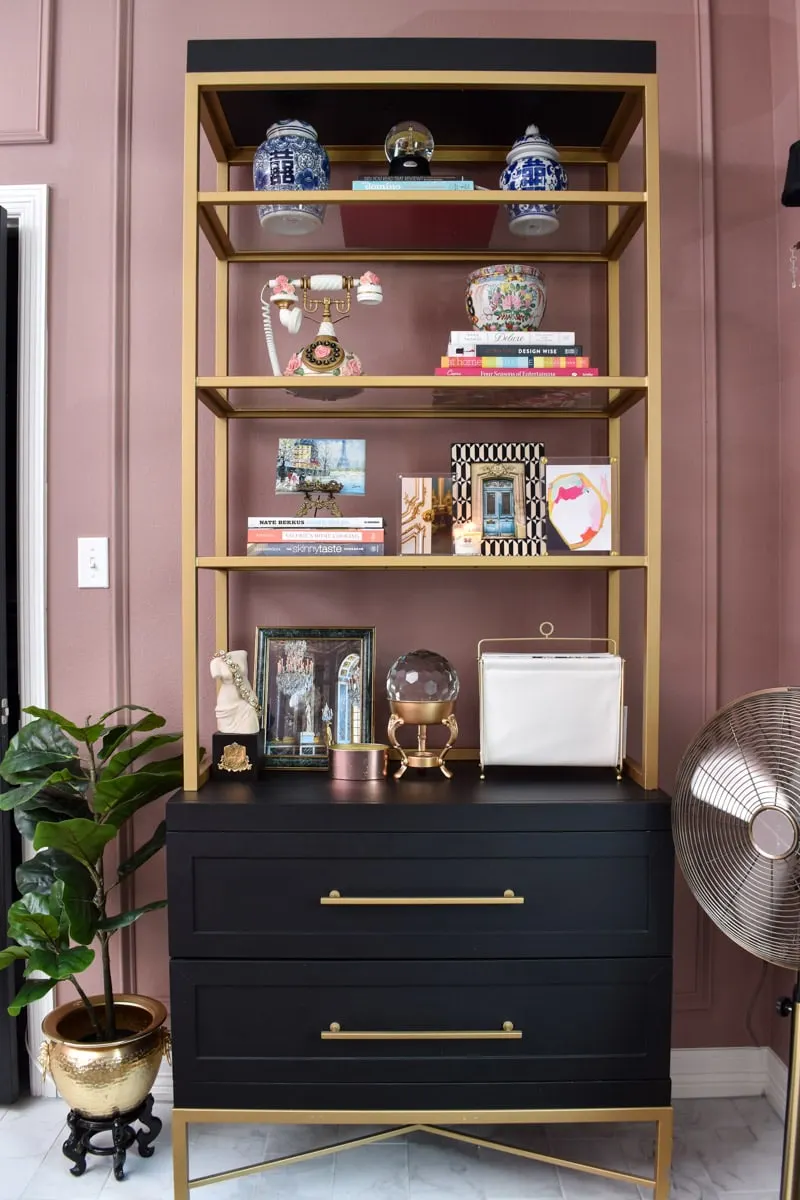 I love this arrangement so much. Each piece tells a story, adds style or both.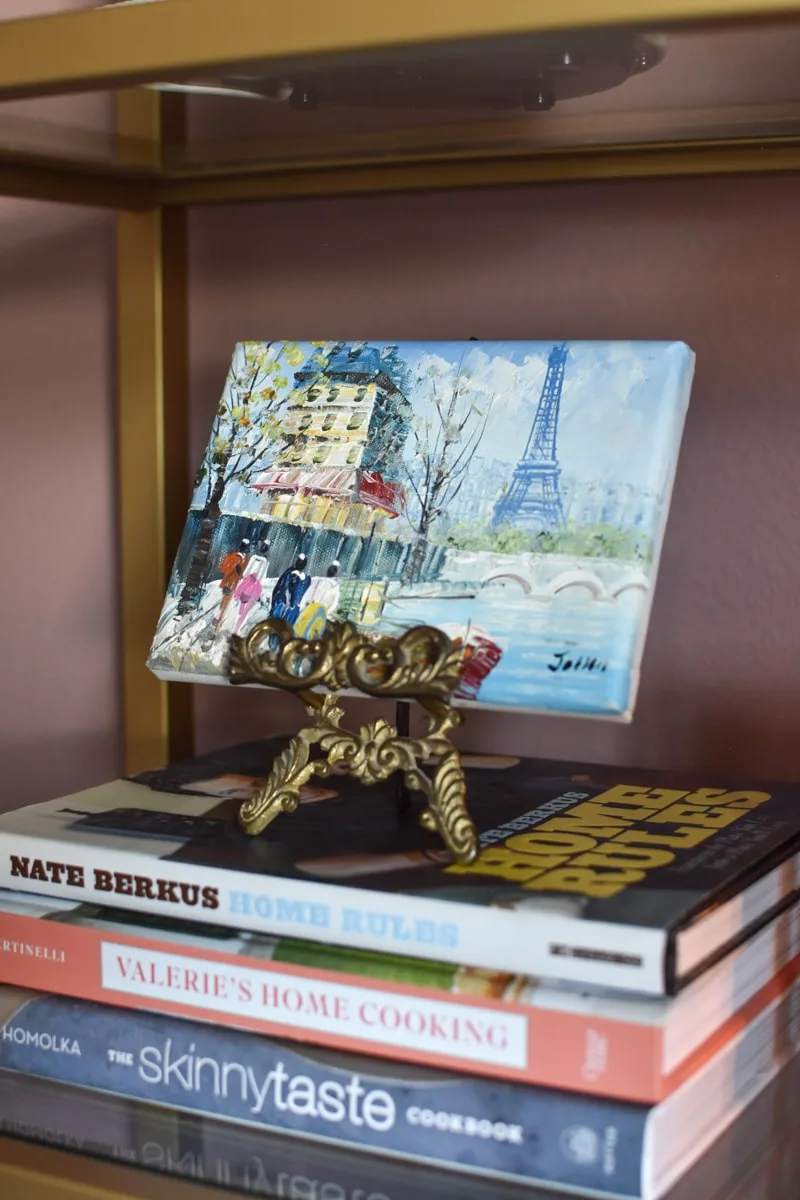 On the wall areas flanking the window (which is off center in the whole room and I only realized this once I had to measure for moldings…I ended up hanging the curtains in a way that would mask the problem) I opted for a nearly identical set-up of small floral oil paintings, vintage sconces and artwork.
That tufted ottoman must have cost someone a lot of money. The fabric and construction is top notch, and someday I may have it reupholstered, but on the other hand, doesn't it look FABULOUS in here?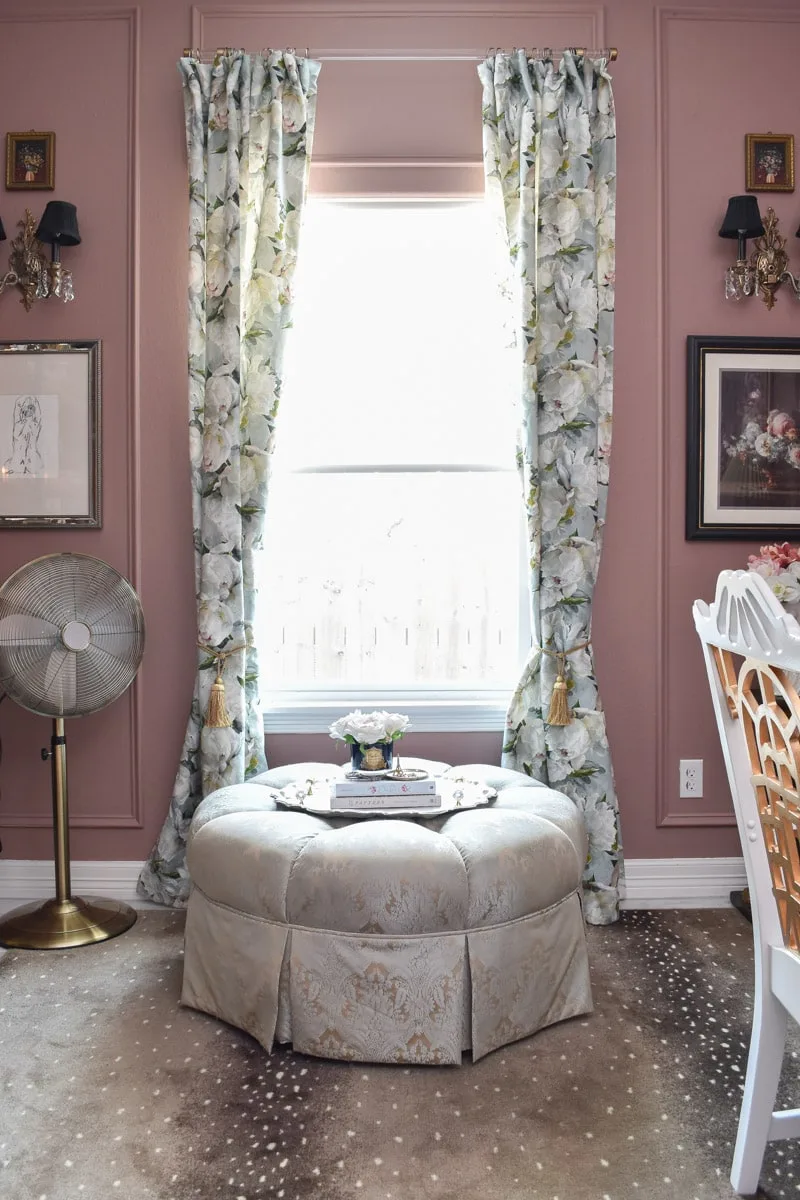 The ottoman is permanently covered with a tray (also thrifted) to strongly discourage Mr. Pee Wee from being adventurous and hopping onto it.
On the left side of the window, I opted for a framed nude sketch for a bit of a break from the floral overload in this space. How pretty are these drapery panels? These pleated drapes are NO SEW you all. I will be writing a tutorial about this soon so you can make pretty panels with no sewing skills required.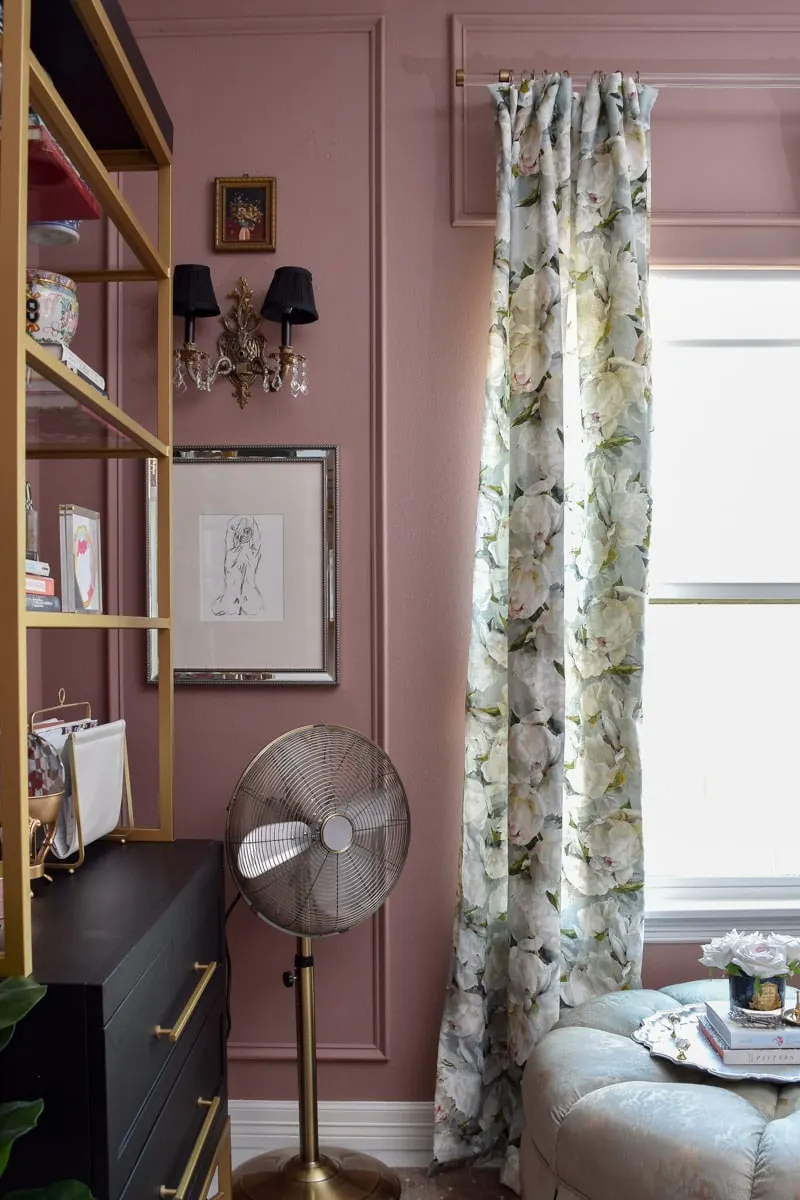 On the right side of the window, same set-up but I brought in another dutch floral type art with a black frame.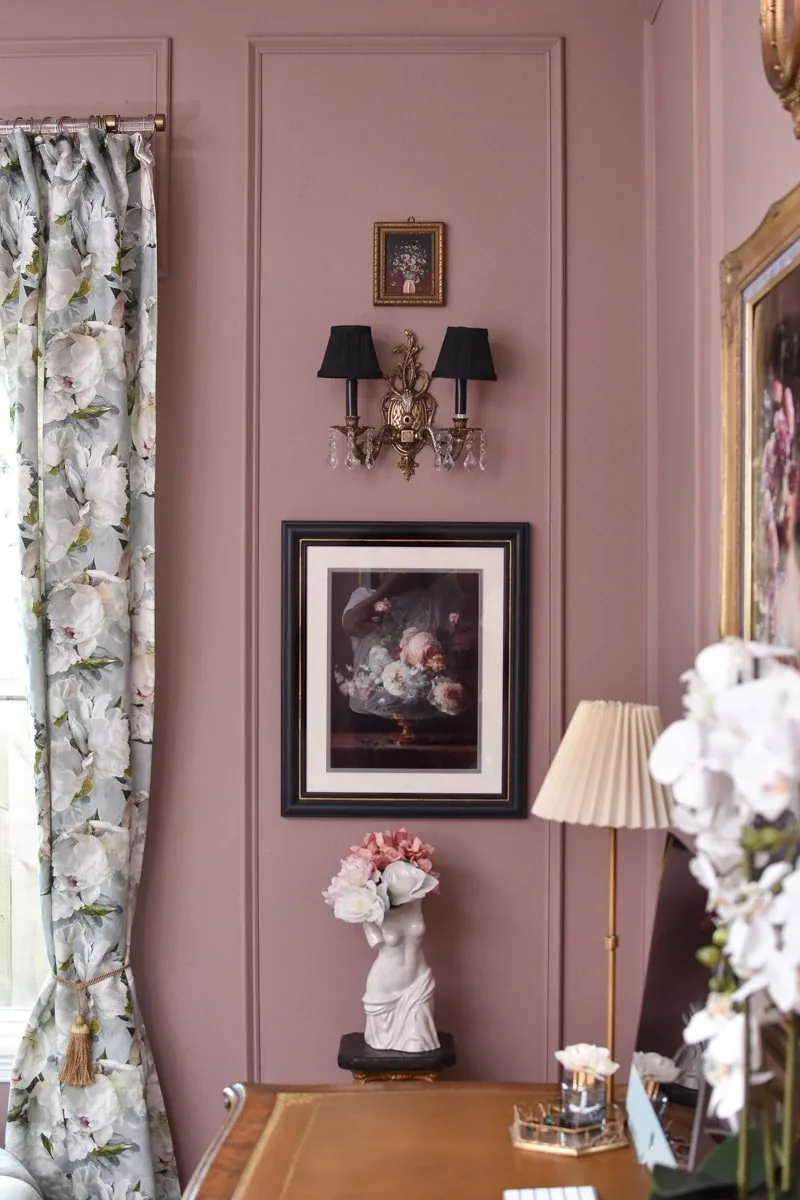 Under the art in this area is a black and gold pedestal that is HELLA HEAVY and I found it at Goodwill for $6. A corner is chipped off, but I painted it black and shoved it to the back. A beautiful sculpture vase with some faux florals adorns the pedestal base, and to keep it real, Pee Wee's heater and dog bed are usually in that spot right in front of the pedestal.
Thanks for stopping by to see my newly painted office complete with new drapery, moldings and secondhand treasures that make this office PURE JOY to work in every day. Seriously, can I please work from home forever? My office at work is a closet with no windows.