I have a super fun holiday idea today that you'll want to recreate this holiday season…a coffee cart! There's nothing better on Christmas morning than to gather around the tree, brew up a hot cup of coffee, unwrap presents, watch TV and play games all day with those you love!
I love the idea of a coffee cart because it allows everyone to brew up their own coffee on demand, plus you can set-up fun coffee add-ins to let people create their own flavors. Using a bar cart makes this portable so you can focus on spending time with those you love and spend less time in the kitchen.
Here's a GIF showing a brief time lapse of the set-up, but I'll walk you through it below.
Coffee Cart Decor:
Before starting to set-up my coffee station/cart, I added a simple garland to the side of my bar cart and secured at the top, center, and bottom with some garland ties. I also added a festive holiday chalkboard sign to the bottom.



Coffee Cart Set-Up:
To make clean-up easy, I used a large gold tray as the foundation for my cart- if any coffee or toppings get on it, I can easily wipe it down and my cart stays clean. Then I added in my Keurig, white porcelain mugs each containing a spoon, plus ramekins with dark chocolate melting wafers, crushed candy canes, creamer, and marshmallows. Other add-ins could include sugar, milk, whipped cream or biscotti.
I chose to put the K-Cups® in a sequined stocking and tied that onto the coffee cart with a black satin ribbon.
For the bottom shelf, I put a few throw blankets in a basket in that are perfect for cozying up with a holiday movie after Christmas brunch and coffee. You could also stack some family board games, movies, snacks, presents, or everyone's matching pajamas for the morning. So many fun options!
The great thing is that your home will smell like freshly brewed coffee, and I can't think of a better smell on a holiday morning, can you?
On your next shopping trip to Walmart, you can find the Starbucks® Holiday Blend K-Cup® Packs 16 ct in the coffee aisle or in the Keurig section for all of your special gatherings this holiday season. Also, if you purchase three (3) qualifying items Starbucks® packaged coffee (10-20oz.), Starbucks® K-Cup® packs (9-32ct.), VIA® Instant (5-8ct.), Starbucks® Syrups (12.17oz.), or Starbucks® Cookie Straw packs (9.17oz.) products in a single transaction at Walmart stores from 11/1/17 through 12/26/17 you can upload your receipt at Starbucks-stars.com to receive 75 bonus stars to your Starbucks Rewards account putting you that much closer to gold status.
You can also shop directly from the image below: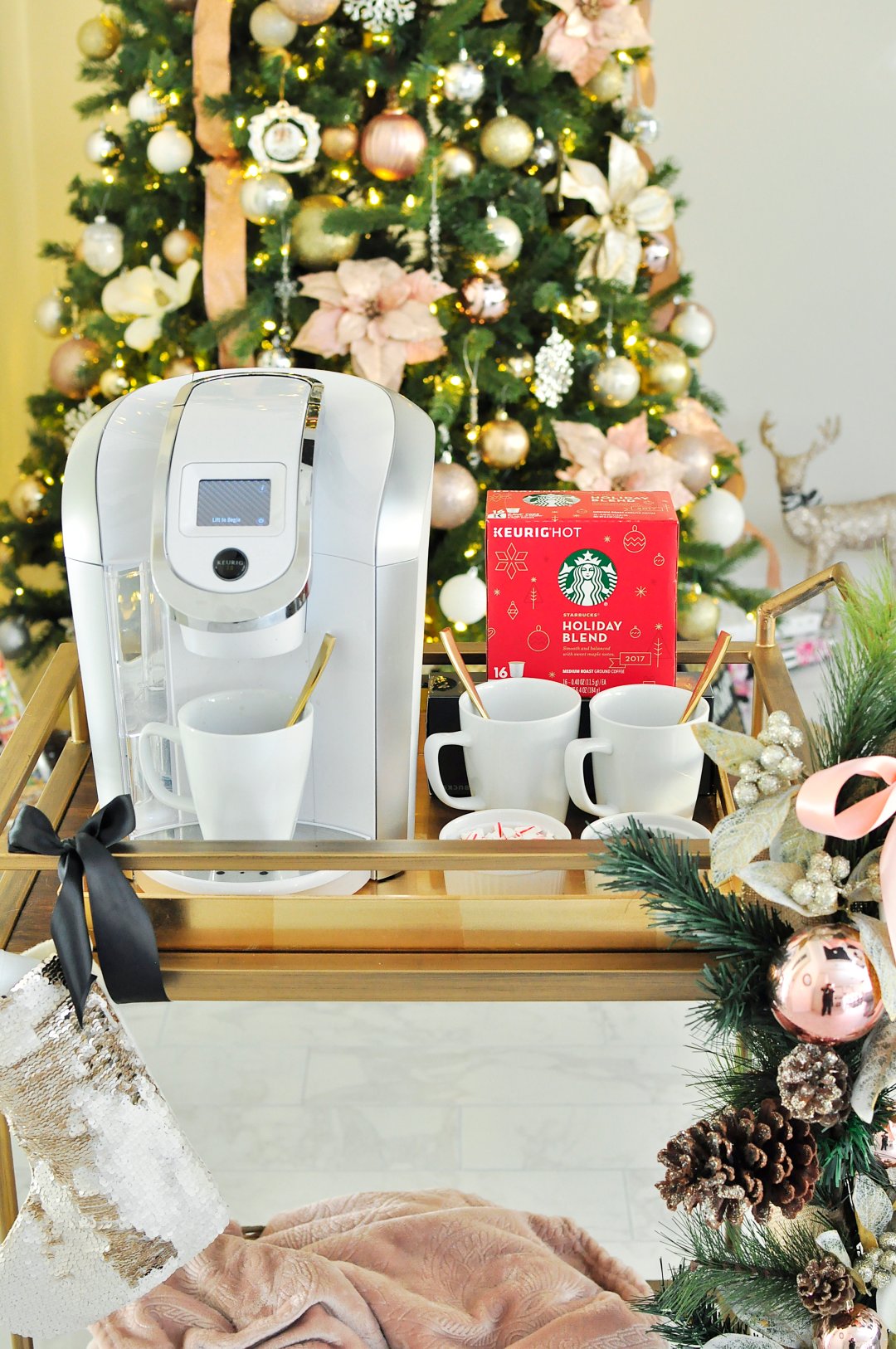 I hope this holiday coffee cart idea has inspired you to do something fun and festive with those near and dear to your heart. Now it's time for a cup of coffee, have a great day, friends! xo.