Hi everyone! Things have been kind of hectic and in-progress here in our household, but I did want to show off some new projects/spaces for you all to enjoy. Thanks to Marty from A Stroll Thru Life for hosting this fun blog hop.
If you landed here from It All Started With Paint, welcome!
The Green Room
The biggest changes happening in our home have been in our home offices. I have an office and so does my husband Daniel, and we know we are very lucky to have the extra room to do this with since we have no kiddos.
Daniel's office went from a spare bedroom that held a ton of junk and was basically a sad, small, white space void of any style.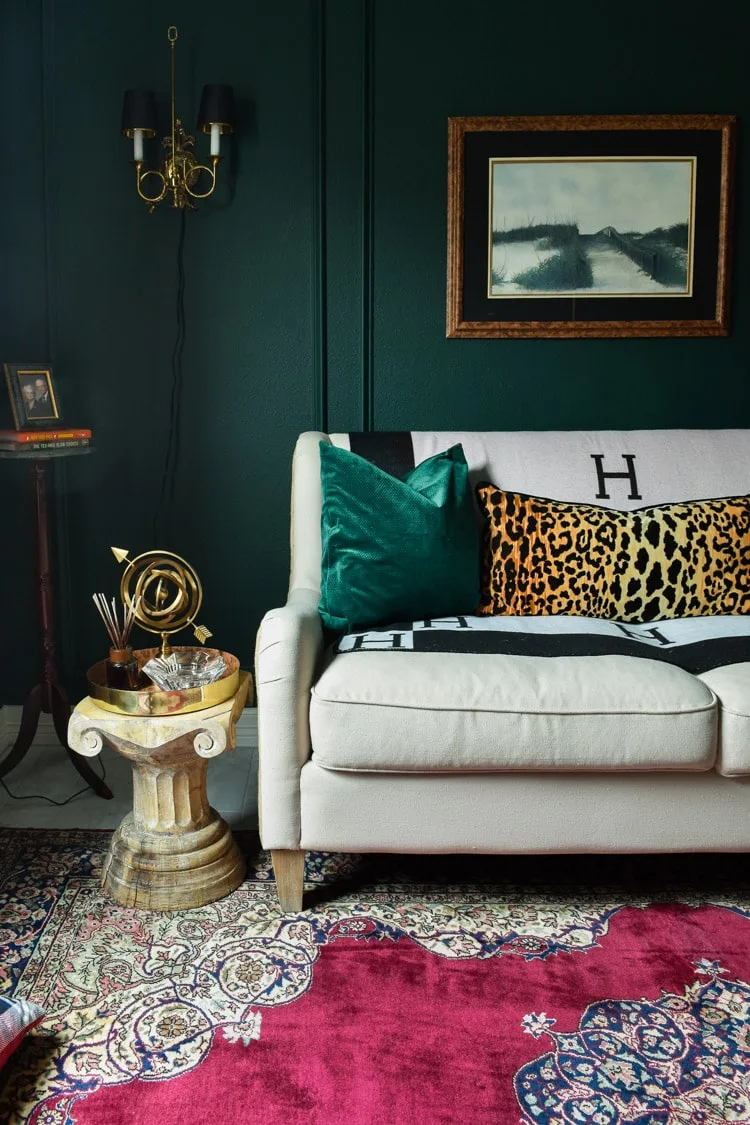 Now it is a room that has a bold hunter green wall color and a stunning vintage rug that adds a much needed pop of color to the space.
I'll be doing a full reveal of this space soon, and it's filled with thrifted and secondhand furniture and decor. I am so proud of the transformation this space has gone through since we started it back in January.
Parisian Home Office
As I mentioned earlier, my home office is getting a spring makeover, too! Once I saw how GORGEOUS my husband's office looked with a coat of paint, I then knew I simply had to paint my office.
You may be thinking, "didn't she just redo her home office last August?" and the answer is yes! I did…sort of. It was mostly moving my old office furniture into a new room and putting up some decor on the walls, but this current makeover is a TRUE MAKEOVER.
The first thing that left the room was the original desk:
Which got replaced with this gorgeous French antique desk I snagged from Facebook Marketplace.
Here's where it started with the sofa wall:
Then I added moldings to the sofa wall:
And finally, after much indecision and spending $40 on Samplize samples, I landed on this sexy shade of pink on the walls.
Because I am a glutton for punishment, I then decided to add moldings to ALL the walls on my office, and it looks phenomenal. I'm waiting for a few more things to arrive and then I will do a proper reveal of the space soon.
Here's another sneak peek of the wall color. I don't know if it's unhealthy to love a paint color this much, but I am simply smitten.
And since I showed you all this dresser up above…that, too, got refreshed with a whole new color and honestly I love the black even more!
Those are the spaces that are newly decorated for spring. I plan to usher in spring into my dining and living room spaces soon, and of course I'll definitely post it here on the blog.
Now I hand you over to the lovely Grace in My Space for more spring eye candy.
Spring Home Tours
Monday March 8th
A Stroll Thru Life – Worthing Court – Town and Country Living – Hymns and Verses – Decor to Adore – White Arrows Home
Tuesday March 9th
Cassie Bustamante – Inspiration For Moms – Thrifty and Chic – Southern State of Mind – Clean and Scentsible – RemodelaCasa
Wednesday March 10th
Grace In My Space – Whispering Pines Homestead – The Wood Grain Cottage – StoneGable – It All Started With Paint – Monica Wants It
Thursday March 11th
Southern Hospitality – Pink Peppermint Design – 11 Magnolia Lane – Modern Glam – CitrineLiving – Our Southern Home
Friday March 12th
This Is Our Bliss – Cuckoo4Design – A Pretty Life – Up To Date Interiors – Chalking Up Success – Fox Hollow Cottage – Follow The Yellow Brick Home