Happy Monday! I hope you had a fabulous Thanksgiving and are now ready to dive in to all things Christmas. Today, I am sharing small dining room holiday decor ideas as part of the It's a Colorful Life Christmas Tour hosted by my friends Jennifer and Jewel.
If you're visiting from Haneen's Haven, hello and welcome! I'm so happy you're here and hope you enjoy your time visiting my home from afar.
The small dining room space I am sharing today recently got made over into a French inspired dining room, and I'm thoroughly enjoying decorating this tiny space to the max.
If you're interested in all the details that went into my dining room makeover, you can read all about them IN THIS POST.
French Mantle Holiday Decor
My most favorite part of my home right now is this mantle. OBSESSED.
With lights on:
With lights off:
I decided to keep it very simple with asymmetrical glittery garland, some burgundy velvet florals, glass candlesticks and a recently made over lion's head urn that was a boring beige, farmhouse style decor item before I glammed it up.
I know the point of this tour is to be colorful, and while my interpretation of colorful is leaning towards tons of contrast and moody florals, I am loving this vibe right now so much. Something about black and white touches of sparkle, gold, green and burgundy is making me swoon.
These are the most giant candlesticks I've ever seen in my life, and I am so sad that I didn't buy more. I am LOVING how beefy they look in these otherwise dainty glass candlesticks.
Also on the mantle, are some black floral stockings that I need to buy stocking stuffers for! I love how striking the florals look against the ornate fireplace surround and against the black fabric I have lining the firebox.
I have been on the prowl for a French inspired fireplace screen and have not had much luck, BUT I did find this swan (that used to be a hideous powder blue color!) at a thrift store for $5 and her grandiose size makes her perfect to take up some room and hold ornaments for now.
Small Dining Room Christmas Decor
Since my dining room is small, and I have a limited footprint to work with, I have to get creative with other ways to add seasonal decor touches. A few years ago, I added garland to my chandelier (see below):
But, this year I wanted striking and simple. I didn't even set the table for this shoot because I wanted to convey an airy, classic, moody simplicity.
And what I love about this whole space is that the garland looks fabulous whether the lights are on or off.
I also added in some extra decor by DIYing some jeweled mini chair wreaths. I love the extra glam factor they add to these otherwise very open dining room chair backs.
Although admittedly, I've only gotten two of the four done that I need for this space.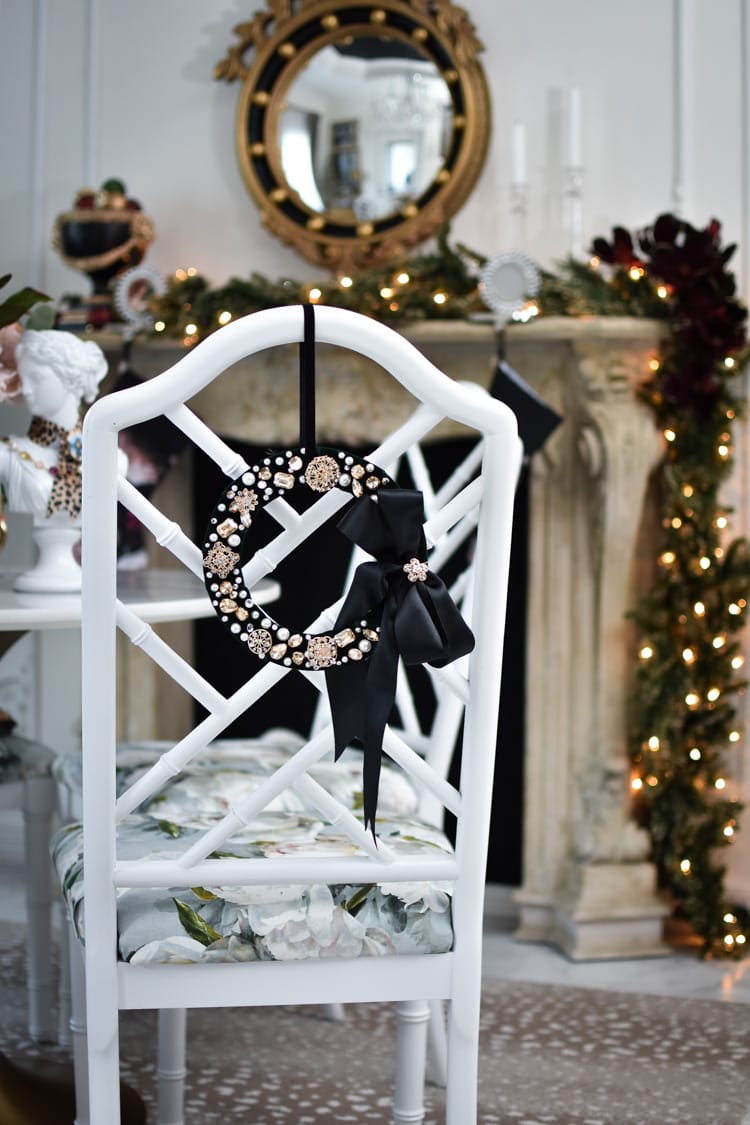 Note to self: finish up those chair wreaths!
I kept the decor on my $28 burl wood chest very simple, too. A champagne colored tinsel tree with disco balls and geometric ornaments stands next to a thrifted vintage floral phone and a few other baubles.
This burl wood chest is hands down one of my favorite furniture revamps I did in 2020, and I cannot get over what a perfect fit it is for my dining room space. I also love the extra storage!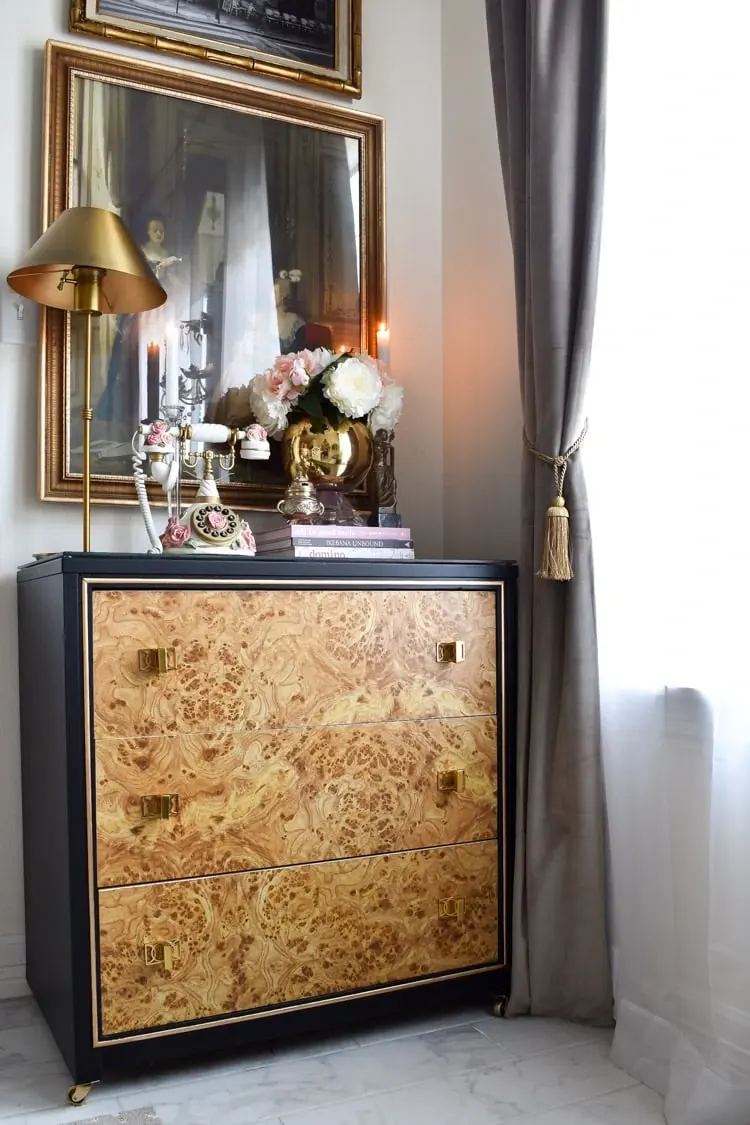 Colorful Christmas Decor Ideas
Since I have you here, I wanted to share some other Christmas decor posts you may love! Last week, I shared my Parisian pink, gold and floral 6′ Christmas tree that is in my home office.
Another look I love from year's past is another one of my office colorful floral Christmas trees:
I also recently did a tutorial on creating these museum inspired bust statue ornaments and it's also one of my most popular Instagram reels!
Thank you so much for visiting my home today! I'll be sharing the rest of my holiday decor later this week for my living room and kitchen, so come on back to see the rest. I now hand you over to my friend SKG Design & Style for VERY beautiful and colorful decorations you MUST SEE.
Here's the whole lineup this week for the #ItsAColorfulLifeTour:
TUESDAY
WEDNESDAY
THURSDAY
FRIDAY
Instagram It's A Colorful Life Party!
Post your Christmas decor in your feed this week with #ItsAColorfulLifeTour for a chance to be featured in IG Stories by IACL Tour bloggers!