I have this habit of getting super excited about something (ex: my Schumacher Chiang Mai Dragon fabric dining chairs), getting it done and then forgetting to update the blog. Forgive me?
The last time I wrote about my chinoiserie chippendale dining chairs, I was pretty set on going with the Schumacher Chiang Mai Dragon fabric in the ebony colorway.
Honestly, I wasn't thrilled about it because in my head I really wanted the alabaster version, BUT it all really, really, really worked out for the best. Plus, the ebony Chiang Mai fabric is almost always on sale, whereas the alabaster is not.
As soon as the fabric came in, I did a dry run on one of the cushions and was smitten. (Note: the chairs were only primed at this point.)
Hiring Out Reupholstery for Dining Cushions
A decision I received a lot, and I mean a lot, of heat for was paying to have the cushions reupholstered. You guys… it was $25 a cushion.
The fabric was not cheap, and my DIY upholstery jobs always look like DIY upholstery jobs if you catch my drift.
I did a ton of research to find someone locally, and I ended up narrowing it down to two upholstery shops in Corpus Christi based off reviews I found on Yelp, Google and Facebook. One company blew off my messages, so I obviously didn't use them.
Instead, I physically went and visited Sun Upholstery on Apollo in Corpus Christi. I took a cushion with me so he could provide me with a quote. We agreed on $25 a cushion with piping and a week later I took ALL the cushions back along with the fabric.
Charlie from Sun Upholstery in Corpus Christi had my cushions done by the following Wednesday, so in THREE BUSINESS DAYS I was marveling at my new Schumacher Chiang Mai Dragon dining cushions. Here they are loaded into my car.
While I was having the cushions reupholstered, I got to work on painting the chair frames a high gloss white. They turned out flawless!
Helpful Tips for Having Dining Chairs Reupholstered
Get a quote before you even buy your fabric. This will help you buy enough fabric and help you stay on budget.
Use Painter's Tape to generally box around the fabric area's you want used on each cushion (especially helpful on a busy fabric like the one I used). I thought I was being annoying, but Charlie assured me upholsterers like the guidance because they want to make sure you're happy.
Supply your own fabric! This way you'll avoid mark-ups and can use sales/discount codes to save money.
Ask for your fabric scraps back and provide a marked Ziploc bag for them to easily stuff them in. I have large Chiang Mai Dragon pieces left I can use for DIY art or small projects.
Include a one page sheet with details about your requests and your contact information. I used big font to make it easy to read.
My upholsterer gave me a deal if I paid in cash- ask if yours will!
Schumacher Chiang Mai Dragon in Ebony
Once I picked up my dining cushions and saw the Schumacher Chiang Mai Dragon seats in ebony, I absolutely knew we made the right decision.
I was even more convinced once I saw the cushions on the high gloss white chippendale chairs that I painted myself. This was such a rewarding project all around.
My vision truly came to life! What I love about these chairs is that you can SEE the fabric through the fretwork back.
My next to do regarding these cushions is to Scotchguard them. I want these dining cushions to last forever.
I know to some people the dragon in the fabric is a little jarring and not their fave part of the design.
I embrace the dragons, and I ended up with two identical dining chair cushions that have the dragon on them prominently.
The other two have more of the florals, so overall, I couldn't be more thrilled. If I wanted to have all four of the cushions be the same, I would have needed to double the amount of fabric… nope. All the nopes.
For the piping, I opted for black velvet. I love the contrast it creates, and it looks super sharp next to the white chair frame.
I pinky promise I will show you ALL the chairs in the dining room with a phenomenal tablescape very soon. I have a few things on order that I'm waiting for, and I promise it'll be worth the wait. Here's a sneak peek though…
Alright, I know many of you were skeptics about this fabric. Did I win you over?
---
Have a love/hate relationship with Facebook Marketplace?
I wrote a thorough guide for how to use keywords, negotiate with sellers and generally find fabulous home decor and furnishings on there for your home.
It's one of my most popular posts recently. Read my Facebook Marketplace Shopping Guide!
Other Posts You May Like: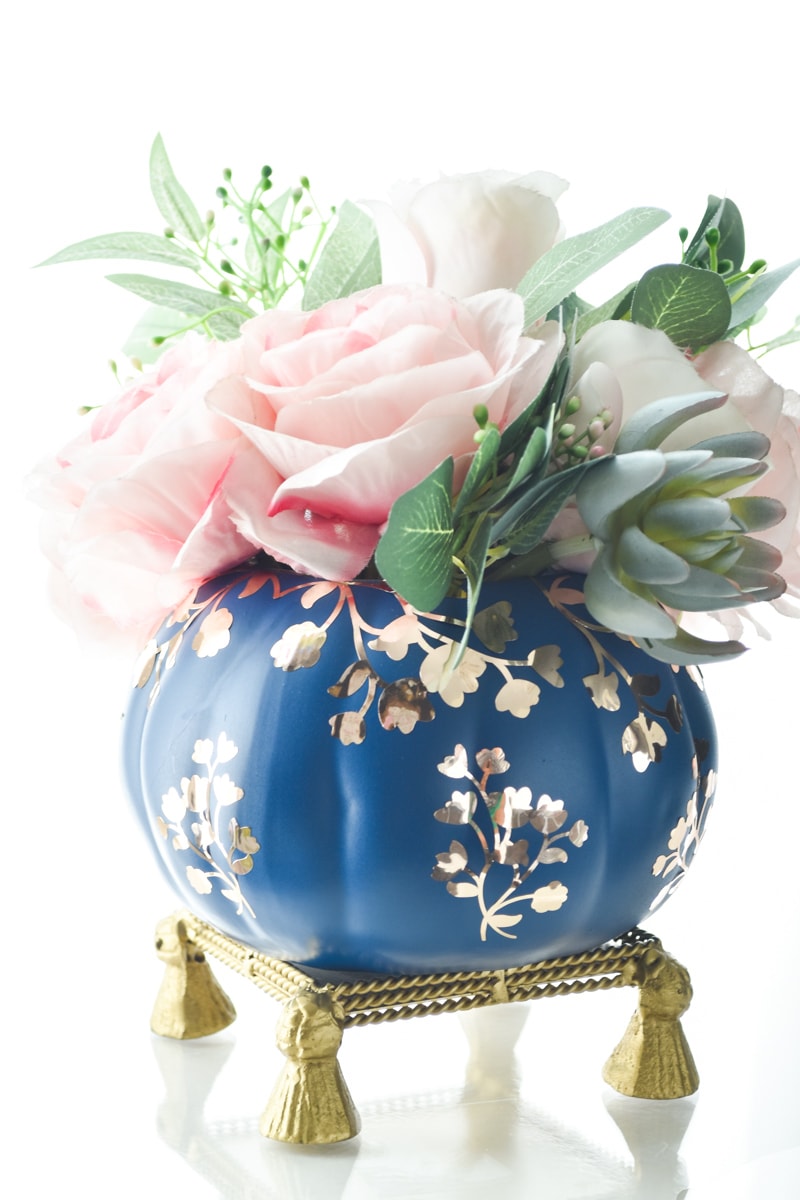 I know it is early and HOT for a DIY chinoiserie pumpkin tutorial, but this…