Over the course of a long weekend, we had the hankering to finally decorate and do something with Daniel's office. We ended up painting it a deep, moody hunter green color and then we started the hunt for a gorgeous rug to really accent and set the tone for the space. We chose a rug from Revival and our review is below.
And that's where Revival comes in. Revival offers one-of-kind vintage and new rugs at affordable prices (and to make it even more affordable use code MONICAB10 to save an additional 10%).
Revival Rugs Review
What impressed me initially about Revival was the access to vintage rugs, and their very transparent process about how they acquire them and revive them.
As I dove deeper into the mission behind their brand, I fell in love their approach to sustainability (no poor quality, machine made, will only last for a couple years kind of rugs), commitment to fairly paying the craftsmen who make these rugs, and of course the myriad of beautiful vintage rugs to choose from.
The vintage rugs they sell are typically anywhere from 20-100 years old. These are quality rugs that are worth the investment because you know they will stand the test of time in craftsmanship and style.
Even the way they ship the rugs is different- it came in a heavy duty cardboard box I could easily reuse or recycle. Overall, their mission, products and customer service is top-notch.
How We Selected Our Revival Rug
There are so many beautiful Revival rugs to choose from, and I understand it can be overwhelming. My thought process for this particular space was to choose a bold rug with a center medallion pattern– the Betzalel rug was perfect.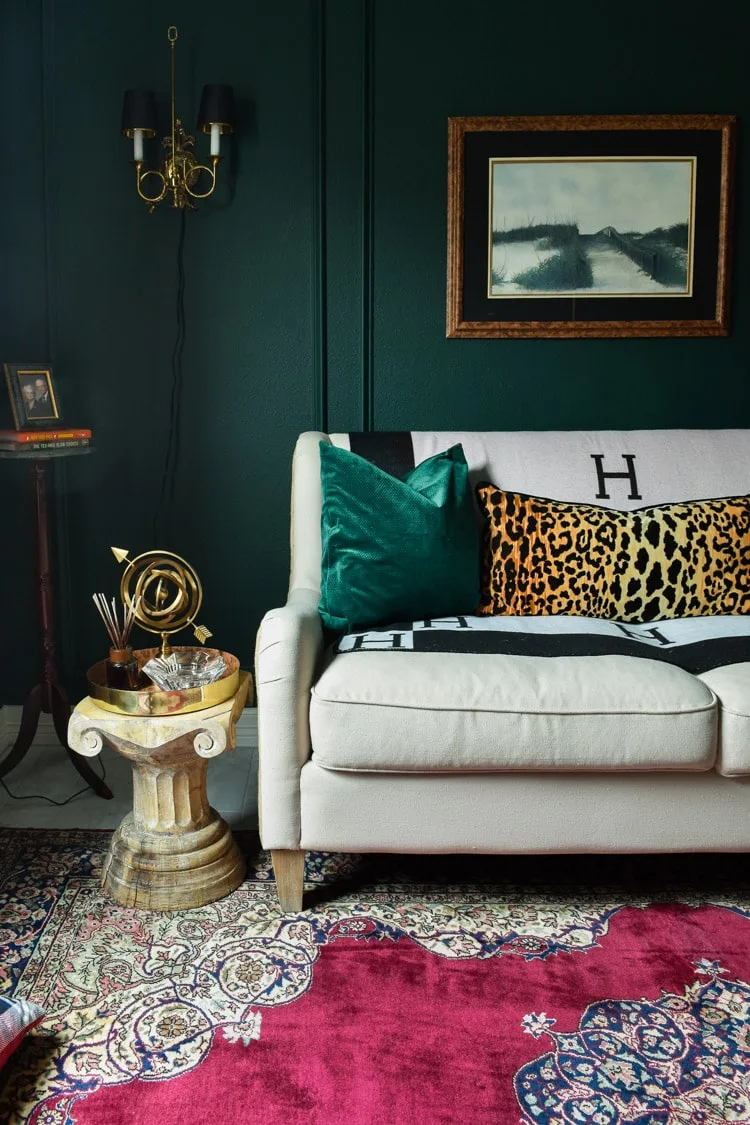 I knew the bold maroon/red background would contrast very well with the hunter green walls, brass accents and linen sofa. I also knew given this was an office space that the center medallion would be very visible without any furniture covering it (minus a small ottoman) to give the attention it deserves.
Thinking long-term, I also wanted a rug that had some other colors to work with if we ever wanted to move the rug to another space. This rug also has beige, dusty pink and navy hues to play with.
Overall, we've had the rug in place for a couple of weeks and are impressed with how soft it is under foot, and how much interest, color and luxury it adds to Daniel's office space. It's also really awesome knowing we have a one-of-kind rug that will last us many years.
We chose a size that is roughly 6×9 so it truly does blanket the floor of this small room, and that is a great way to make an impact when paired with a moody paint color. It's definitely a formula for success.
Tips for Selecting a Vintage Rug
So, hopefully by now I've convinced you to consider a Revival rug, and I'd like to offer some practical, helpful advice to help you narrow down your decision.
First, I'd start with measuring your space and deciding on a size. On Revival's website, you can then shop by size and see all of the options available to you that way.
Up next, think about the furnishings and wall color in the space. I love contrast in a space, so that's why I opted for our particular maroon rug. However, another option could be a monochromatic space (such as white walls with a beige rug and gray accents). Choose a prominent rug color that speaks to you and your home.
And now, think long-term. In a year or two, would you see yourself moving the rug to another space or home? If so, choose a rug with secondary colors you tend to decorate with over the long haul rather than a color you're into at the moment.
If you're still apprehensive (let's face it, choosing a rug can feel like a fun but major life decision), you can't go wrong with a timeless, neutral colored rug (think gray, brown, beige). This option allows your furniture, decor and wall color to do the heavy lifting while your rug brings it all together.
Overall, have fun decorating your home and picking a rug! Layering in a vintage rug from adds such warmth, history, charm and character to any space that truly you can't go wrong no matter what you choose.
I cannot wait to do a full reveal of the space, but this post definitely gives you an idea of how moody, bold and luxe this office space is. Stay tuned for a full reveal coming soon!