Today, we need to help a fellow sister…a DIY sister with a terribly outdated kitchen. Here's Adrienne's email to me.
Subject: My kitchen sucks! (Definitely caught my attention!)
"Did I get your attention? LOL. Well, it really does.  See attached pictures!
Re-doing is not in the budget, but I was lucky enough to win some "stikwood."  Have you heard about this stuff? It's wood and you stick it on. Hence the name of it. I think I am going with the reclaimed barrel oak color and will apply it to the cabinet doors: http://www.stikwood.com/collections/stikwood/products/reclaimed-barrel-oak
Some crafty girlfriends of mine suggested I stain the cabinet themselves an expresso color and apply the stikwood to the doors. I am a little (ok, a LOT intimidated by this whole staining thing) but have been mustering up the courage after reading your blog. I LOVE all of your ideas!!! I am sure when I re-read it tonight with a glass of wine I will feel like Martha but for now….yikes!  But for real…..  I'd LOVE to get your advice! What would you do here?  I'd love to hear your ideas regarding paint colors for my walls and beadboard, your thoughts on the trim, drawer pulls etc.  The floors and back splash are staying. I am hoping to get new counter tops! Need to convince the hubs on that one or figure out a way to win that too! 😉
THANK YOU!!!!!!!!!!!!"
How can I NOT help her out, right? So, here's her kitchen y'all.
I will have to politely disagree with her pals about putting the reclaimed Stikwood on the doors… (sorry, sorry!) I just think while it may look trendy today, it may not look so trendy in a year or 2.
Here's what I would do if faced with this dilemma and on a budget (aren't we all, am I right?)
-Paint the dining table/chairs. A crisp white would look great, and you could even distress it a bit if you want that vintage, worn look. Otherwise, classic and white ALWAYS works. Plus, you can get some geometric or patterned cushions from Home Goods, TJ Maxx, or Ross. It'd be easy peasy and relatively cheap. (Cost: $100 for paint & cushions)
Credit: http://newlywednesters.blogspot.com/
-Get new baskets for the top of the fridge to help conceal more and organize more. Maybe something like this: (Cost $35)
-Get rid of the country valances and opt for some chic roman shades. I love these from JCP and I have one installed in my kitchen bay window. (Cost: About $50 w/coupons)
-The light fixture over the table seems a bit off center, so I'd move the table under it or swag it over using chain/hook. A new light fixture could also really elevate the space and set a whole new vibe. This chandelier would definitely help tie in the rustic elements of the Stikwood, the painted dining table, and chic roman shades. Think Restoration Hardware on a beer budget.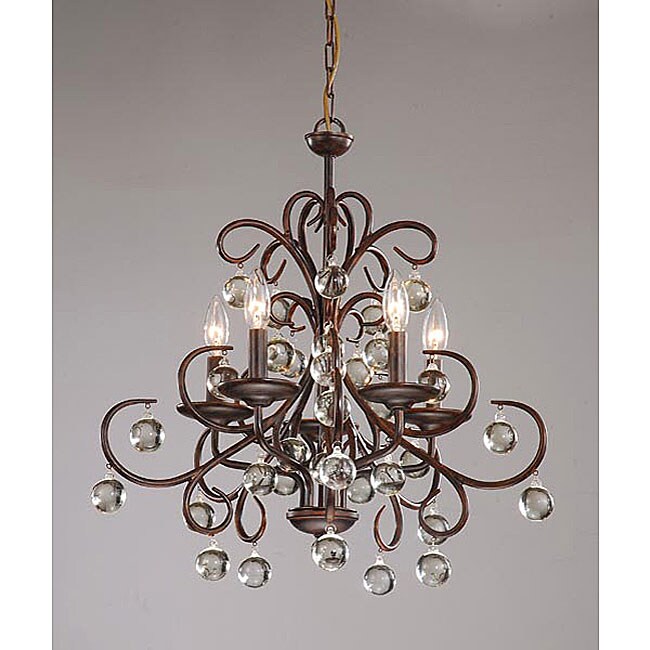 Overstock, $163
-But what to do with all that Stikwood?! This is just me, but that wall where the window is facing the dining table…I'd cover that wall with Stikwood and get rid of the beadboard on that wall only. I'd paint the other beadboard white. You could paint all the beadboard white and just do the Stikwood on that accent wall from the chair rail and up. Then you can hang mirror/artwork on the left and right hand sides of the window for a super gorgeous accent wall. Sort of like this example below that is actually made with Stikwood (I really want to try out that stuff!):
Source: Swoon Interiors
-If possible (AKA: not structurally necessary), I'd get rid of those spindle things on the pass through window, and I'd clear off that entire area of all knick knacks. Maybe install some affordable butcher block type counter there to have a buffet/serving area or a bar? It adds more counter space, options, and utility to a small-ish kitchen.
-I also see some sort of light fixture in front of the fridge (or is that a pot rack thing)? Either way, a flush mount or recessed light would be better, maybe?
-Paint all the trimwork a crisp white. You can't go wrong with white trim, ever! I'd also give the ceiling a good cleaning and paint that a nice, bright, clean white color (using flat ceiling paint).
-Totally minor, but investing in a stainless steel vent hood would tie it all in.
-Now, about the cabinets…if money isn't a huge object and your cabinet frames are good…I'd buy new doors. If that is out of the question, would at least new upper doors be possible? Assuming both of the answers are a solid "no", I'd say I'm stumped. Not knowing what the white cabinet doors are made of makes me nervous in suggesting to stain them. I wish you could paint the cabinets white and paint the walls above the beadboard a soft gray, plus with the reclaimed wood accent wall, it'd look uber chic. As someone who has painted cabinets white knows, it's not easy. Staining is so easy and has fail proof results.
I'm torn—what should Adrienne do with her cabinets? What kind of hardware should she get if she goes with an espresso stain? 
Leave her comments and suggestions in the comments section of this post, and she will hopefully have "after" photos to show us in a few months.
Do you have an ugly space that needs a budget makeover? Email me and your space might just end up being featured in a reader revamp post. It's best to send about 2-5 photos + a BRIEF description of your woes, preferences, budget constraints, etc. 🙂