This post was sponsored by The Home Depot. All thoughts and opinions shared about my experience with The Home Depot and BEHR paints are mine. Affiliate links are used in this post. I may make a small commission should you click and purchase- thanks for your support!
If you want to change the look, feel and style of a space in a weekend, you cannot go wrong with paint. I'm giddy with excitement (as is Pee Wee, can you tell?) at showing off this beautiful new master bedroom space of ours.
There's a giveaway for a $150 Home Depot gift card at the bottom of this post, so don't miss out. I'm also giving away another one on my Instagram page, so you have two chances to win!
If you're looking to update a space in your home with paint, you can save money and shop Labor Day Savings at The Home Depot now through September 8. You can save $10 on a gallon of paint or get $40 off three and five gallon varieties. PAINT ALL THE THINGS.
Using Paint as "Decor"
We completely transformed our master bedroom by painting over our black tray ceiling AND by incorporating a bold pink quartz accent wall with tone-on-tone moldings. Essentially, I used paint as decor.
This was our first time using BEHR Paint, and we are CONVERTS! Painting over a black ceiling to a lighter gray color (elephant skin by BEHR) is no small feat, but the BEHR paint we used covered it in ONE coat.
I was thrilled when my husband was 100% on board with my rather girly and feminine accent wall idea. The whole vibe was inspired by my obsession with Paris—if I could hop on a plane and go anywhere for a week, that would be my top choice.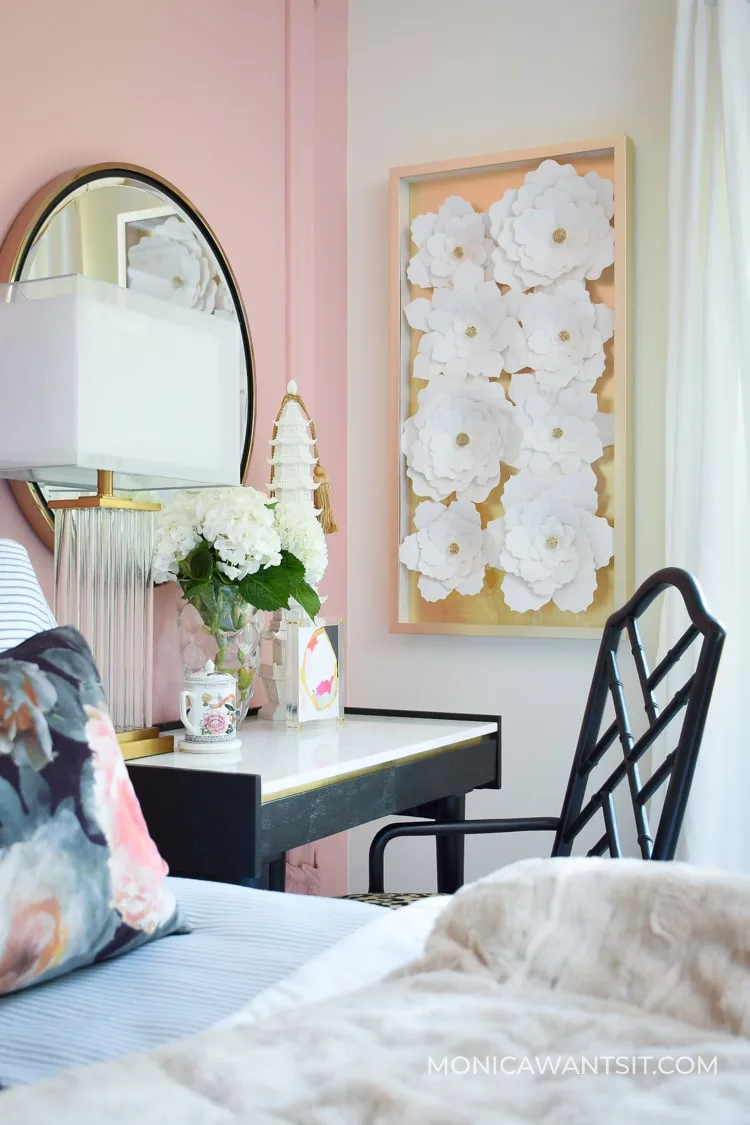 The accent wall color we chose is a sophisticated, adult appropriate warm, dusty color called Pink Quartz by BEHR. We used BEHR Marquee paint in the matte finish to achieve a velvety, flat finish that feels so luxe in a master bedroom.
The moldings I added to the wall are very Parisian with their large, baroque, ornate design and I decided to paint them using the same BEHR pink quartz paint I used on the wall, and I am obsessed.
I'm so lucky to get to sleep in this room every night and I was able to accomplish it all in ONE weekend. Imagine what you could accomplish in one weekend using some paint!
You can use that $$$ saved if you shop Labor Day Savings at The Home Depot that I mentioned earlier to splurge on some décor and textile pieces for your space. We got some new pillows for our bed that totally make it feel like we're sleeping at a hotel.
A new floor lamp, oversized throw blanket, ginger jar canvas art, pineapple side table and a stunning crystal bud vase were other décor items I found at The Home Depot to complete this master bedroom makeover.
I think it's fabulous that you can get all of your DIY home improvement and paint supplies PLUS home décor accents at The Home Depot.
What you're seeing here on my blog are just some sneak peeks that will hopefully entice you to head over to The Home Depot Blog to check out the full reveal. I truly hope you're as smitten with the makeover as I am.
If you'd like to enter to win the $150 gift card, leave a comment via the widget below telling me what PAINT project you'd take on if you won the gift card. I'm also doing an Instagram only gift card giveaway, so head to my Instagram to see how to enter to win that one, too.
a Rafflecopter giveaway