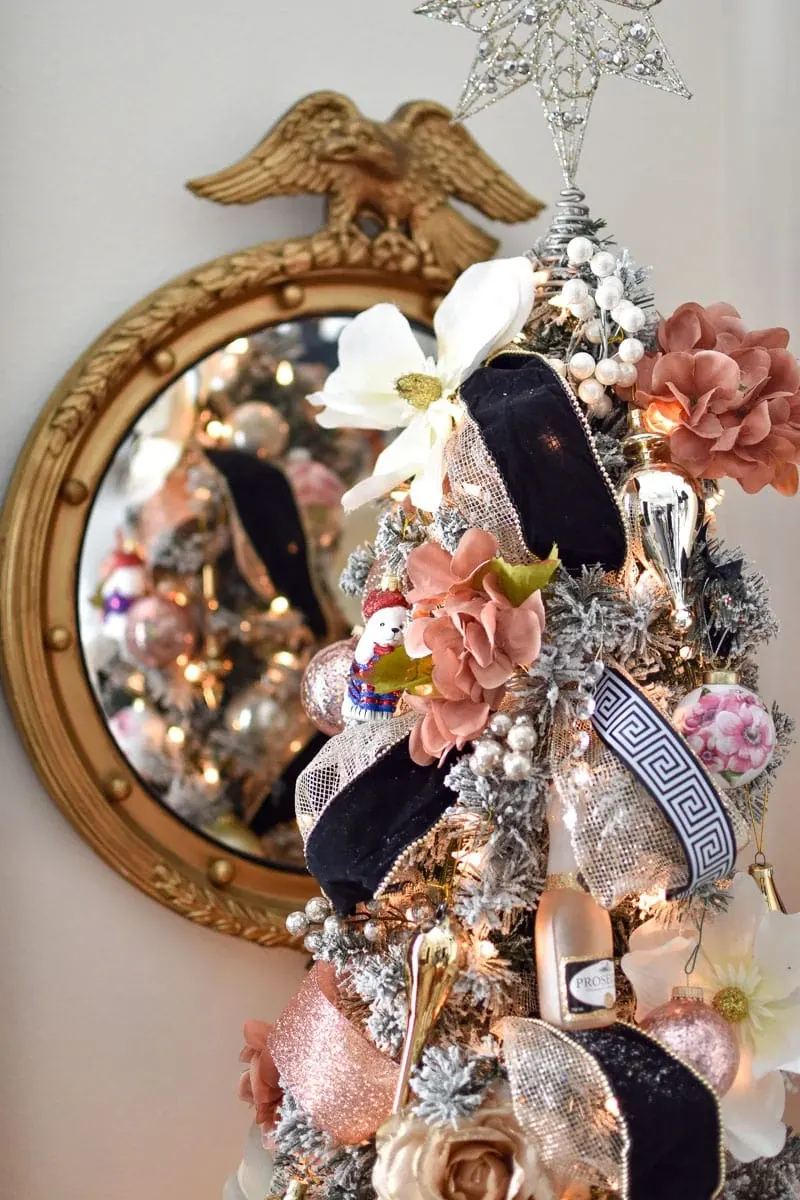 Bonjour, mon ami! I am thrilled to have you all over to my Parisian inspired home office to enjoy my pink and gold floral Christmas tree with touches of black and white. Grab some champs, and let's toast to a happy, healthy holiday season.
A special thank you to my dear friend Stephanie from Casa Watkins Living for having me be part of her My Home Style Blog Hop: Christmas Tree series. There's over 30 immensely talented bloggers showcasing their trees this week, so do check out their work via the links at the bottom of this post.
Pink & Gold Floral Christmas Tree
Since this tree is in my home office, I opted for a 6′ slim flocked tree. It fits neatly in a corner, and I am able to pack it full with tons of ribbon, florals and ornaments that look impeccably chic on a flocked tree.
I have a LIFE CHANGING RIBBON HACK for adding ribbon to your Christmas tree. You can read all about my easy method for adding ribbon to a tree or head to my Instagram stories for some video to see it in action.
I love how flocked trees look amazing whether the lights are on or off.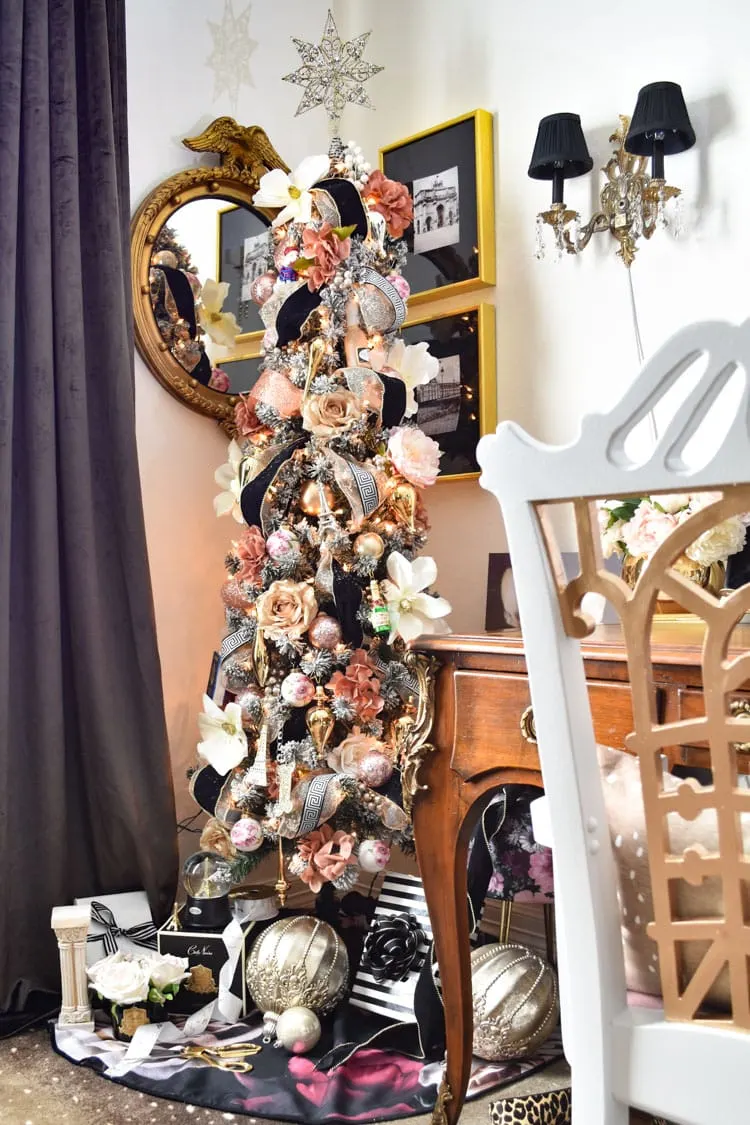 I wanted to use what I had on hand, so I opted for a pink and gold with touches of black meets florals theme. None of the ornaments are new except for the Parisian themed ones which I snagged on clearance last holiday season
I love this very overtly feminine theme, and I think the pink and gold floral Christmas tree looks fantastic next to my new desk, which is a bonafide French antique that I snagged on Facebook Marketplace a couple weeks ago.
Here's a picture of the desk sans the Christmas tree so you can enjoy its magnificence!
The Ornaments
Relatively speaking, this tree has more ribbon and flowers than it has ornaments. I kept it very simple by using blush, gold and some pearl ornaments along with some decoupaged DIY ornaments I made using napkins.
The photo below showcases the variety of textures created by layering all these elements together. It may seem like a lot, but I chose everything very purposefully to create this curated look.
Under the tree, I have a moody black floral tree skirt along with some other Parisian inspired decor and baubles. Decorating under the tree (until you're able to fill it with presents!) is a great way to add more style to your holiday decor.
My darling Pee Wee even got in the spirit… or his portrait did, anyway!
I think by keeping your ornaments to 2-3 colors if you're layering in a lot of other elements like ribbons and florals will help you stick to a "theme" and not feel so overwhelmed with your choices.
And again, decoupaging using napkins is such an easy, inexpensive way to DIY some ornaments. Think of all the possibilities. My fave place to snag stylish napkins is Tuesday Morning- a pack of cocktail napkins is rarely more than $2 and each pack can make at least two-dozen ornaments.
Decor Tips: Pink & Gold Floral Christmas Tree
If you'd like to recreate this look, here's some tips:
Buy some faux florals and cut the stem to about 6″ : I got a huge blush pink hydrangrea that I cut up, some Dollar Tree clip-on magnolias and some other ivory roses on clearance.
DIY some custom ornaments using napkins and mod podge
Layer ribbon for a custom look and spare yourself the headache by using my amazing ribbon applying hack for Christmas trees
Stick to 2-3 colors for your ornaments in a variety of sheens/finishes
Decorate UNDER and around your tree for extra style and impact- I even moved a mirror from another room to help bounce light around near the tree
Have fun and be creative!
I now bid you farewell and send you over to House of Hipsters for what is sure to be a treat for the eyes! I'll do a full office holiday decor tour soon, so stay tuned.
You may also like these holiday decor related posts:
---

Monday:
Casa Watkins Living // Up To Date Interiors // Taryn Whiteaker Designs // Cherished Bliss // Thou Swell // Cassie Bustamante
Tuesday:
The DIY Mommy // PMQ for Two // Jeweled Interiors // Kate Decorates // Banyan Bridges // Making Home Base
Wednesday:
Monica Wants It // House of Hipsters // Cuckoo 4 Design // Delineate Your Dwelling // Lolly Lane // Mango Manor
Thursday:
Two Twenty One // Lemon Thistle // Iris Nacole // Au Petite Salon // Setting for Four // Whispering Pines Homestead
Friday:
The Handmade Home // Our Fifth House // Tag & Tibby // Daly Digs // House Homemade // Love Your Abode