I know many of y'all love home tours (I know I do!), and today I have my hot pink, blue and white summer living room decor tour.
If you've landed here from Haneen's Haven, welcome! I love her bold style and use of color. And thank you to Marty from A Stroll Thru Life for hosting.
I'm Monica Benavidez (read more about me here!), and I love blending chinoiserie and florals together and pairing them with timeless furnishings and decor. Traditional with a twist!
Pee Wee usually welcomes you all with his adorable little face, but it appears he was having a Sunday siesta during the shoot. What can ya do?
Fireplace Summer Decor Ideas
It can be a bit tricky to decorate around a fireplace with a TV mounted on top of it. This is why I chose to display a collection of some of my smaller blue and white ginger jars on the mantel.
When all else fails, display a collection of something for major impact. Bonus points if it has symmetry, but really collections are so beautiful and striking.
And speaking of symmetry, I really struggled with whether or not to leave the giant pagoda (a fabulous thrifty find here in town) and the garden stool with my DIY dollar tree fiddle leaf plant where they are. For now, they stay.
Coffee & End Table Styling Ideas
The coffee table is a new addition to the living room. A super mean lady on Instagram said it was straight out of the 1980's with the brass and lucite and looked like a "hot mess", but I love it.
Our previous coffee table was round and small, so I'm loving all the extra real estate to work with for styling.
I picked up this gorgeous floral glass bowl as a birthday gift to myself, and it makes me so happy every time I see it.
I'm trying to protect the table from scratches, so I have a big tray on there to help corral a few items.
I do need to find some beautiful blue and white, chinoiserie coasters or something. All of my agate ones broke except ONE. Ugh, I loved them so much and they were such a bargain.
I embrace mixing and matching furniture, so my end tables are some gorgeous bamboo nightstands I found at a local antique store for $60 total.
Using some mini-gold casters, I added some height to the table so they'd be more end table height for our chesterfield sofa.
On my end table, I have a bamboo lantern and faux florals. Not too much fuss so I have plenty of room for my drinks and snacks when I watch Netflix.
Over on my husband's side of the sofa, it's much of the same. Simple, glam and chic.
I chose these end tables, which I still need to paint, because of how well they blend with our beautiful Dayna counterstools. Having an open concept living/kitchen/dining means stuff has got to work together.
I also recently snagged a set of chinoiserie chippendale chairs that I painted and had reupholstered with Chiang Mai Dragon fabric by Schumacher.
I can't wait to show you that dining room space next week!
Simple Kitchen Decor for Summer
My primary focus of this tour is definitely the living room, but since the kitchen is adjacent, I thought I'd include a couple photos.
Truthfully, I love the look of bare countertops given how colorful and busy my decor can be. Currently I have some bamboo lanterns with scented candles and one of my DIY faux floral arrangements on the island.
On my back kitchen counter, I have my most favorite kitchen canisters of all time. The florals, the gold, the glass knob…swoon.
I also have a vintage Blue Willow Cruet Set I found locally on antique row. I love the blue and white- so crisp.
There's so much more summer decor inspiration to be found in this blog hop tour, so I now hand you over to the ever so gorgeous home of The Chronicles of Home!
You can see the full blog lineup at the bottom of this post.
DIY Summer Decor Ideas
If you need some more DIY ideas to create some summer decor, you may love these tutorials I've published recently: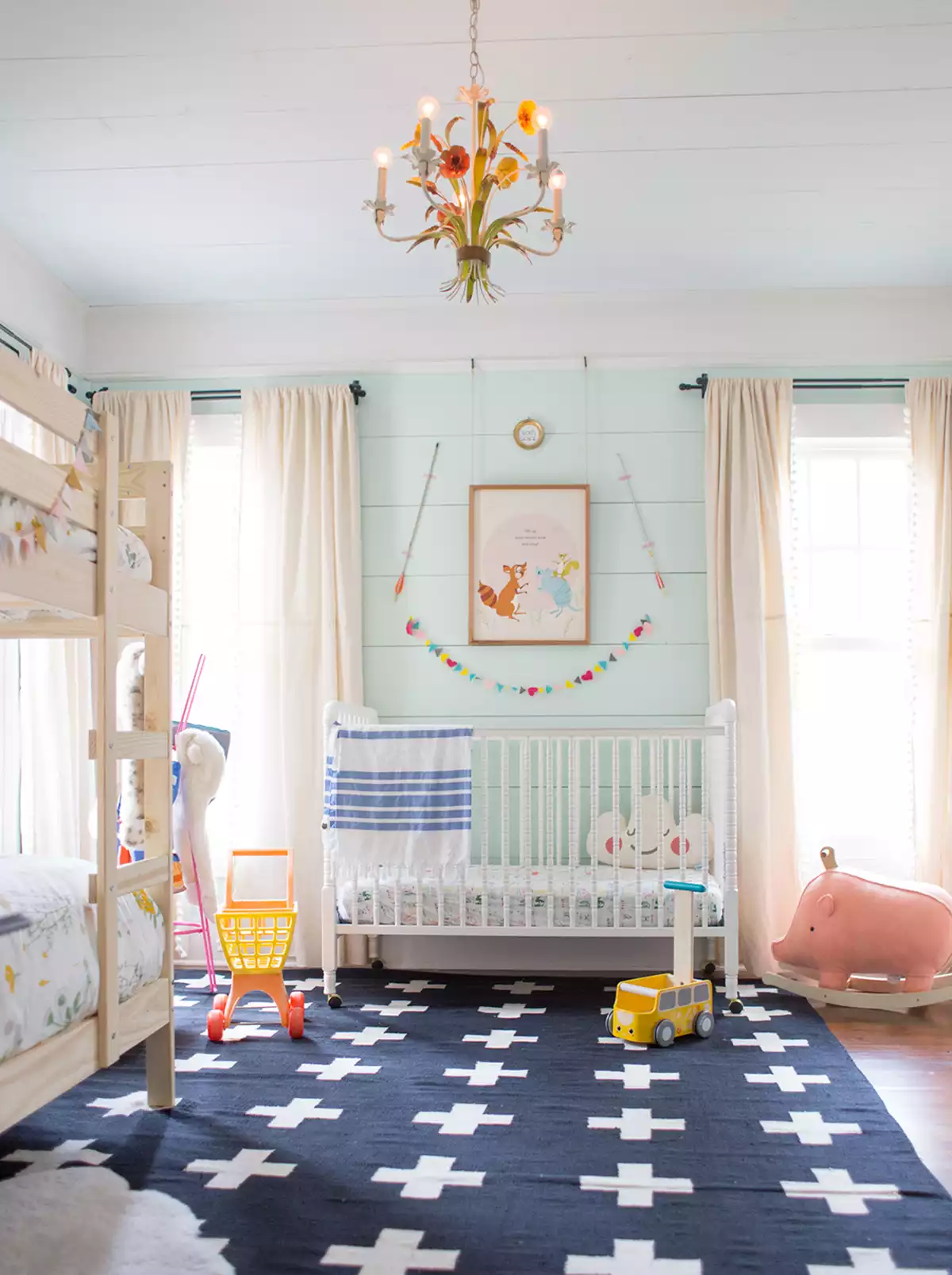 If you're on the prowl for the best nursery paint colors by Benjamin Moore, this…
Shop This Post: