Today's DIY project is brought to you by Monica learning a lesson the hard way. I bought this beautiful dresser for $10 late last summer, and I jumped right into painting it. Today, we are going to paint this dresser a gorgeous black color.
---
---
Given my plans at the time were to use it in the dining room to store a few things, I skipped right over the priming step because I was overly eager to get to the finished point so I could marvel at its beauty.

And the color was beautiful…but I literally RUINED the piece the second I put something on the top of the dresser. I staged the dresser to perfection for her big Instagram debut, and then I moved a picture frame and the paint peeled right off.
That kept happening over and over every time I moved something from the top of the dresser. Eventually I got so fed up, I tried to patch up the peeling areas with more paint (spoiler alert: didn't work), threw a tray over it to cover the issues and banished it to the guest room.
Why Priming is Important
Priming furniture is important because it accomplishes several things that will impact the finish and longevity of the furniture you're painting.

First of all, it helps create a new, fresh canvas for paint to stick to resulting in you needing fewer coats of paint to achieve an opaque finish.

It also helps seal the old finish and color so you don't have any issues with the old finishes seeping through.

The best part is that it is water-based so clean up is a breeze and it is also fast-drying. Basically, there's no reason not to use primer.

I used KILZ 2® All-Purpose Primer which is a great option for most interior and exterior projects involving walls or furniture. There are also specific KILZ® Primers that help with odors or are useful for priming over dark colors when you want to transition to a lighter paint color.

Now I'm going to walk you through the steps I took to transform this blue dresser to a luxurious black finish. I chose to use paint from the Magnolia Home by Joanna Gaines® line. The color is Chalkboard, and I chose a satin finish because I wanted the richness of the color to look matte and not have a glossy sheen.
I am so thrilled with the flawless finish I got on this piece of furniture. The deep chalkboard color speaks to my French loving heart, especially when paired with those gilded accents. I could totally see this piece in a Parisian apartment.
Both the KILZ 2 All-Purpose Primer and the Magnolia Home by Joanna Gaines paint were very easy to work with.
Even though this is a DIY project anyone can do, trust me YOU CAN DO THIS, more importantly it won't look like an amateur DIY project because of how smooth, durable and beautiful the finish will be if you follow these steps. I'm all about my furniture and home projects looking high-end.
Next time you have a project that involves painting furniture, come back to this tutorial and follow the steps. KILZ has all the primer and painting supplies you need to transform furniture or create stunning accent walls in any color you can imagine.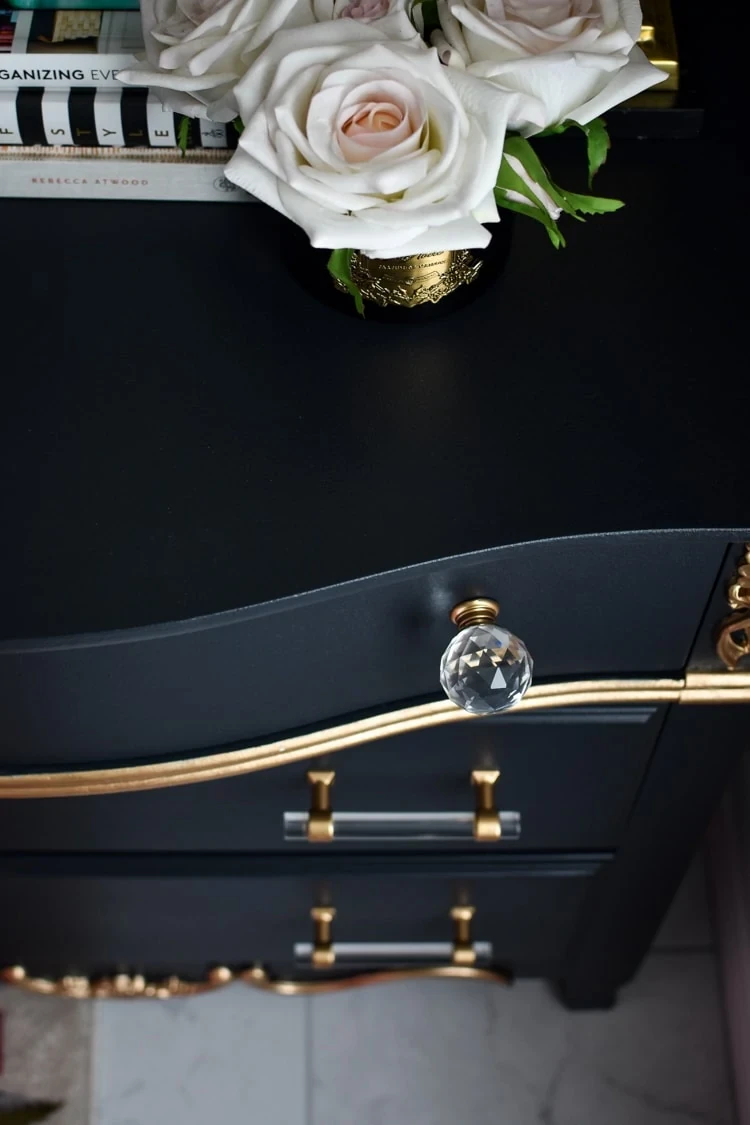 What project do you have in mind using KILZ® Brand products?