Alrighty, here's the final leg of Monica's Office Tour. Hope you've enjoyed the tour! I am usually really good at taking pictures, but I think many of my pictures look awful! I wonder if it's the lighting or user error or the fact I dropped it a week ago. Hhmmm. So, sorry for the not-so-fab pictures, but I hope they get the point across. (Note to self- add camera to Christmas list)
You might remember this ugly cabinet thing that is likely circa the 1980's.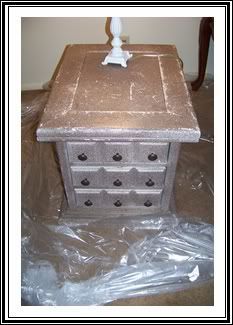 I bought it right after we returned from our honeymoon for $19.99 at Goodwill. It is solid wood, and it's in excellent shape, plus it's perfect for my 80-pound HP laser printer. Eighty-pounds may be exaggerating, but the printer is seriously very heavy!
The finish on it was some sort of faux rock/granite finish and it was SUPER textured. I thought it'd be easy to sand this sucker down, and I was wrong. Very wrong. It took me about 12 hours over the course of 3 different days to get all that gunk off. Never. Again. Ever. It was SO much work. Was it worth it? Yeah, it was. Here are some pictures of the process:
Began sanding by hand until I came to my senses. The next day we went to Wal-Mart and bought this sander.
Here it is during the sanding process:
Here it is after a priming and 2 coats of black paint:
I love the indentions on the sides:
Here it is after it's dried/cured:
It used to have 9 knobs, but for now I just spray painted 3 of them white and used them in the center of the drawers. I plan on ordering some nice knobs from eBay, but for now this will do. My printer fits perfectly on the stand, and I like being able to open up the tray and still have it fit on the stand. The 3 drawers house my vellum, paper cutters, and other craft supplies.
Moving onto my desk. I love my desk. It matches my bookshelf, and in fact we got both of those pieces for dirt cheap at Wal-Mart on clearance. The desk was like $40 and the bookshelf was like $45 or something. My desk was a disaster zone before, as you can see here:
And let's look at it NOW! The pictures on the wall are from our wedding. The frames are all from the $1 bins at Target. The cardstock is from Wal-Mart. It came with 5 different colors/60 sheets of 8×8 cardstock for $3.88. Great deal! For the record, yes, I know the orange one at the top is off a bit. No, I probably won't fix it. 😛
On top of my desk are a few items, first being the frame on the left corner. I love, love, love the Keep Calm and Carry On prints/posters, but I don't love how cliche they have become. You see them everywhere. However, I also love this sort of art:
I couldn't choose…cool letters or Keep Calm and Carry On? How about BOTH? YEAH! I made this in Publisher (took me about 5 minutes, including putting in cardstock and printing it). The frame is the $1 frame at found at a garage sale last month. I love it. It's filled with words that describe Daniel, Pee Wee, and I, so it's meaningful and it includes my Keep Calm and Carry On message. What do you think?
Also on my desktop are leftover candles from our wedding. The 3 damask candle holders and 2 glass taper holders are from Dollar Tree. The damask frame at the far right is from Target and it holds the picture where Daniel is proposing. <Insert big awww> :o) I also put my speakers up there, and a business card holder filled with my Etsy business cards.
Now we mosey on over to the contents on the hutch of my desk. I had a basic black stapler, which works just fine, so I searched for a cute tape dispenser and found a Scotch brand, hot pink tape dispenser for $5 at Wal-Mart. The 2 rolls of black tape are actually my black damask packing tape rolls from Organize.com. I use it a lot to package up my Etsy orders. One roll lasts FOREVER!
Then to the right of the tape/stapler I have 4 bins in various colors. They were $1 each at Dollar Tree. Notice a trend here? I basically live at Wal-Mart and Dollar Tree. Each bin is labeled with the contents of the bin. I like to be organized. The little bird on the labels is actually the same little bird hanging in the birdcage on black shelf #1. The font is Feel Script, which is expensive. Mahogany Script is super close to Feel Script, and it's a free font.
On the right of the bins are 2 Pez dispensers of my fave characters, plus a spindle of blank CDs & my Elmers spray adhesive.
And now we're at my desktop! I have my beautiful Dell LCD Widescreen Monitor. I love my computer. It's shiny, new, and fast. To the left of my monitor I have a desk organizer set I found at World Market on clearance for $7. It's a damask and trellis pattern in black and white. It holds a lot of stuff! It's also durable so I can use it for a long time.
On the right hand side of my monitor, I have my Scotch pink pop-up strip tape dispenser (that's a long title), plus my Post-Its, and another organizer from World Market that was also $7.
And finally, I have my $1 bin mousepad/weekly planner from Wal-Mart. I write my to-do list on here, as well as Etsy orders, etc. to keep myself on task. I bought 2 of them and that should get me through a year since each pad has 6 months worth of weeks. I need to buy more. Like a lot more. Yup. I really want a new wireless keyboard/mouse set, so hopefully Santa (aka Daniel) will get that for me for Christmas or for Halloween or days ending in "Y" day or something.
There is a little area on the bottom of my desk, but that basically houses my PC tower, wireless router, and internet modem. Nothing exciting.
The wall to the right of my desk is a bit bare, and the light switch is also kind of blah, so I will add to it later. I have some spare stuff that I have big plans for, and it will be the perfect thing to fill up that empty space. Also on my wish list is a new desk chair. Right now I have this one from Wal-Mart, and it works well for me, but I've had it for 6 years and am ready for something new.
Well, we're done with my office/craft room tour! I hope you liked it. Stay tuned for more projects- I still need to paint the accent table and some other stuff in here. The next room I am working on is our bedroom. Slowly but surely our bland apartment is going to look beautiful.