This is a sponsored conversation written by me on behalf of Cricut. The opinions and text are all mine.
Today's post is JAM PACKED with Cricut Maker projects using the new tools released in mid-2019. These are beginner friendly and perfect for home decor craft lovers.
Part of the allure of the Cricut Maker is that it can do so much. It can cut balsa wood, paper, fabric, vellum, leather, acetate, and the list goes on and on.
The other perk is that the Cricut machine is designed to be almost fail proof. If the right blade or tool isn't inserted, it'll let you know.
The adaptive tool system is 10x more powerful than the Cricut Explore, and overall, the Cricut Maker is a modern day workhorse for crafty people.
If you always think of the Cricut as a cutting machine made for scrapbookers, you need to expand your mind and explore the possibilities of this mighty machine!
You could even use the Cricut Maker to cut out sewing patterns for your craft projects.
Overview of New Cricut Maker Tools
When the Cricut Maker was first introduced, Cricut promised to keep releasing additional tools to make it more useful and versatile for projects and DIY's.
Earlier this month, they delivered on that promise in a HUGE WAY with four new tools to add to their already robust offerings.
The four new tools are an Engraving Tip, Fine Debossing Tip, Basic Perforation Blade and a Wavy Blade.
They are available with the QuickSwap housing which makes changing tips a less than 5-second process with the push of the button at the top.
I'm going to show you a project idea for each of these Cricut Maker tools in a moment, but here's a quick summary of what each one does:
The tools are available NOW, and I really love them all because they can help elevate even a simple Cricut Maker project to a whole new level. Let's get crafty.
Cricut Engraving Tip Acrylic Sheet Project
If you all know me, you know I love acrylic and lucite. So when I got my hands on an acrylic sheet that I could use with the Cricut Engraving Tip, I knew just what I was going to make.
One of my seriously popular Cricut home decor projects is the DIY lucite memo board I made, so I decided to make a small desk top version for my daily to-do's.
Cricut Debossing Tip DIY Tutorial
The Cricut Fine Debossing Tip is my favorite, and that says a lot because I love all of these new tools. I instantly knew I wanted to create monogrammed tags.
These tags could be for gifts or products if you're a small business owner like myself- my online home decor shop is open and accepting orders!
Personally, I think the debossing tip would be great for creating personalized and unique custom gifts. You could monogram notecards, invitations, business cards, or use the faux leather sheets to create intricate debossed wallets, coin purses, headbands, keychains, coasters, etc.
I'll definitely be using this Cricut tool a lot and posting my DIY home decor and gift giving tutorials here. Here's one to get us started.
Cricut Wavy Blade Project Idea
I thought long and hard about how I was going to showcase the wavy blade, and it finally came to me…a bow!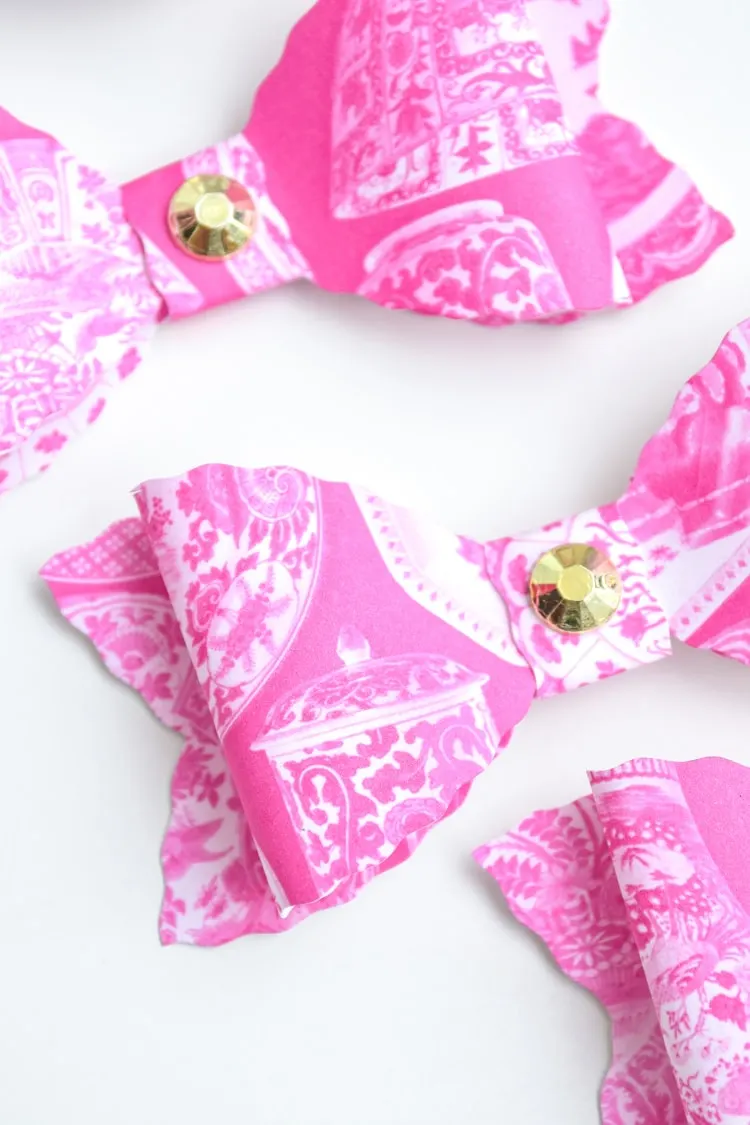 The wavy blade creates a delicate, subtle, feminine edge to basic shapes, and it really makes any bow you make with your Cricut Maker that much more girly and frilly.
You can use this blade on paper, cardstock, vinyl, iron-on and even fabric! I made some fabric bow ties using this blade and my leftover Schumacher fabric for Pee Wee's collars, and I also made these darling pink chinoiserie paper bows that are perfect for DIY napkin rings.
The bow is attached to the clip of a curtain ring (yes, a curtain ring!) using double-sided tape and a gold jewel was affixed to the center for a little pizazz.
Reminder: you need to remember to change the linetype to "Wavy" in the dropdown menu in Design Space for each shape/design you want to have this edge.
Cricut Perforation Blade DIY Project
I am so stinkin' excited about this project because it seems so foo-foo and extra, BUT hear me out… you could use this same tutorial for a gift card holder, party/shower invitation, gender reveals, placecards or to assign characters at a murder mystery party. Lots of options!
I adore doing tablescapes, and the Cricut Maker is perfect for those sorts of extra little touches that really make an impact.
I couldn't leave my wavy edged bows all by their lonesomes on my dining table, so I added in this fun pagoda with a built in perforation that reveals a very swanky dinner menu behind it.
Now you see how useful this tutorial is? DIY gift card holders for Christmas is totally going to be a thing thanks to this chinoiserie inspired Cricut Maker idea.
Here's a fun little sneak peek of even more changes happening in the dining room, plus here's a lot of Cricut home decor projects in one space.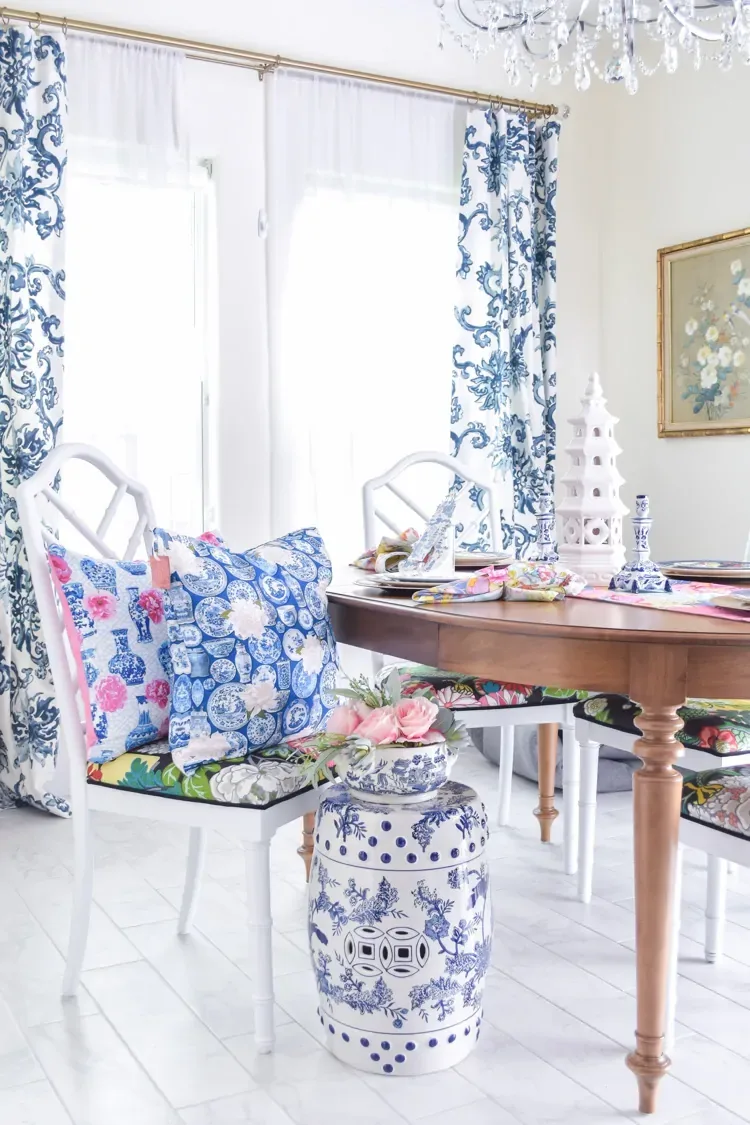 I hope you enjoyed these project ideas and tutorials, and now that fall and PUMPKIN EVERYTHING is around the corner, you can bet I'll have plenty more where this came from.
You may also love these home decor tutorials:
Have a love/hate relationship with Facebook Marketplace?
I wrote a thorough guide for how to use keywords, negotiate with sellers and generally find fabulous home decor and furnishings on there for your home.
It's one of my most popular posts recently. Read my Facebook Marketplace Shopping Guide!