I was on the sofa scrolling through Facebook Marketplace when I saw a very blurry photo of chippendale chairs on a listing.
I can recognize that gorgeous fretwork style back and chinoiserie chic silhouette from a mile away with a blindfold on. It's sort of my sixth sense.
Immediately I gasp, click on the listing and see that no one else had messaged the seller yet. It was truly MY LUCKY DAY.
Side note: I have a lengthy post about how to utilize Facebook Marketplace to its fullest potential that people have found super helpful!
I asked a few questions, and pretty much claimed them as mine instantly.
The seller had them listed for $250 for five chippendale chairs (four dining chairs and one armchair), and I offered $225. My BFF work buddy Cheryl was gracious enough to help me pick them up using her Tahoe and now they are at home and in the midst of their transformation.
History of Chippendale Chairs
Ever since I've become obsessed with chinoiserie style decor and furnishings, I've been trying to learn more about the origins and history of the style.
Chippendale chairs are named after English cabinetmaker Thomas Chippendale. The term chippendale was used in a furniture design book titled The Gentleman and Cabinet Makers Director and has stuck around ever since.
There are three design styles associated with the term chippendale: Gothic, Rococo, and Chinese.
I'm particularly smitten with the Chinese variety, which has the distinct fretwork pattern on the back and pagoda style pediment at the top of china cabinets.
My first chippendale chairs were my beautiful counter stools, and although I was keen to splurge on the stools for our new home, I never did want to fork out over $1,200+ for a matching set of the dining chairs.
Recently, chippendale chairs are also interchangeably referred to as fretwork chairs, chinoiserie chairs, bamboo chairs, Hollywood Regency style, and even Palm Beach style.
Chiang Mai Dragon Fabric
As beautiful as these new chippendale chairs are, I can tell you they are sadly not vintage. I'm OK with that because I was after the style/affordability more than I was after them being truly vintage.
They are a warm golden brown color, and I decided to paint them a high gloss white.
I initially thought about painting them black to match the stools in the kitchen, but I didn't think the black would look good with the warm tone of my dining table.
We're also going to ditch the rug in the space because the fabric I chose for the seat cushions is Schumacher's Chiang Mai Dragon. I've been OBSESSED with this fabric for many, many years. I have a pillow cover with the fabric and decided to do a little mock-up on one of the chairs to see if I'd love it.
Spoiler alert: I do.
My friend Jennifer from Dimples & Tangles has this fabric on some of her chairs:
You can also see it here:
I really wanted the alabaster colorway shown in the above two photos, BUT my darling husband really hated the alabaster colorway.
Lucky for me, there are many other colorways, and we decided to go with the ebony Chiang Mai Dragon colorway after stumbling across this photo.
We have green velvet drapery in the dining area, I decorate with hot pink a lot, and the ebony colorway looks fabulous when all of it is paired together. Black is also a heck of a lot more forgiving with dining chairs.
It also helped that the ebony colorway saved us over $100, so yeah that, too.
Chippendale Chairs: Makeover Plans
Ok, so we've narrowed down that four of the five chairs will be reupholstered in Chiang Mai Dragon fabric in ebony with black velvet welting and the chair frame painted a high gloss white. Here's a poorly photoshopped version with the black colorway.
And on Mother's Day I got to work painting all five of the chairs. I started too late in the day and only got through the priming stage, but even just with the primer on they look so, so good! I'll post a full tutorial on that once they're all complete, but I am sharing the step-by-step process in my Instagram Stories and Highlights.
The single armchair is going to be reupholstered in leopard velvet with black welting and the chair frame painted a high gloss white, much like Swoonworthy's gorgeous set-up seen below: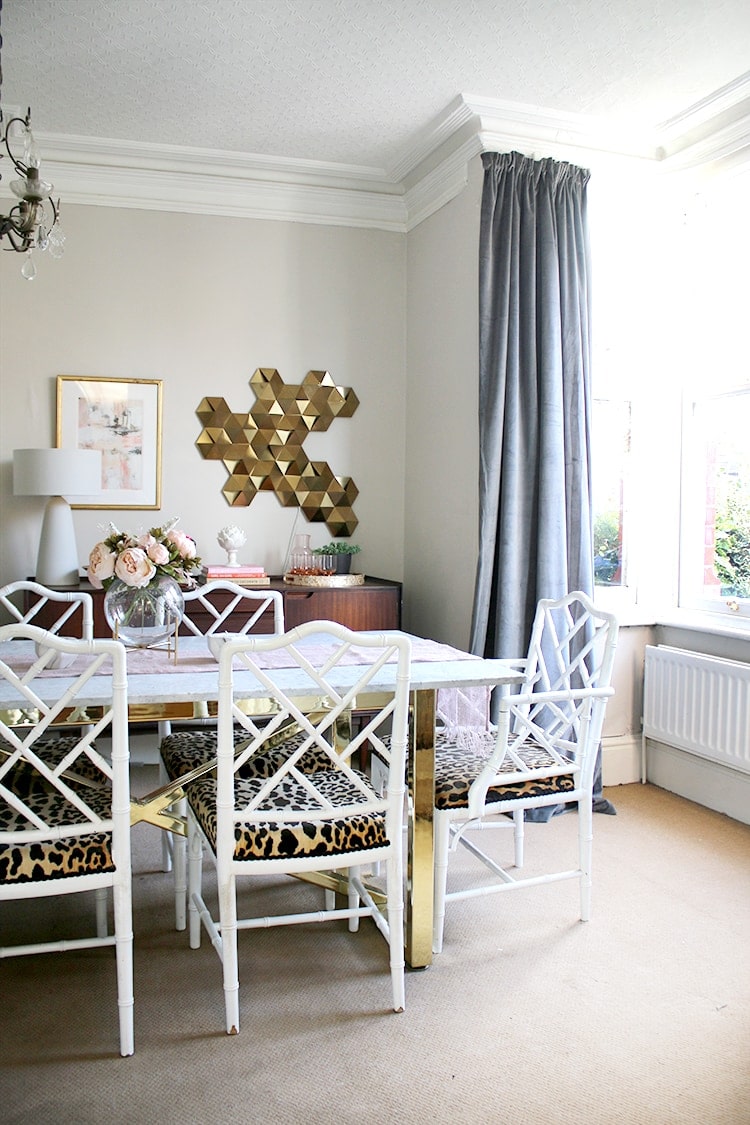 I also may add some gold casters to the legs like I did with my chinoiserie end tables.
The armchair will be used in my master bedroom which is also getting a very tiny facelift– I'll be writing about that later this week.
Reupholstering Chippendale Dining Chairs
Now, I got a lot of comments telling me I should reupholster the seat cushions myself as a DIY project… nope, all the nopes. The main reason is that every time I have reupholstered something you can tell it was an amateur job.
Second is that the fabric I chose costs a small fortune– I do not want to mess it up.
Third is that I want black velvet piping/welting, which I have no clue how to do, and I feel sometimes it is easier to pay to have it done properly. I will cherish these chairs for many, many years, and this is a smart investment.
I know I do a lot of research on average costs of projects and such to see if I'm getting a fair price, so I'm going to share some of the details below to help you if you ever decide to buy and reupholster chippendale chairs:
My four dining chairs required two yards of fabric
My single armchair required one yard of fabric (my upholsterer doesn't like working with half yard increments for best pattern placement)
All five chairs will have black velvet welting and a total of one yard was needed for all five chairs
Each cushion is costing me $25 in labor to reupholster (the foam is in great shape and does not need replacing)
I asked blogger and Instagram friends who quoted about $35-$75 per chair cushion in their area (East coast seems most expensive)
I detached the cushion from the chair to make it easy to transport to the upholsterer (if you cannot do this, you'll have to take the whole chair to the upholsterer)
I got quotes from three upholsterers before deciding on where to take my chairs. Price wasn't the deciding factor– I went based off my first impression of their customer service.
I am using my favorite paint sprayer to spray primer on the frames followed by two coats of high gloss paint. I will write about this process further in its own post.
I can't wait for the chairs to be done and to see this entire vision come together. If you have any questions, drop them in the comments! xo.