Today is my last day at the job I've had for 8 years, but in-between prepping a house to sell and moving to an apartment, I wanted to participate in the My Home Style Blog Hop hosted by Stephanie from Casa Watkins Living. The purpose of the blog hop is to showcase our home decor then and now in various rooms of our home and give you some ideas as to how you can snag our style.
If you're coming this way from My Life From Home, welcome! It's so nice to meet you! Pee Wee says hello, too. He loves people.
My style has definitely evolved from when I started blogging in 2009, but overall I feel I've been working towards refining my style and sticking to more timeless decor and furniture. That way, it's easy to layer in affordable accessories such as throw pillows, artwork, blankets, florals, and other home decor when the seasons/holidays/trends change.
At the core of my style is black and white (and gold for the past 3 years or so). Another style choice of mine that is always prevalent is my penchant for tufted furniture, classic damask patterns, and nailhead accents. Something about tufts, damask and nailheads exudes classiness to me.
I also adore feminine and metallic touches. I love, love, love florals and pinks, and I work in metallics in every space/vignette for a glam factor.
I had to really sit down and think about defining my decor style because it really is a mix of my love of traditional decor (wing chairs, tufted pieces), metallics (gold, silver) and pattern/color (floral, damask, pink, coral, black & white).
I finally came up with Glam Livable Luxe. I want my home to be liveable (realistic) for a household with a dog that leaves a trail of pet hair everywhere, but still feels and looks glam and luxe on a budget.
Let's take a look at the dining room transformation. In 2011, I went super safe and went with a beige (Sahara Desert Sand) paint color and striped beige/white curtains. The sofa I knew we'd have for 5+ years, so I chose one with a silhouette and color I love(d) from Macy's. The rest of the accessories were very blue/teal inspired.
Now the walls are a flat navy color (Naval by Sherwin-Williams), the rug is bold, the accents are more eclectic and the curtains are white with a black accent stripe on the sides. The addition of the rustic dining table is a nod to the traditional furniture I love. Overall this room transformed from safe and neutral to bold and glam with lots of contrast.
Shop This Look: (Affiliate Links Below)
Rug | Ghost Chair | Gold Coffee Table
Black & White PIllow Cover | Gold Candle Holder
Another good example showcasing my style transformation/evolution is our master bedroom. In 2012 I opted for gray and white stripes and a beige tufted headboard (see how consistent I am with those tufts?), and a gray damask rug and curtains. It's all very monochromatic, simple and totally worked for us for several years.
Early in 2016 I ditched my beloved stripes for a matte black accent wall. I kept the same furniture, rug and curtains, but added in some bolder throw pillows to amp up the style/wow factor. The black paint really highlights our beautiful crystal lamps (which are a timeless decor piece), and makes our headboard/bed seem even more regal.
Shop This Look: (Affiliate Links Below)
Crystal Ball Lamp | Black & White Striped Pillow Cover
Hotel Inspired Bedding | Tufted Headboard
In both of my before/after photos, you can see that the furniture (for the most part) stayed the same — those are my investment pieces. What changed were things like paint, accessories, curtains, etc. If you take nothing away from the post, please take away the following: invest in furniture pieces you can see yourself loving for 5+ years and you cannot go wrong.


I am currently working on a mini-living room makeover to prep our house to sell… we're hoping it'll be on the market in early October, so I'll have another before and after to show you soon. Also, I'm working like a mad woman on our guest/hall bathroom, which I've pretty much ignored since I stained the vanity 4 years ago.
I look forward to the many posts I will share with you all over the coming weeks of prepping the house to sell AND decorating an apartment. Never a dull moment for Monica!
Now I turn you all over to The Striped House. Please check out the other bloggers participating in this blog hop below. Looking at their beautiful homes may help you figure out your design style/aesthetic, plus it's fun to look at where other people live, right? Enjoy!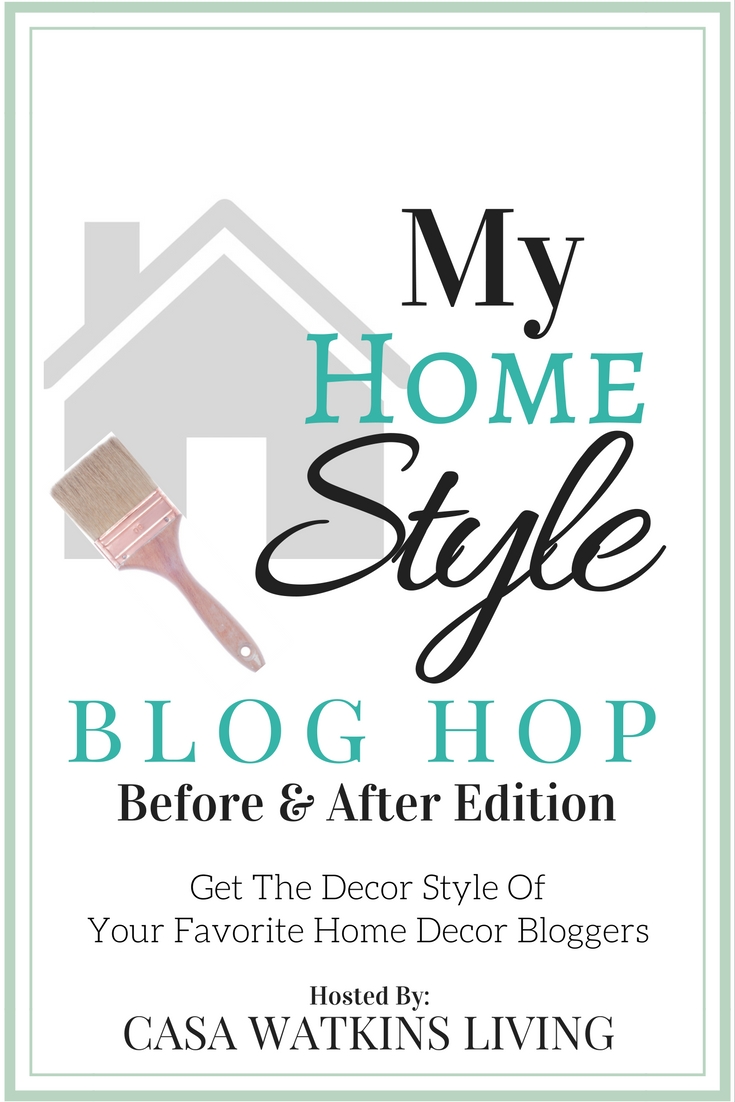 MONDAY
TUESDAY
Monica Wants It (You're Here Now!)
WEDNESDAY
THURSDAY
FRIDAY
SaveSave