As much as we'd all like to head to the nearest flea market to pick-up french farmhouse tables for our dining room, I totally realize it's sometimes easier to just buy new.
I've scoured the internet to find the best french country dining tables at various price points to help you achieve the rustic design look for way less than it'd cost to buy a french antique table on the secondary antique market such as Chairish.
If you're looking for tips to score a french farmhouse table secondhand, I'll also have a section in this post that covers what to look for in a french table that's in good condition to DIY your way to a fabulous dining table (or desk!).
Now if you follow me on social media, you all know I'm not the biggest fan of the typical Joanna Gaines/Fixer Upper "farmhouse" aesthetic that's been rampant over the last decade. And to be fair, that's our "fault" as consumers, and not her fault.
That being said, I have been on a cottage style kick lately (I've watched at least 25+ episodes of Escape to the Country on BritBox in the last two weekends), so this is my way of indulging in it without actually changing my decor style.
And this post about french farmhouse tables would be such a snooze fest if I just posted a bunch of tables that have a faux distressed or rustic finish, so yes, marble tables will be on this list since I'm assuming most of us don't live in legit farmhouses and can be a little loose on the parameters of what a farmhouse dining table is.
My take on the french farm tables trend is to put my own unique spin on it for modern interiors (while also simultaneously pretending I'm living in the south of France and hosting literary mixers at my home).
The product choices provided below will help you put together that chic curated over time look and feel that the french seem to do so effortlessly. Now let's shop!
Affiliate links are used in this post, thanks for your support!
Best Affordable French Farmhouse Table Set
When I saw the price on this item, I totally assumed it was just for the set of six chairs… and then I looked closer and realized that it includes the dining table.
If you're on a budget or have young children and don't want to splurge or invest in a higher quality "forever" dining set, you cannot beat the value and style this dining table with chairs set offers. At the time of this post, the set is about $500 for all seven pieces.
If it were me, I'd likely spray paint the chairs a semi-gloss black color and add seat cushions in a toile or checkered fabric for that vintage flair.
Modern French Country Dining Table for Small Spaces
I am resisting the urge to sell my marble and brass tulip table to buy this charming marble top bistro style table that can seat 2-3 people.
You'll look and feel like you're at a Paris cafe enjoying a cafe au lait and people watching. The silhouette of the base is striking in its simplicity.
If this dining table is too small for your dining space, I actually think this particular style could make an excellent accent table in a foyer or living room.
---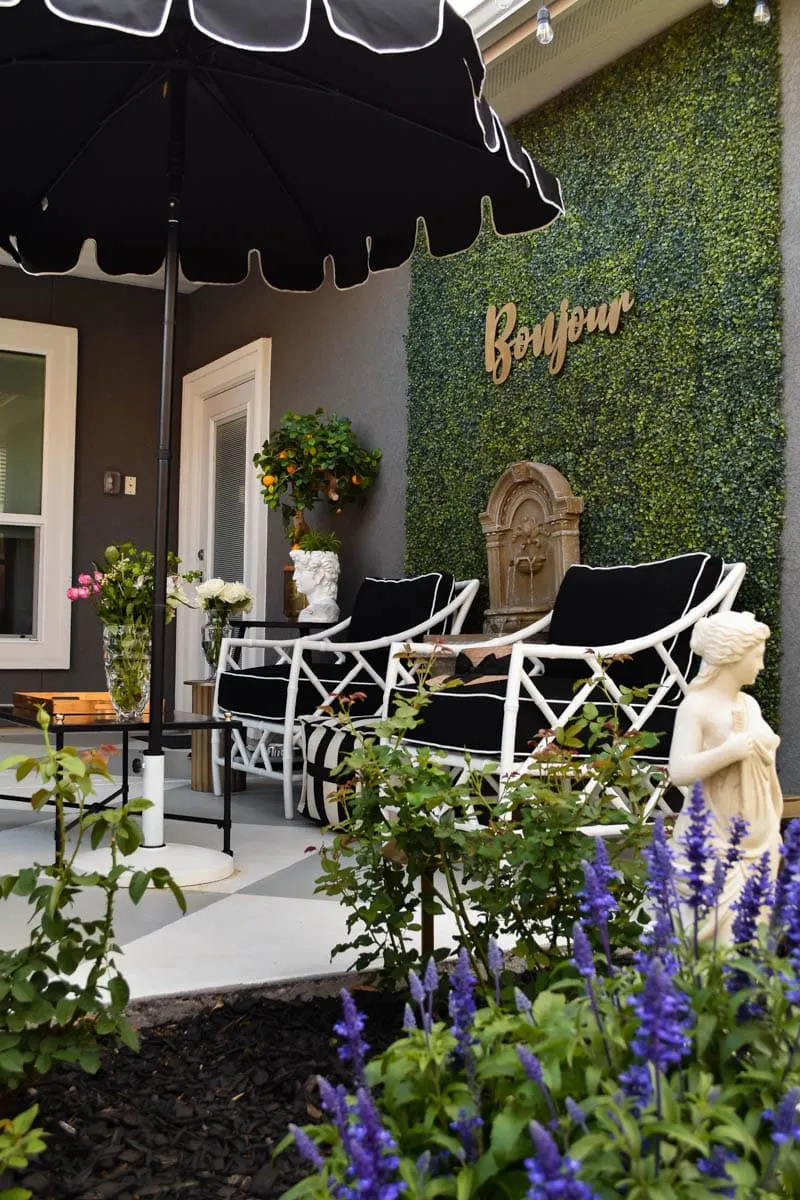 DIY Boxwood Wall Tutorial
Your neighbors and friends will be GREEN with envy after you install a faux boxwood wall in your home or outdoor spaces. I have a step-by-step tutorial that will guide you along the way.
---
French Farmhouse Table with Drawers
It. Has. Drawers. That's it. That's the whole post.
But truly, I adore the unique style of this dining table, which would also make the most fabulous desk due to its two drawers.
This is a dining table that you don't see often. We've all seen the RH dupes, the big pedestal tables, but this table? Not so much. It's very country inspired while also being modern but timeless.
French Country Dining Table Under $500
This fluted dining table definitely illustrates my old meets new approach to antique farmhouse tables.
This pick would make the PERFECT ADDITION to any dining space, especially if you're wanting that modern french aesthetic vibe with some soul.
Another sign that this might be a good option for you is the many five star reviews that people who have purchased this table left. I would style this with a thrifted glass vase, gorgeous flowers and these dining chairs for an eclectic look.
---
Affordable French Fireplace Mantel Surrounds for Any Space

Love the French aesthetic but not willing to pay $$$$$ for a vintage fireplace mantel? I have five affordable options, with many under $500, for you to create the home of your dreams.
---
French Farmhouse Dining Table for Big Families
This dining table caught my eye when I saw it as a new arrival. This large farmhouse table is an impressive 90″ in length, which is enough seating for up to eight, making it a great choice for families.
My fave part of this table is the additional detail they added with the turned legs to mimic the antique farm tables it is modeled after. So many different styles of dining chairs would match this table, so if you want to create a more modern french interior design aesthetic, you totally could.
Rustic Pine French Farmhouse Table
From the natural light brown finish to the hand-carved pedestal base, this 60″ round french farmhouse table features artisan craftsmanship and refined style. You can dress this table up or you can go for a casual vibe.
Some of the non-marble dining table options I've provided in this post are not 100% wood, and their affordable price reflects such, but this table is made from reclaimed pine. In my opinion, this style of dining table can be applied to many decor aesthetics.
Round French Inspired Dining Table
I must have inspected this JAW DROPPING dining table for a solid 5-10 minutes when I first saw it. It's absolutely stunning and features a 60″ marble table top with mitered edges, plus an aluminum base with a brass accent.
You simply can't get more French luxury chic than this table. Now, it is definitely on the pricier side of things, but buy once; cry once is my motto. If I had the dining room space for this, I'd totally splurge.
This table comfortably seats six and is one of my fave dining tables I've ever seen, and trust me, I've seen a lot.
Fluted Double Pedestal French Dining Table
I told you all I would be featuring unique french farmhouse tables and this one fits the bill. The rustic, reclaimed finish definitely oozes french country appeal, but it could also skew modern depending on the chairs and the room it's in.
My fave detail of this table? The fluted pedestal columns. It's a decidedly fresh take on a double pedestal dining table at a fair mid-point price range for the size and style.
---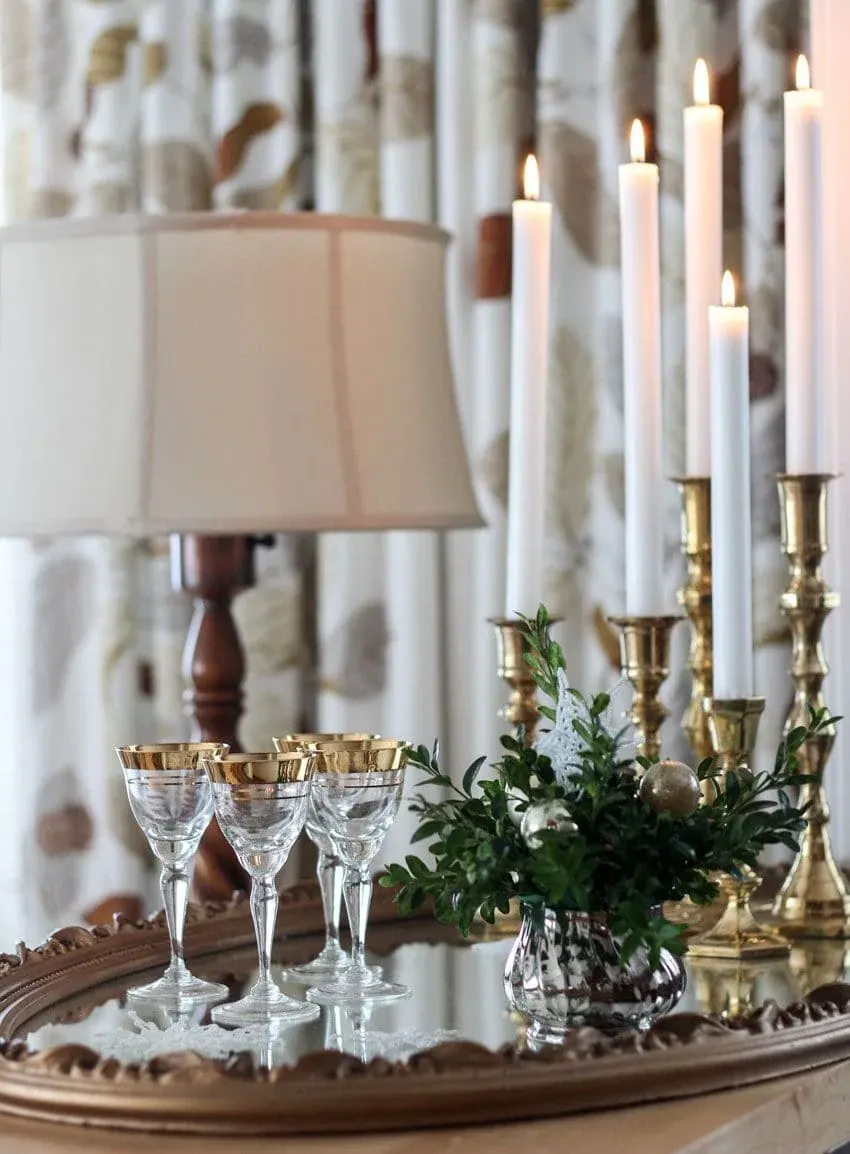 29+ Vintage French Decorating Ideas
Check out this post that features creative ideas for secondhand, vintage items to look for to achieve the french aesthetic.
---
Finding Secondhand French Farmhouse Tables
The chances of finding an actual "french farmhouse table" near you may be slim unless you live in France or live somewhere that has amazing antique stores. But, all that means is you'll have to keep your eyes and mind open to transforming a dining table into a french inspired piece.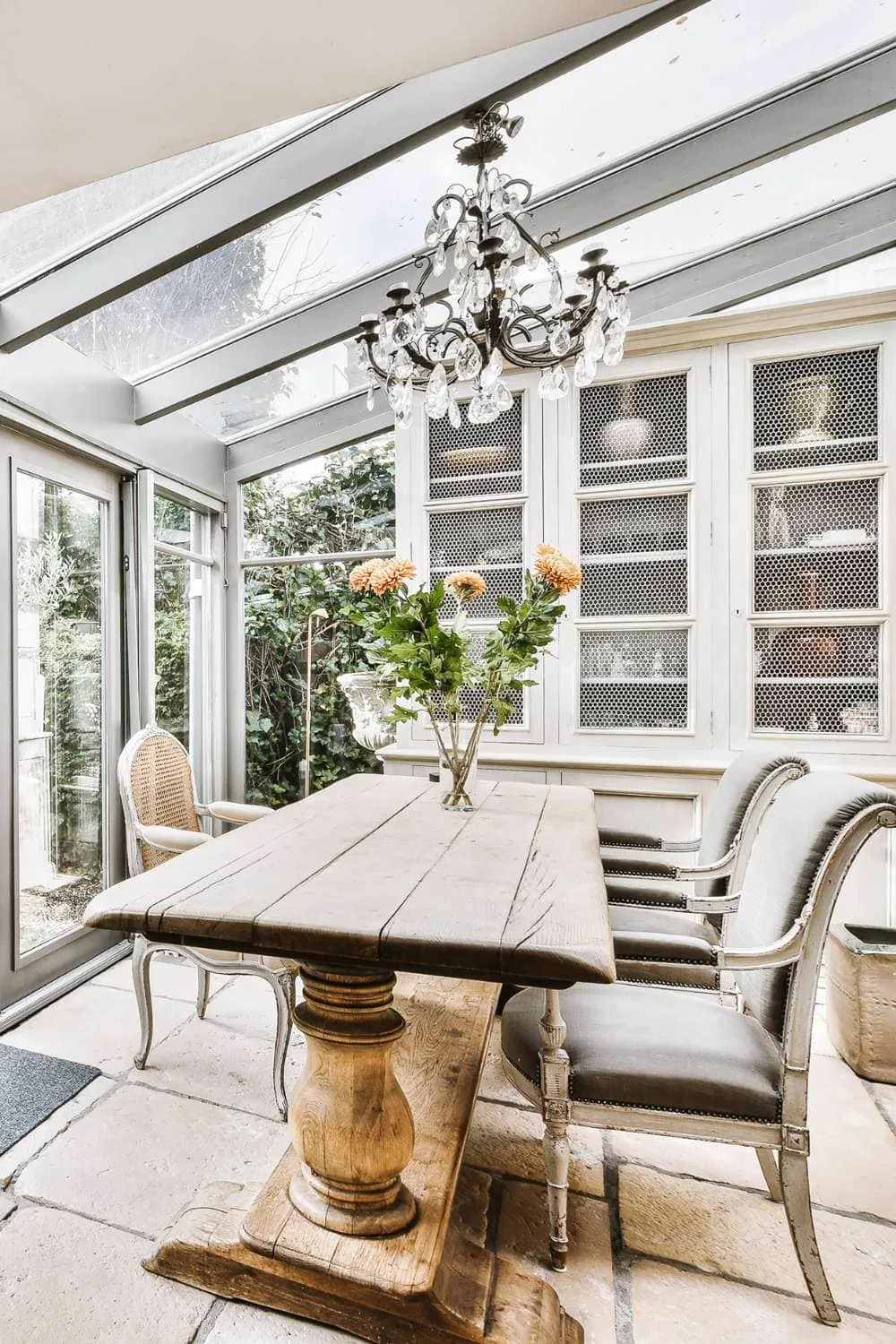 By putting in some effort into your dining table search, along with some DIY elbow grease, you can save yourself a ton of money and create a unique piece.
Where to Look for Secondhand Dining Tables
Facebook Marketplace: set-up an alert for dining tables so you'll be the first to see any new listings. I always see Queen Anne cherry wood styles, which with some paint and distressing can be a super cheap option to achieve the look for less.
OfferUp: people are all about FBMP lately, but OfferUp often has items that aren't listed on FBMP, so it's definitely worth a look.
CraigsList: the OG FBMP and people still to this day post on there.
Estate Sales: likely not as inexpensive as the above options, but you never know! Scope out photos on estatesales.net of upcoming sales near you and make sure to swing by on the last day to snag amazing deals.
Thrift Stores: can't beat that serotonin boost when you find THE item you were on the prowl for.
Habitat for Humanity ReStore: Again, a somewhat under the radar place to buy furniture because it's not exactly a thrift store, but I love seeing what our local one has every few weeks.
---
What to Look for When Buying a Dining Table to Refinish
Construction & Quality: if you're wanting a french farmhouse table that will last you for many years, try to stick to real wood tables.
Look for Less: On the flip side, if this is a temporary item where you just want the "look" and want a low-risk DIY furniture painting project, any table that's in good shape will do.
Level: make sure the table stands level. Seems obvious, but check the bottoms of the legs for any cracks, etc.
Effort Required: will you have to strip off paint to get back to a wood table? Do you want to paint over paint? These are somethings to keep in mind. What's your skill level? How much time and energy and money do you want to invest?
Need help? Make sure to check out my various beginner friendly furniture painting guides that will help empower you to tackle this DIY project.
---
---
Marble & Wood Dining Table Maintenance
So, you have your gorgeous new french inspired dining table. How do you take care of it so it will last?
For all marble dining tables (or marble anything) you'll want to clean up any spills and such immediately with a soft, dry cloth.
If you have a wood dining table, wipe up liquid and food spills as soon as they occur. You'll sometimes need to clean it with a very slightly damp soft cloth, and you'll absolutely want to use coasters and trivets to avoid those pesky water rings and burn marks.
Care and maintenance will vary by wood types, but overall solid wood tops will last for many years with proper maintenance. Experts recommend to avoid furniture polishes that contain silicones, as they can soak into your dining table's wood grain, damaging it permanently.