It is with deep, deep, deep sadness that I come to you with the news that I had to take down the black and gold chinoiserie accent wall in our master bedroom.
Vinyl wallpaper (essentially temporary/peel and stick wallpaper) is challenging, and the seams began splitting within a few months of installation. Finally, after months of living with it looking like a hot mess, I ripped it all down in a matter of minutes.
I could attempt to utilize traditional wallpaper and try again on the full wall, but it is not really a risk and investment I want to tackle at this time.
Now I'm pretty much back to where I started with our master bedroom a little over a year ago with the One Room Challenge. Bare. White. Daniel states he actually likes how bright it feels in the room now.
Desks as Nightstands in a Master Bedroom
I'm trying to embrace the fresh slate we have and focus on dreaming up a new master bedroom accent wall (sans wallpaper). The oversized mirrors are definitely staying, but we are ditching our bulky, dark nightstands in favor of using small marble desks as nightstands.
You may recognize the marble desk from my guest room makeover. I am a fan of shopping your own home for items to give them new life.
Like all of life's great ideas, my grand idea to use this small marble desk as a nightstand came to me while sitting on the couch looking for black and marble nightstands. My fave is this very luxe black and marble version:
I also found one I loved from Wisteria, but it was also pretty pricey. Then a little light bulb went off, and I remembered I had a small desk that fit the description right in my own home.
Since we had one nightstand/desk already, I only had to buy one more for the hubby's side, and it was on sale for $130. Sold! Plus once I sell our former nightstands, our next cost will be about $50-$75.
I moved over the leopard ottomans from the living room to fill some of the white space underneath the desk. I am loving how this looks! Once my chippendale chair is painted and reupholstered, it'll go in this spot.
The one teeny tiny caveat is that the drawers in this desk are super shallow, but this also forces me to not keep random junk in my nightstands (which is what I was doing!)
Accent Wall Ideas for Master Bedroom
We have a lot of wall to cover in our master bedroom. I believe it is about 17-feet wide by 10-feet tall.
Here's the current situation we're dealing with.
My idea is to move the mirrors about six inches each (the left one to the left; the right one to the right) to give a bit more space around the headboard. From there, I really don't know which direction I want to go in.
I love how Jewel's bedroom looks with the tone-on-tone moldings.
My moldings would be white on white, sort of like Vanessa Francis'.
I love how simple and chic this wall is from Crazy Wonderful.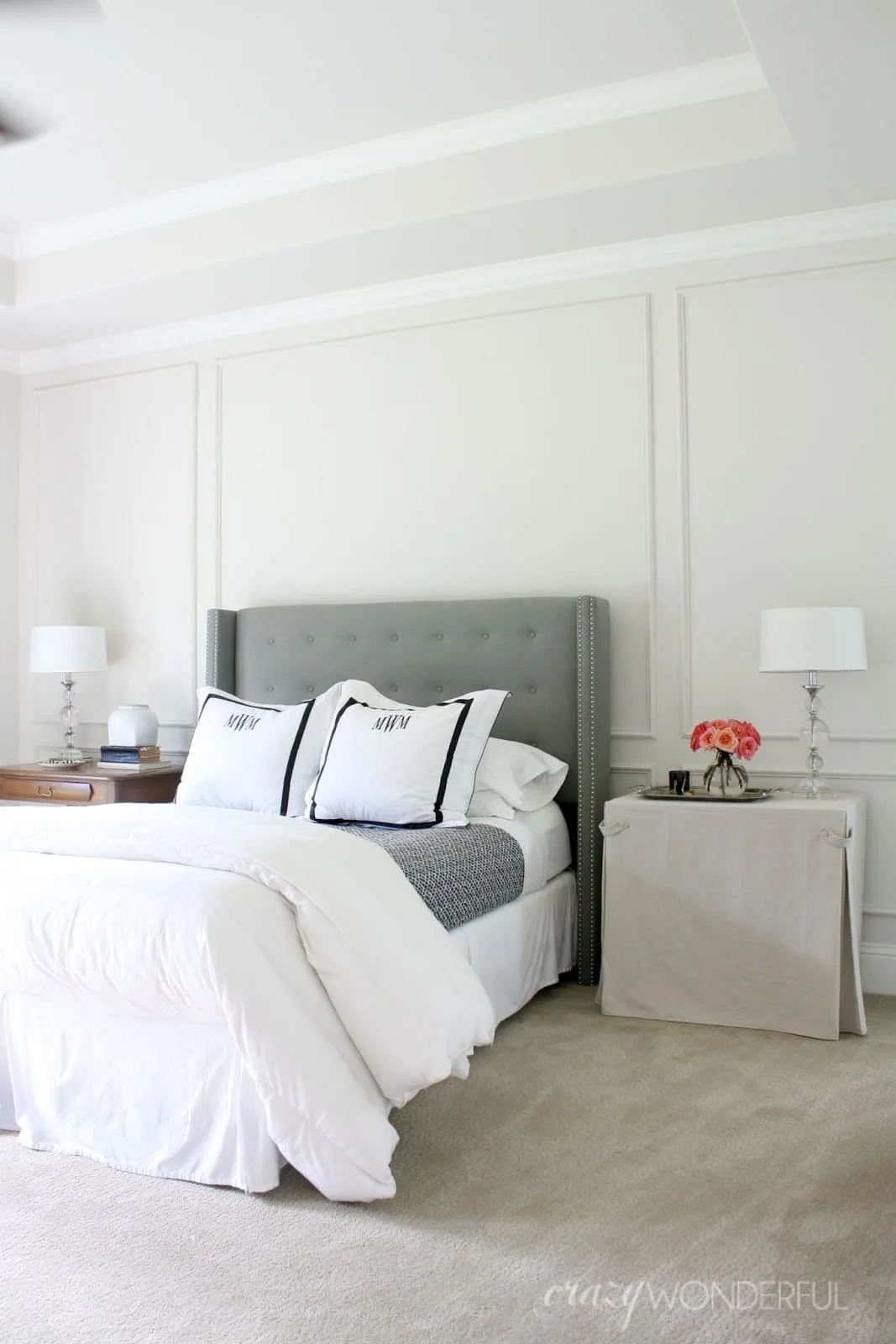 And as much as I love our white walls, I kind of do want some color/pattern on the wall, so I could do moldings WITH wallpaper. Much easier and cheaper than wallpapering the whole wall.
Our panels would have to be pretty wide to accommodate the mirrors AND the wallpaper. That could be the one issue I could see.
Another easier wallpaper option would be to add it to most of the wall and then do a chair rail treatment to the bottom.
As you can tell, I'm still exploring the many master bedroom accent wall ideas circulating in my head. If it were solely up to me, I know what I'd do, but I do have to take my darling husband's tastes into consideration sometimes.
Plus, given my current knee woes, I'm still not really able to get up and down a ladder without experiencing a ton of pain to tackle this project solo. I swear my main motivation to not have knee pain is solely to be able to get on a ladder to get stuff done around the house.
In the coming weeks, I'll finalize the design vision for the space and I'll get a proper mood board done and document the entire process. Artwork is getting added/moved.
I may also want to change up the lighting situation from lamps to sconces, and I truly think a master bedroom needs blackout curtains instead of the super lightweight DIY curtain panels I have currently.
And now, a moment of silence in memory of my black and gold chinoiserie accent wall. I miss it already.