I love when I get really nice emails with a thank you and a question. It makes me excited and inspired to really help a person out. That's what this post is about. So, thanks Jana for the inspiration.
Her question was the following:
"One question: in your repurposing at your home, have you done anything to update your doors? I have plain 70's looking flat doors and would love to update them. Any ideas or experience in that? Thanks again for your inspiration! LOVE IT!"

In fact, this is totally something I thought about extensively before deciding on buying new doors (I still have about 8 more doors to replace…it never ends!) Now, it's not because these ideas are hard or expensive, it's just that I really wanted paneled doors, so I bought them. But here are my ideas of how to deal with these doors that most of us with 1970's ranch homes inherit/are stuck with:
Flat. Hollow. Dark. Wood. Blah.
Idea #1:
My first idea involved painting them using a stain blocking primer (like Kilz, which is on Amazon Prime…score!) and then a high gloss paint. Now, that may look cheap, so I was planning on adding framed boxes made out of moulding to class up the door. Or, sometimes Lowe's sells pre-made moulding frames/panels, so you could save yourself the trouble of mitering/cutting, but either way it's a super cheap idea to have custom doors. You could even get bold with color, like in the example below:
Or keep it simple, classy, and elegant (look at how the raised trim on the doors makes it look AMAZING!)

Image source

Idea #2:
Along the same lines as frames, I thought about those very inexpensive over the door mirrors from Walmart that are about $7 each. Why not have a beautiful mirrored door? Especially if you have a long hallway…swoon! It'd be stunning. Simply use mirror mastic to position the mirror on the door (after it's primed/painted). You could also add even beefier trim/moulding for a super luxe look. Here are some examples: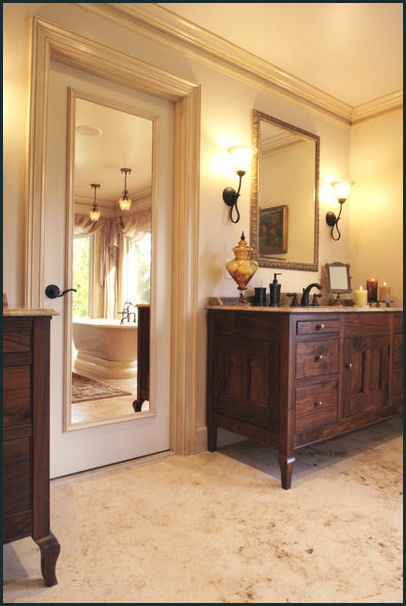 To achieve the pearly trim look, get some pearlized paint or even some rub n' buff would work. Image source.
See how modern and new a mirror can look on a door? Especially with chrome door hardware. I have about 20 of these in my house, and I LOVE THEM. If you want a beautiful, timeless door handle that it's easy to keep clean, then the Dexter by Schlage
is a good choice.
Idea 3:
And my final idea of how to update plain ole wooden doors is simply using paint and hardware. Now, I mentioned this earlier in this post, but a good primer is key to success in this project. You want to hide the icky, rough, splintered surface that most of these doors have and give the illusion of smoothness. I highly recommend Kilz or Zinnser.
Here's a cheerful example that would require nothing more than paint, painter's tape, and new hardware.
Probably not as cheap as most of my ideas, but a barn door could be lovely.
Or if you have light interior walls, staining your doors super dark (like in my tutorial) can yield some updated and pretty droolworthy doors:
I hope these ideas help inspire you to repurpose your doors.
Do any of you have ideas? Feel free to comment/link to inspiration over in the comments.
Be back soon with more home ideas! Muchos besos!