One of the "are you sure…?" moments with our home builder was when I told him I absolutely did not want white doors. I even wrote about why we chose black interior doors last year during the building process.
I know white is classic, timeless and the norm, but I was obsessed with getting my tricorn black doors no. matter. what. And now that I've lived with them for (almost) 6 months, the verdict is…
The tricorn black doors verdict? I LOVE THEM.

Absolutely, positively, without a doubt love them. You can probably tell that I am decorating at a much slower pace in this house because I want to make decisions and purchases in a methodical way. I'm reusing pieces from the former house, and I being choosy in what comes in to the new one.
That being said, having black doors makes a statement all on its own so not much else is needed to dress up the space.
---
---
I've gotten comments that my home looks sterile because of all the black and white, but it's purposeful. I went this route for a reason…I wanted the decor to shine, the spaces to feel airy and to keep a timeless vibe so I'm not always feeling like I have to paint walls with the hottest colors.

One of my favorite spots in the house is where three black doors converge in the master suite. I feel like I'm in a boutique hotel everyday of my life. An added bonus is that black doors instantly show dust, so I can quickly address it BUT they are also more forgiving to scuffs that happen when you have your hands full with a laundry basket and use your foot to open doors.
The satin finish shines just enough light on them to have a sheen without being in your face glossy and fingerprints wipe off easily with a damp rag.
After a couple of years living with these gorgeous black doors, I wrote all about maintaining our black interior doors. The post includes some tips and best practices that we have found helpful.
Initially I really wanted brass door levers, but due to cost I opted for chrome. We have a lot of doors, so the savings was significant. I sometimes wish I had splurged on the brass, but 9 out of 10 days I'm thrilled with how easy it is to clean and maintain chrome, especially in a kitchen.
I also love the view of this tiny foyer/hallway (whatever you want to call it) that leads into the master suite. I placed my most favorite Minted art piece (see more pics and my review here) smack in the center, so again, I'm honing in on the color palette and vibe of our home with touches of brass.
And from another angle:
And in rooms or spaces such as above where there's not too much going on, they really pack a punch.
I recently refreshed my office space, and I love how the color and decor pairs with the black door.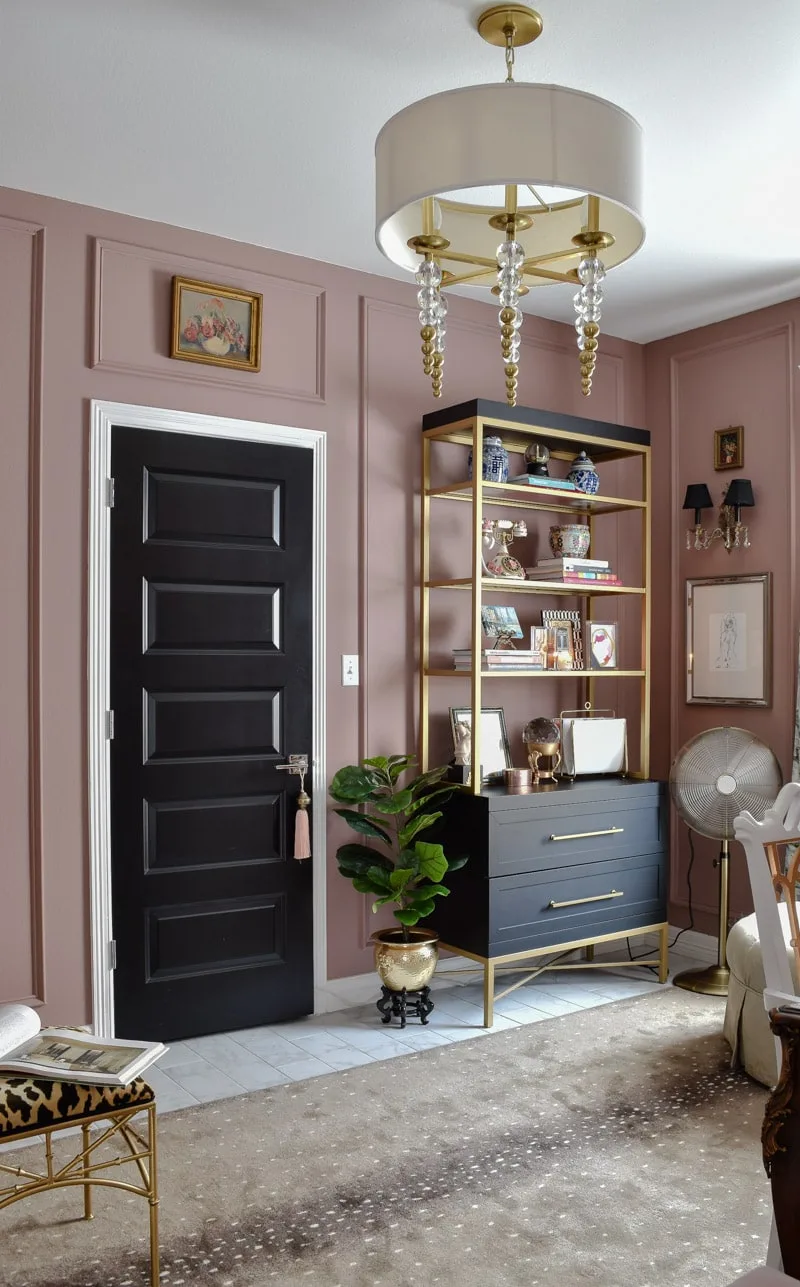 As we continue working on bedrooms , they'll add even more drama and impact to the space, but for now they simply add contrast and a luxe vibe.
If you're on the fence on having black doors in your home, just try it on one door to see how you feel about it. I know it's not a choice for every home, but if you want a different look that can fit a myriad of decor styles, then black is a fabulous and timeless choice.
Black Door Details
Paint Color: Tricorn Black by Sherwin-Williams
Paint Finish: Satin
Door Hardware: Privacy Set (Bed/Bath) | Hall/Pass Through | Closet/Dummy Lever
Paint Application: Sprayed during home build (not a DIY by me)
---
---