If you need centerpiece decor ideas for your kitchen island, you've come to the right place. Whether you're decorating for a season, holiday or special occasion, this post has tons of ideas and tips for decorating your kitchen island.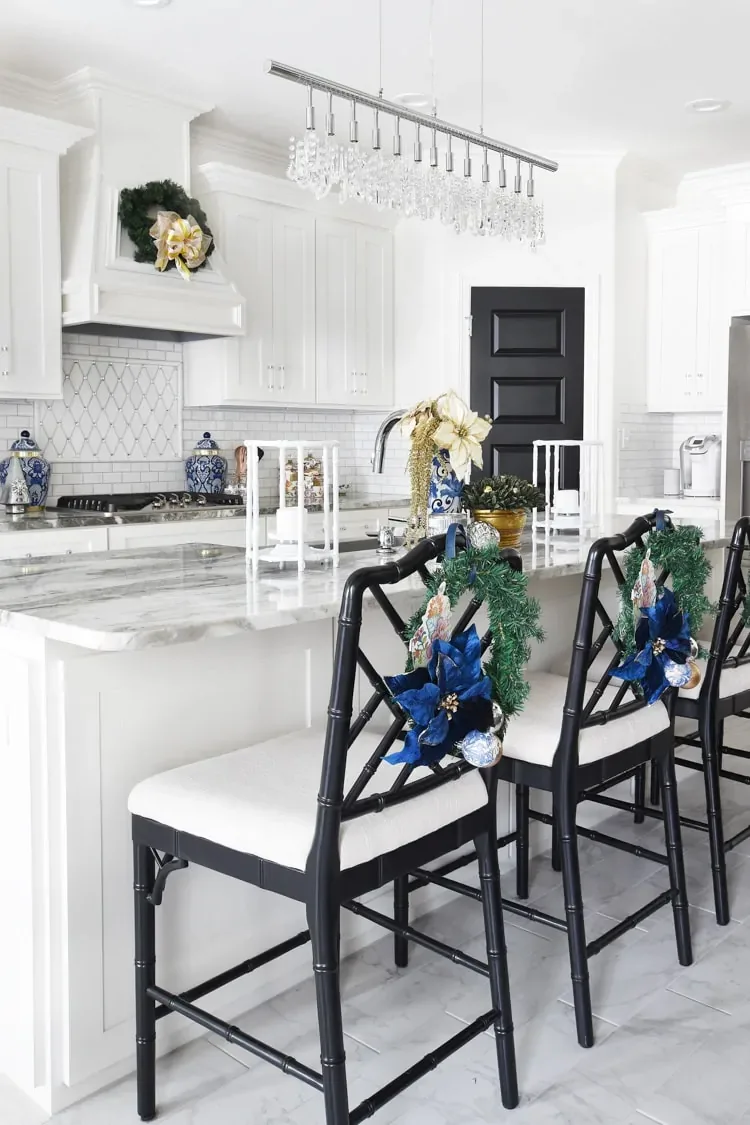 For many of us, our kitchen island can serve as a dining table, buffet, arts and crafts station, home office, etc.
The kitchen island is often a focal point that can really set the tone for a beautiful environment that will make it a joy for your guests or even just for you and your family to enjoy daily while cooking or doing homework.
Kitchen Island Decor Ideas by Season
Fall
I love using unconventional colors for seasons, so this blush and white pumpkin vignette caught my eye. This type of centerpiece can easily be created using decorative objects corralled on a small tray and is perfect for a small kitchen island where space is at a premium.
Another idea that brings together both pumpkins and florals is to use a pumpkin as a vase.
A great option to make this set-up is to use a glass bowl with floral foam that fits INSIDE the pumpkin so you can easily refresh water. Using pink and coral florals and greenery really makes the orange hues pop.
Winter
If you have a stand alone wood-toned kitchen island, some seasonal produce will go a long way as both decor and ingredients for a comforting soup in the winter. Stack small plates or small bowls beside the ingredients to add in different textures.
Spring
Is there anything better during the spring than fresh citrus?
Grab some stoneware or crystal bowls, fill with limes and lemons (or other seasonal fruits) and ENJOY. Pairing this set-up with a wooden cutting board that displays a baguette with vintage butter dish would also work.
Take advantage of all the spring blooms and arrange them on your kitchen island.
If you're pressed for space, my kitchen island decor tip is to use a tall vase packed with flowers. However, if you have the space, how gorgeous would a display like this be? Use colorful blooms for a pop of color or stick to creams and whites for a fresh, clean vibe.
Summer
Blue and white screams summer to me. It's a crisp color palette that feels clean, timeless yet elevated. Ginger jars are pretty easy and affordable to find at home decor retailers. Adding sunflowers, oranges or hydrangeas is a way to bring in different colors for some contrast.
Summer to me is also all about incorporating those natural, beachy elements like glass jars covered with cane and big white floral branches. I try to opt for using real flowers when I can, but don't miss out on all the amazing faux flowers out there to give you this look.
---
29+ Vintage French Decorating Ideas
Check out this post that features creative ideas for secondhand, vintage items to look for to achieve the french aesthetic.
Kitchen Island Decor Ideas by Holiday
New Year's Eve
When I think of New Year's decor, I always, ALWAYS think of the color gold.
This centerpiece idea uses a little creativity by flipping a cake stand upside down to use a vase. Go scout your home to see if you have anything that could be in this way.
Pairing this with a champagne bucket and secondhand champagne flutes next to a charcuterie board would be so swanky and simple.
Sign me up for this party below. Love the creative display for the champagne + how all the food and drinks are arranged to make it easy to grab and go and keep the flow going.
Easter
If you layer in some bunnies or painted Easter eggs, this ginger jar set-up would work beautifully and could easily then transition to summer decor.
Here's an adorable example that is easy to replicate using what you likely already have on hand.
You all know by various tutorials that I am a big fan of decorating the back of your chairs. Notice the wicker tray to keep things tidy on a small island.
July 4/Labor Day
The table runner, the vase of flowers, and all the beautiful and functional items (ie: tiered stand, trays) have me swooning. What a fun way to incorporate this holiday into your kitchen decor.
Thanksgiving
Seasonal faux fruit painted in a shiny gold is spectacular on a tiered serving tray. I think this idea would work well nearly anytime of the year, but I envision pears, pumpkins and pomegranates for a Thanksgiving dessert table.
If you're a couple like us, you likely won't be using the dining room for Thanksgiving and will opt to keep it casual and eat at the island. Here's a simple idea to set a Thanksgiving "table" on your island.
I love how there is a fall garland, neutral white vessels and linens, plus a lush green hued dutch oven with soup and rolls at the end of the island inviting you to dig in. This is how you keep your counter space open for eating while also creating a gorgeous set-up.
Christmas
Using your island as a serving station is always a good idea if you have family and friends over. This spread below looks festive while being totally useful. This is also an opportunity to use vintage linens and tablerunners.
Keep your kitchen island free of decor by decorating THE BACK of your chairs (if you have stools at your island). These DIY blush and gold chair wreaths are affordable and easy to make.
These DIY blue and white chinoiserie ornaments would add a festive touch when styled with metallic ornaments in a bowl. Adding in ginger jars with florals takes it over the top.
Kitchen Island Decor Ideas by Occasion
Birthday for Him
Setting up a cheeseburger slider bar along with french fries is a fun way to celebrate! Guests can easily grab burgers, fries, etc. This is perfect occasion to use wooden cutting boards and other fun serving pieces.
Birthday for Her
If you want to set the scene for a romantic birthday for that special lady in your life, I suggest cleaning the kitchen, using a small vase to hold fresh flowers, splurging on a bougie candle and keeping it simple.
Any gal would love this sweet little tea set-up to celebrate her birthday. Fill it with her yummy fave small bites to gnosh on while she gets ready, or use this as to create a fabulous birthday night in.
Anniversary
This kitchen island set-up is perfect for an anniversary! Use a tray to hold some flowers and add in some tasty baked goods for a leisurely breakfast in bed.
Girls Night
Most herbs are super easy to either propagate or divide, so if you think ahead, you can have plenty of little herb or floral planters ready to go for a girls night. Small planters are plentiful at dollar stores, thrift stores, etc.
Bonus tip: while these as a collection make a beautiful centerpiece, have each lady take one home to enjoy on their kitchen counter as a party favor.
If you do this set-up below, please invite me over. This is great for girls night, but would also look chic for a guys beer night, date night in, or appetizers for any holiday gathering.
Kitchen Island Decor Ideas by Decor Aesthetic
Farmhouse
Using repurpose risers such as cake stands (or even a lazy Susan) is a beautiful way to display veggies and even add in a salt/pepper cellar or display a small colander.
If you want to incorporate that Studio McGee, modern farmhouse vibe, this is how! The rustic cake stand elevates this whole vignette, while the branches and antique candlestick add height and interest.
Plant Lover
A lot of the ideas I am featuring focus on the TOP of the kitchen island, but you could also make use of the ends. Love this idea- you could hang several little herb pots along with decorative tea towels.
I can only imagine the fragrant aromas of fresh herbs on the kitchen island, plus all the delicious baked goods. If you love plants or love to cook (or both!), and if your kitchen gets a decent amount of natural light, pots of herbs are the perfect kitchen island centerpiece.
Another tip is to decorate around your light fixtures, too. So many great ideas in this pic.
Both useful and decorative, this is fun idea for a coffee/espresso theme. The little letterboard is on-trend and can be changed up from season to season.
Minimalist
Monochromatic. Simple. Impactful. This styling could work for almost any decor aesthetic, truly.
Another minimal moment using wood accents with greenery and vegetables. Practical and useful.
If you are a minimalist who maybe leans a bit towards the boho chic style, you may love this take on decor. The feathers are unexpected and add in texture.
French
Incorporating antique or secondhand decorative items (like a vintage scale) is a great way to add unique decor to your space that also feels (and could be!) functional. This is a simple centerpiece that creates a beautiful moment in this kitchen.
Affordable French Fireplace Mantel Surrounds for Any Space

Love the French aesthetic but not willing to pay $$$$$ for a vintage fireplace mantel? I have five affordable options, with many under $500, for you to create the home of your dreams.
Transitional
A dough bowl is a perfect addition to your kitchen decor. Really, any wooden vessel adds warmth and style to a kitchen as you'll see in most interior design blogs and magazines.
They can function as a large bowl for easy access to fresh fruit or can function as additional storage for vintage linens or fill it with flowers and greenery for a dinner party. I love how the island is also set for casual dining.
Traditional
Using cordless, rechargeable buffet lamps is an easy way to add impactful style.
I imagine this set-up, which includes a floral arrangement, would be amazing for dinner parties to illuminate the area with a soft warm glow.
Here I am again with the blue and white, but truly it ALWAYS looks good. I love how practical this is.
Colorful or Eclectic
If you have a colorful kitchen aesthetic, weaving those colors into your kitchen island decor will help it feel high-end and curated (especially if you have a small island). Use a decorative tray to hold items (tip: try using odd numbers of decor at varying heights to create interest).
If you have a collection of similarly colored items, such as vintage glass, here's a stunning way to showcase it and make a big impact. Loving this green moment.
---