I am so excited to share these mini wreaths today with you all as my latest DIY tutorial! My friend Stephanie sent me an over the top jeweled wreath she saw on Pinterest last week, and I wanted to create something with the same vibe but with a lot less frills.
Given I recently redid my dining room from a colorful chinoiserie vibe to a more subdued French dining room, I thought a wreath like this would be perfect on a mini wreath scale for the back of my chinoiserie fretwork dining chairs.
Can you get any more Parisian than chic velvet ribbon, a classic satin bow and lots of sparkles and pearls? I think not.
---
By the way, if you want even more holiday inspo with a Paris influenced twist, make sure to check out my pink and gold floral Christmas tree that is in my office.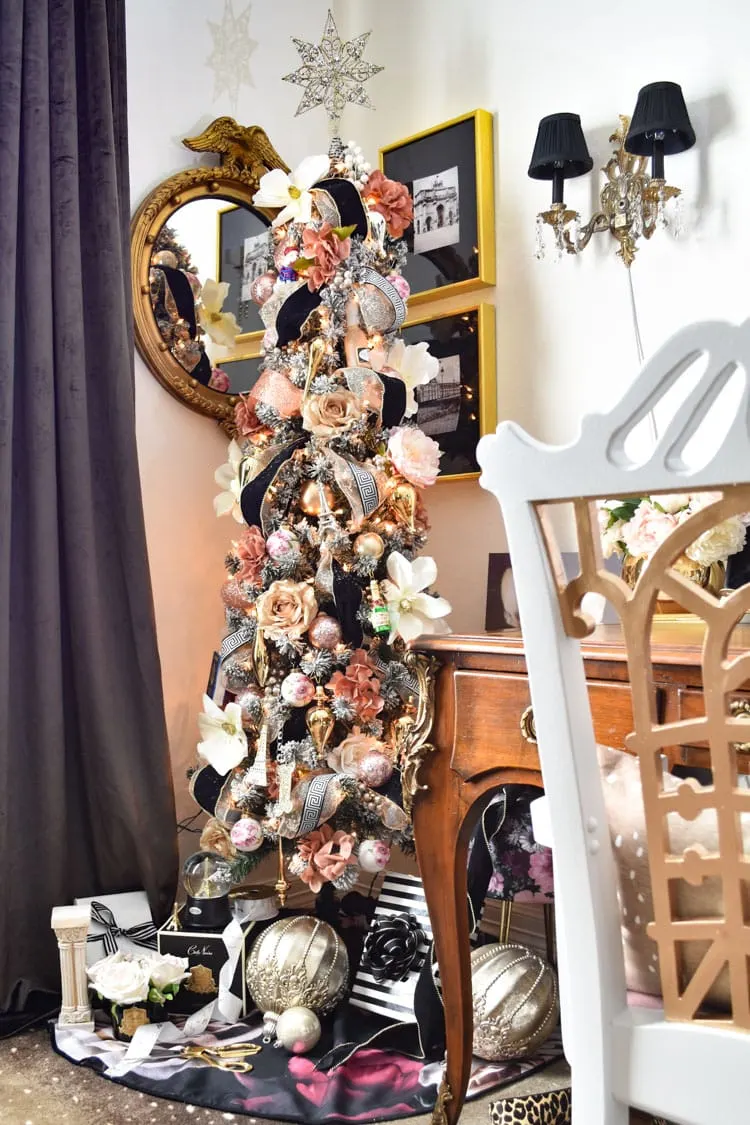 Decorating with Dining Chair Wreaths
This is not my first rodeo with making mini wreaths for dining chairs. I've done two other variations since being in our current home that I used on the counterstools at our kitchen island.
The first year we were here, I made some gorgeous blush and Greek Key chair wreaths that were mostly made with items from the dollar store. They added such a festive touch to our kitchen, and they helped bring in the blush pink accent color I used that year.
Two years ago, I used the same mini wreath forms to make some chinoiserie ginger jar chair wreaths that brought in the blue and white theme from the particular year.
Since I have open back chairs, it's nice to be able to add in a punch of texture, color and decor to compliment my holiday theme that year. These wreaths tend to be lightweight, relatively inexpensive to make and you can freshen them up from year to year with new florals, bows or ribbon to keep your mini wreath decor feeling fresh.
Hanging Options for Non-Open Back Dining Chairs
If you do not have open back dining chairs (ex: all fabric), you can still use mini wreaths in your decor by draping the ribbon over the back and down the front of the chair and tuck it into the area where the back meets the seat so it'll stay secure. A bonus is that you'll get a fun pop of color on the FRONT of the chair, too.
Another idea would be to use straight pins to pin the wreath in place onto the fabric like Jennifer did (above)– you just have to make sure it's a very lightweight wreath so it doesn't sag or tear your fabric.
If you have wood with fabric, an option could be to use Command Hooks. Tons of options no matter what your dining chair situation is like.
Other Uses for Mini Wreaths
If you don't want to decorate your dining chairs with a mini wreath, what else could you use these beautiful wreaths on? I have plenty of ideas.
Kitchen cabinets
Bar cart
Windows
Interior doors
Christmas tree
Mantle decor
Wall decor
Tablescape
Over the range hood
Hanging from a piece of furniture
Hung on/over a mirror (use ribbon or a Command Hook)
There's so many ways to use these mini wreaths, and the ones we're making today would actually look great anytime of year. Let's dive in and make some DIY jeweled wreaths!
Jeweled Mini Wreaths: Dining Room Decor
I hope my approach using the clock method was helpful. I did a few test runs of this, and I absolutely wanted to set you all up for success, and this was the best way.
I mistakingly bought flat back pearls that I painstakingly had to glue on myself, and that's why I changed my recommendation to adhesive backed pearls and acrylic gems to fill in the bare and bald spots so it would greatly reduce the amount of manual glueing. You're welcome!
The mini wreath looks beautiful with the bow at the top…
But it also looks kind of fabulous off to the side a bit. Very nonchalant and glamorously imperfect, if I do say so myself.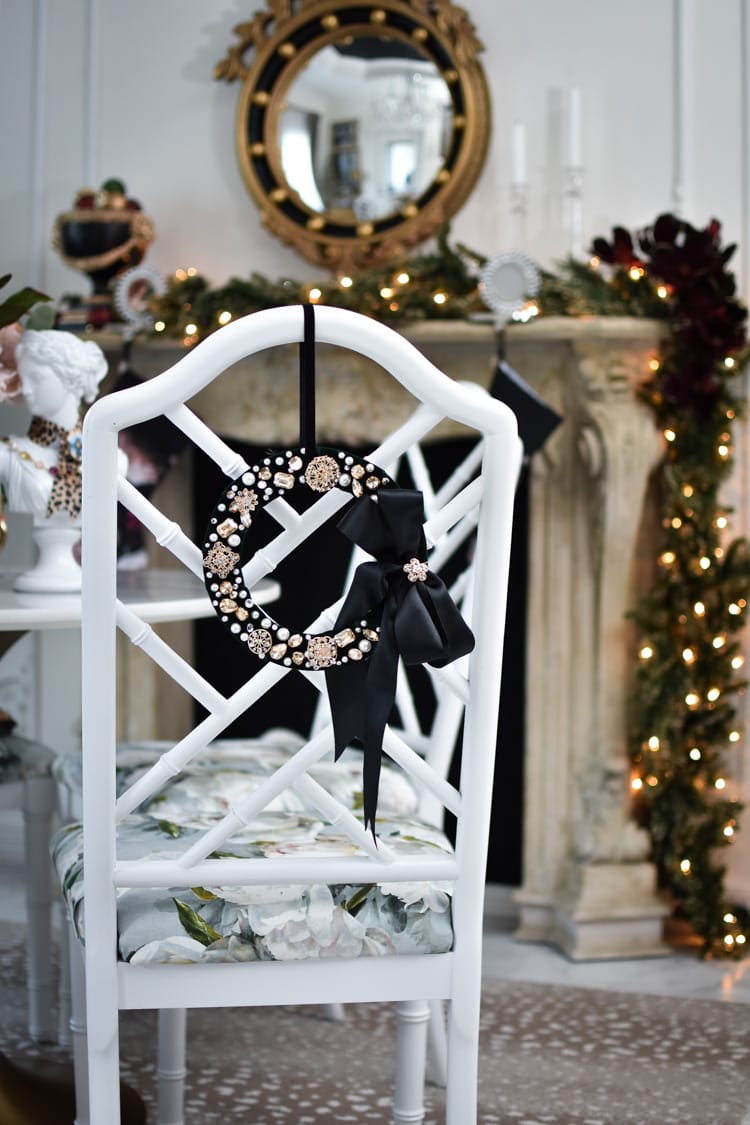 I've made two so far and have two more to go, so you'll have to stay tuned to the blog to see the full reveal of the dining room decked out for the holiday season.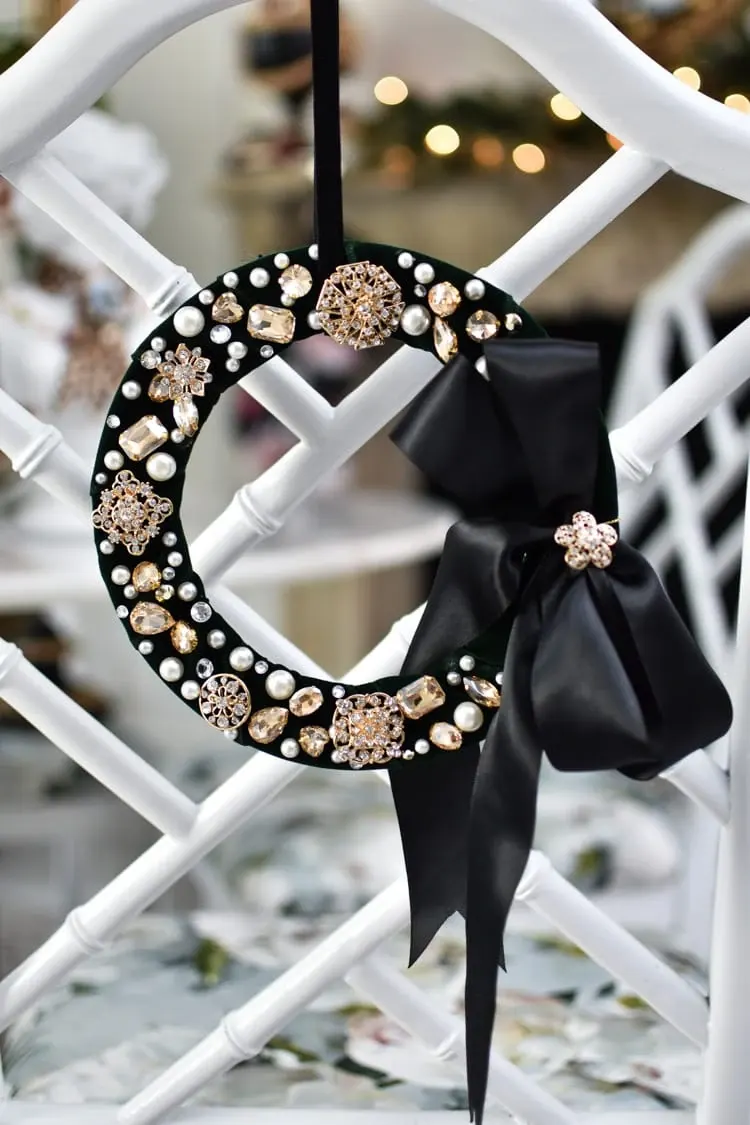 Other Holiday Decor Posts You May Enjoy