I've been working on this on and off for a few months, and something sparked inside me on a mini-vacation I went on last month and I decided to formally take the leap and launch Monica Benavidez Home— which is my very own home decor line.
Keeping this a secret has been killing me, so I decided once I had some samples photographed, I'd share this super big news… and here we are!
Monica Benavidez Home: The Inspiration
There are many, many chinoiserie inspired fabrics, throw pillow covers, etc. and while I love many of them, I found them to be price prohibitive. I can't afford a $280 pillow cover, and I'm sure many of you all feel the same way.
Additionally, sometimes the colorways and designs aren't exactly what I would want/like. Using my background and knowledge in graphic design, I challenged myself to make beautiful designs that I would best describe as chinoiserie home decor with a twist.
I also would walk in to home decor boutiques and see a tea towel with a too big or too small ginger jar on a white background, and I thought to myself, "I could design a cuter and better product than that."
Also, in my heart, I've always had this entrepreneurial streak in me. Every ounce of my being and existence thrives on creativity and wanting to create something special and work for myself, so this is my response to those feelings I've had. This is my shot at making my dreams happen.
After months and months of feeling that way, I slowly started to work on designs. There are many I scrapped because I didn't LOVE them, so the collections below are truly a part of my heart and soul.
In addition to designing every single bit of the artwork required for this collection, I also sourced tons of product samples to ensure that you all get the best quality products for your money.
Monica Benavidez Home: The Collections
To launch, I've designed five unique collections (I'll be showing you sneak peeks of each one in a moment) that embody my favorite aspects of chinoiserie chic decor: ginger jars, tobacco leaf, florals, and Staffordshire dogs.
Each collection stands on its own, but I've also designed them to work well with one another so you can mix and match to your heart's content.
Ginger Jars & Pink Peonies Collection
This collection features tons of watercolor type ginger jars and big pink peonies set on top of a faint blue and white fretwork inspired pattern.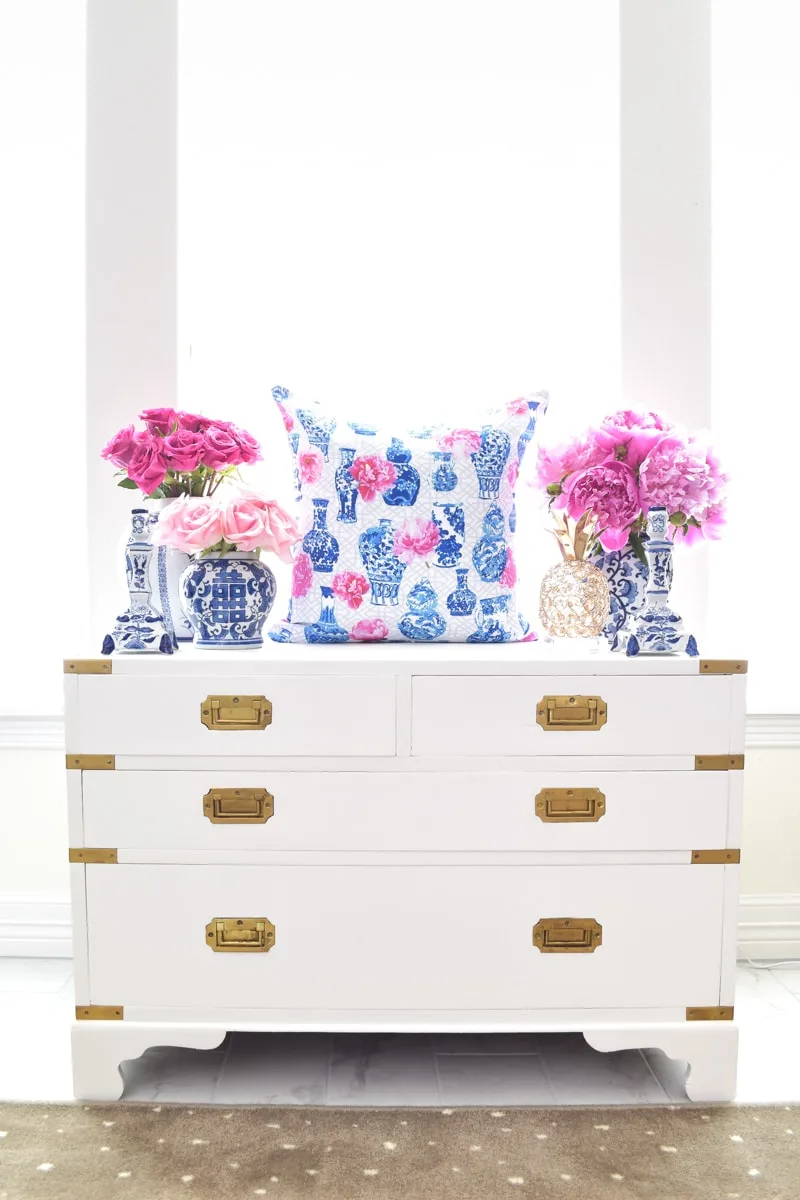 My goal with this collection was to have a TON of ginger jars and florals while sticking to my very favorite color palette of crisp blue, white and pink.
In addition to chinoiserie throw pillow covers, these designs will also adorn other products for your home such as kitchen aprons.
My sister-in-law Sara was super gracious to model some of these products, so thank you Sara! xo.
Chinoiserie Dreams Collection
I managed to somehow gather all of my chinoiserie dreams into ONE design. This collection features classic chinoiserie elements: a dragon, ginger jar vase, pagodas, florals and BOLD colors.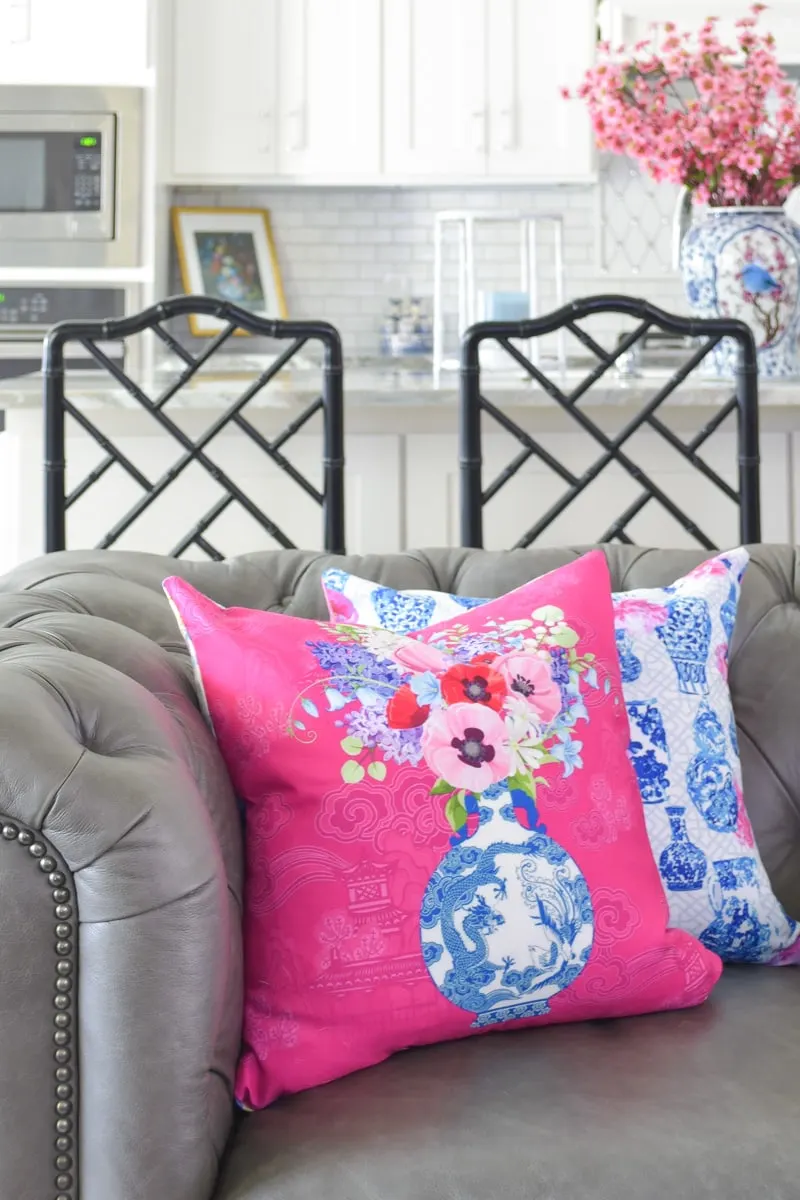 This particular collection is also available in SIX colorways: hot pink (shown above), blush pink, royal blue, kelly green, orange and purple.
Staffordshire Dogs Collection
I adore Staffordshire Dogs, and after years and years of searching for some for my home, I finally found some for a fabulous price on that vacation I mentioned earlier in this post.
I took that as a sign that I was meant to include these cuties in my collection, so I took a photo of the ones I bought, turned them into sketch art and added tobacco leaf adornments to their body.
One of my favorite chinoiserie patterns is Greek Key, so I found a way to include a Greek Key inspired trim in this particular design.
I also included an ornate background to give this Staffordshire dog throw pillow cover a lot of movement and oomph. It's a super fun decor piece!
Blush Argyle Tobacco Leaf Collection
Chinoiserie and preppy are kind of synonymous sometimes thanks to their Palm Beach inspired colors and vibes. For this collection, I wanted to complement my most favorite tobacco leaf pattern with a subtle and preppy blush argyle background.
If I had to pick an absolute favorite collection from my inaugural line, I'd have to pick this one. I really worked so hard on the watercolor/sketch effect for the tobacco leaf to give it enough detail to fit large pillow covers.
All of my pillow covers (just the covers so you can choose your own insert) are double sided with a concealed zipper and available in 18×18 or 20×20. All the sample photos you see here are with the 18×18 size.
Tobacco Leaf China Collection
This collection is very similar to the blush argyle tobacco leaf collection, but instead of pink and argyle, this collection features a very light blue and white pagoda, Blue Willow inspired background.
I told you, all of these collections are chinoiserie traditional with a twist. I double up the tobacco leaf to create a gorgeous kaleidoscope effect to bring new life to this classic pattern.
Monica Benavidez Home: Product Offerings
Five collections (including one of which has six colorways) means there's a lot of product choices to manage, so for my official launch here's my product lineup (there's also a video at the top of this post with more sneak peeks):
Double-sided pillow covers in 18×18 and 20×20 inch sizes (just the covers will be sold, you can use your own insert!)
Makeup and pencil bags (zippered pouches) in small and large sizes
Acrylic (lucite) trays with interchangeable designs in 11×17 and 12×12 sizes
Hand towels (super soft and absorbent)
Kitchen aprons
Tote bags and weekender bags
Smartphone cases and pet bandanas for both tobacco leaf china collections
Chinoiserie Throw Pillow Covers
Makeup & Pencil Bags (Zippered Pouches)
Acrylic (Lucite) Interchangeable Trays
Hand Towels (Super Soft & Absorbent!)
Chinoiserie Kitchen & Cooking Aprons
Chinoiserie Tote & Weekender Bags
Pet Bandanas
Launch Date for Monica Benavidez Home
I'm still working on wrapping up a few loose ends with launching, and I am feverishly working on my e-commerce site behind the scenes to prep. My goal is to open in late July 2019!
My store will be at www.monicabenavidez.com (or just click "Shop" in my blog menu bar), and if you head there now you'll be greeted with a coming soon page and an email sign-up form.
I will say that I am going to offer some huge promo codes for my July 2019 launch, and I've decided to offer my biggest and best grand opening to my blog subscribers. Without all of you amazing people, none of this would be possible.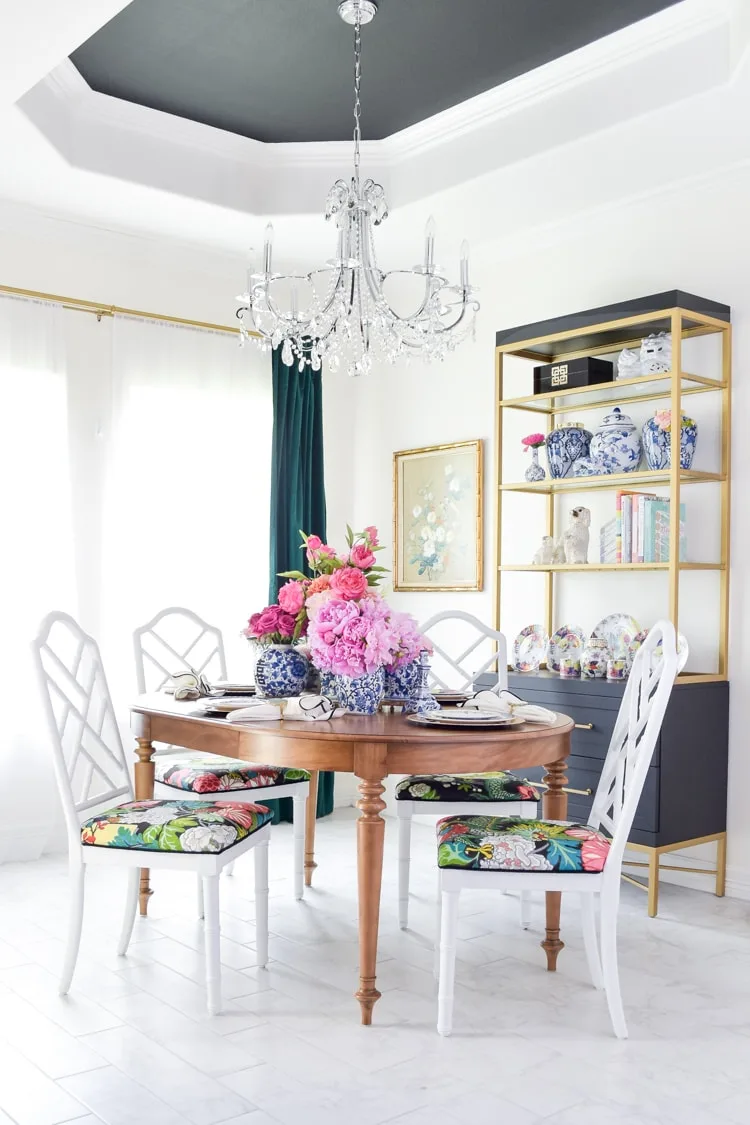 Even though my inaugural collection is just about done and ready to go, I will be launching a fall inspired collection (think of chinoiserie chic meets pumpkin) in late August 2019 that will also add in cloth placemats, cloth dinner and cocktail napkins, and table runners!
In October 2019, I will launch my holiday collection which will usher in chinoiserie chic gifts, women's apparel, blankets and of course holiday themed chinoiserie decor.
I know this was a beast of a post to get through, so if you did read all of this THANK YOU SO MUCH! Let me know which product you most look forward to in the comments (or if there's a product you'd love to see offered!)