I first heard about the fabulous, talented, nice, sweet, and did I say talented Lynn from Lynns Little Creations on The Knot. A bunch of my favorite May 2009 brides (Stacy, Deborah, Kristin, Robin, and Jackie- love you ladies!) ordered their cake toppers from her, and I kept dreaming of what mine would look like. I think I'd look beautiful made from clay because I'm just beautiful period, right? Right.So, I contacted Lynn, and she said she could squeeze me in.And then I forgot. Then Kristin reminded me with her post about it, so 2 days ago I contacted Lynn and asked if she could please squeeze me in and she said YES! Hallelujah!She sent me pictures of our cake topper today, and it is more cute and beautiful than I could EVER imagine.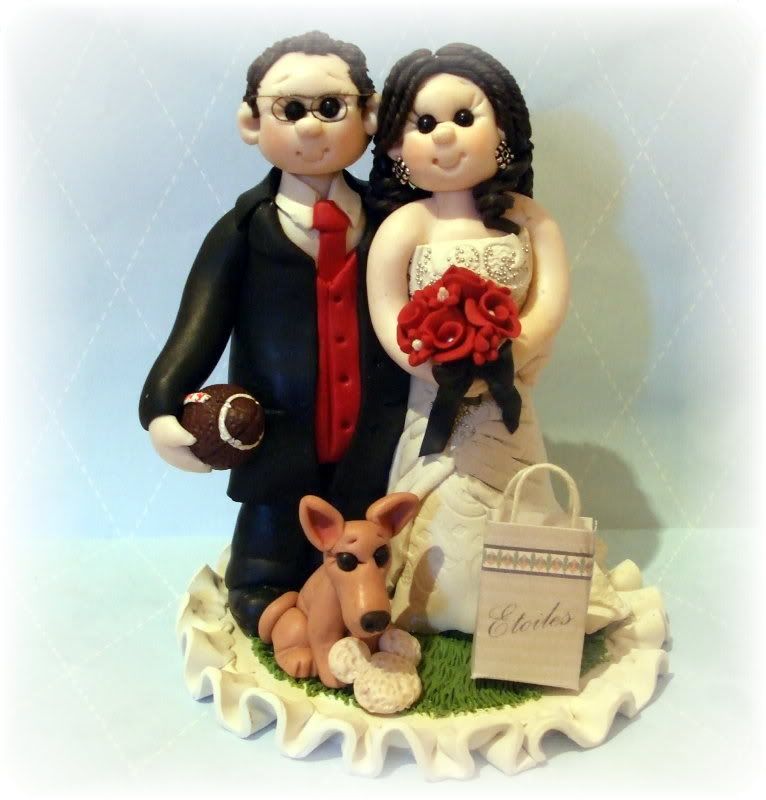 Daniel loves football, and I love shopping.
Our furbaby Pee Wee and his favorite Mickey Mouse chew toy.
And a close up of the Mr. & Mrs.- look at Daniel's glasses- ADORABLE!!She knocked it out of the park, it's perfect and I do not regret spending the money on getting this made. We will cherish it forever. Thanks again Lynn!