I've shared Christmas tree decorating tips and ideas in the past, but I shared a tutorial on how to put ribbon on a Christmas tree on my Instagram stories this weekend that my followers said blew their minds with its usefulness (and ease).
The video is in my Instagram highlights, but I'll also detail the simple and easy trick I use to make my ribbon garland look amazing with zero frustration!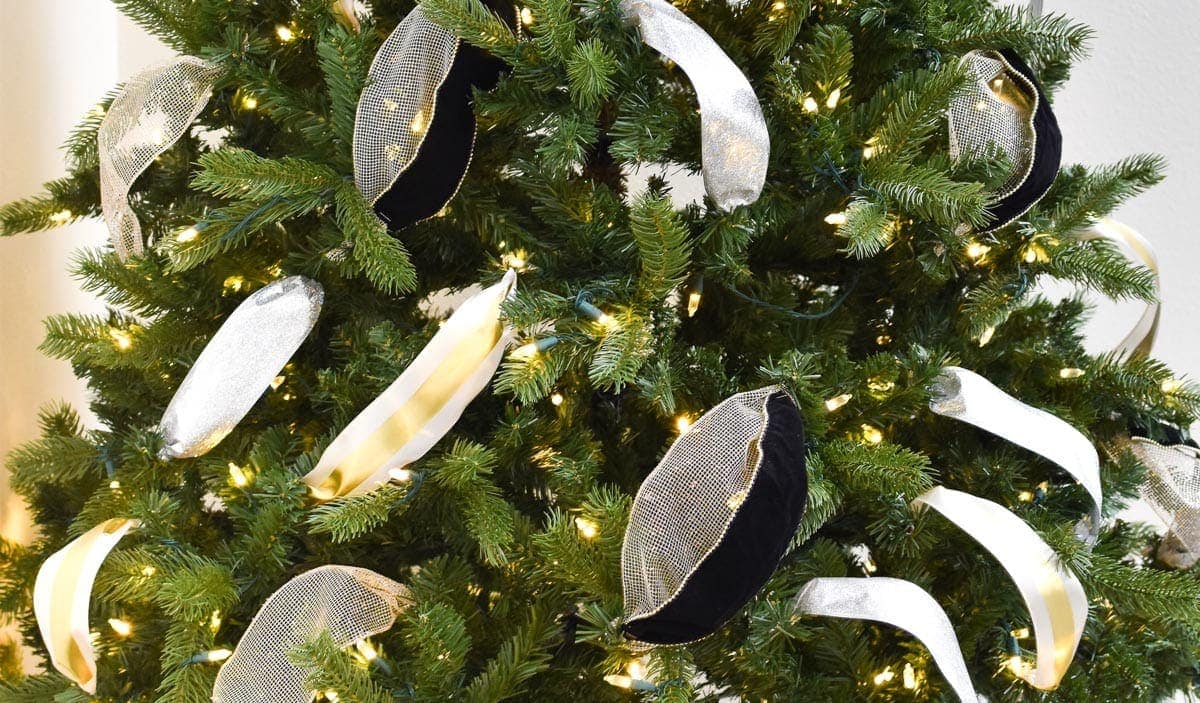 The whole reason I started doing my ribbon with this method is that in the past doing a ribbon garland was not only time consuming…I also felt like I needed an unreasonable amount of ribbon!
I also felt the entire process would be easier if I was an octopus and had multiple arms that could wrangle ribbon around a tree.
It doesn't have to be this difficult, and I truly want you to leave after reading this post and know you can totally do this by yourself on any size tree and not spend a fortune on copious rolls of ribbon!
But before we dive into the tutorial, I wanted to also offer two other Christmas tree decorating tips that help save my sanity.
Tree Topper Tips
Put on your tree topper onto the top section of your tree BEFORE you put the last section onto your tree.
This really serves a dual purpose. One, if you have a particularly large tree (mine is 9 feet tall), this makes a lot of sense to do to prevent the awkward ladder maneveurs that ensue when you do it after the tree is fully assembled.
The second purpose is you get to ensure it is as straight and secure as possible. I wrap several tree branches around the bottom, and I secure with an additional 2-3 garland ties (I love the 12 for $1 pack from Dollar Tree). That sucker isn't going anywhere!
Christmas Tree Skirt Tip
Put on the tree skirt as soon as you have the base of the tree set-up. Again, this serves multiple purposes. One, you spare yourself (or your husband, if you're me) from having to do the weird shimmy on the floor to get it on after the fact.
The second is that you can see if you have the base positioned properly with enough space for your gifts, or if it needs to shift a bit.
And now, let's dive into ribbon and NOT LOSE OUR SANITY. 🙂
After you have all the ribbon in place, the real fun starts! I love using florals on my Christmas trees, which is of no surprise to anyone, and I used about 30 or so in this year's tree.
I use different types of flowers to add some contrast and complement the ribbon colors/textures.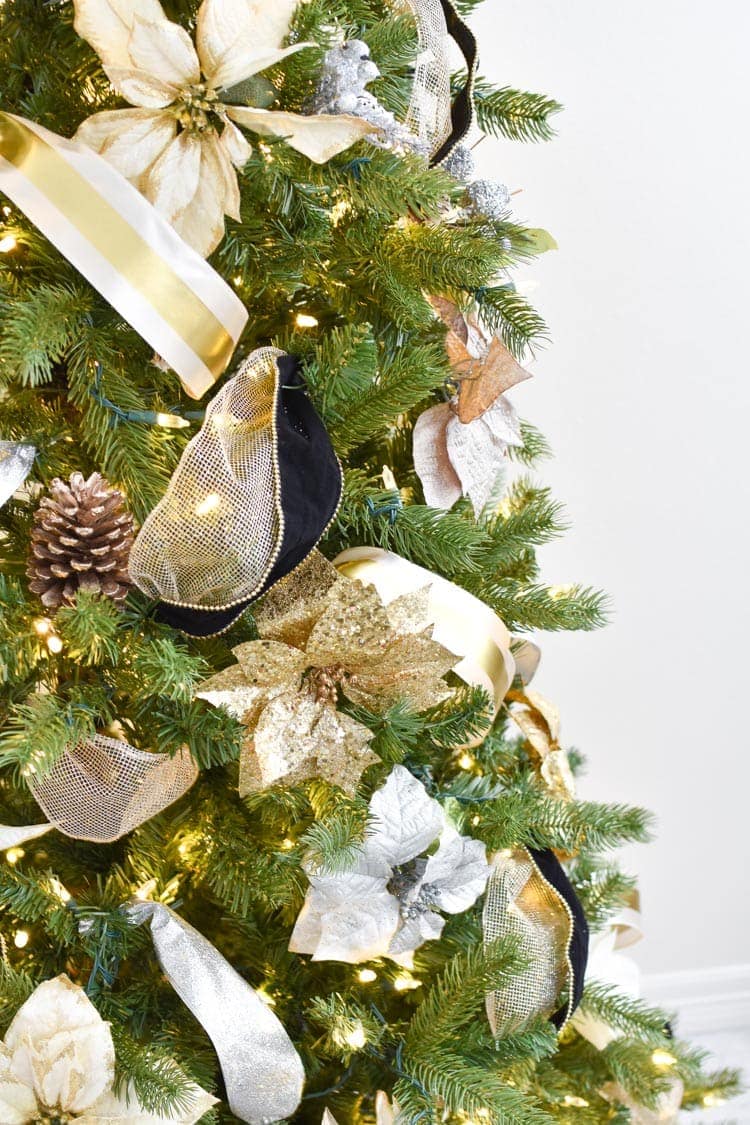 And the reason I love using so much ribbon and flowers is that my tree looks really, really lush and full and I haven't even added in ornaments yet. Plus, it's a great way to use up ribbon remnants!
That is the secret to my easy, no fuss, save your sanity approach to putting ribbon on a Christmas tree. If you found it helpful, let me know in the comments and feel free to share your favorite Christmas or holiday decorating tip.
Be back tomorrow with a DIY tutorial on how to create blue and white chinoiserie chargers that is based on my DIY blue and white chinoiserie ornament tutorial that is all the rage- I am thrilled you all are loving my content and find it useful. That's what I'm here for.
To see my fully decorated tree in all its chinoiserie glory, come back on Monday, November 12. It is probably the most beautiful tree I've ever done, not even kidding. You don't want to miss it, xo!