If you've ever come across a furniture piece that you LOVE but feel too intimidated to paint, then this tutorial on how to paint a dresser without sanding was written just for you.
Now, I've had my fair share of paint DIY trials and tribulations across the many pieces of furniture I have painted over the years, and I am here to tell you that you can absolutely do this. It is easy and relatively affordable when you consider the cost of new furniture these days.
I often ask my audience, "what keeps people from tackling DIY furniture painting projects?" and sometimes they're very legitimate answers such as no time, not enough space, but more often than not it is straight up worry or fear over ruining a piece of furniture. I'm writing this tutorial to help people who feel this way.
---
Finding a Dresser to Paint Without Sanding
In all my paint guides, I always include tips for how to find low cost, low risk items to paint, so I won't delve too much into that in this post.
But in case you haven't read my other paint guides (which include the best paint sprayer for DIY projects, the best furniture paint, best black paint color for furniture), I'll summarize a few of my favorite ways to find super cheap dressers to paint.
Thrift store: I have two thrift stores near me that I frequent at least once a week. I find shopping mid-week during my lunch hour yields is the best way to find the good stuff. Don't fret if you can only go on a weekend- there's plenty of furniture out there for everyone.
Facebook Marketplace: Deals can be found on here, but the caveat is that you have to look OFTEN. Literally daily sometimes so that the FBMP algorithm can start to see what you're looking for and then show you relevant items.
The crapshoot of using FBMP is that sometimes sellers aren't very negotiable (ie: "I paid $500 for this 20 years ago and want $400 firm") or they don't put dimensions, plenty of photos and you have to keep sending messages to get all the details.
Estate sales: Here in Corpus Christi, estate sales aren't exactly great places to find a bargain. To be honest, sometimes it's a little pricey.
This is why I like to go on half off day, which tends to be the last day of the sale. The prices are more negotiable, deals can be made, but of course, most of the super good stuff is long gone.
Scope out estatesales.net on Wednesdays to see what sales are coming up in your area and look at the pics closely. If you have your heart set on a certain item, be prepared to be the FIRST person in line and get there early.
Church rummage sales: The $10 dresser that I am featuring in today's tutorial was a very lucky rummage sale find. The dresser was in AWFUL shape, the bottoms of the drawers are made of thick cardboard, but for $10 I couldn't pass it up.
Many local churches or charitable organizations will list their rummage sales in FBMP, which is another reason to browse as the weekend approaches.
---
---
Key Things to Look for in a Dresser You Don't Want to Sand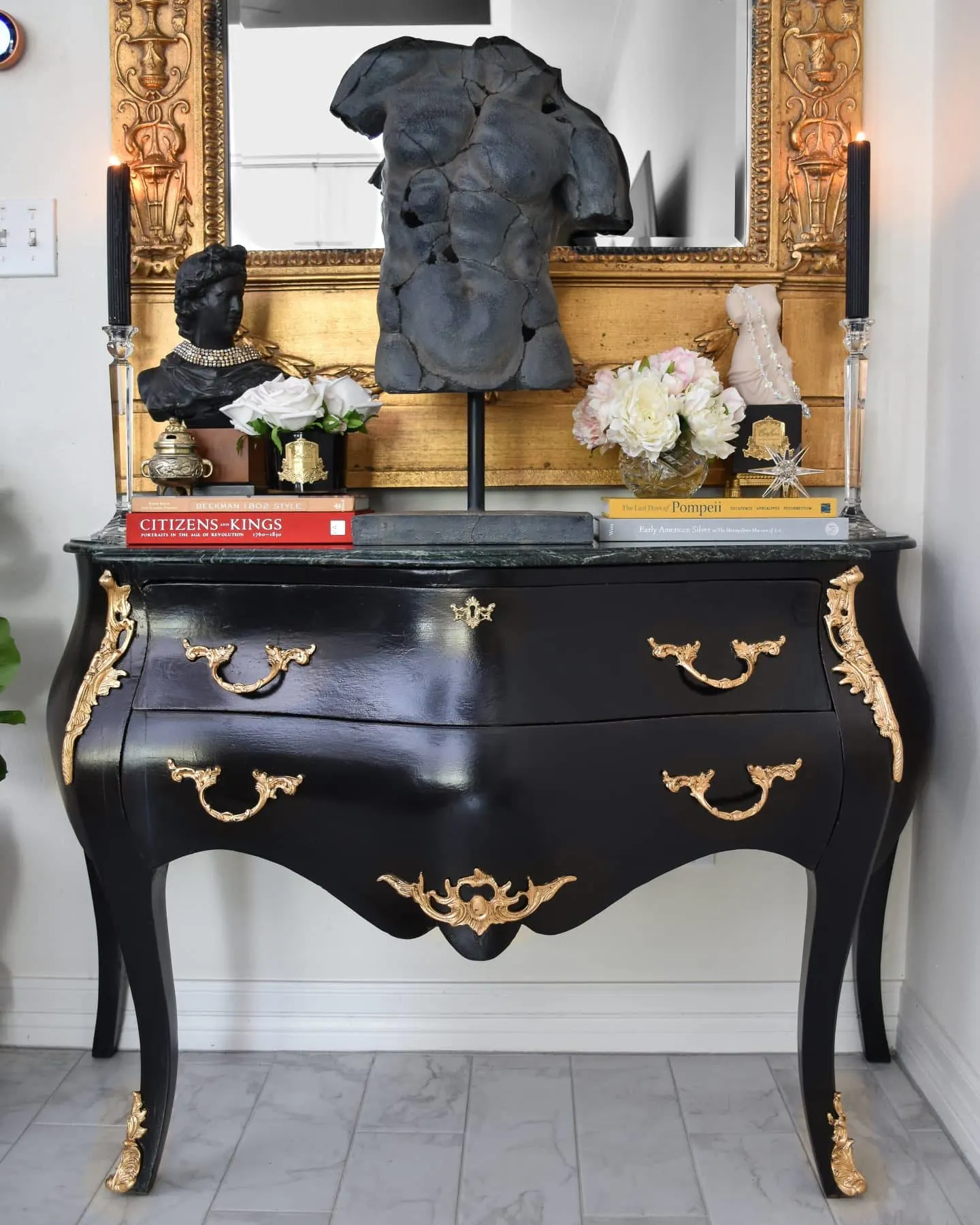 If you absolutely do not want to sand, which I understand completely– it is prep work that is messy and no fun… then you want your dresser to have or not have certain features for the best results.
The overall goal is to pick an AFFORDABLE dresser that could use a good cleaning and a fresh coat of paint. If you can see it is missing a leg, a corner is chipped, or the veneer or laminate is bubbling up, I suggest you pass and keep looking.
FOMO is a thing, but I assure you that another dresser will come along that will result in a gorgeous paint job. No need to waste time or money painting dressers that aren't in good condition.
Speaking of money- if this is your very first major painting project, might I recommend buying a piece that you wouldn't be upset about ruining. Now, I do think it'd be very hard to RUIN a dresser, but in order to build skills and confidence, go for cheap on your first one.
Additionally, you want to make sure that the drawers slide in and out easily and that overall the dresser is in good condition.
The dresser should also be free of any stickers, decals, gunk (ex: dried candle wax, makeup) on the surfaces, and it needs to be relatively square (not the shape of a square, but that it is not out of square and not stable).
If it's covered in markers or crayons, that is totally fine and good primer and a few coats of paint will cover that right up.
Run your hand over the top and drawer fronts to feel how smooth it is or isn't. If it isn't smooth, you'll likely have to sand with traditional sandpaper, which I cover in another dresser painting tutorial.
Wooden Dresser or Furniture
The first thing you'll want to make sure of if you're looking for wooden furniture or dresser to paint, is that the wood surface is relatively smooth on the top, not missing any veneer and structurally sound in terms of the drawers and legs.
If it is chipped or has deep scratches, then you would need to use wood filler, which you'd need to sand to level once it is dry before using paint and primer.
If you're buying a wood dresser for the first time, some things I like to look for are dove tailed drawers, unique or original hardware that I can revive or swap out for new hardware, and of course, are the drawers deep enough, wide enough and is it a unique piece that I will love for at least five years.
You have to weigh the pros and cons. For my $10 dresser, it would mostly be used for storage that I rarely had to access, so it's mostly decorative at the end of the day.
A bonus about wood furniture is that many are vintage dresser pieces that are ornate and unique, so you'll have a truly special piece.
Laminate Dresser
Laminate furniture is usually the furniture you find in a box at IKEA, Walmart and Target, for example. I have a whole post dedicated to the best paint for laminate furniture and what to look for.
Usually it is made of particle board and thin veneer that is a wood look sticker. If you buy a laminate dresser secondhand or used, do not overpay. It should be really inexpensive, and if it's not, then I suggest you keep looking or spend a little bit more money on a quality wood dresser.
Pro tip: laminate furniture is usually really popular around back to school time since many college students need a new dressers that are affordable.
What Paint Sheen Should I Pick?
This is personal preference for sure. I have only opted for a glossy finish once with a French bombe chest I redid, but usually I find my go to paint sheens are satin and semi-gloss. Satin looks great in darker colors, like this black dresser I painted.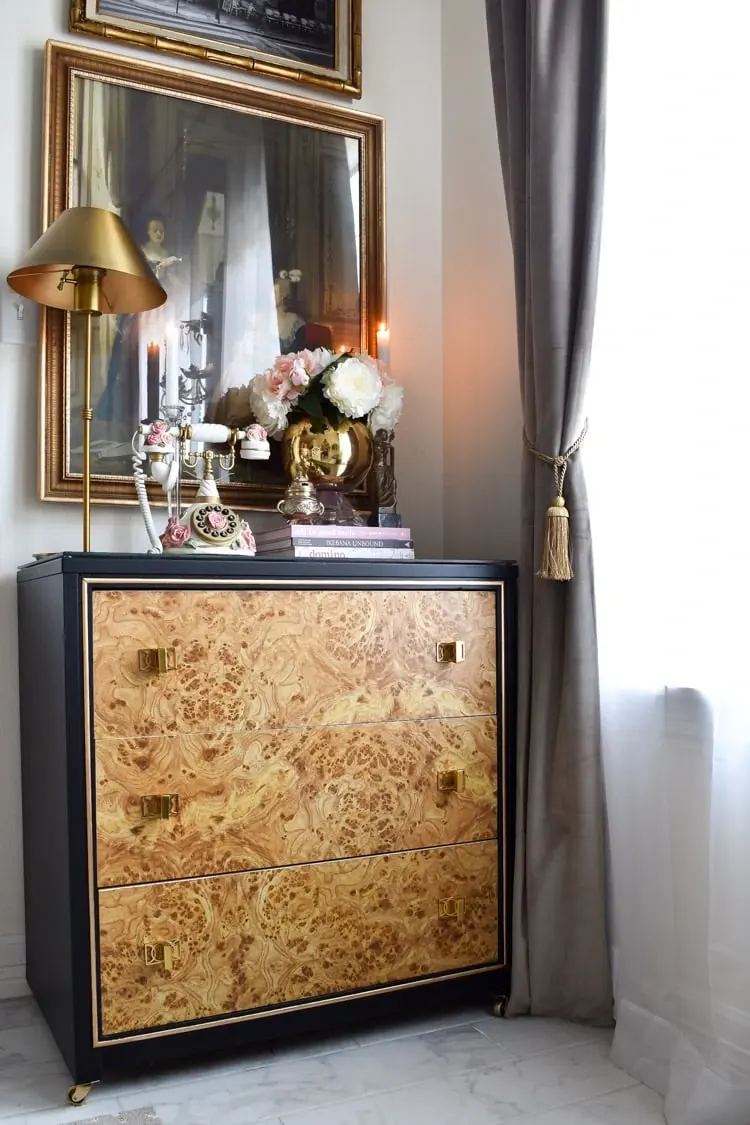 I rely on semi-gloss on items I may have to scrub to clean, such as my chinoiserie dining chairs. Semi-gloss would be good for high uses pieces or in children's rooms. The following steps will be the same regardless of the sheen, but do keep in mind the final result you'd like as well as the items intended use.
What Kind of Paint Can I Use?
There are lots of paint options. This specific tutorial focuses on using traditional latex paints and primers found at big box stores to paint furniture. I do have a blog post where I use white chalk paint to paint wood furniture and seal it with a clear wax top coat for a gorgeous matte finish.
I know Annie Sloan's chalk paint is well reviewed, as are several mineral paint and milk paint brands such as General Finishes' line, which I used on kitchen cabinets many years ago.
The fact there are so many options at various price points is a great thing, so the right paint is whatever is best for you and your wallet. For me, the best paint tends to be the paint I already have in my garage.
Do I Need a Top Coat or Sealer?
I would recommend using a top coat if it is a piece that will be heavily used. I love using a wax type top coat that is easy to brush on with a cloth.
This type of wax is usually made to use after chalk paint, but I have used it on my regular latex paint projects and it works well and does not have a shiny finish.
I would exercise caution with applying an oil based top coat or clear coat on a light color such as white, cream, ivory, etc. because it can cause it to yellow over time. With dark paints, this is less likely to be an issue.
How Many Coats of Primer and Paint Do I Need?
For most furniture items, I'd recommend ONE good coat of primer, with the exception being if you're going from a light color to a dark color or vice versa. If you have the time and supplies, it wouldn't hurt to do two light coats of primer.
For the paint itself, I myself always do three coats. Around the second coat of paint is when you start seeing satisfying results, so don't panic if it looks not so hot at first. My favorite thing about DIY projects like painting a dresser is that moment when your vision for this piece is achieved. It's rewarding and empowering.
Could I Use a Paint Sprayer?
Absolutely! I use my paint sprayer for 95% of my furniture painting projects. I feel the primer and paint goes a long way, plus it leads to a professional finish. The paint sprayer I've been using for years is about $100, and I highly recommend it.
All that to say, you don't have to splurge on a paint sprayer. Using good quality rollers and paint brushes can give you FABULOUS results, too.
Now, let's dive in to a step-by-step tutorial on how to paint a dresser without sanding. This may seem like a lot, but there's a ton of easy steps. You can do this!
How to Add Style to a Painted Dresser
Your dresser is painted and looking gorgeous. What else can be done? Other than the obvious like adding back the hardware, I love using unique gift wrap to add an unexpected element to the sides of drawers.
This gift wrap was $5 a roll at the local Hallmark store, and the moody florals and pearly dots coordinate well with the oval room blue dresser.
For costing me a whole $10, this dresser is such a stunner in my home. I've used it in my dining room and guest room, and while not the best quality, it serves its purpose.
If you end up using this tutorial, or any of my other ones, please do tag me on Instagram @monicabenavidez. Happy painting!
---