This post has been sponsored by Behr Paint Company. All thoughts and opinions are my own.
I've been on the prowl for the perfect piece of furniture for my office to hold supplies and after months of searching, I realized it was already in my garage. Today I'll go over how to paint a campaign chest.
Using the two-part BEHR® Chalk Decorative Paint and BEHR® Wax Decorative Finish products, I gave new life to the beat up campaign chest that I had gathering dust for well over eight months or so.
My local Home Depot had everything I needed, and I used the store pick-up option to make this a breeze. I was able to just head to the pick-up order area and head right back out.
You may be wondering where I found this beautiful furniture piece. Well, I love to head to estate sales to find those classic pieces of furniture at a bargain price, and this campaign chest fit the bill. I even snagged it during half off day, then seemingly forgot about it.
The chest had a lot of layers of varnish, nicks, scratches and general imperfections from being such an old piece of furniture, but I am always up for refreshing my home and putting in some DIY elbow grease in a weekend to get it done.
How to Paint a Campaign Chest
Here's an overview of the supplies and process I used to bring this campaign chest back to life using BEHR Chalk Decorative Paint and BEHR Wax Decorative Finish.
Supplies:
BEHR® Chalk Decorative Paint (I used the white base, untinted)
BEHR® Wax Decorative Finish (I used the clear finish)
Primer (be sure to check out https://www.kilz.com/ for plenty of primer options!)
60 grit sanding block
Fine grit sanding block
Tack cloth
Safety glasses
Breathing masks/respirator
High density foam roller cover and roller
Paint tray and liner
Lint free rag
Bag to hold any hardware (optional)
Preparing a Furniture Piece for Painting
During this process, I highly recommend using safety glasses and a breathing mask or respirator to protect your eyes and lungs from dust. Safety first, always!
If your furniture piece has hardware, this would be a great time to remove it and place it in a sandwich bag so you don't lose any screws or parts.
My approach for this piece of furniture was the same as how I would approach any piece I was planning on repainting: I cleaned it thoroughly (inside and out!), lightly sanded all the surfaces I planned on sanding with a 60 grit sanding block (just enough to get the sheen off), and cleaned up all the sanding dust using a tack cloth.
Prepping a piece of furniture for painting isn't the most fun job, but it gives your prime and paint a smooth surface to grip onto for a flawless finish.
Priming & Painting a Piece of Furniture
Once your prep work is done, it is time to move on to priming and painting your furniture piece.
I used a stain blocking primer because my piece was very dark and I wanted the white BEHR Chalk Decorative Paint to be a true, bright white. I applied primer all over the drawer fronts and the chest itself, using a high density foam roller for a smooth finish. On smaller parts of the piece, I used a paint brush.
I let that dry for about half an hour, then moved on to my first coat of BEHR Chalk Decorative Paint. I used my roller to smooth on a thin, even layer of paint. A big mistake some people make when painting furniture is laying on coats too thick. It ends up taking a long time to dry and dripping.
I did three light coats on top of the primer. If I ended up with dust, bubbles or a drip in the finish, I waited for the coat to dry, lightly sanded the area using a fine grit sanding block, and proceeded.
Before sealing the piece, I let it all dry overnight to ensure the paint cured and dried.
Sealing a Painted Furniture Piece with Wax
After the chest and drawers dried overnight, I put all the hardware back on after giving it a good scrub with hot soapy water. I also applied a thin layer of gold leaf to help renew the gold finish on the hardware.
From there, I simply opened up the BEHR Wax Decorative Finish, used a clean lint-free cloth to scoop out a generous amount, applied it onto the surface, let it dry a bit, and then buffed it out with the same cloth. I also applied the wax to the hardware to help protect the gold leaf finish.
The result is a satin finish that has a chic, high-end look. It's not quite matte, but it's not glossy at all, which is exactly what I wanted.
I love that my piece is protected and that I can easily reapply more wax if I want to renew the finish.
This was my first time working with this type of paint AND wax, and I couldn't be more pleased. BEHR has really created a product line that is easy for DIY-ers like myself to use and get great results.
Now I have additional storage in my home office, and I also freed up some real estate in the garage. No clue where my husband will put the leaf blower now.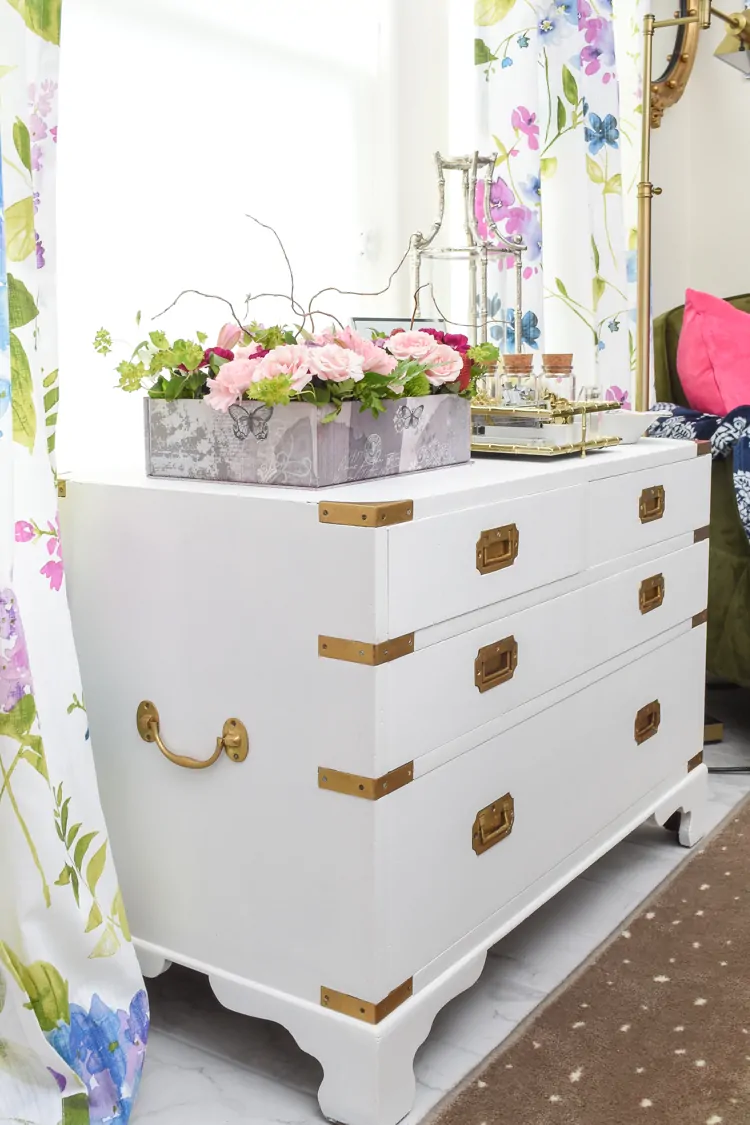 I encourage you to try out the products featured in this post to refresh a furniture piece in your home or get out there to your local thrift shops and garage sales to find a piece to bring back to life.
Have questions? Drop them in the comments, and I'll be sure to help you out.