There are some amazing, quality pieces of upholstered furniture out there that can be rescued and revived on the cheap with a little bit of elbow grease. Let's dive in and learn how to dye a sofa from a thrift store, garage sale, charity or estate sale. Along the way I'll also discuss other tips and tricks to ensure this process goes smoothly for you.
Before you commit to reading all of the info below, please note that this tutorial focuses on furniture pieces such as a sofa or chair where you CANNOT easily remove the fabric.
As in, if you have slipcovered furniture (seat cushions that have zippers or you have a removable white slipcover) or a sofa cover, you will likely be able to dye your slipcovers in a washing machine or dye bath and don't need this tutorial.
If you have a gorgeous chesterfield/tufted piece or a camelback sofa where removing the fabric is impossible- you're in the right place!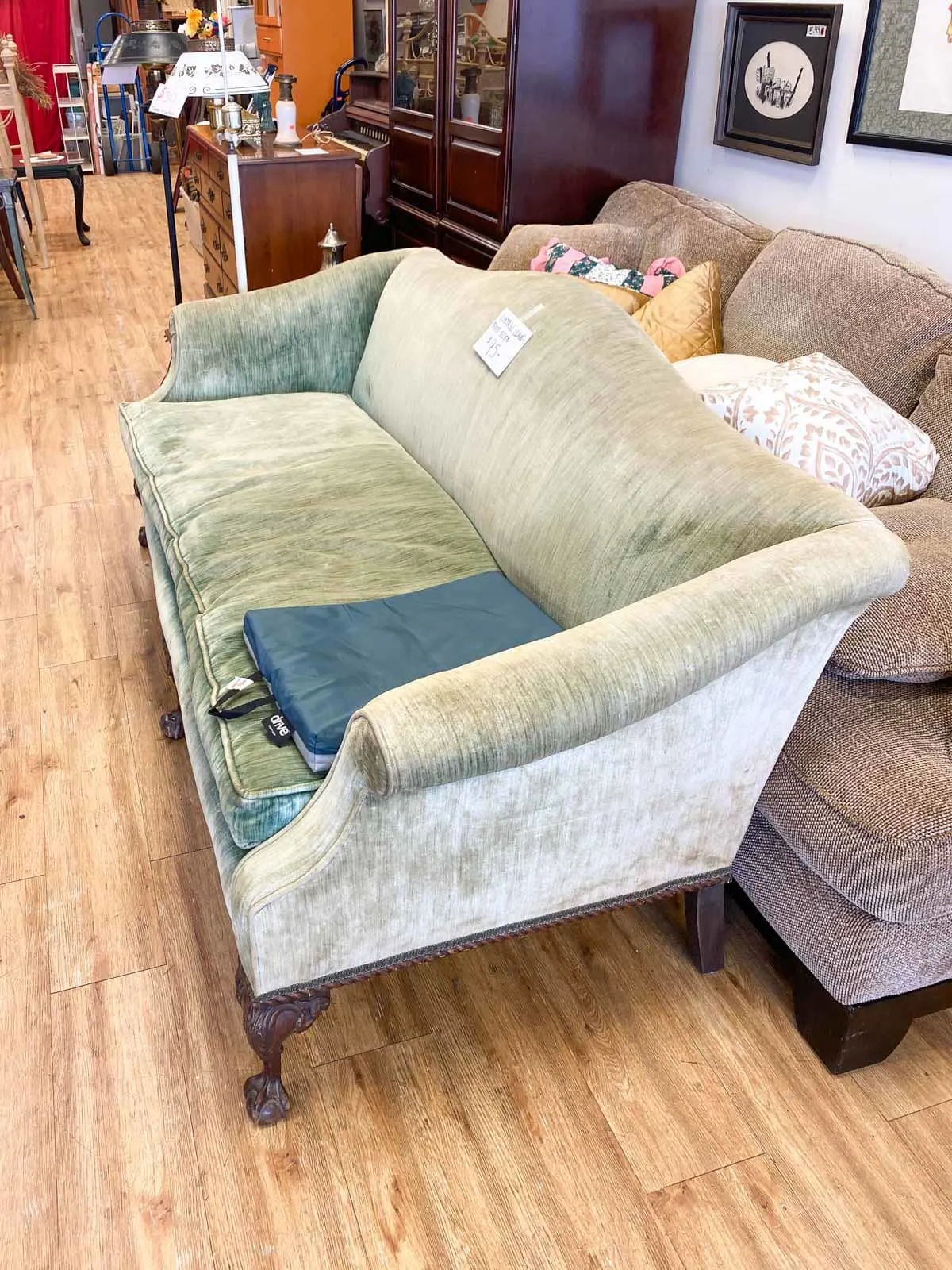 This is also not a tutorial about using fabric paint or chalk paint, nor is this method good for leather sofas. We are going to use plain Rit dye on fabric.
---
Why Would I Want to Dye a Sofa?
If you love and look at antiques as much as I do, chances are you've encountered a beautiful piece of upholstered furniture that has so much style and character…except the color is not great.
This is where dyeing can help give an old sofa, chair or ottoman a whole new life and style in your living room or home in general.
Many times the antique or vintage furniture I have come across is a weird shade of beige, blue, pink or green, and no one snatches them up (myself included until this vintage sofa) because they hate the color.
With dye, you can easily freshen and even change up the color! Plus a new couch can cost several thousands of dollars and take months to receive.
Using dye is relatively inexpensive and instant gratification.
And honestly, many times the fabric on these vintage pieces likely started off beautiful, but time and the sun have faded the fabric. You can usually tell if this is the case because you'll notice the underside of cushions are still vibrant and the original color. (Example below.)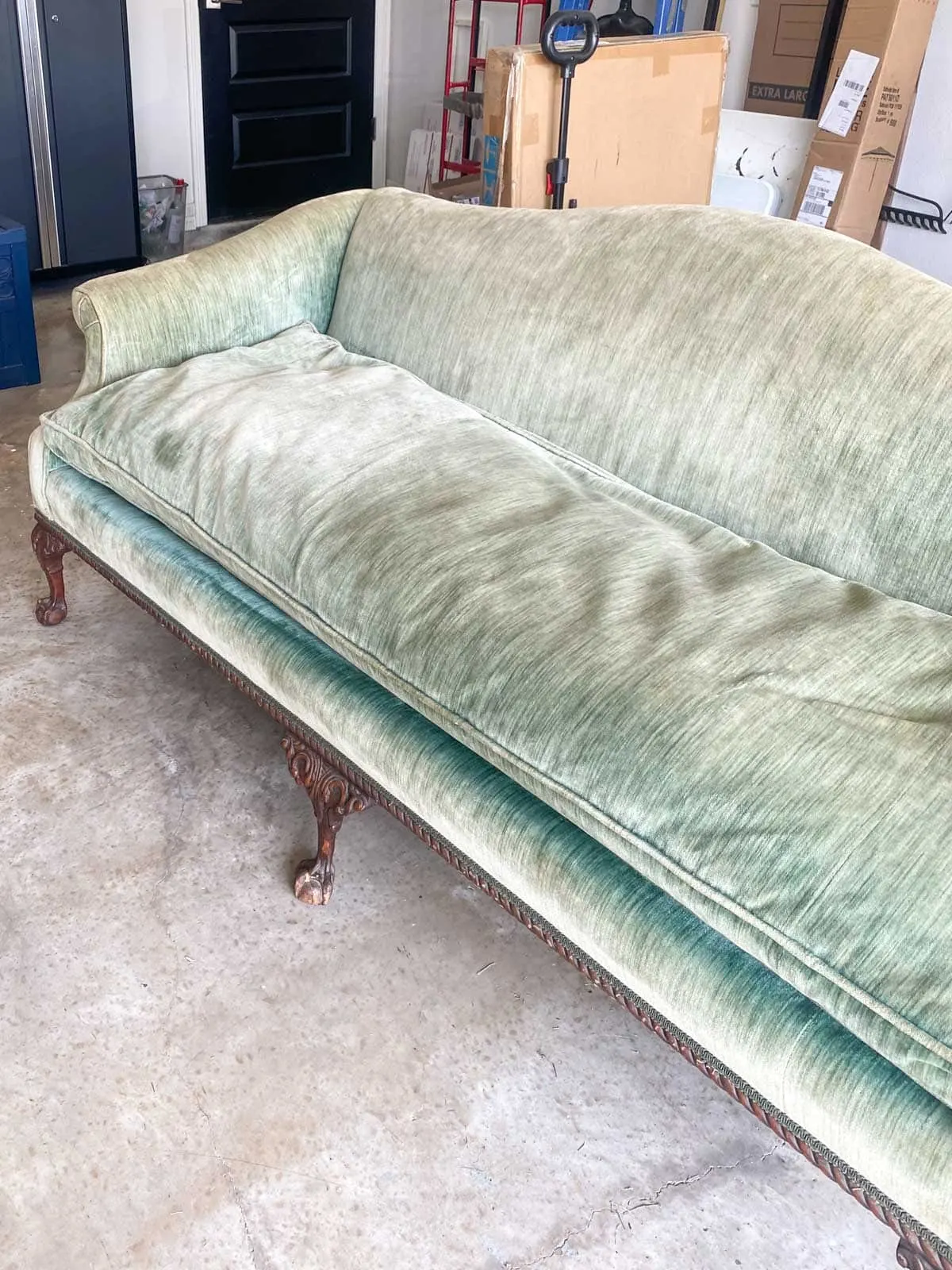 Another common issue is the fabric looks amazing, but in areas where arms and heads would rest it is discolored from years of use. Again, dye to the rescue to give the fabric a uniform appearance.
These are all common reasons why you may want to snag an old secondhand piece of furniture to try this dye method on.
If you have plans to reupholster the piece someday, using dye will help buy you extra time since you can put it to immediate use in your home. Heck, you may even dye the piece and decide you don't need to invest in new upholstery because you love it so much.
---
Where to Find a Sofa or Couch to Dye
My favorite place to look for quality vintage furniture is at local Corpus Christi thrift stores and antique shops, and I'm sure you have plenty of options in your area as well for not much money.
The great thing about shopping at local thrift stores is that most get new donations in constantly, plus your purchase directly helps a local cause or organization.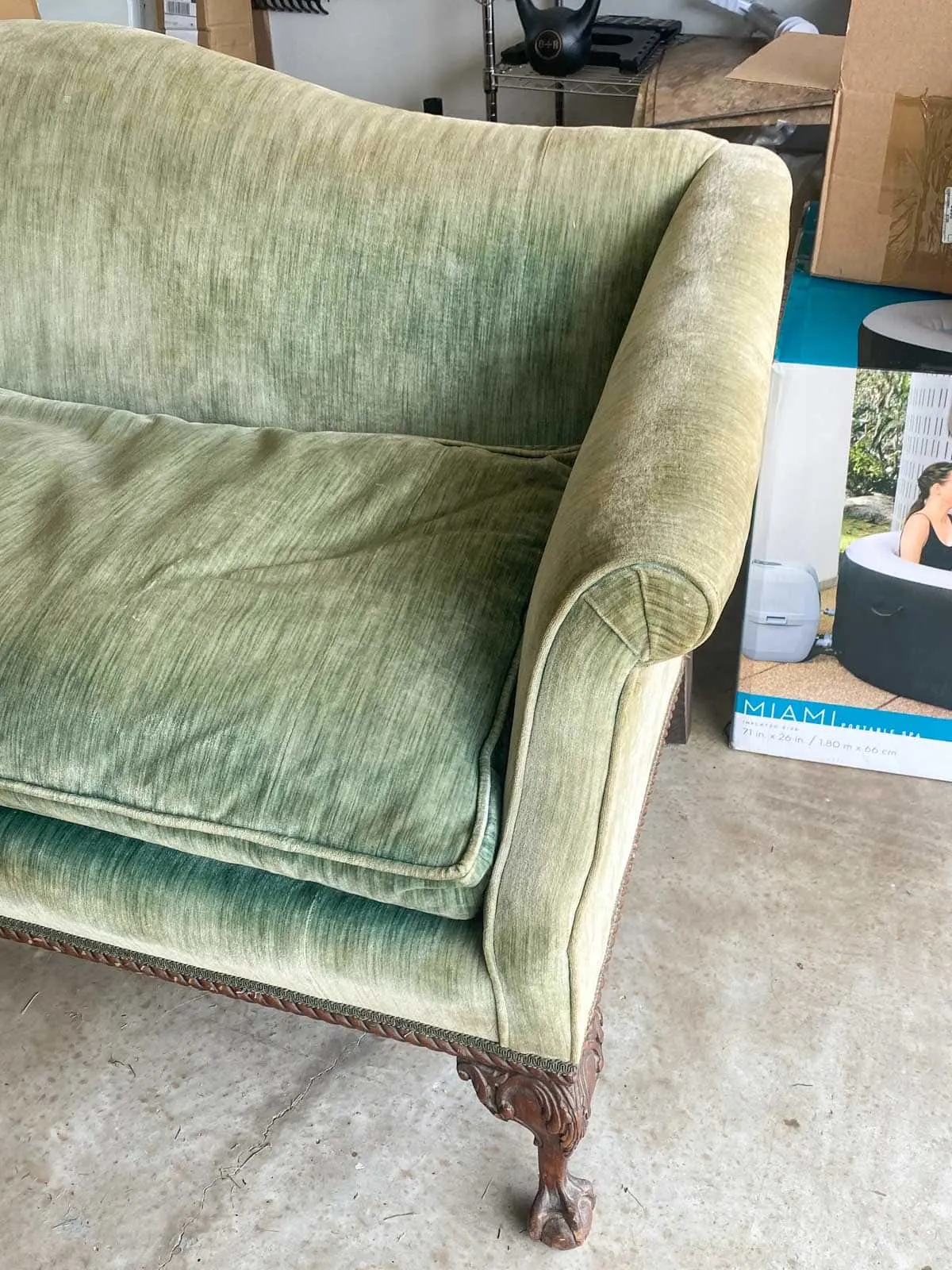 A note: make sure you buy a fabric sofa and not a leather sofa. I'm sure there are tutorials out there for painting leather, but today we are focused on fabric upholstered pieces.
Finding a Sofa at Thrift & Antique Stores
I tend to go to thrift stores during my lunch on the first weekday they're open for the best selection. For example, I like to go to Retail Therapy on Tuesdays (they're closed on Sunday and Monday) because I know they get new inventory from stuff that didn't sell at weekend estate sales.
You can totally find fab furnishings and décor on the weekends, too. Try to get there early versus later in the day when all the good stuff has been snatched up by savvy shoppers.
Antique shops are also super fun to shop at, but in my experience antique stores sell furniture at higher prices than a thrift store.
Definitely still worth a look because you never know what you will find, especially if the item has been sitting there awhile and they're negotiable on the price.
Tips for Finding Sofas at Estate Sales
Another one of my favorite Saturday morning activities is shopping at half off day at estate sales. In Corpus Christi, estate sales tend to start on Thursdays or Fridays, so by the time Saturday comes around prices are much lower.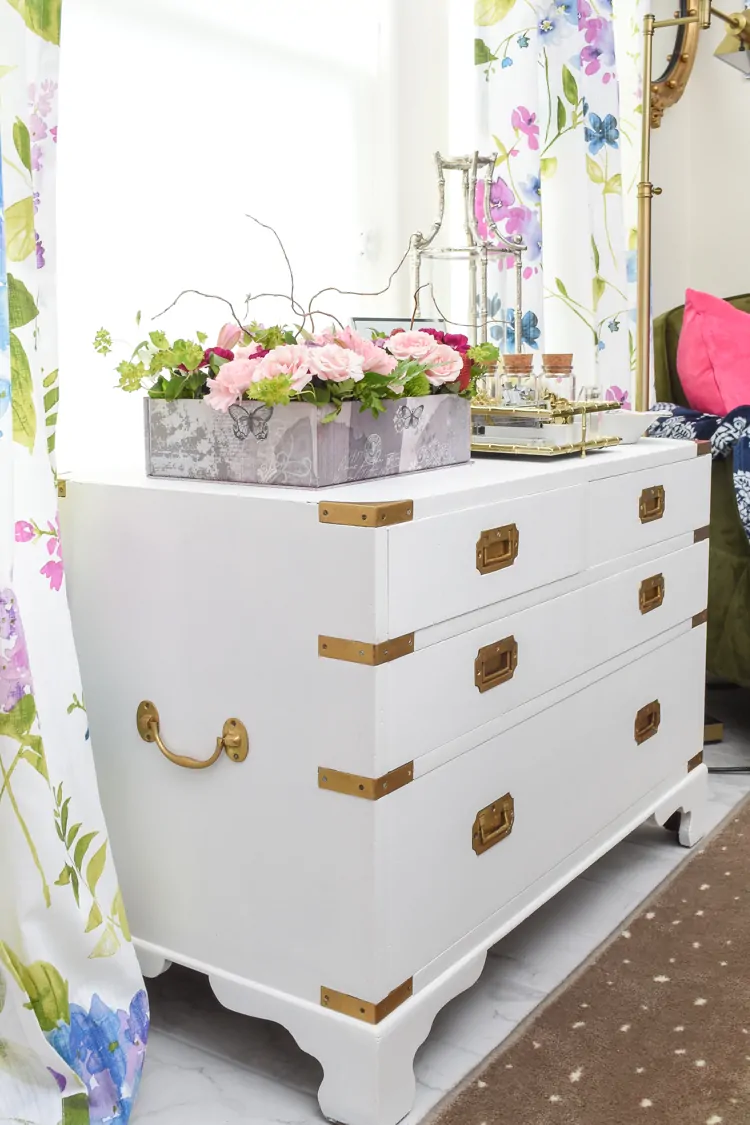 I usually scope out estatesales.net on Tuesday or Wednesday to see what the estate sales in my area will have that weekend.
Most estate sale companies upload hundreds of photos of the contents of the sale. I use these photos to get a sense of whether or not there's anything my style while also not getting too attached to any one particular item.
By shopping at estate sales on Saturdays, I have to accept that a lot of the popular or coveted items are gone, but I also get lower prices and more negotiating power.
While you're at the estate sale, scope out the condition of the house in terms of cleanliness, upkeep, whether or not they had pets. It'll tell you a lot about how well cared for the furniture was.
Online Marketplaces to Find a Sofa
And finally, you can find so many bargains for secondhand or vintage furniture online via Facebook Marketplace, OfferUp, Craigslist and even neighborhood sites such as NextDoor.
These items are all being sold by individuals, so usually the prices are negotiable and you can snag a deal.
I'd love to suggest setting up alerts to make sure you snag your dream dye worthy project piece, but truthfully sellers on these marketplaces use all sorts of terms or misspelled keywords.
My recommendation? Just look every day for a few minutes, you can even search for "sofa", "couch", "vintage sofa", etc. and the algorithms will start to learn what you're looking for and you'll get a more curated feed.
So you've found an antique sofa you'd love to dye. Now what?
Selecting a Sofa or Upholstered Piece of Furniture to Dye
How much does the item cost?
First thing: price is the number one factor you should consider before even moving on to the next steps. My vintage velvet fabric clawfoot sofa that I am using for this tutorial cost me $95. In the realm of sofas, $95 is a bargain and relatively low risk.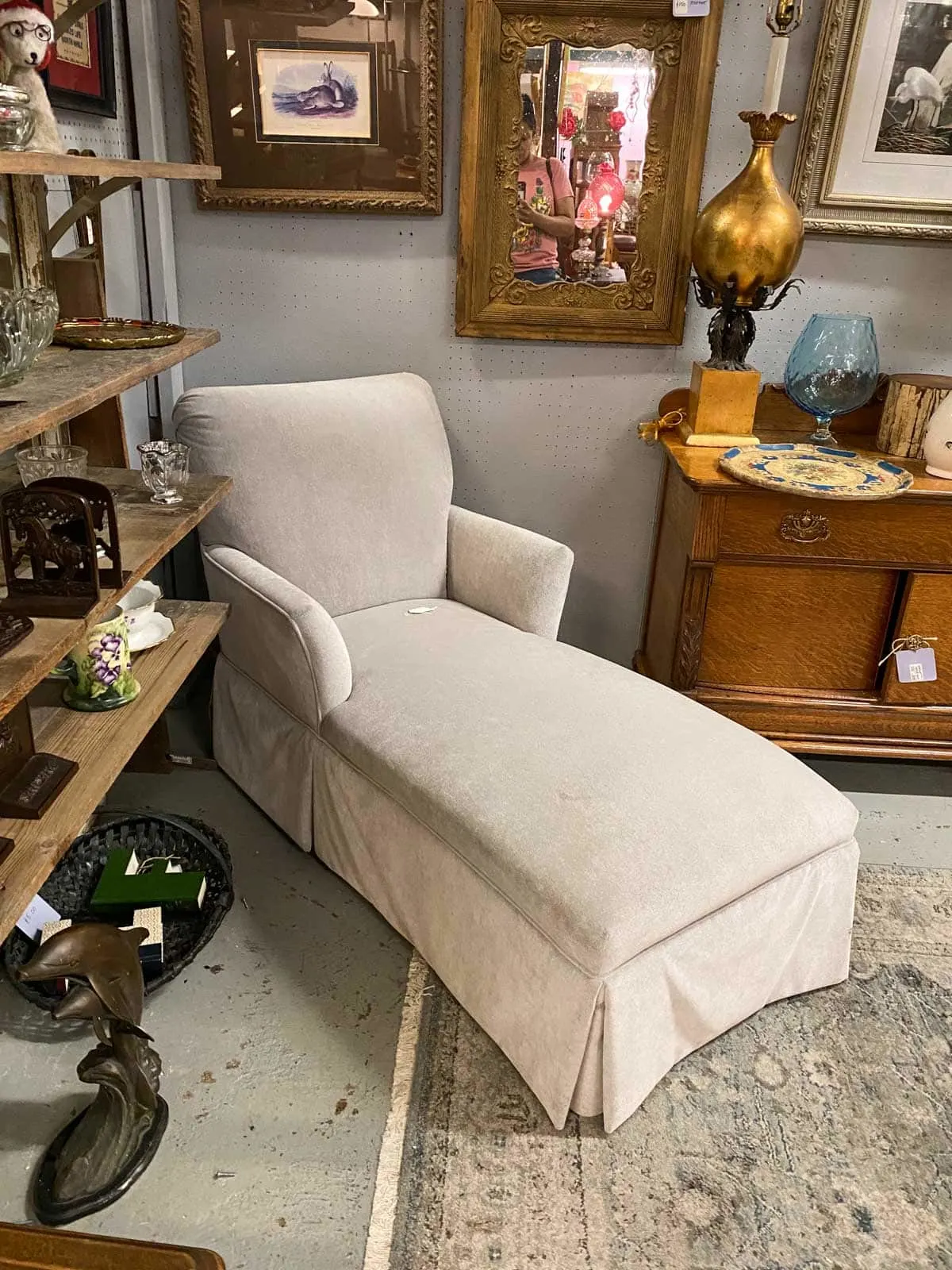 Whether or not something is expensive is all relative, but as a general guideline, I'd try to keep the cost of your item to $100 or less. I know FOMO is real, especially on sites like FBMP, but don't overspend because you're scared you'll never find a piece like it again.
Chances are you may and will find something similar with time and perseverance. Overall, only you can decide if this is a super unique piece that you will never likely find again in your area (this is how I felt about my sofa PLUS it was under $100), or if you want to wait it out for something less expensive.
Does it fit your home's style and proportions?
The price is right. Now, let's examine the silhouette and style. Will the overall vibe and style fit into your home's décor aesthetic? Look at the legs and overall shape. Can you see yourself loving it for the next 5-10 years? Is it in good condition?
Get out the measuring tape and check if it is the proper scale and size—especially the depth and seat height. Some vintage furniture sits really low to the ground (ask me how I know this), which you may not want if it's a piece you'll actually be using versus a decorative chair in a corner.
The dimensions will also help you know if you can fit it into your vehicle or if you need to bribe a friend or family member with a truck. You can also rent a truck for a couple hours from places like Home Depot or Uhaul.
Is the sofa well made/quality construction?
If you've gotten this far and it's still a go- now let's look at the construction. Are the legs cracked in any way?
If more than one person can fit on the sofa, it's a good option to have other people sit on it with you to test if it feels sturdy. I've been known to politely ask store employees to test it out with me, and they're usually happy to assist.
For my sofa, I also looked at the quality of the cushion. It's down-filled, incredibly heavy and so very comfortable. The legs had a few cracks that had been filled with wood filler and reinforced, plus I did have two people test it out with me and all three of us were well supported.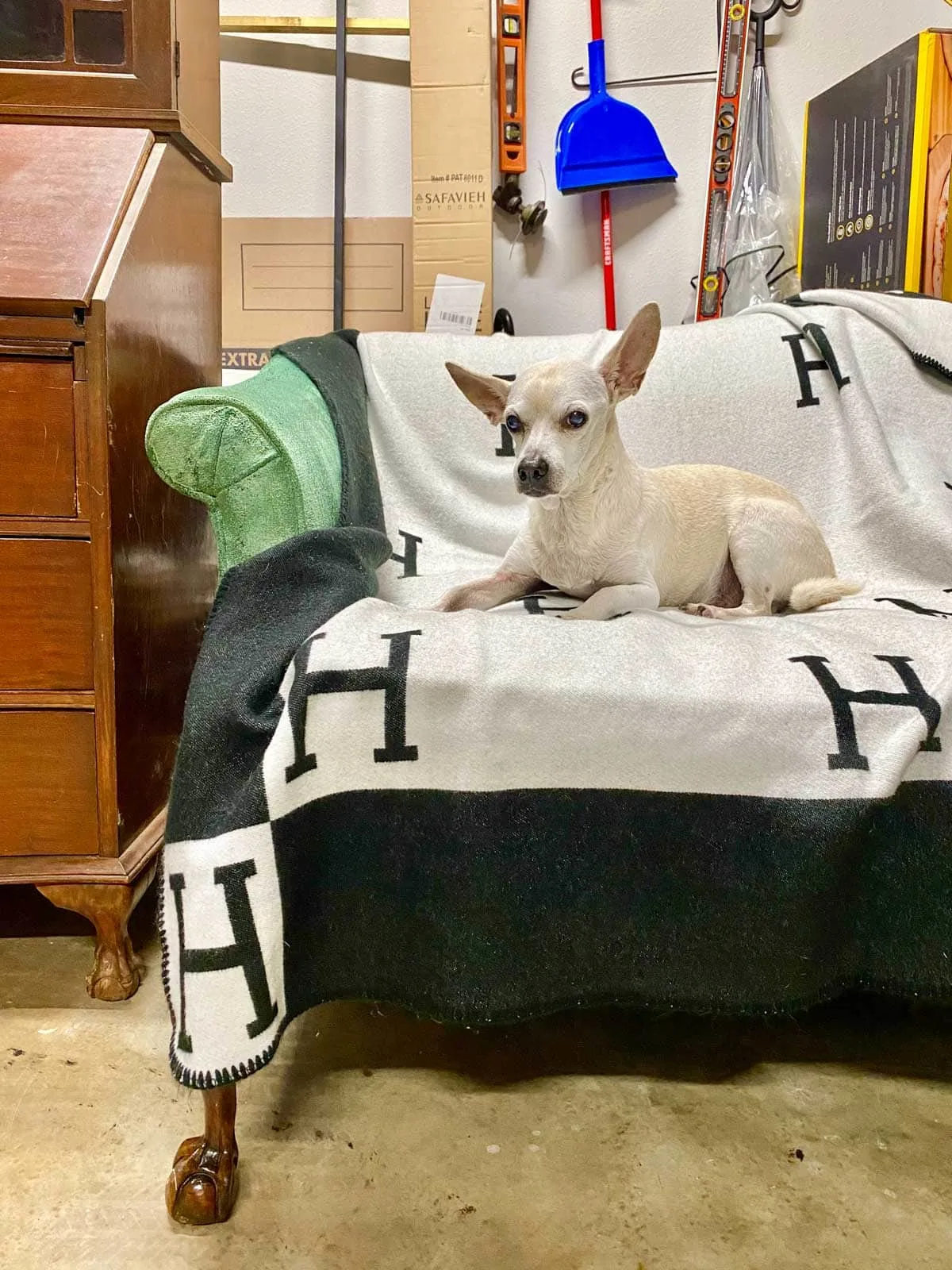 My cushion is also reversible and removable, which not only made it easier to transport home, but also made it easier to dye. If the cushion(s) are not removable, it's not a huge issue, but it is something you'll have to weigh into your decision to buy or not.
Condition of the Fabric
Now, it's time to examine the fabric itself. I'm going to be blunt- if it has any tears or rips or holes, WALK AWAY. Seriously, not worth it. You WILL find something better. Do not pass go. Do not spend $100.
If the tear is on the underside of a cushion, I would say to pass (unless it is ridiculously cheap) because you want to be able to flip your cushions, especially if you have kiddos. If your kids are older, or if you don't have any OR if this won't be a high use piece, then you can carry on to the next step.
Color of the Fabric (Why this is important)
When dyeing a fabric, you need to keep in mind that unless the sofa or upholstered item is stark white or slightly off white, you're going to be essentially committing to a darker version of whatever color the fabric currently is.
This is why with my sofa, which was a very faded green, I opted to use the color peacock green from Rit's synthetic dye line. Here's a peek.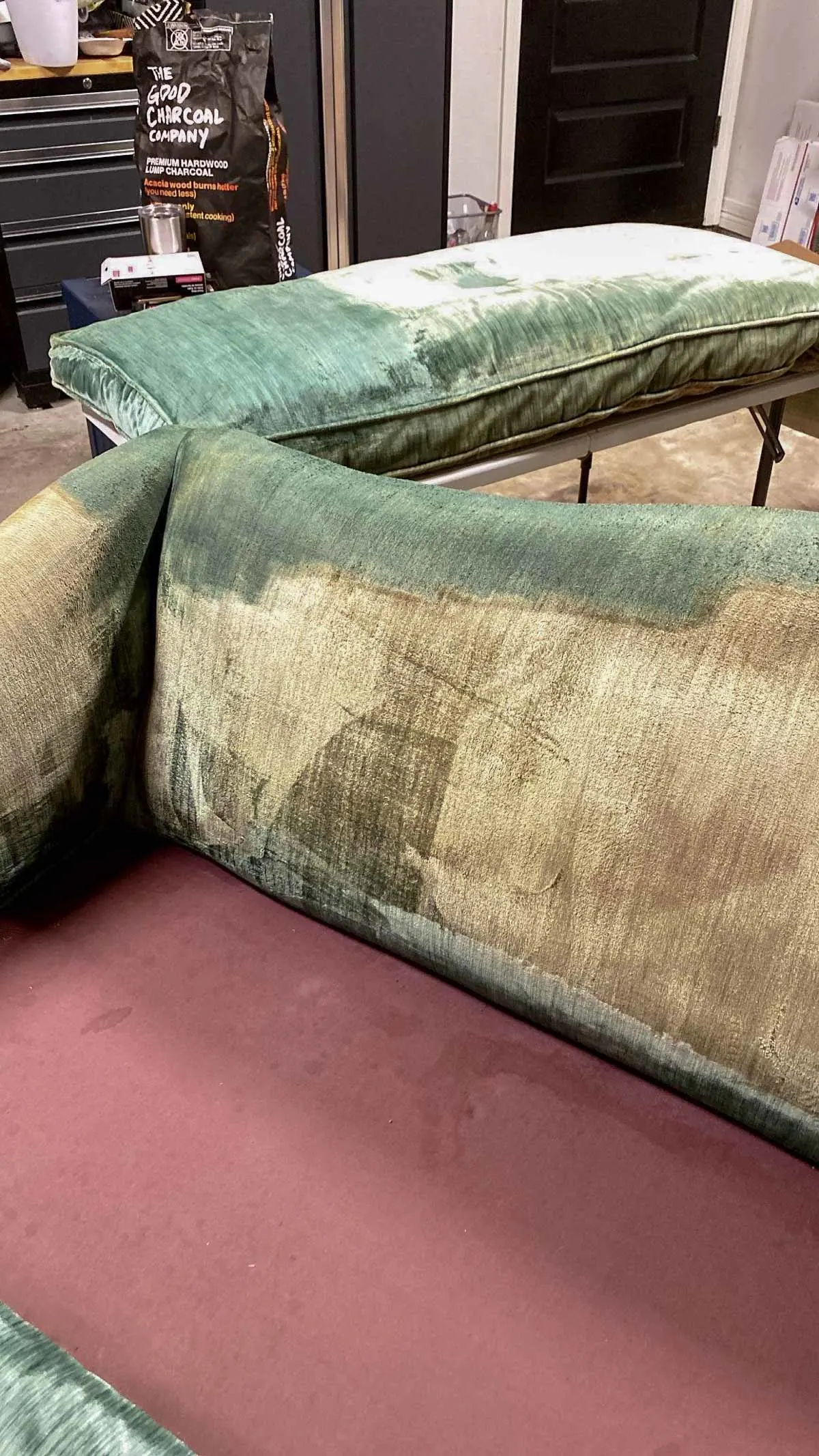 If you want the most color options, try to find an upholstered piece that is very nearly white. Rit does sell synthetic dye colors in gray, black and dark brown, but even these colors will take on the undertone of whatever color the fabric was originally.
A light blue item could easily become dark blue. A blush could become red or a dark pink. White can become almost any darker color.
Type of Fabric & Figuring Out the Fabric Type
The type of fabric matters mostly because you want to buy the appropriate dye for the fabric. Rit sells all purpose dye, which is great for cotton, denim or other natural fibers. Additionally, they also sell synthetic dye for material such as polyester, microfiber, and viscose or rayon blend fabrics.
Most modern day sofas have care tags that may give you some sort of clue (for example, if it says cotton, linen, or polyester/microfiber), but if it's like mine, it won't have a darn thing for you to check!
Ultimately, the fabric on my vintage clawfoot sofa felt velvety, but given how it instantly discolored when any solvent or water was placed on it (more about that in a moment), I firmly believe I had a viscose blend upholstery.
It's ok if you end up having to make an educated guess on what type your fabric is. Do a spot test on the back side of the sofa or the underside of a cushion before diving in.
Cleaning a Sofa to Prep for Dyeing
Many people shy away from buying secondhand or thrifted upholstered furniture because they're worried about what could be IN the item. From dog or cat odors/urine, smoke, bed bugs, spills, or just many years of dust… I totally get it. It's a crapshoot!
I will say that as someone who has bought plenty of "previously owned" upholstered pieces, you just know.
You can often tell if a piece has been well cared for and likely just needs a good cleaning, or if it's a piece that makes you run for the hills. This is where your thrift sense comes in.
At estate sales it's a little easier to tell how well the item was or wasn't cared for since you're often IN the home where the item lived. If the house is well maintained, you get a certain vibe. If the house reeks of smoke or you can tell there's pet odors/stains in the flooring, you might want to pass.
When Cleaning Upholstery, Do a Spot Test
Remember when we talked about fabric type earlier in this post? This advice will come in handy with the following steps that involve liquid cleaners or stain removers: ALWAYS DO A SPOT TEST before proceeding.
I recommend doing a spot test on the underside of a cushion (preferably) or the lower corners on the backside of a piece where it won't be as obvious.
The sofa I used for this tutorial had a very visceral reaction to Dawn Powerwash, which you can see below. I sprayed some right on the FRONT of the sofa near the top and instantly ruined the sofa.
As soon as I sprayed the Dawn on, the green turned to a golden beige color or basically it stripped the color RIGHT OUT OF THE FABRIC.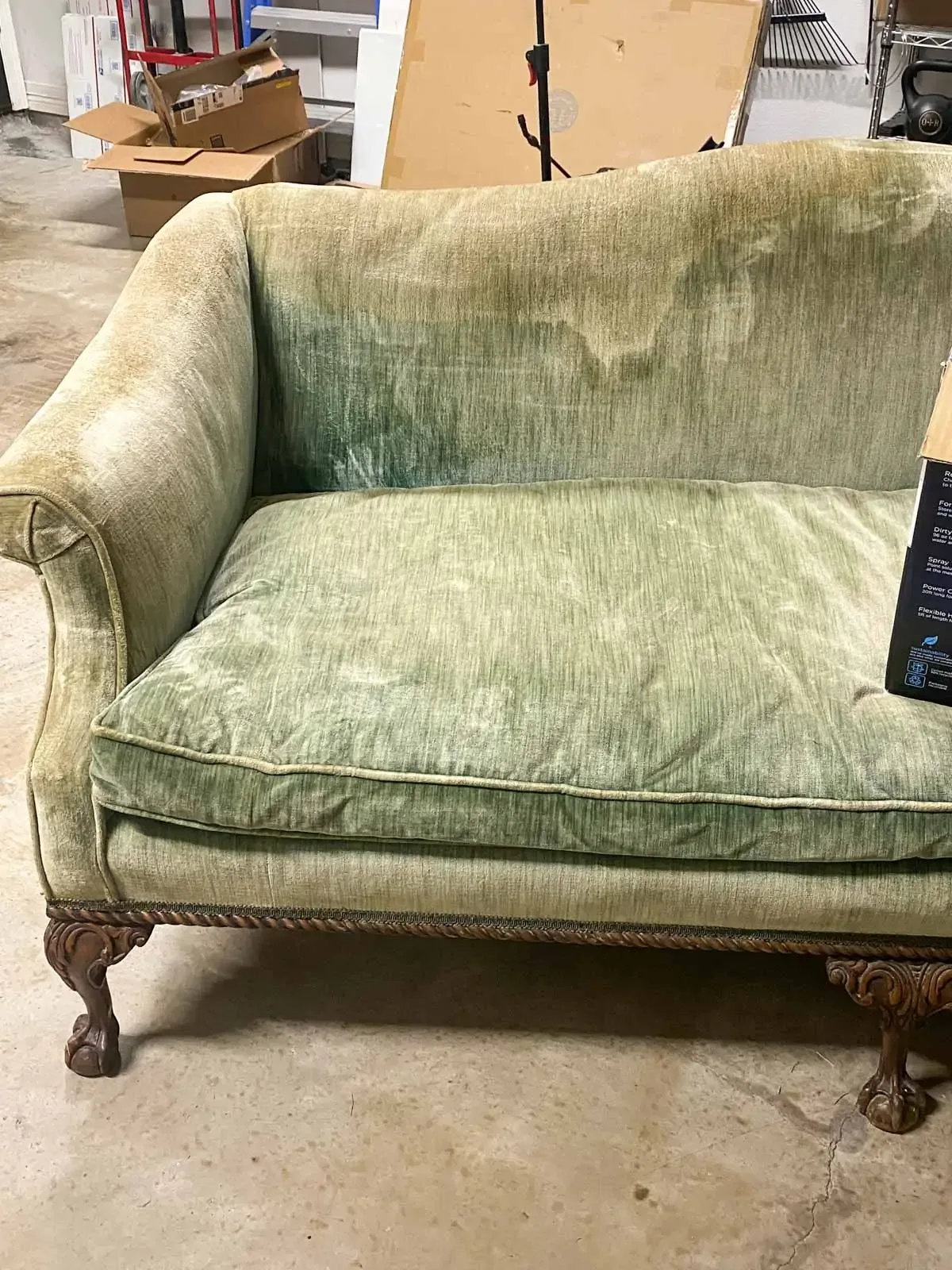 Ruining the sofa ended up being the best thing to happen to that sofa because that's how this tutorial was created.
Put Your Sofa In the Sun
If you want to instantly freshen up your thrifted or charity shop sofa, literally just let it sit out in the sun on a hot day for a few hours. The sun will help kill bacteria plus will freshen up your piece instantly when paired with the rest of the steps below.
I recommend leaving your sofa out in the sun for at least 3-4 hours, and of course make sure there's no rain in the forecast.
Baking Soda and Vacuum
After your upholstered piece of furniture has been sitting out in the sun for at least 4 hours, I recommend moving it into a garage or under a covered patio.
I then sprayed the entire sofa with some Lysol. You want to spray enough to make sure you sprayed the entire piece, but not enough to saturate the fabric.
Once that is done, sprinkle the entire piece with a box of baking soda. Make sure to sprinkle baking soda on the underside of the cushions and on the backside of the piece, too. It's ok if some falls off.
Ideally, leave the baking soda on overnight and vacuum all the baking soda off the following day. Between the sun, Lysol and baking soda, your furniture should be smelling and looking a little bit cleaner by now.
Remove Some* Stains
If your sofa or chair has a few stains, you can try some spot treatments to get rid of them (again: remember to do a spot test!). I have gotten rid of paint and pen marks using a magic eraser and this upholstery cleaning spray.
On microfiber, some warm water and Dawn soap works wonders to get rid of stains.
*As a perfectionist, I realize it is tempting to go nuts and try to remove every single stain, but you can sometimes make them worse. I recommend picking your battles before you make a minor stain into a major stain.
There were a few spots on the sofa that would not come out no matter what I did, and I will say that as I applied the dye they were less and less noticeable.
Bottom line- these are pre-loved pieces and unless the stain is massive, no one is likely to really notice but you.
Use a Bissell Little Green Upholstery & Carpet Cleaner
Renting a Rug Doctor kind of machine from Walmart was one of the most common suggestions when I was chronicling my sofa journey on Instagram.
I ended up snagging a Bissell little green machine on sale rather than renting one.
Why? Because the ones offered for rent usually aren't very clean. Knowing that Dawn ruined the fabric of my sofa, I was a little weary of using a machine that had been used hundreds of times before.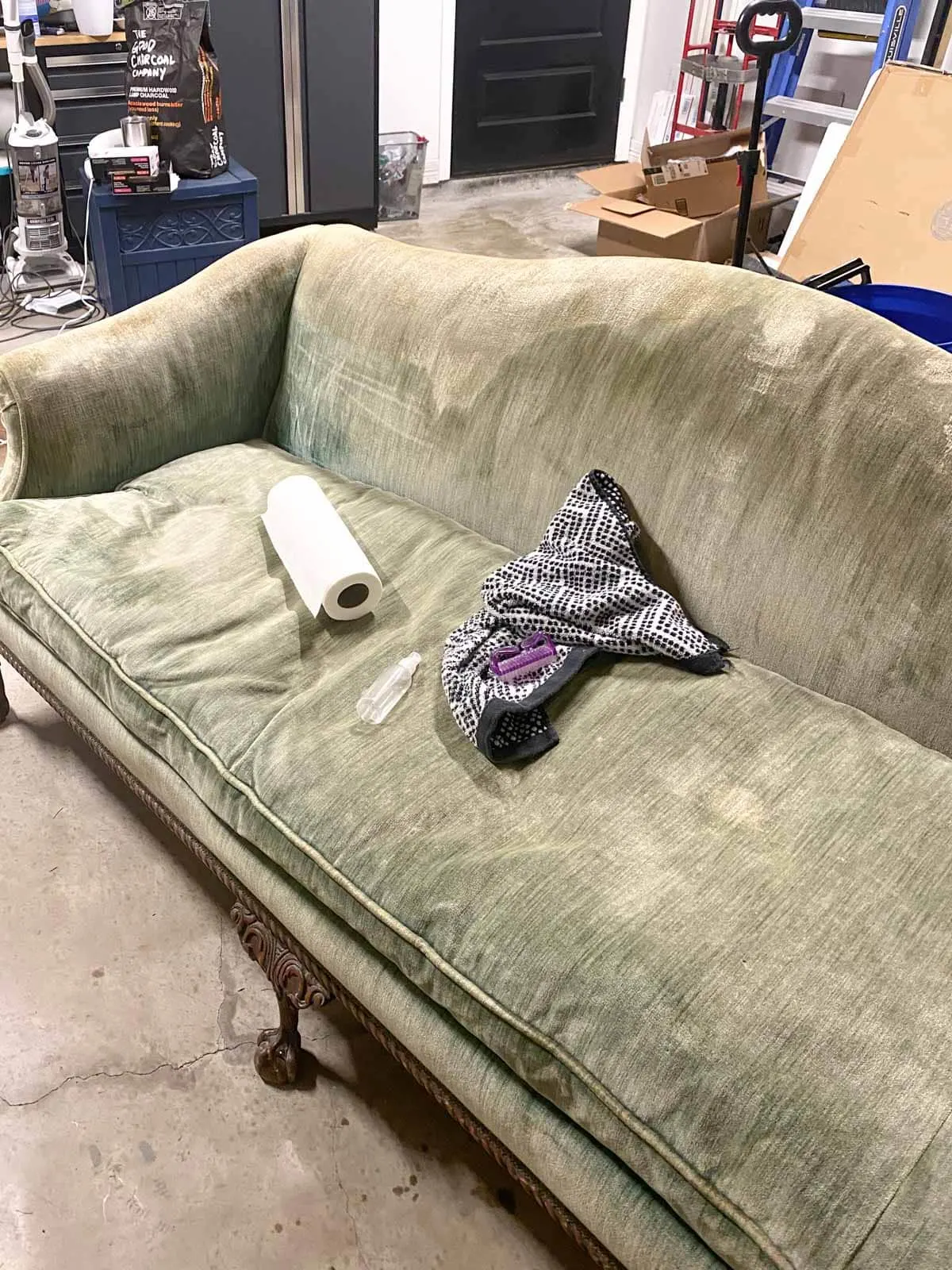 Ultimately, the Bissell I bought did extract a ton of dirt from the sofa (the dirty water bin was SO GROSS), and it was worth the extra $30 versus renting a machine because now I can use it for other things.
I ended up not buying cleaning liquid to use in the Bissell and opted to use warm water, and it worked well. I did try the free OxyClean solution sample that came with the vacuum, but truthfully I didn't notice an epic difference between that and regular water.
Overall, use what works well for your fabric and wallet.
Prep Work for Dyeing a Sofa
Picking a Dye Color for Best Results
As noted earlier, unless your upholstered item is white or off-white, you're kind of limited to dyeing your item to a darker color of whatever color it is now.
This does mean that if you find a dark brown wing chair, you should not plan on turning it into a hot pink masterpiece. Remember this is dye, not paint.
Does this mean the lighter the color of the fabric, the better the results? Sort of. Basically, you want the original fabric color to be able to be darkened/enriched.
Rit offers plenty of dye colors for both their regular and synthetic fabric dyes, plus you can always combine dyes to create your own special hue. This blogger took an ivory/light beige wing chair and turned it into a gorgeous shade of blue.
For my sofa, I opted to take it from light green and beige (from the spots I applied Dawn to) to a gorgeous peacock green shade.
Prep Your Work Area
I dyed my sofa in my garage since that's where I had the most room for it. You can totally do this project indoors, but you definitely want to put down a drop cloth under and around your item to protect your floors, nearby furniture and walls.
You will also need to leave enough room to access your furniture piece from all angles and work in a space or room that allows for a fan to be turned on. At one point during this project I had THREE fans going to help speed up the drying process.
If your piece has some wood legs or trim work, you can cover it with painter's tape to be on the safe side. This is especially important if your furniture has lighter wood tones or paint on it.
Dyeing a Sofa Project Supplies
In addition to your sofa or upholstered furniture item, you will also need the following:
Rubber gloves
Bottles of synthetic or all purpose dye (For my sofa, I used three whole bottles)
Bottles of fixative (I used four whole bottles)
An old mug you'll never use again
An old medicine cup or a tablespoon measure you'll never use for food again
Painter's tape
Drop cloth
Fans
Mixing the Dye
To make the dye, you'll need to boil 4 ounces of water for every 10 ml of dye. PLEASE exercise caution when boiling water and mixing your dye.
It is also important to shake the dye bottle well before measuring out the dye and mixing it with the boiling water. Make sure to use a heat safe vessel such as a mug to hold the boiling water/dye mixture.
I used an old measuring cup from some cough medicine to measure out my dye since they go up to 30 ml exactly. 30 ml is also roughly the same as two tablespoons, and luckily you don't have to be extremely accurate with these measurements.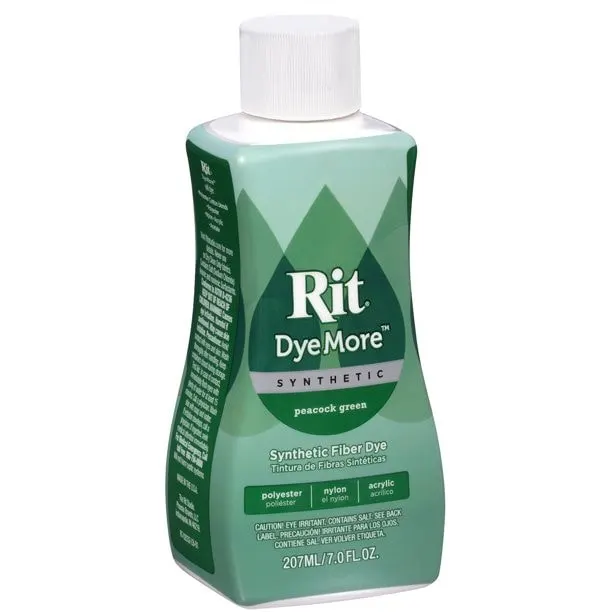 I will also note that the Rit Dye bottle instructions state to use 5 ml per four ounces of boiling water- lies! All lies. I found my ratio to be perfect to achieve saturated, opaque results in 2-3 coats.
I started out by boiling 12 ounces of water, pouring it in an old mug, mixing in dye and then using a paint brush to brush on the dye.
Eventually I wised up and used a continuous sprayer and an actual paint sprayer, which meant I increased my boiling water to 4 cups of water (32 ounces) and then mixed in 80 ml of dye.
Do a Dye Spot Test
Learning from my mistake with Dawn Soap, I tested my dye color on the underside of a cushion to ensure it would look that way I wanted it to. I did one coat, two coats and three coats side by side using a paint brush to gauge how dark and saturated I could get the color before committing.
While doing my trial dye coats, I used a hairdryer on warm to dry the dye quicker. You need to allow each coat of dye to dry a bit before continuing. You also hear me say that during my various painting projects and dye is no different in that respect.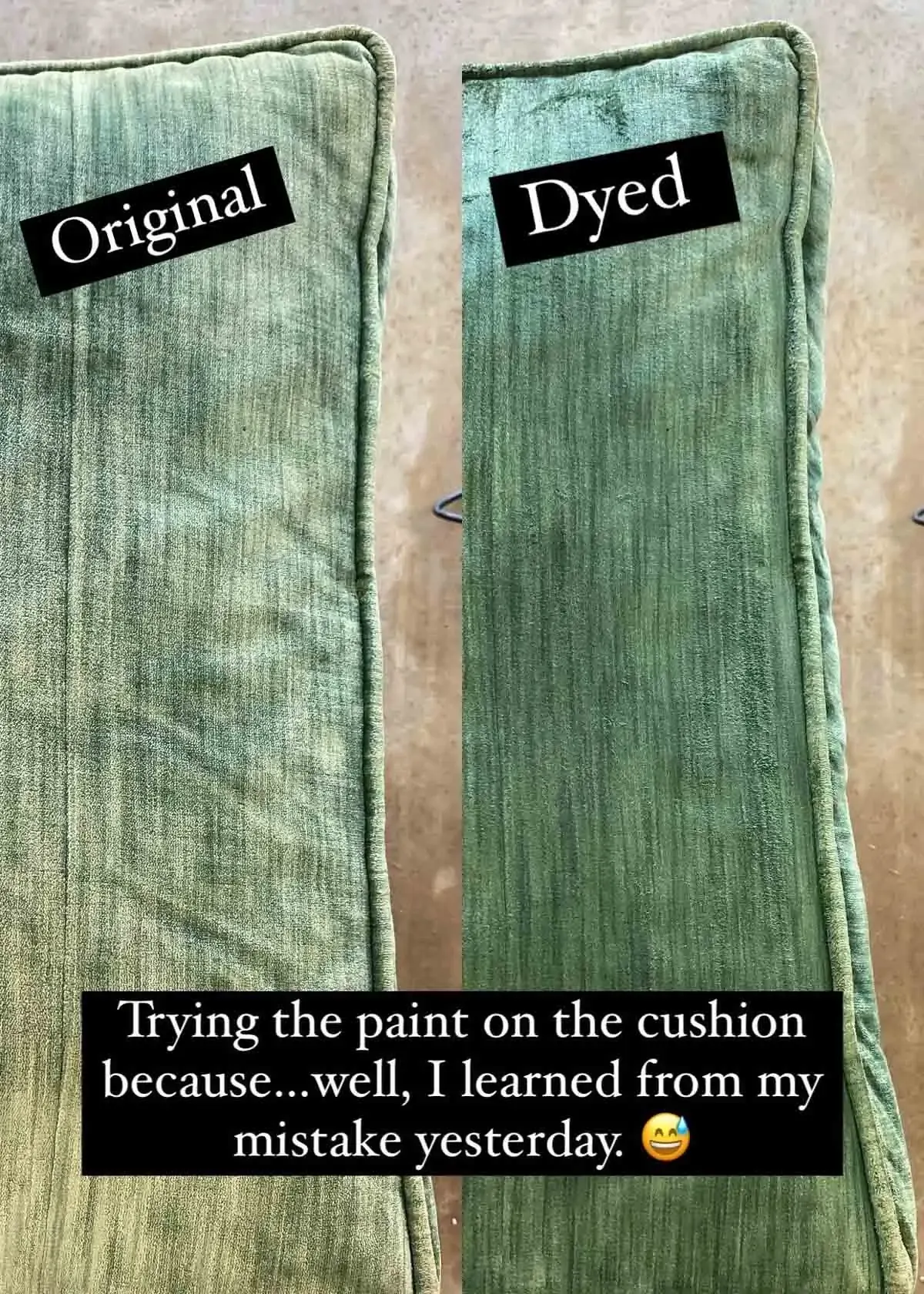 Light coats plus drying time in between will lead to better results and more even coverage.
How to Dye a Sofa: Four Methods
I'm going to go through four different methods of applying dye to a sofa, chair, ottoman or whatever kind of upholstered secondhand furniture piece you bought for your home.
The truth is they all work and will achieve the same end result. The biggest difference between the methods boils down to cost and time.
If you want to get this project done quickly, cost isn't a major factor and you have the desire to complete other painting projects, then go with the best paint sprayer.
If you're on a super tight budget but also short on time, then invest in a continuous sprayer.
If you have a small piece (foot stool, chair) you want to dye, a paint brush or spray bottle is good enough.
A Note About Dye Color When Wet/Dry
When I first did the dye spot test, I was so excited about how dark and saturated it was. But, trust me, it dries a lot lighter. That initial look of saturation is basically due to the fact it's wet fabric.
In the photo below, the left part of the sofa is dry, the part on the right is wet and the right arm hasn't even been dyed yet. Truly, at this part of the project I was nervous, but it all worked out.
That being said, if you're freaking out that it is too dark… let it dry. Again, it dries lighter than it goes on. If you're wanting a subtle increase in color, probably two coats will be needed. I wanted a mega increase in color, so I did four coats of dye.
Method 1: Using a Paint Brush
I used my favorite paint brush to paint/brush on the dye, and while it went quick enough, I will admit it was a little tedious.
I tried out various paint brush techniques, and the one that resulted in the best coverage was turning the brush on its edge and brushing the dye on that way.
I'd do that, move over a few inches, do it again and feather in between the two spots until the whole area was done.
Even if you use a spray bottle or paint sprayer, you'll want to have a paint brush or foam brush handy for things like corners, under armrests, and welting/piping/cording.
Method 2: Using a Spray Bottle
I'll admit I was a bit OVER this project by coat two, and that's when I tried using a spray bottle. Truthfully, I had a bottle of dry erase cleaner that I poured down the drain to have an empty spray bottle. I like to get resourceful, or basically, I am really impatient.
Using a funnel, I poured in the dye mixture very carefully because it is boiling hot water, friends. Be cautious!
I then got trigger happy and sprayed dye all over the back of the sofa and used a brush to even it all out.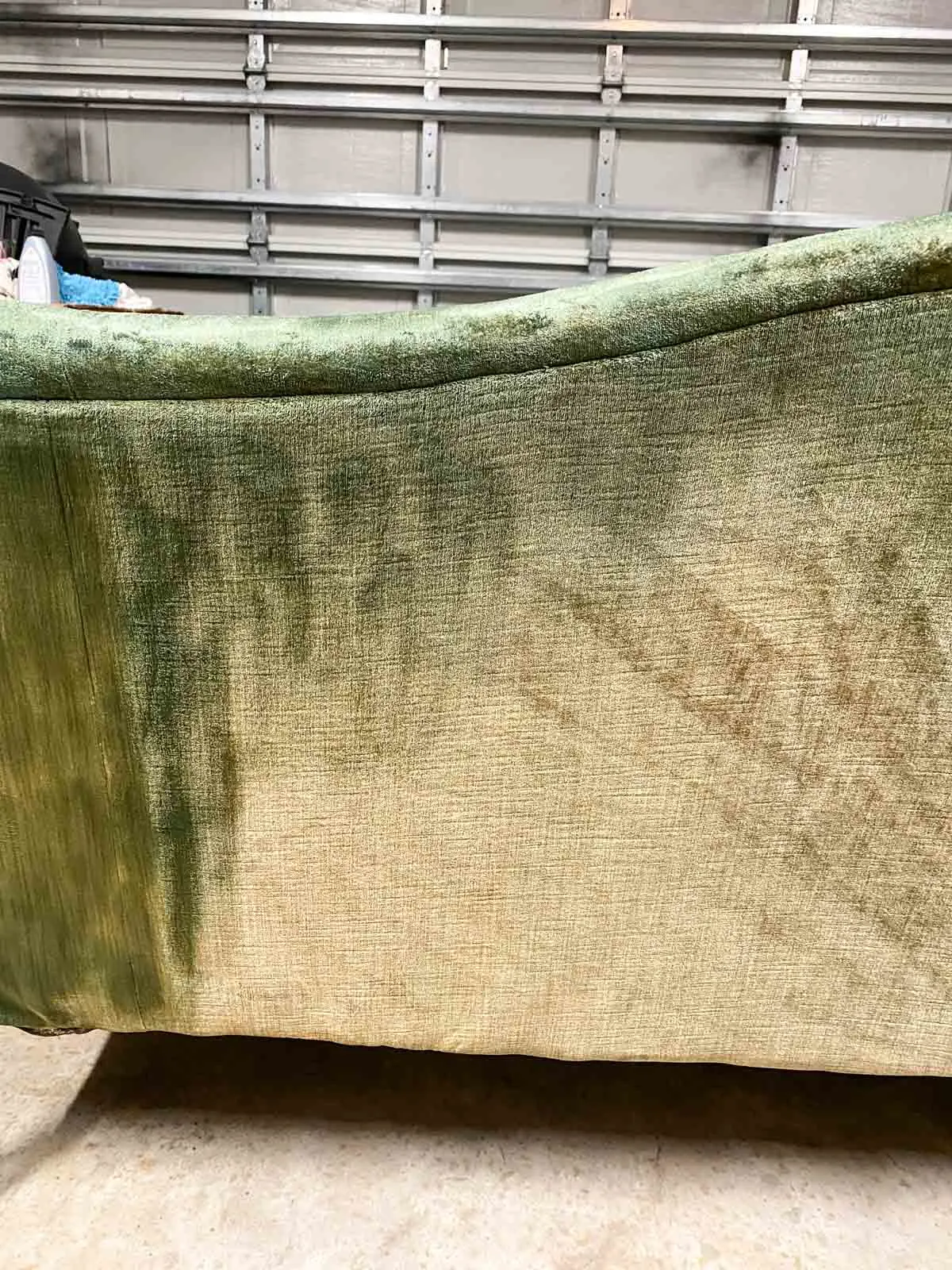 Totally worked well, the only problem being that my finger was exhausted from having to spray every other second. That's when I decided to try out a continuous sprayer.
Method 3: Using a Continuous Sprayer
I have a few of the one gallon $10 pump sprayers you can grab at a big box store for your plants or garden, so I mixed up about 32 ounces of dye to try out in this sprayer.
It worked well! The spray it emits is super fine, and this makes it easy to get good coverage without soaking the fabric.
If you decide to go this route, I'd encourage you to get this type of continuous sprayer instead of using the one I used, and since spraying goes so quickly, you could likely increase the amount of dye you mix up to get done even faster.
The key to good results with any of the spray methods is to spray from about 4-6 inches away from the fabric, slightly overlap your spray patterns, and feather it all in with a brush.
Method 4: Using a Paint Sprayer to Dye a Sofa
By far the quickest, easiest and best method to dye a sofa is using a paint sprayer. You will save a whole lot of time and energy. I have used my sprayer for countless projects and I've even written about the best paint and primers to use in a paint sprayer.
Same dye to boiling water ratios, but what elevates this to the top of my recommendations list for this project is how even the coverage is right away.
No paint brush needed for 98% of the piece. It probably took me about 2-3 hours to cover the whole sofa and cushions with dye using the paintbrush method. It took me LESS THAN A MINUTE to cover the entire couch with the paint sprayer.
The bonus in using the paint sprayer is that you have it to use for future painting projects.
Dyeing a Sofa: Drying Time
With any of the above methods, it is crucial…actually, it is CRITICAL that you let each coat of dye dry. I had three fans going in my garage to help expedite this dyeing process.
Once your fabric is dry to the touch, you can proceed onto the next coat. This may take a few hours or overnight depending on humidity, etc.
Putting coat after coat of dye is futile- please let it dry properly. Go grab a snack, watch TV or take a nap to step away from the dye.
For my sofa, I ended up doing four coats on the front and cushion and three on the back.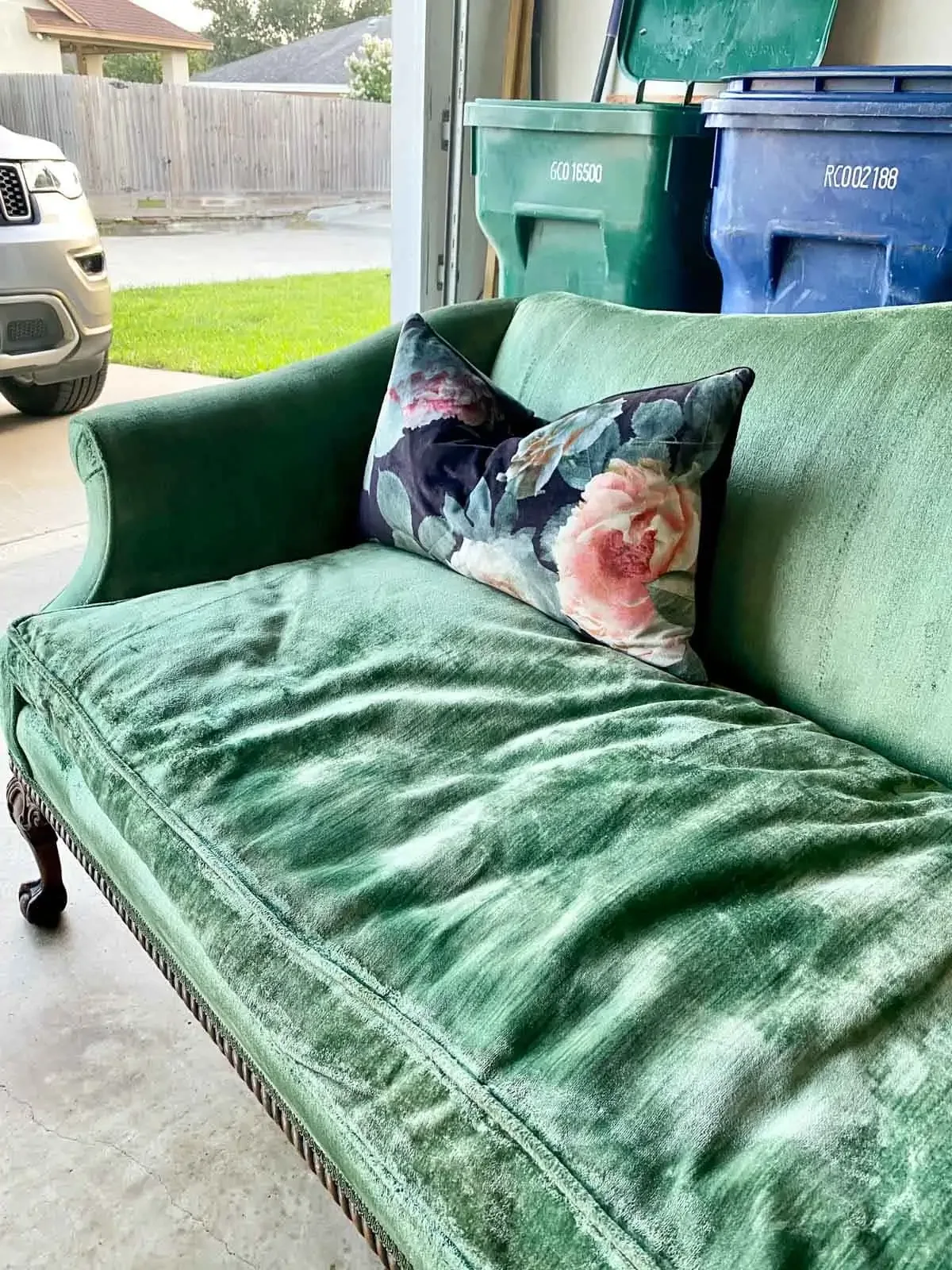 Another reason to allow the dye to dry between coats is to see the true color and see if it's the desired shade.
I've been focusing on going bold and saturated, but you could apply this same technique to end up with lighter shades than I did. Heck, you may like how it looks after coat two.
I'd love to say a single coat would be enough on some projects, but to keep it real, it takes at least two coats to even out all the random streaks that can happen on coat one.
Once you're done with all the coats of dye, no matter how many you did, LET IT DRY for at least 10-12 hours before moving on to the fixative.
Important note: if you read the product instructions on the Rit Dye, you'll see it mentions rinsing the item with a garden hose once you're done dyeing it. I skipped that part because the cushion is down-filled and I had spent so much energy cleaning it that to get it soaking wet and potentially introducing mildew was a hell no for me.
Spraying on the Fixative to Prevent Color Bleed
Once you have let the fabric dye dry it's time to seal it all in with the Rit dye fixative.
In order to not have the dye color rub off on your clothes or linens, you want to make sure you apply the fixative. Do not, I mean it, DO NOT SKIP THIS STEP.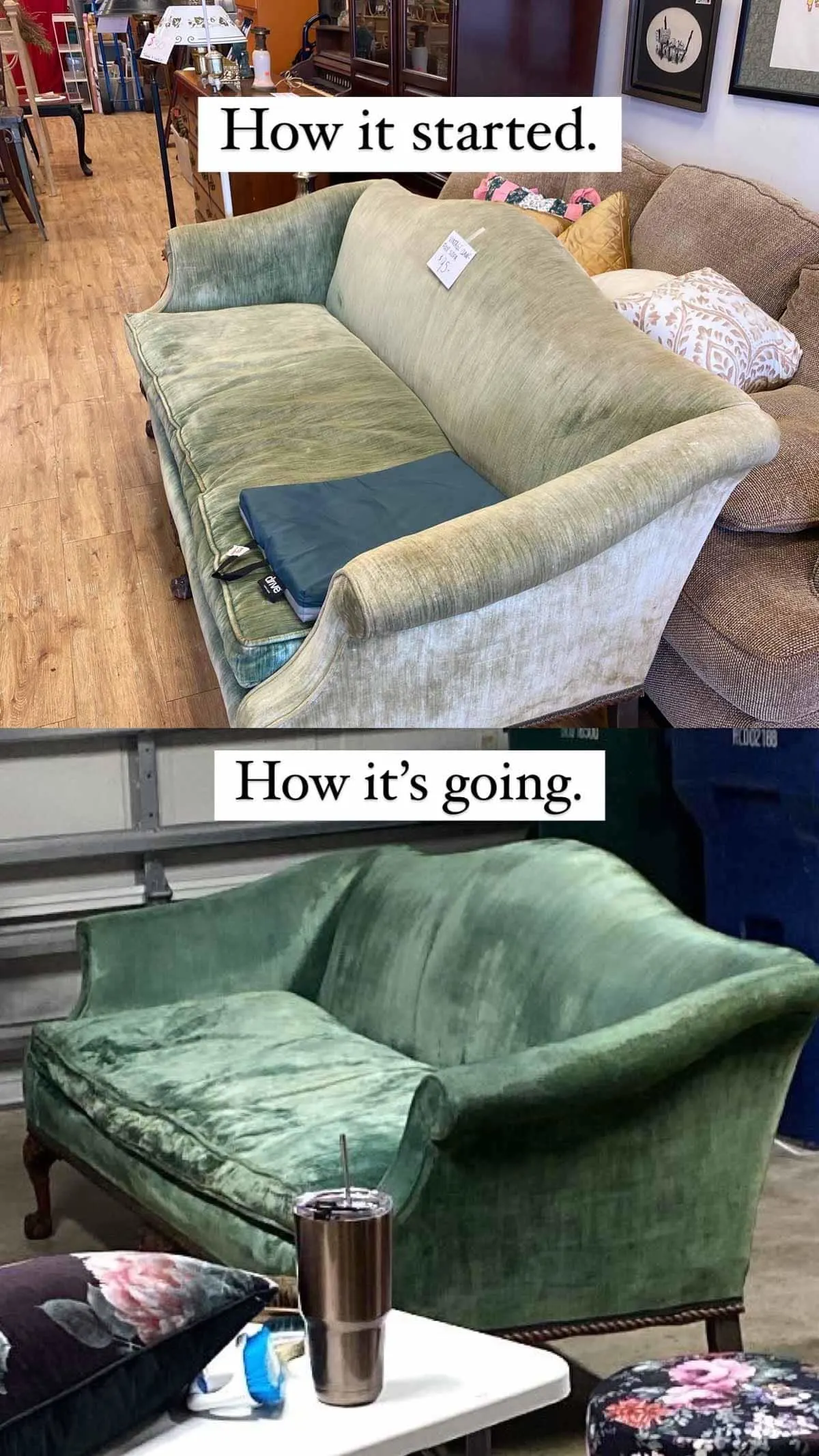 I ended up using four bottles of the fixative poured directly into my paint sprayer (good news: no boiling water needed) to spray it on the sofa and cushion.
I did two light coats with about two hours of drying time in between. I think it's a good idea to plan on doing two full coats of fixative on the entire piece.
After that, I left the sofa in my garage for a few days to dry while we were out living our best life. All those coats and effort led to a rich, dark color.
I used an upholstery brush to get the fabric soft and velvety again, plus it helps to "reset" the fabric back to how it should be.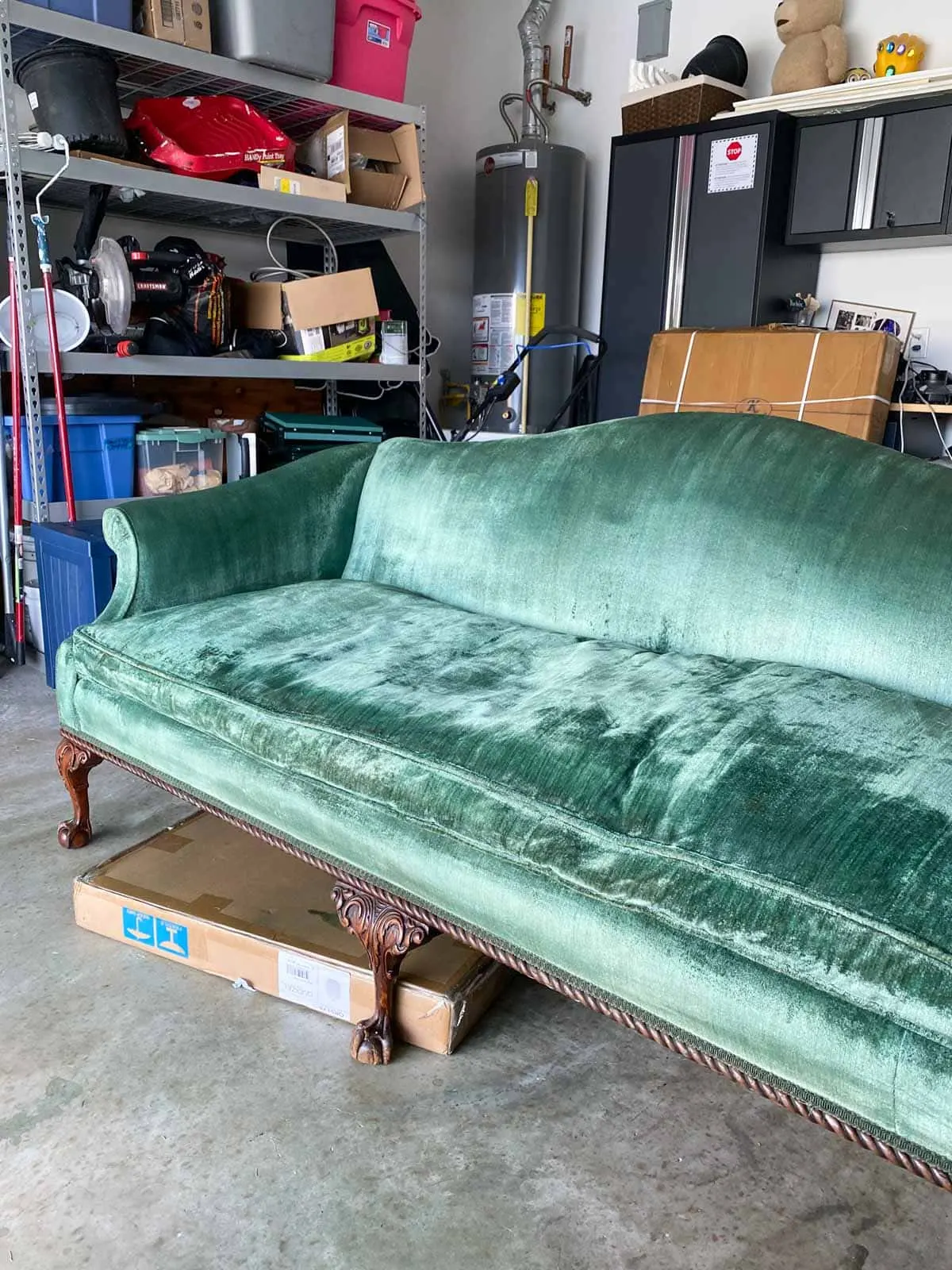 Now, it's ready to bring inside and the real fun can start.
The Result: My DIY Peacock Green Dyed Sofa
Sadly, I did not follow my own advice about double-checking the seat height and it ended up being way too low to function properly in our dining room, which I am hoping to turn into more of a library kind of vibe.
But for a brief moment, Princess Dyeana (the sofa), looked SO GOOD in this space.
She went off to a happy home where I hope she is cherished and loved for many years to come.
I hope this tutorial empowers and inspires you to take a second look at some of the pieces you may find along your estate sale shopping or thrift shopping excursions.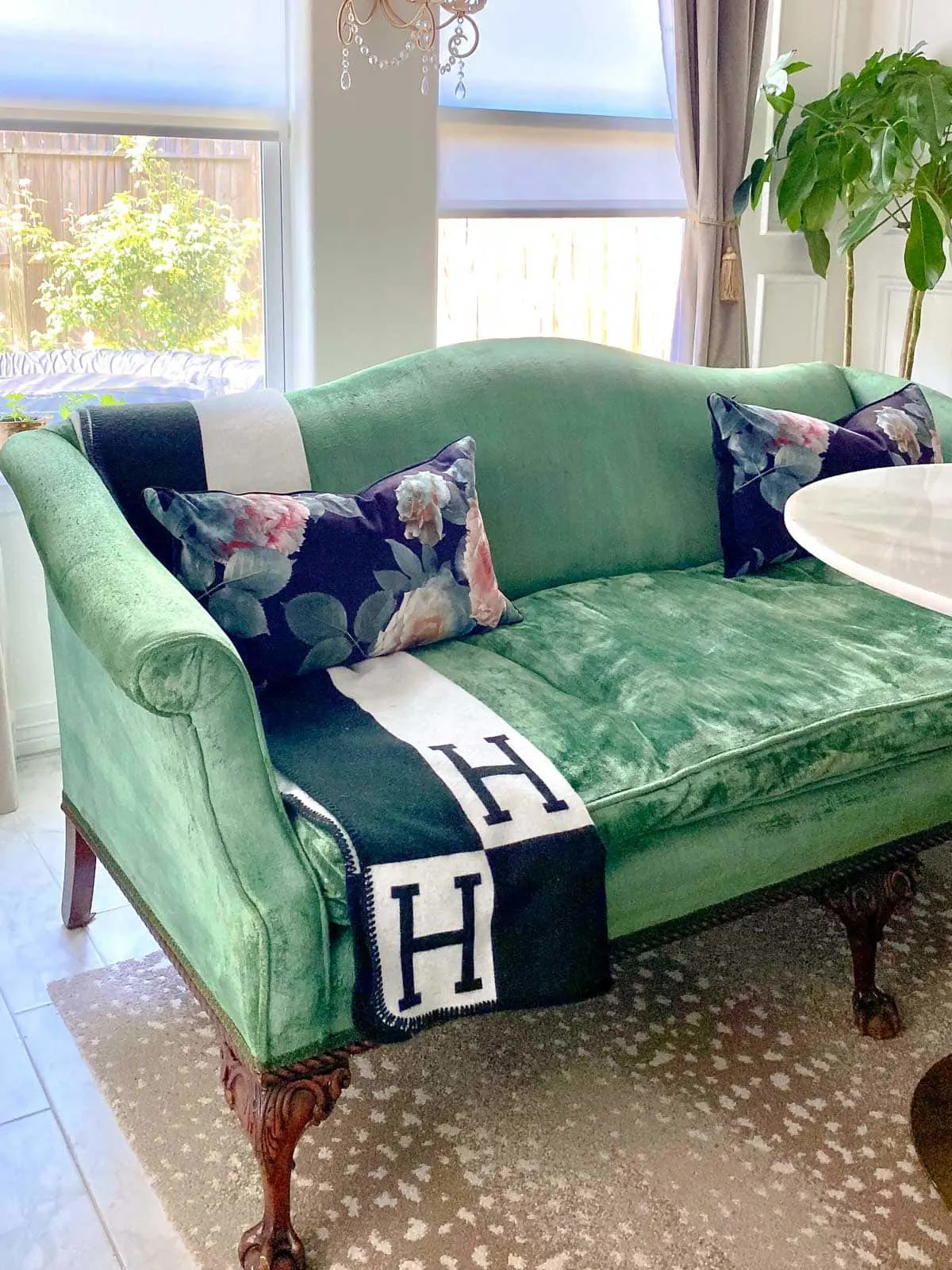 I'll be writing an FAQ's section to go along with this novel of a tutorial about how to dye a sofa, so if there's something I missed, drop it in the comments. If you made it to the end and read this whole thing, you're a champ!