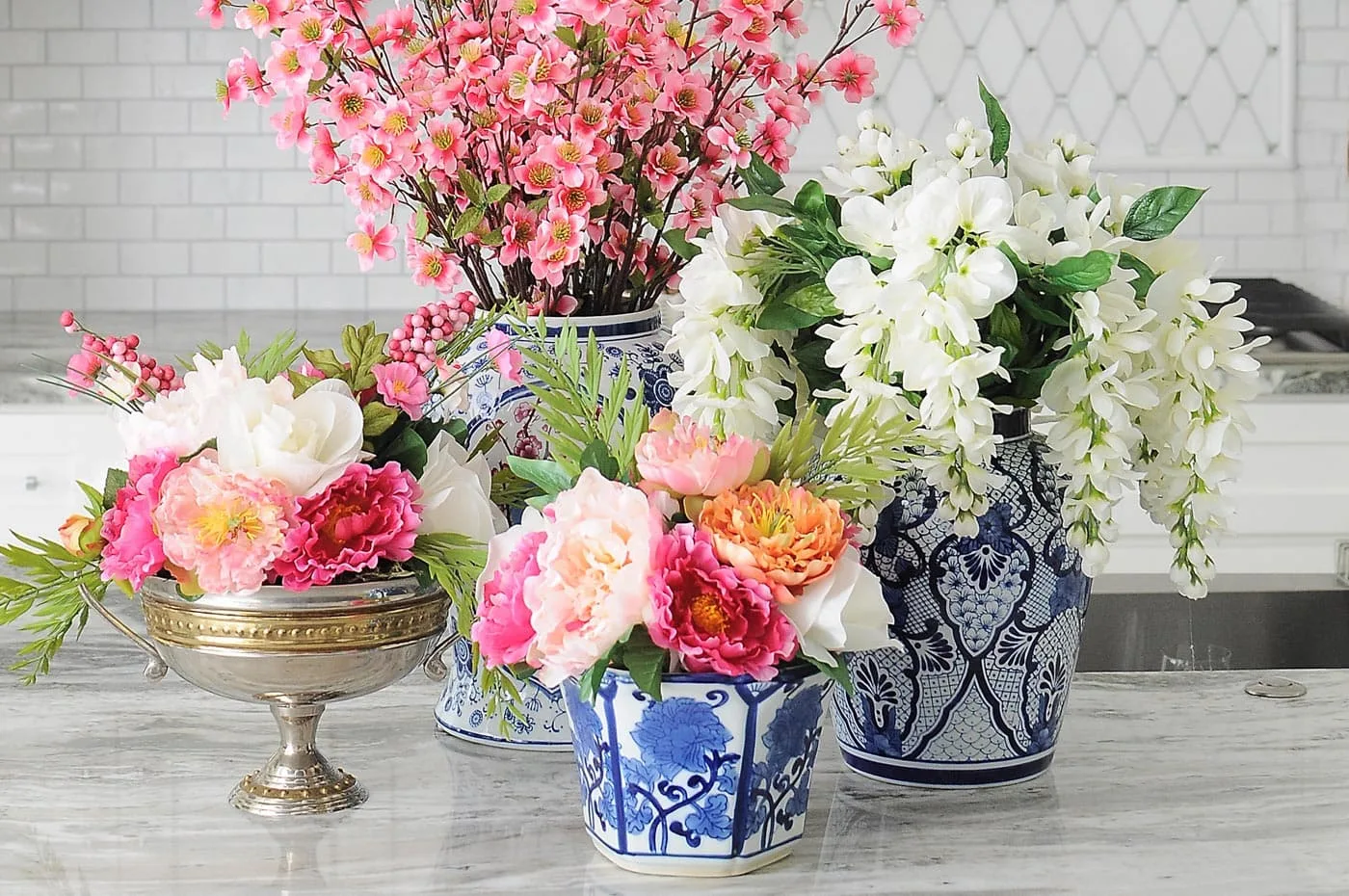 You all know I love flowers. I try to pick up real flowers for my kitchen counter when I go to the grocery store if something strikes my fancy, but I also have a lot of DIY faux floral arrangements in my home for various reasons: pops of color, end table styling, tablescape/centerpiece, etc.
I try to snag pre-made arrangements when they're on sale, but sometimes I like to make my own if I find a unique vase I like, so today I'm sharing a tutorial on how I make my DIY faux floral arrangements.
Where to Buy Faux Florals
I have used dollar store florals in the past, and they're perfectly acceptable…but I did find when you spend a bit more you get a lot more florals for your money and they look a bit more "real".
The florals in the photo below were all in one floral bunch at At Home for $10 and I used it to make the two arrangements you'll see in this tutorial.
The realistic looking leaves are from Michael's and were about $2-$3 for all of them. The reindeer moss and dry floral foam are from Dollar Tree.
As far as vases, vessels and planters go, literally anything goes! I love to find unique pieces while thrifting or antique shopping. The silver trophy style vase was a lucky thrift store find in Marble Falls for $4.
Supplies Needed:
Faux florals- I used about 9-11 stems per arrangement, and I recommend using about three different types/colors of flowers unless you're going for a monochromatic vibe.
Faux leaves- One full bunch should last
Floral accents- something that gives it some height and is a bit different than the flowers
Heavy duty wire cutters (I ended up not using the ones in the photo and opted for a beefier pair to spare my hands!)
Green moss
Dry floral foam to fill the width of your vase
Instructions:
1.) Gather all your supplies. Cut all the flowers so you have a bunch of individual flowers WITH the stems. Cut them as long as possible because you can always go shorter, but you can't add length back on!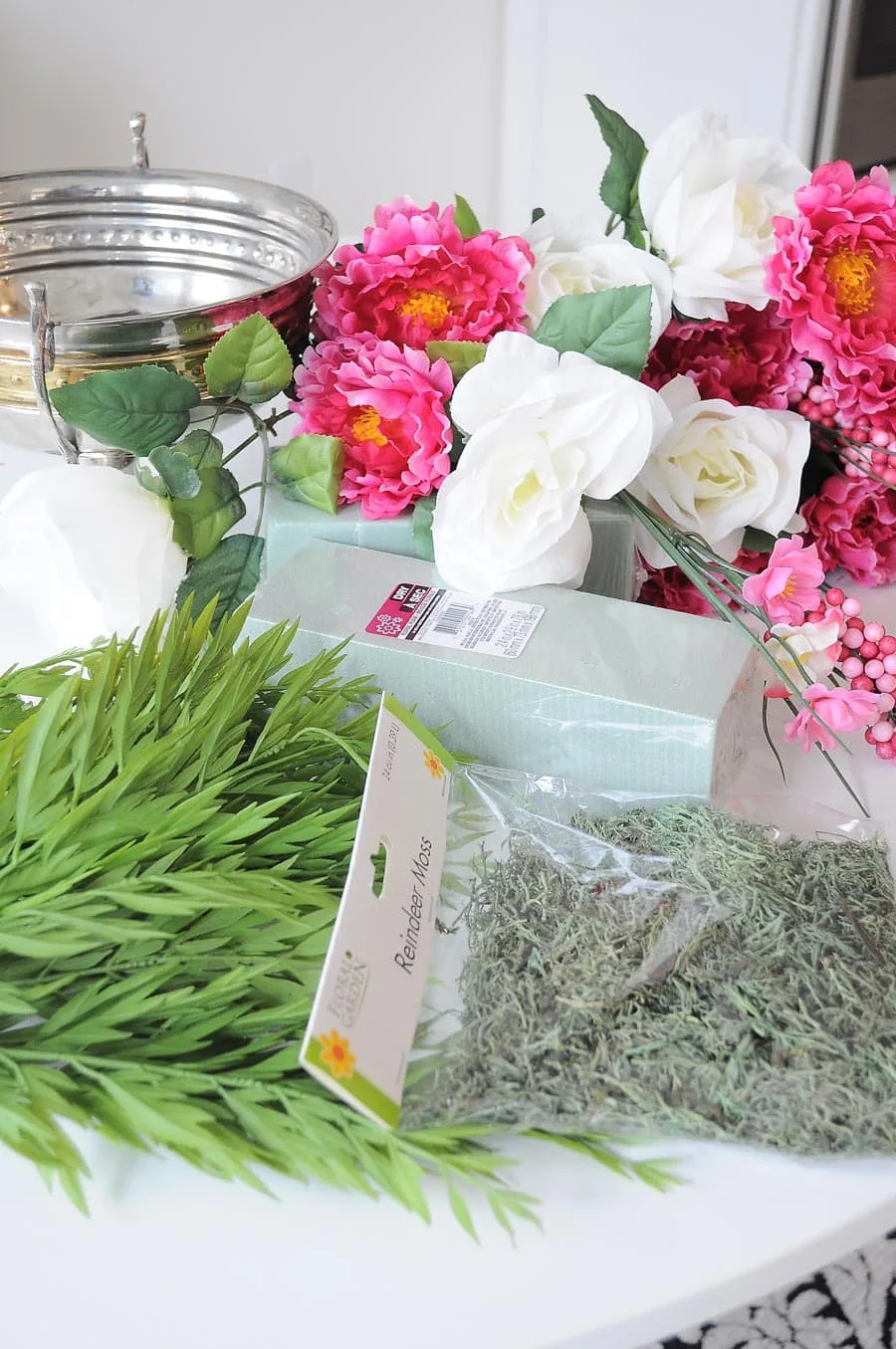 2.) Fit your dry foam into your vase so that it takes up most of the width. A serrated knife is good for cutting dry floral foam. It doesn't have to take up every single bit of space.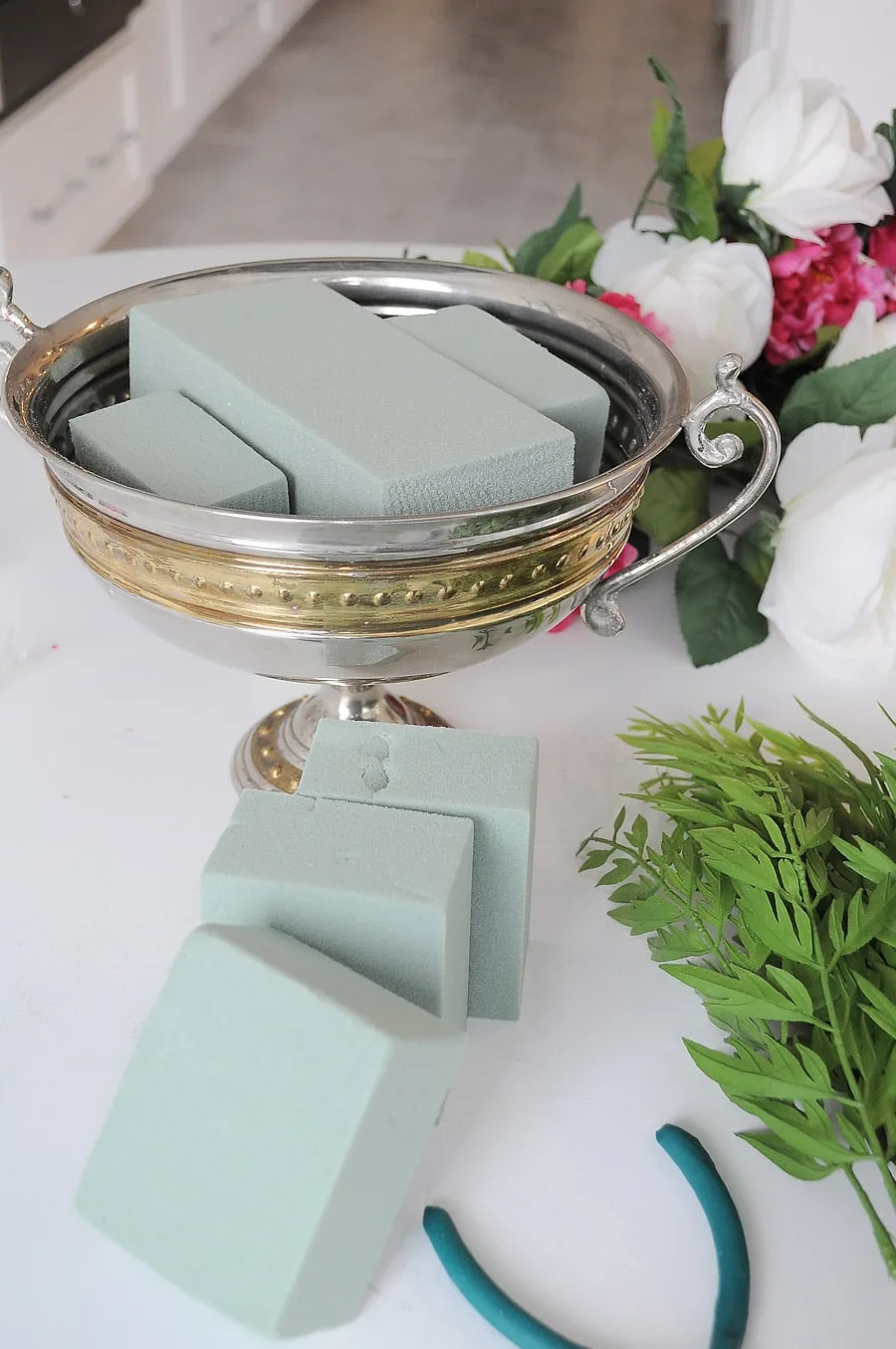 3.) For this part you'll need to trim your floral stems a bit- I eyeball it by holding it against the vase and trimming it from there. I then put three flowers in the center of foam, as shown below.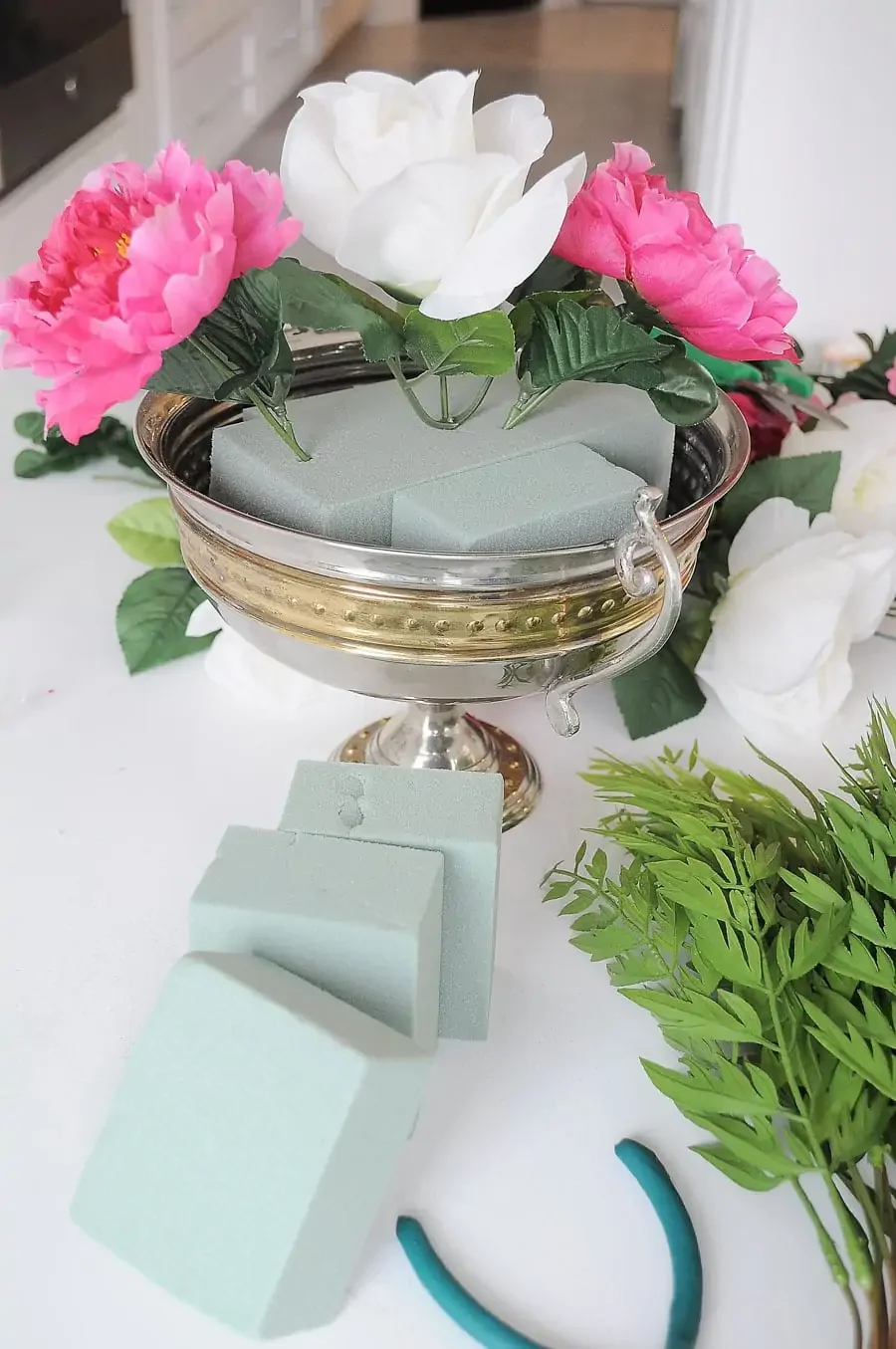 4.) Then you start filling in the sides until it looks full. The bigger your flowers, the fewer you'll need. Don't worry if there's any "bald" spots just yet.
5.) Add in some leaves and some floral accents. I tend to have the accents sticking out from the top (the little spherical pink looking things below) and some leaves draping out from the sides for some drama. These should help fill in any bald spots.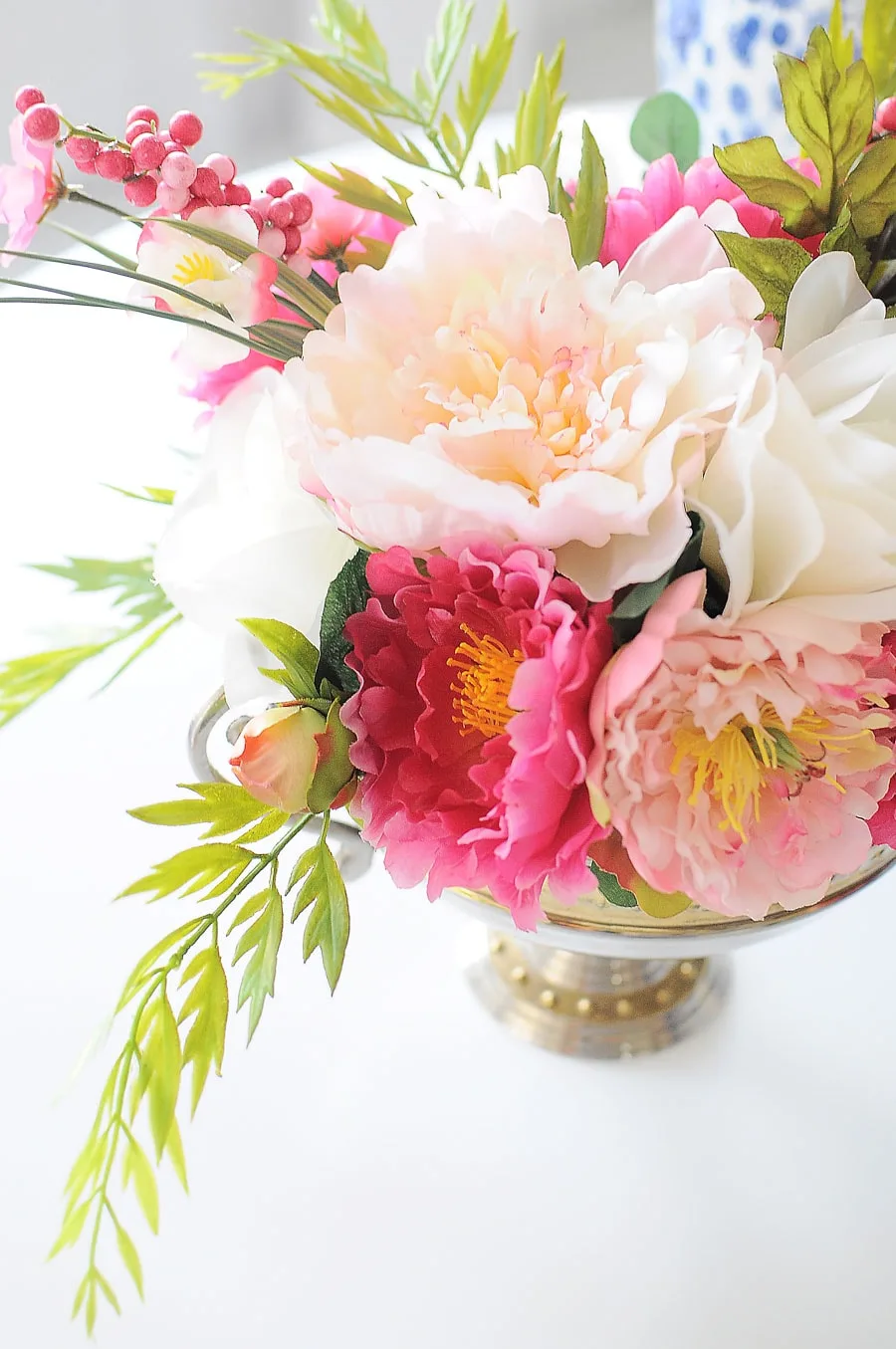 6.) Add moss under the flowers for a realistic look and to help cover the foam/gaps. Don't be stingy with the moss- it's only $1 at most dollar stores (ie: Dollar Tree).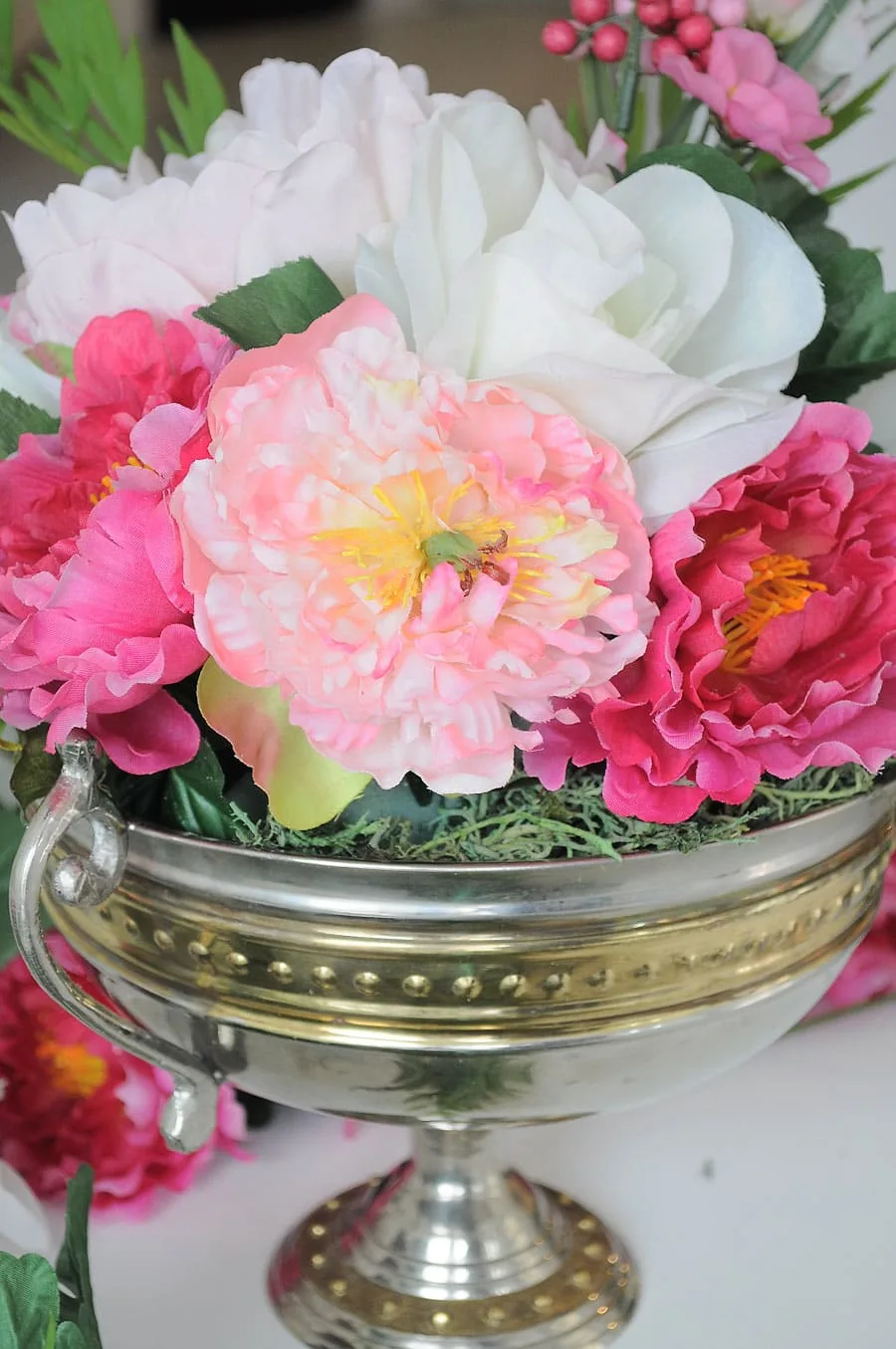 7.) Step back and make sure all looks good. Remember these are FAUX florals, so you can bend them and twist them any way you like to make sure they fall where you need them to.
I then repeated this process with a small blue and white ginger jar-ish planter I bought at Ross. Problem is that the planter is really deep. What I do in this situation to not waste floral foam is to stuff plastic bags on the bottom and then place the floral foam over that.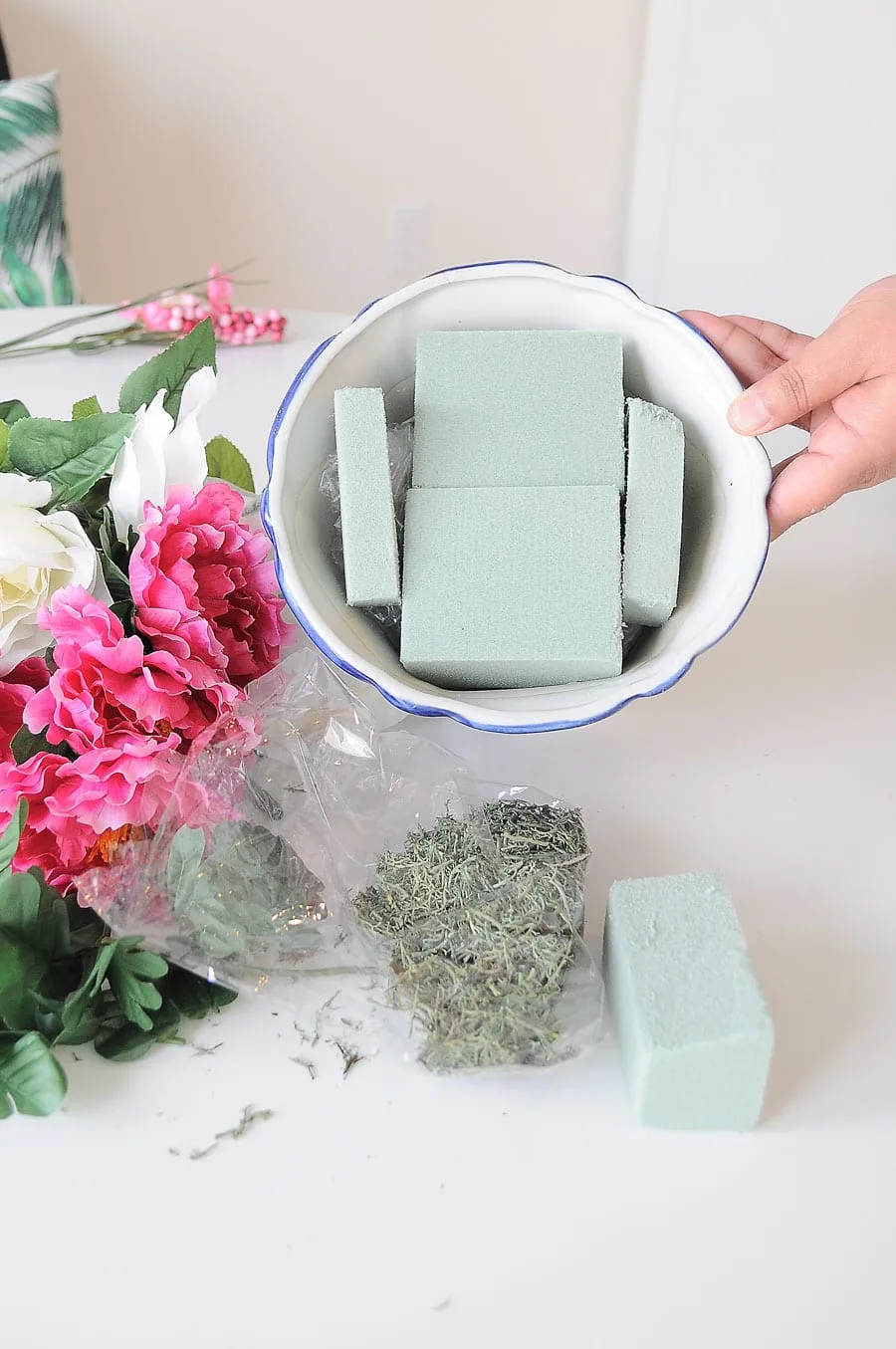 Then all the steps are the same from there. Here's what I ended up with. This beauty is going next to my cook top to add a pop of color to my kitchen counters.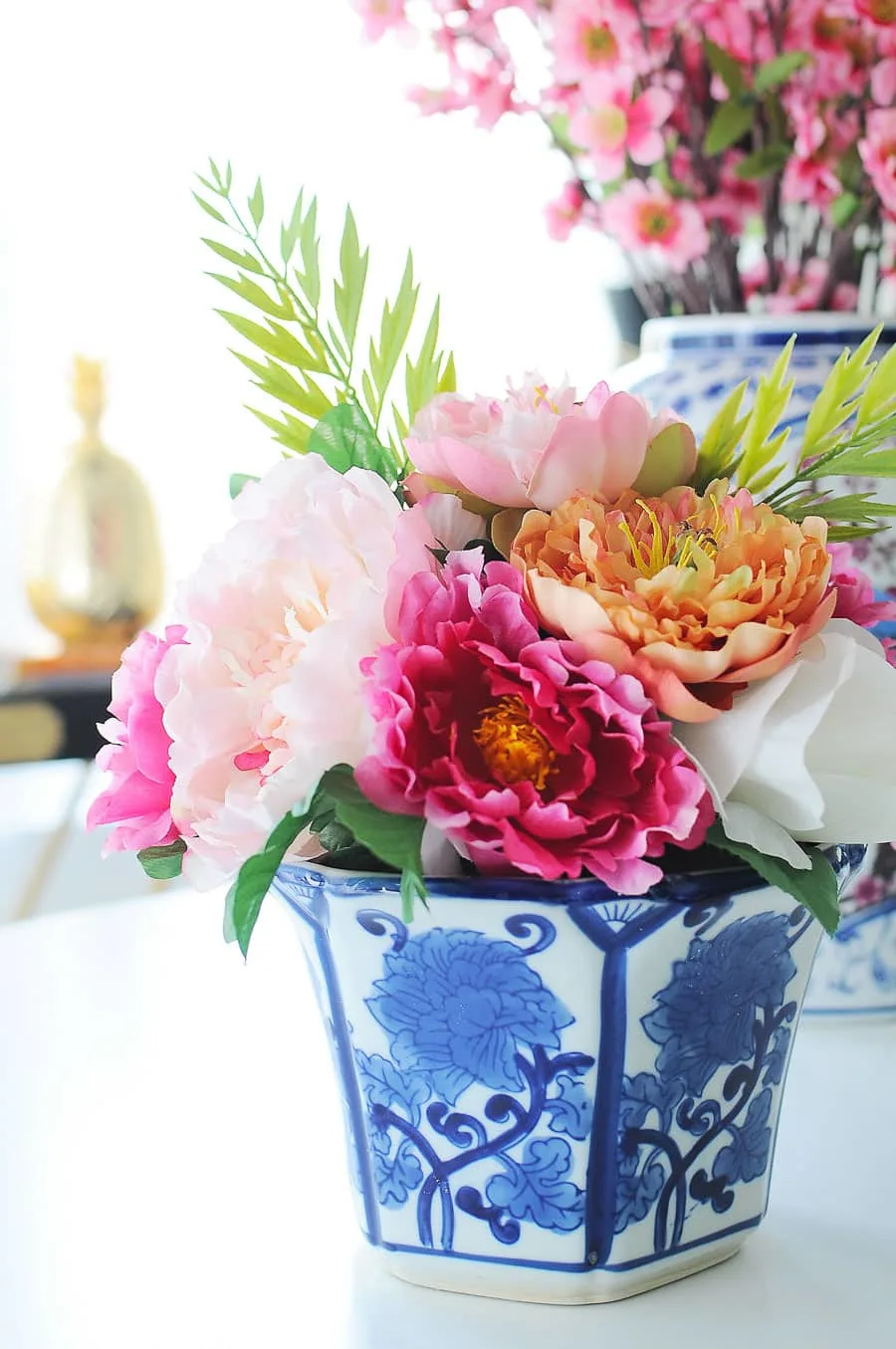 And here's the spring faux floral cast for my house, so far. I'm LOVING the pink and floral vibe you all. I'm trying to keep the decor minimal and focusing on color, texture and florals/plants. You'll see this all come together during my spring home tour on March 8…on my 33rd birthday! Crazy to think I was 24 when I started this blog. Time flies!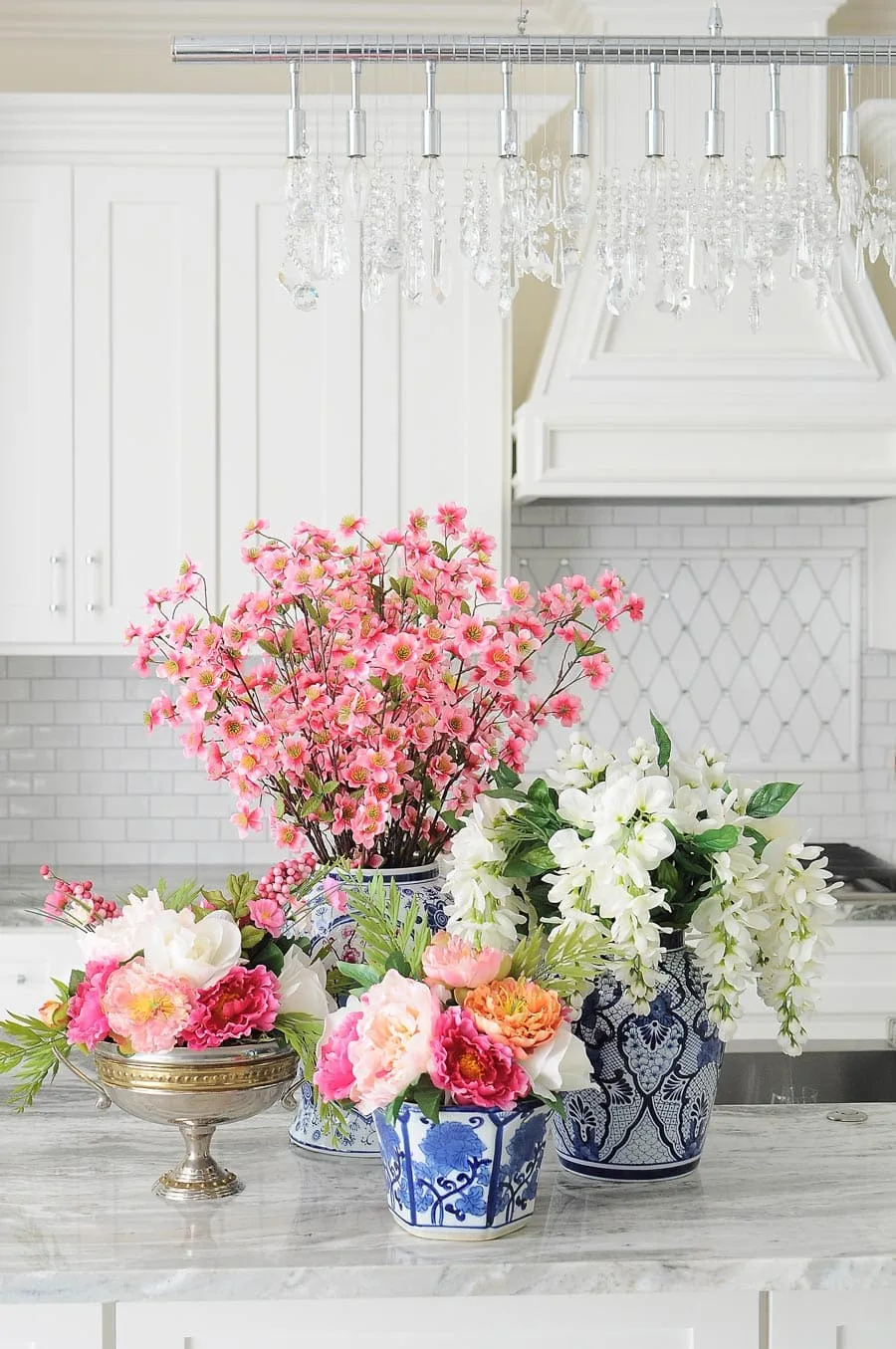 I hope the tutorial is helpful so you can see my process, but I'll also share with you my favorite stores to buy faux florals at and some pros/cons of each.
At Home: their floral bunches are MASSIVE and mostly between $6-$10. I highly recommend their floral lines if you want BOLD color. I also recommend them if you want those tall, wispy stems you see Joanna Gaines use that seem to be about 3-feet tall.
Hobby Lobby: Literally every other week their florals are 50% off, but I find myself mostly buying larger/taller flowers here such as the pink apple blossom stems seen in the photo above. Their selection is massive, which can be overwhelming.
Michaels: I feel they have the most realistic looking flowers this spring season, but they are also the most expensive. I paid $10 total for the At Home flowers used in the two arrangements you saw here today, and I paid $12 for this little bouquet below from Michaels that has far fewer flowers (but looks more realistic and has some succulents thrown in). If you want a pre-made bouquet that looks real that you can shove in a vase, Michaels is your place.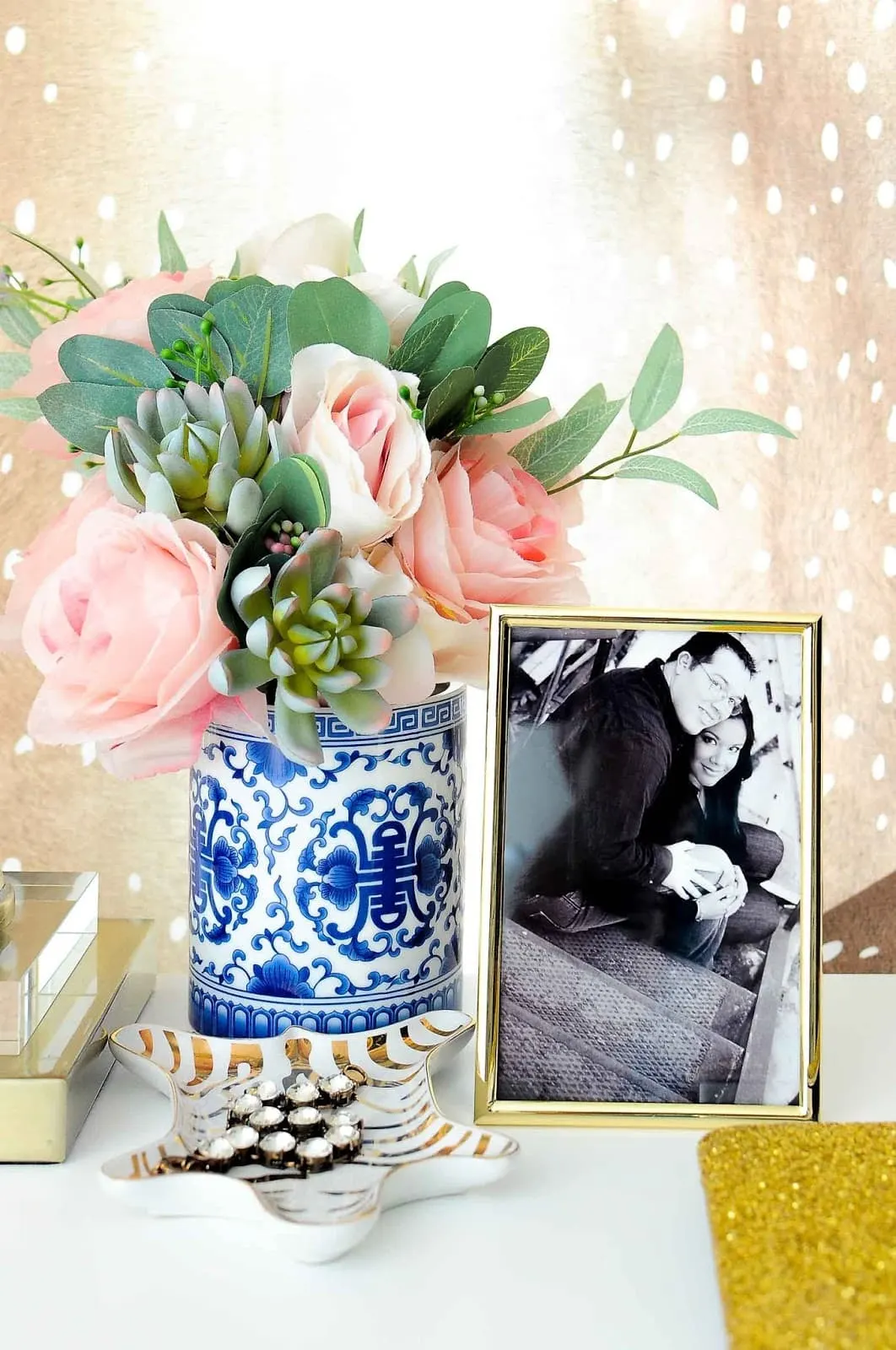 I also occasionally will snag some flowers at Dollar Tree if they're really pretty and full, and Pier 1 Imports is also another fave, but they can be the most expensive so I wait until they're on sale/clearance.
And I leave you with more pretty flowers to brighten your day. Decorate fearlessly! xo.
This DIY faux floral arrangements tutorial is meant to help you and make you feel empowered to tackle this project, and I hope you've found it helpful! You may also like this post below.