If you find the task of measuring and choosing the right curtain lengths for the various windows of your home, this guide will definitely help you.
I love the power of window treatments. They can instantly transform a space, plus if you select the right length, it'll elevate your space to make it feel like it was styled by an interior designer.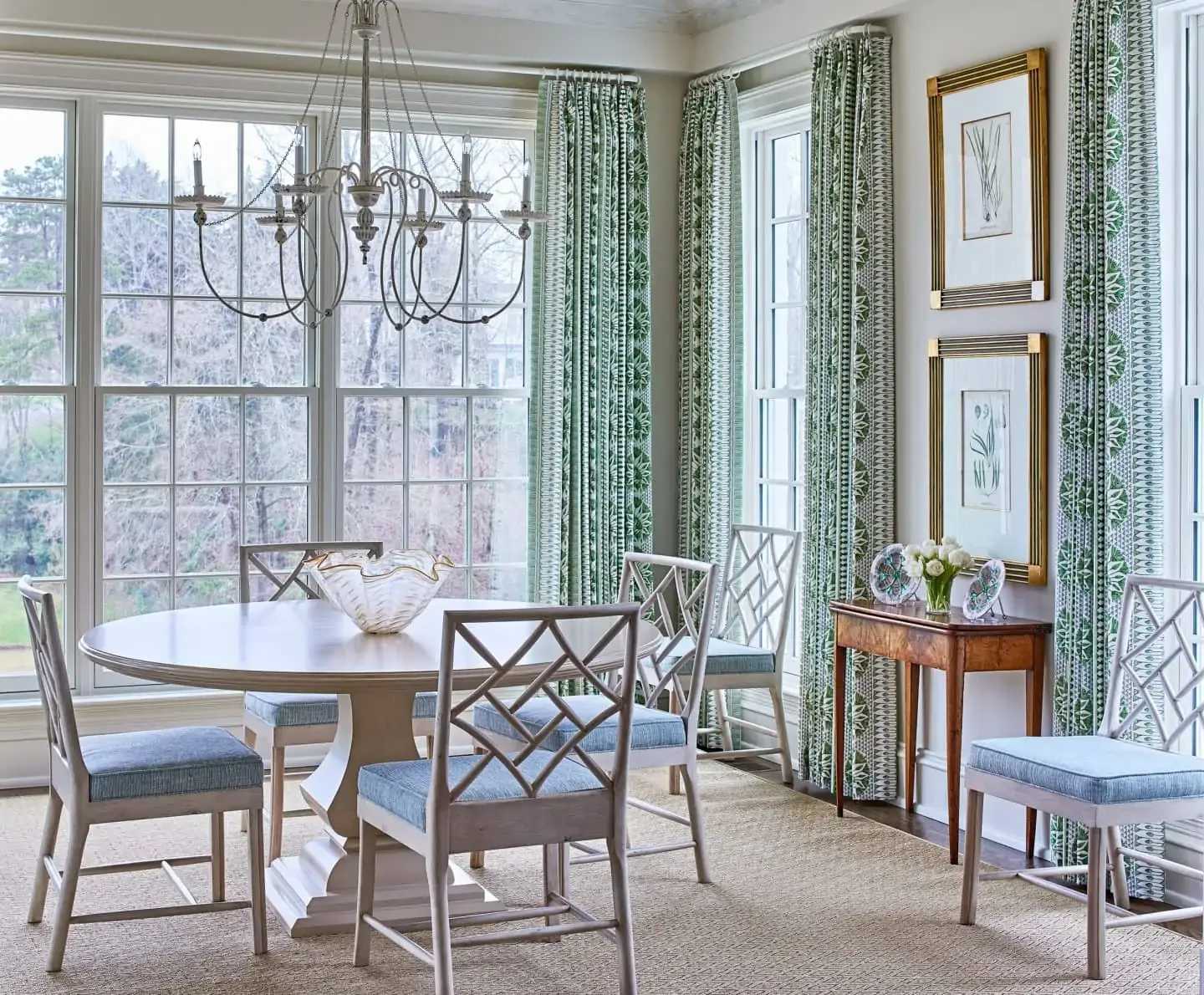 Different Curtain Lengths
There are lots of options out there for curtain panels and they come in standard curtain lengths. The most common curtain lengths (AKA: popular options) are:
You'll probably also find some lengths that are a couple of inches shorter or longer than the ones I just listed, but this is a good starting point.
Measuring Windows for Perfect Curtains
When I asked you all to submit your curtain FAQ's, many of you stated that the different lengths, the various materials, common sizes, and taking accurate measurements were your biggest pain points.
What I recommend is measuring each window in your home (I'll tell you how to do that in just a moment), taking note of the measurements (tip: put them in your notes app on your smartphone so you have them with you at all times for when you're thrifting) and then deciding what kind of curtain length is ideal for the space and for the final look you're after.
I'll cover the pros and cons of each curtain style later in this post, and we'll also discuss the some of the terminology out there. For now, let's focus on measuring to ensure you order the correct curtain length AND get the correct width, too.
Before measuring the windows, select the style of the window treatment (curtain, roman shade, valance, cafe curtains) and the mounting hardware (inner or outer mount). This is crucial.
Measuring Windows that Have Mounting Hardware Installed Already
When you're measuring for the length of curtains, use a steel tape measure ruler (metal tape measure) for taking accurate measurements; cloth or vinyl tape measures may stretch or sag.
If your window already has a curtain rod, you may want to double-check how high it is mounted.
For example, if you have 9′ ceilings, but your rod is mounted at 84″ (7′) then you can probably mount the rod even higher (96″).
Mounting your rods closer to the ceilings can make your room feel larger, taller and have a more dramatic look.
Your rod may be at the right height, but you also want to see if it is mounted at the proper width.
If you have a narrow window and the rod is mounted at the exact same width, you're likely covering up a good chunk of the window with the curtain panels, and a better choice would be to widen the rod so you let in more light and trick the eye into thinking the window is wider than it is.
This is also a good time to swap out the curtain rod even if it is at the right height if you want a different look.
Maybe your home has satin nickel and you want warm brass or lucite. The right curtain rod and curtain brackets can really accentuate your drapery and space..
To determine the finished length of the window treatment, measure from the top of the curtain rod* to the desired length of the window treatment; if the window treatment will have a heading above the rod, add the length (height) of the heading to this measurement (example: if you're adding in a cornice board or a pelmet box).
*A rod that uses rings, pins or tabs to install your drapes can be used with pleated drapes or curtains with a pole pocket and hook belt. Measuring from the bottom of the ring, pin or tab to the floor (or sill, etc.) is the best way to measure for this type of panel.
If you are buying window treatments for several windows in the same room, measure and record the measurements for each window separately, even if they appear to be the same size. I learned this the hard way when I bought shades for our windows.
Measuring Windows that Do Not Have Mounting Hardware Installed Already
Decide where the window treatment will be positioned and install the drapery hardware (usually brackets that the rod slides into, plus finials), so that accurate measurements can be taken.
In our former home with standard 8′ ceilings, I mounted panels almost at the ceiling to make the room feel taller.
In our current home, we have 9′ ceilings in the bedrooms, so I have placed my curtain rods at 96″ off the floor and then I use a 96″ standard curtain panel.
In my home office, I hung my lucite rod at 97″ and opted to use brass curtain rings.
The reason I use curtain rings is that the rings allow me to be able to easily add or subtract 1 to 2 inches from the length of the panel purely by adjusting how I clip the panel. You can even do a faux pinch pleat using curtain rings.
If you have really high ceilings, you have a little more flexibility. In my living room, I have 13′ ceilings and my curtains are mounted for 120″ panels so that I don't have to splurge, invest or sew my own very long drapery panels.
Hardware, including curtain rods, swag holders, and mounting boards, can be mounted inside or outside the window frame.
For an inside mount, install the hardware inside the top of the window frame so the molding or casing is exposed.
For an outside mount, install the hardware at the top of the window frame or on the wall above the window. When the hardware is mounted above the window frame, visual height is added to the window treatment. When window treatments are mounted onto the wall, more glass can be exposed, letting in more light.
In terms of selecting the width for a rod when installing the hardware, most rods are adjustable in terms of the width (note: the lucite rods I have in my office and bedroom are not) and I typically go about 6-8″ out from the sides of the entire window in each direction so I let in more of the view outdoors and natural light.
Measuring the Width of a Rod for Curtain Panels
To determine the finished width, measure the width of the drapery rod. For maximum fullness, you'll want to order curtain panels at least 2-3 times the width of your window to achieve a look of proper fullness.
So if your window is 48″ wide, you'll need at least 96″ of width from the curtain panels for a full look.
The width of most curtain panels is stated as the flat out width. You would never use the curtain flat out, so keep in mind that a 60″ wide panel will not look good if you try to cover a 60″ window with it. You need to provide fullness by using multiple panels for a window that size for a chic, professional look.
Different Styles of Curtain Lengths & How to Measure
Long Puddled Curtains: Add about 6-8" to a panel to achieve this look OR mount your rod lower.
I know for a while there, that extra long, puddled on the floor curtain aesthetic was all the rage.
In the end, they weren't a great option for high-traffic areas or formal rooms for me, and I felt the curtains got dirty very quickly. However, in a romantic, moody primary bedroom or man cave, they'd be so divine!
Floor Length-Curtains: Use the exact measurement of rod to the floor.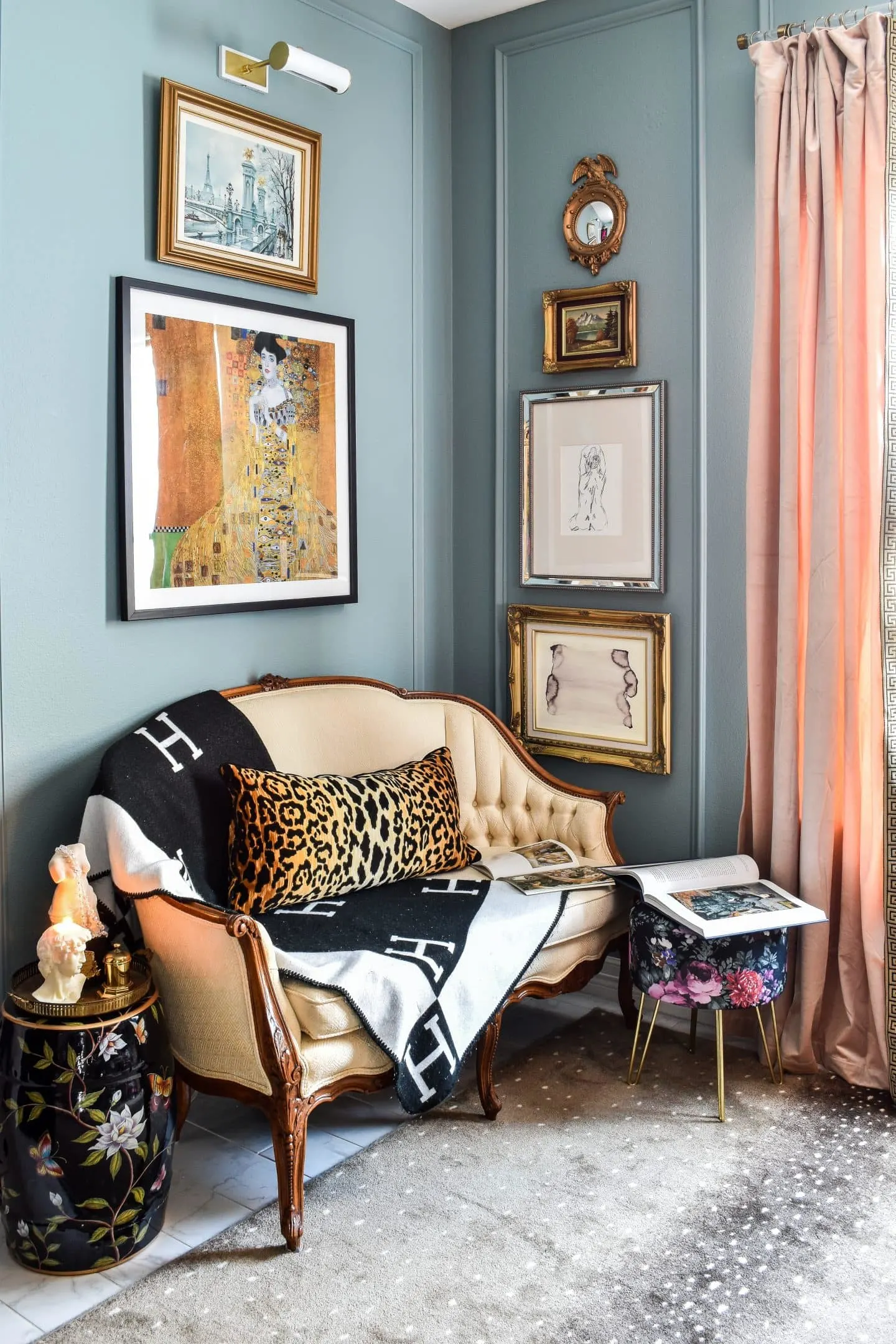 Nowadays, I much prefer floor length curtains that ever-so-slightly kiss the floor for a professional look. To me this is the classic, timeless, foolproof approach to selecting a drapery length.
Just Above the Floor Curtains: Use the exact measurement of rod to the floor and subtract an inch.
This means your drapery will just float ever so slightly above the floor. This is great if you don't the panel to touch the floor at ALL.
Shorter Length Curtains
I also used to think that there was ZERO reason to have short curtains, sill length curtains or cafe curtains, but I've now seen plenty of examples to love them in certain spaces.
Basically- do what you love, friends.
Cafe Curtains: Measure from mid-point of window to the top of the sill.
Usually I've seen these mounted right at the halfway point or sometimes a third of the way down from the window top.
Cafe curtains are perfect for places like breakfast nooks, kitchen sinks, bathrooms where you're likely wanting a bit of privacy or to reduce the sun directly in your face.
I think they're charming and allow the use of fun patterns or colors that you wouldn't likely use for floor-length curtains. You could also use fun trims or more expensive designer fabric since you'll need a lot less of it.
Sill Length Curtains: Measure from top of mounting rod to the top of the sill, or you could add a bit more length to go below the sill, if desired.
The sill length option to me feels the most dated and I'd likely never use this length, personally. However, the length seems perfect for children's rooms, nurseries, etc. for both aesthetic reasons and safety reasons…but in that case I'd opt for a roman shade style without a cord.
If you're wanting that charming cottage vibe, sill length in a fun chintz or gingham is the way to go.
Other Types of Window Treatments
Many also think that swags, cascades and cornice boards are so outdated, but bottom line, it truly does boil down to personal preference and what aesthetic you have or are aiming for.
Cornice Boards
I love the structured, polished look that a cornice board can give a space. Plus it's a good way to incorporate decorative trims and shapes, which is always a fun bonus.
Valance Curtains
If you think of "grandma" when you think of valance curtains… I hear you!
But valances are a great way to give personality and pattern to a space where light filtering or privacy isn't a huge concern OR to add an additional dimension to your curtains for the look of a cornice board type set-up.
You may love the formal tailored look, you may want a minimalist look, or you may want a shabby chic, lace curtains look and getting the proper length for curtains is how you do it!
Swag Curtains
Your mind may go to the opulent, decadent swag curtains found at Versailles or in traditional French interiors…or your mind may also go to the 1980-1990's swag style of curtains sold as sets at Montgomery Wards (AKA: Waverly).
The example below, however, showcases how a gentle swag in a solid color can add a touch of elegance and also highlight the finials.
Fave Places to Buy Curtains or Drapery Panels
Online shopping and free shipping can make shopping for curtains super easy, so some of my faves for affordable and/or stylish curtain panels are:
Also, keep an eye out for well-made drapery panels at estate sales and thrift stores. I recently lucked out and found some gorgeous EXCEPTIONALLY well made vintage chintz drapery at Goodwill for $1.87 a panel.
Now, I know how to sew, so the fact that they're a foot too long for my space was an easy fix, but you could also keep it no sew by using hem ironing tape to hem them in under 15 minutes.
This is why I recommend you keep your window measurements in the notes app- you can easily check to see if a secondhand find will work for your space even when you're out and about.