This home office makeover has an interesting origin story. Originally, I planned to refresh my office a bit as part of a $100 room makeover challenge happening in September.
Then my darling husband had a brilliant idea given how my home office is really, really used now a lot due to working from home… why not swap the office and the guest room? The guest room is a smidge larger and has a phenomenal walk-in closet for all my crafting supplies. It's also further in the house so I can avoid some street noise.
So we decided to do just that, and we ended up swapping a lot of furniture in the process, too. The black and gold etagere that I hated in the dining room area was moved to my new office.
If that wasn't enough, once I started working on the space I did shop my house for most of the decor/furniture, but a few purchases quickly put me past the $100 mark, so I had to scrap that whole idea.
All that to say that this home office makeover came together in the span of a little over two weeks, came in at about $350 (Wayfair kept sending damaged loveseats, so we ended up getting to keep this torn pink velvet loveseat for free which definitely helped save on the budget).
The pink loveseat is Pee Wee's fave thing ever, obvi, but my office is filled with thrifted, secondhand, DIY and Facebook Marketplace (FBMP) treasures that make it look unique and beautiful.
Home Office Makeover Overview
Affiliate links may be used in this post. Thanks for supporting content creators!
I chose to keep the paint color the same mostly because I wanted this to have Parisian vibes. I went to Paris this past March, and so many of the spaces had creamy white walls which made all of the ornate details and art stand out. This meant my alabaster walls were the perfect canvas!
I also found this image by interior designer Suzanne Tucker that stopped me in my tracks when I saw it. The image is from 2009 which proves good design is timeless. THIS is the entire mood board for my office:
What else stayed? The same gold and crystal chandelier stayed in the room since it is so beautiful and works well in the space- we've had it almost two years and it's stunning.
The desk and rug were brought over from the original office, along with the black and gold etagere from the dining space. I also used frames, art and a mirror I already had, so basically the moral of this story is to SHOP YOUR HOUSE.
Home Office Makeover Reveal
So, let's head into the new office, shall we? Pee Wee is sure glad you've taken time out of your day to visit. Here's the view from the door as you enter this Parisian Chic Meets Chinoiserie Traditional space:
And to the immediate right is my desk and all this beautiful stuff! The brass sconces were $13 for the pair, and I converted them from hardwire sconces to plug-in ones and I added crystals and shades (more on that later).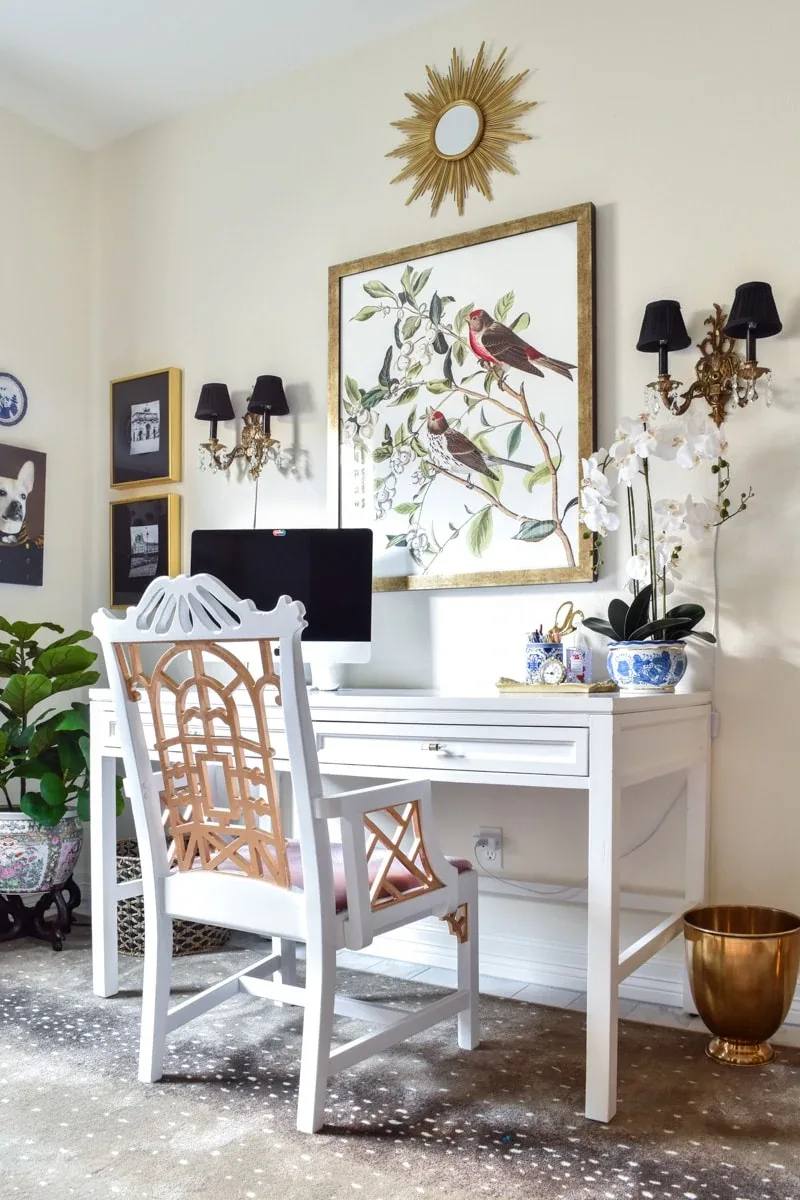 And that photo above is my interpretation of that main wall in my inspo photo. I love that Audubon print and felt it was the perfect statement piece for that wall.
My $20 vintage pagoda chair from FBMP started off a heinous green color and is now white and gilded with a dusty blush velvet fabric (more on this later, too…keep reading!).
I also grabbed this massive bamboo inspired gold leaf floor lamp from our main bedroom to use in here. The shade has been dented since I got it, so I finally had enough and recovered the shade with some scrap velvet leopard fabric. Now it's chic.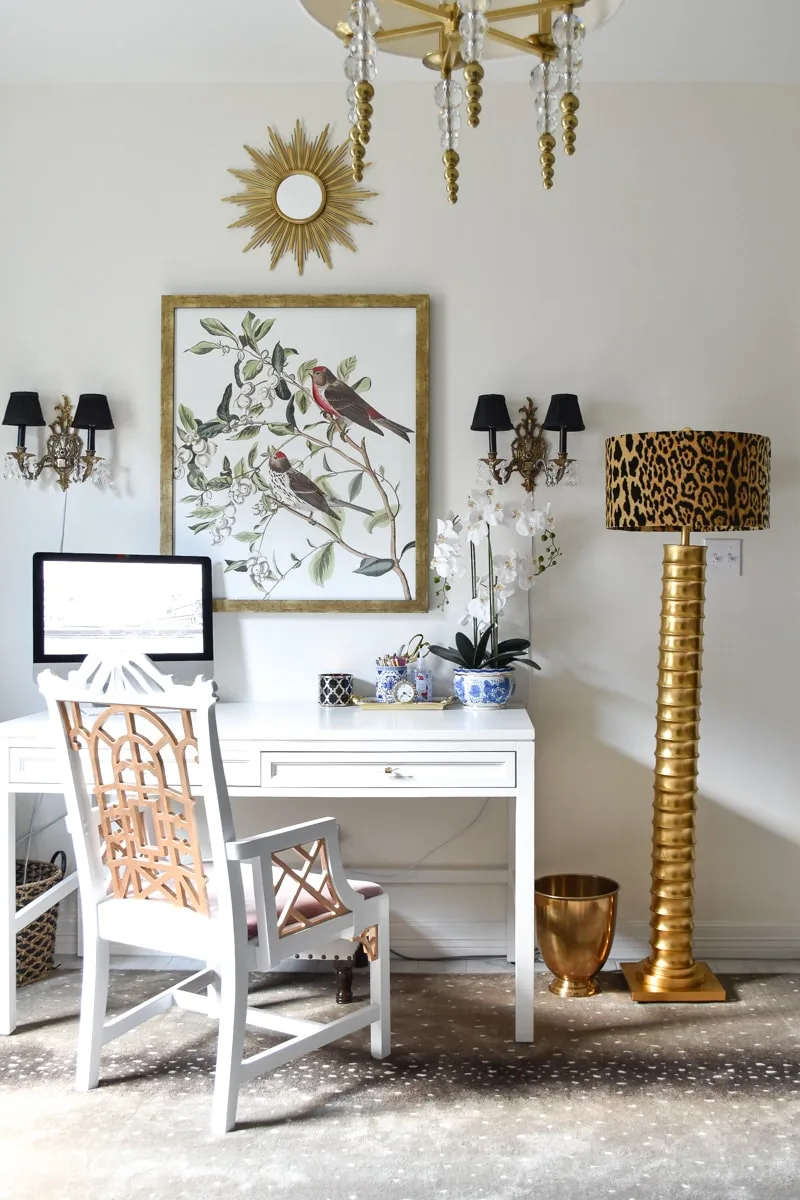 To the left of the desk, I have some black shadowbox frames I've had for a good 10 years that feature pictures from my Paris trip. I also have a darling photo of Col. Pee Wee and a Blue Willow plate I thrifted for a buck.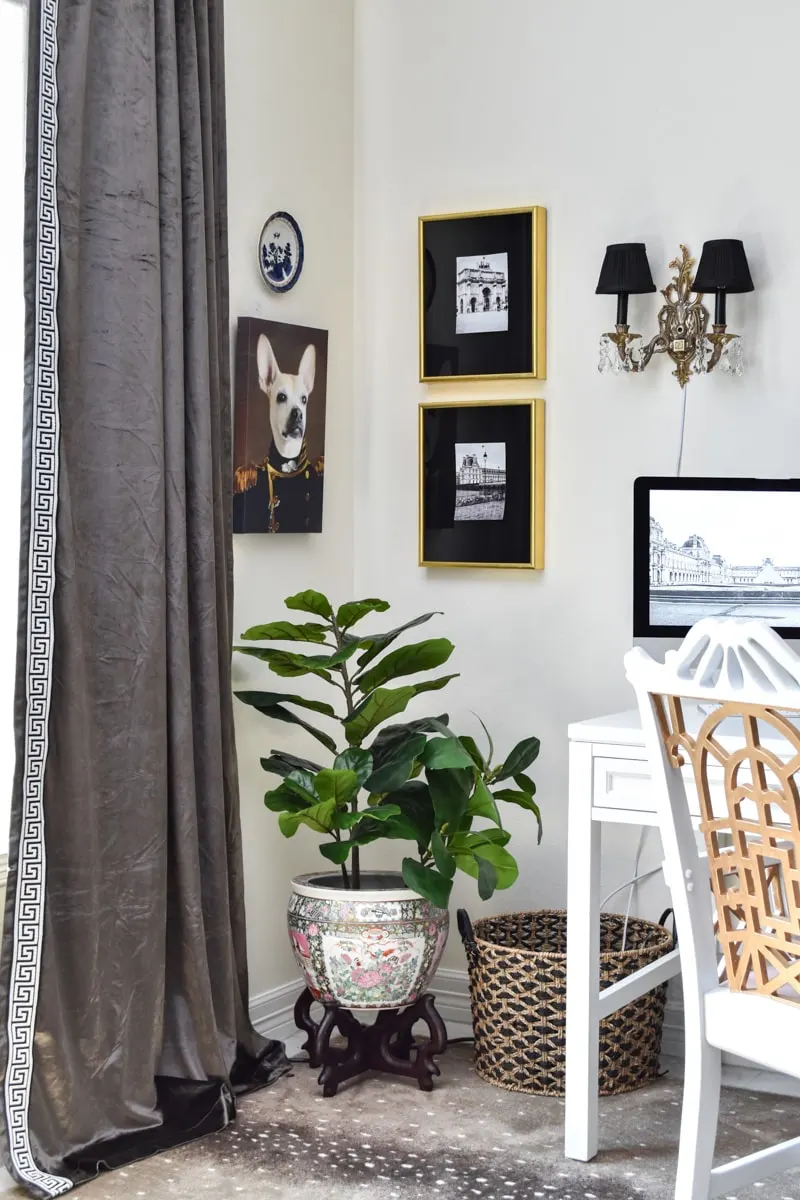 The chinoiserie fish bowl planter with a faux fiddle leaf was a very, very lucky FBMP find for $30 WITH the stand (plant not included). Those types of planters, especially ones this size, can be so expensive. The basket next to the planter holds my surge protector and other cords to keep it looking tidy.
Black & Gold Etagere
We tried selling this piece for over a year with no luck, but it was definitely serendipity because it was meant to be in this office space for sure. I kept the styling pretty minimal and museum inspired.
The large umbrella holder was one of the first things I found at an antique store when I moved here for $25, and I would need very large umbrellas to use it as intended…but it's a fabulous vessel for my wrapping paper collection.
The beautiful sculpture is one of the very few brand new (not thrifted/FBMP) items in the space, and it was worth every penny!
Home Office Lounge Area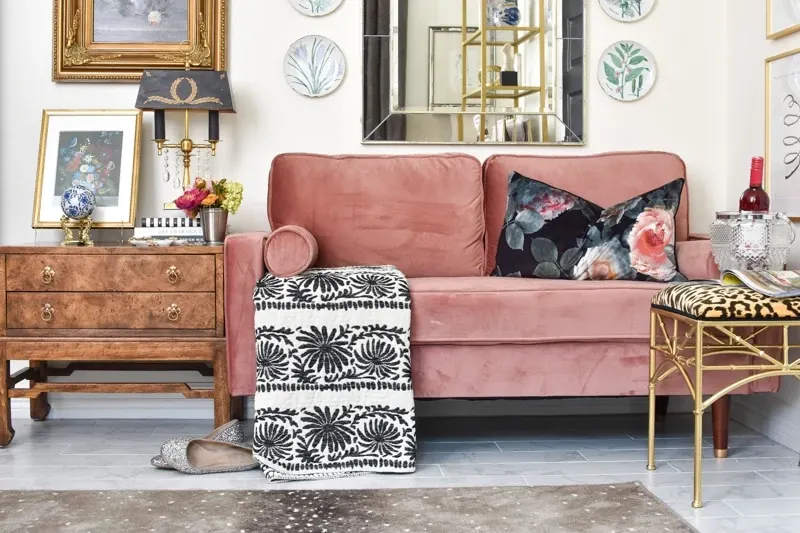 In the previous home office, I didn't have many walls to work with. One was all windows, the other was the closet. In this room, I had 4 walls to work with, and that left me with some room to fit two pieces of furniture to create a lounge area.
I stole moved the DIY abstract gallery art from the living room to the office, and I think it's a much better fit here.
UPDATE: I swapped the abstract art out for some FREE MUSEUM ART prints and some beautiful photos from my trip to Paris earlier this year. I love how these photos transport me back to the streets of Paris and to Versailles and the Louvre.
Can we all stop and take a moment to gush and love on this MCM burl wood end table? It was a VERY LUCKY $25 find at Goodwill, and it's by American of Martinsville. All this piece required was a good cleaning with Orange Glo, and I easily polished the brass with my fave product ever.
The black and gold tole lamp was another lucky FBMP find for $15 that was sooooo tarnished. I documented the transformation/how-to on Instagram, and it was worth all the effort in restoring it. I added some crystals for glam.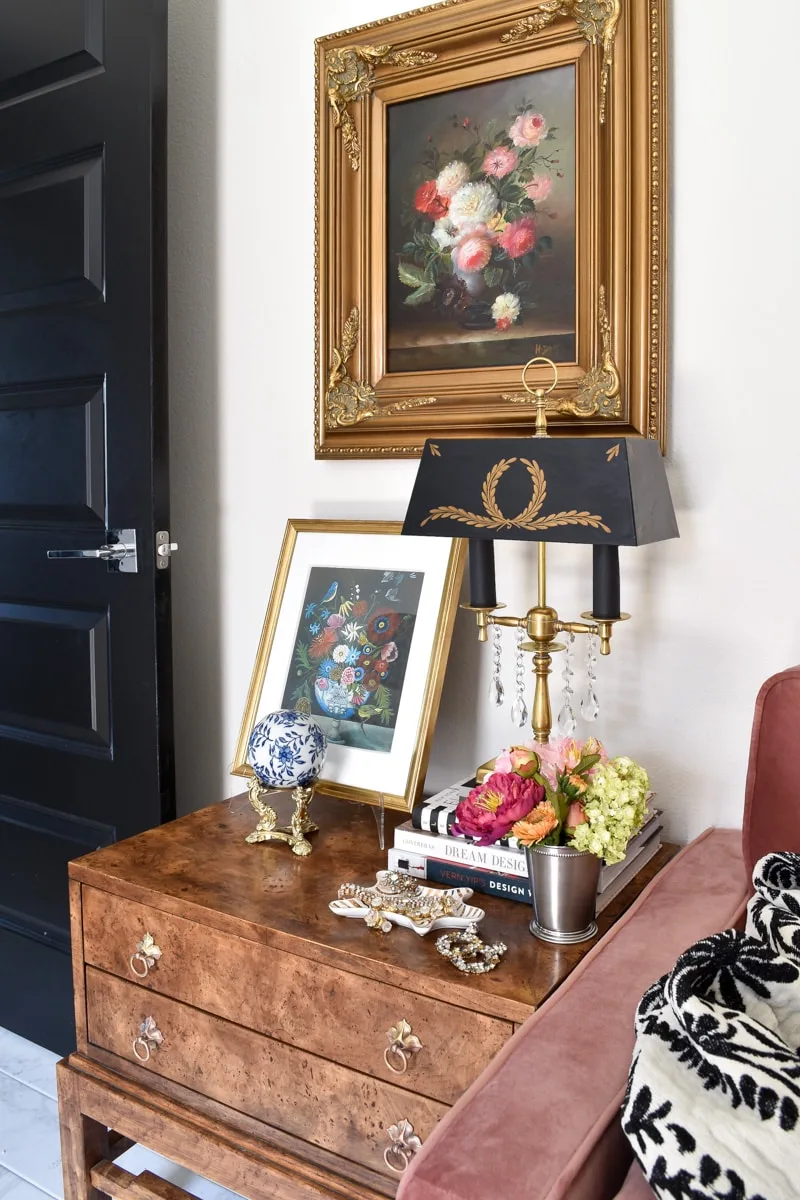 I also love this burl wood end table because it allows me to display pretty things like my grandma's costume jewelry. Above the table is an original oil painting I found at a consignment store two years ago, and the frame alone made me want to buy it.
Blush Pink Velvet Loveseat
This loveseat… I LOVE IT. If you look at the product photos, it looks like baby shower pink. If you read the reviews, everyone complains it is a dusty rose color. The people complaining are what swayed me to buy this- it's PERFECT. The color is sophisticated.
However. The packaging is atrocious. We ended up with two of these loveseats trying to get one that was not damaged, and eventually Wayfair had us send one back and let us keep the one with the least amount of issues. I've Photoshopped the torn area on the arm so you can't tell in photos.
Pee Wee and I have fallen asleep on it together several afternoons, and I added some faux brass caps on the legs using some liquid gilding.
I love how my thrifted bamboo ottoman looks with it- it used to have some ugly palm tree fabric that I swapped for leopard. Some of my fave gold spray paint also brought the frame over to this century.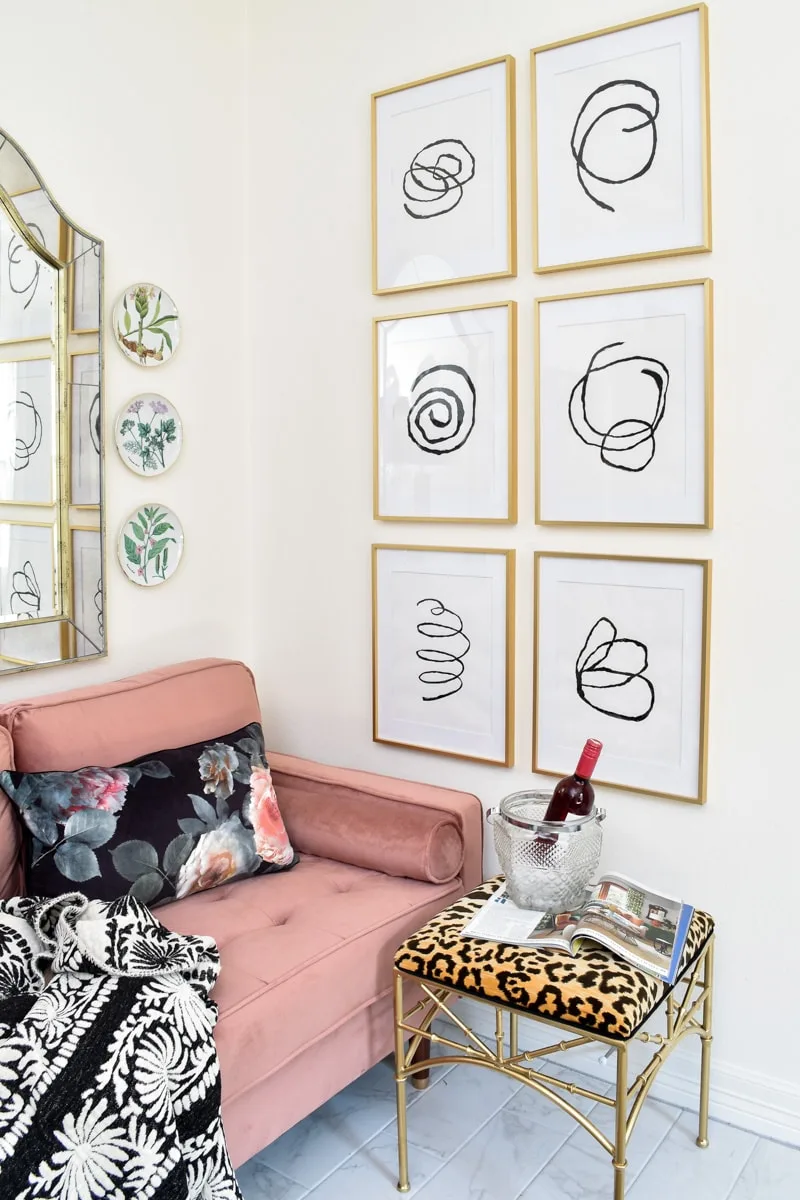 The mirror above the loveseat was already in here, so I centered it and added a set of vintage Horchow floral plates I scored for $9. I used my gold tape trick (seriously, go check it out!) to add a faux gold rim detail around each plate.
This gold tape is amazing! I also added some to the orchid planter on my desk so it would look fancy.
DIY Projects: Home Office Makeover
I know I did all of this very unconventionally since most of the tutorials are on my Instagram Highlights rather than dedicated blog posts as I went along. Given these projects were simple and this makeover came together in less than two weeks, I am briefly highlighting what was DIY'd below and giving links to tutorials/tips.
DIY Greek Key Curtains
One of the DIY's in this space is the Greek Key trimmed curtains. This project was super easy and required zero sewing. I went over my process here, and this is the iron-on tape I love to use!
The tape is so strong that I DO NOT iron it on there. This way I can lift and reuse on other curtains down the road. Genius.
I think this DIY hack is an easy one to do to make any plain store bought curtains (these are gray velvet ones from HomeGoods) look a little more luxe and polished.
I also love the warmth and glam that the gold curtain rod and gold curtain rings add to the space.
DIY Brass Plug-In Sconces
When I saw these at an antique store for $13 for the pair, I knew I had to rescue them. I bought this pack of lamp cords, these crystals and used a lot of brass cleaner to bring them back to life.
Here's a little GIF showing how they look once turned on:
The socket covers were dingy, so a coat of satin black spray paint makes them look good as new. The black shades were $4 for all 4 of them at a local Goodwill.
Switching them from hardwired to plug-in was easy, and it was a decision I made because I didn't want to fully commit to the expense of hardwiring them into this new office space. This way, I have options and flexibility. View the full tutorial here.
After all the cords, crystals, shades, replacement socket, I spent about $60 total on the sconces, or about $30 each.
Vintage Pagoda Chair Makeover
This chair was in poor shape (hence the $20 price tag), and it was a ton of work! The whole DIY process is here in video, and I likely will do a blog post on this since it is detailed.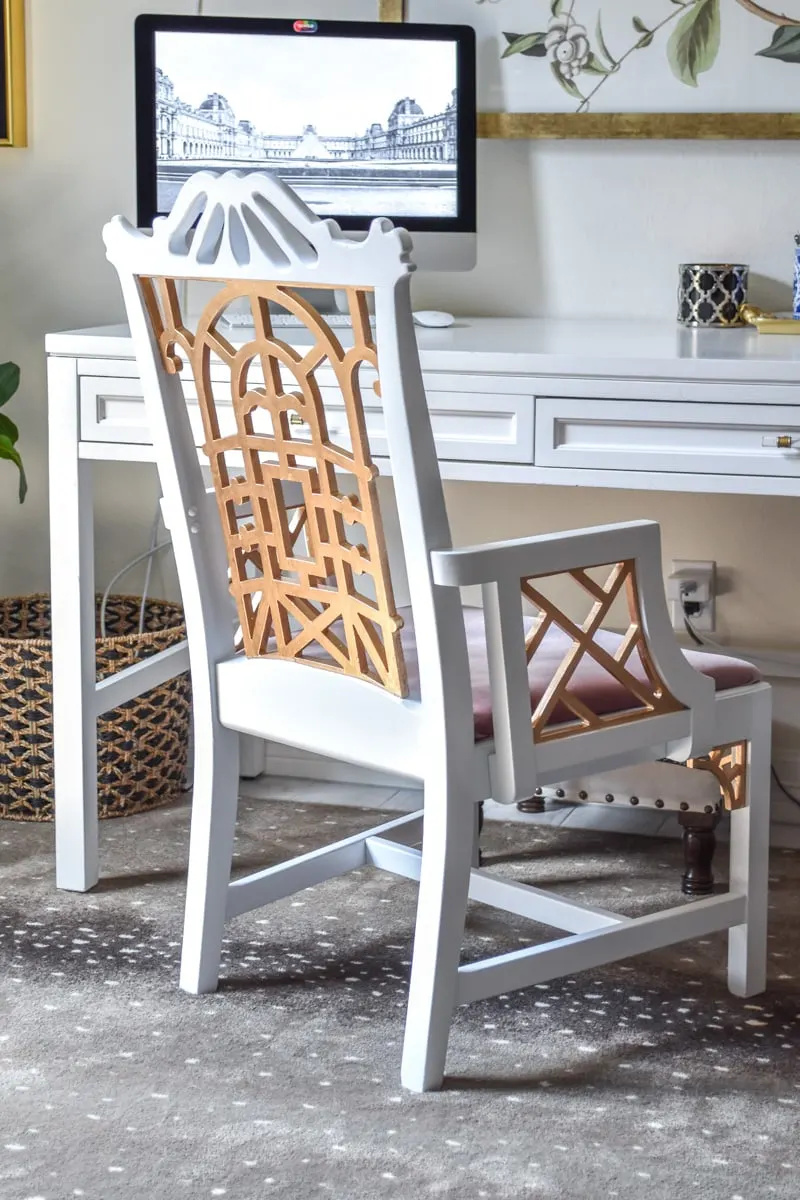 This chair took several days of work to prep, paint and gild. I ended up reupholstering the seat myself, and it looks great! My paint sprayer really makes this sort of work go fast- the prep work takes forever.
Home Office Makeover Detail Shots
And a few final beauty shots of those little details that pull together the space. Sources are linked throughout the post and also collectively linked below.
DIY Tutorial Links
Product Sources