I have ANOTHER room reveal for you all today and it's all about my home office decor. I recently posted my guest bedroom makeover, so make sure to check that out, too.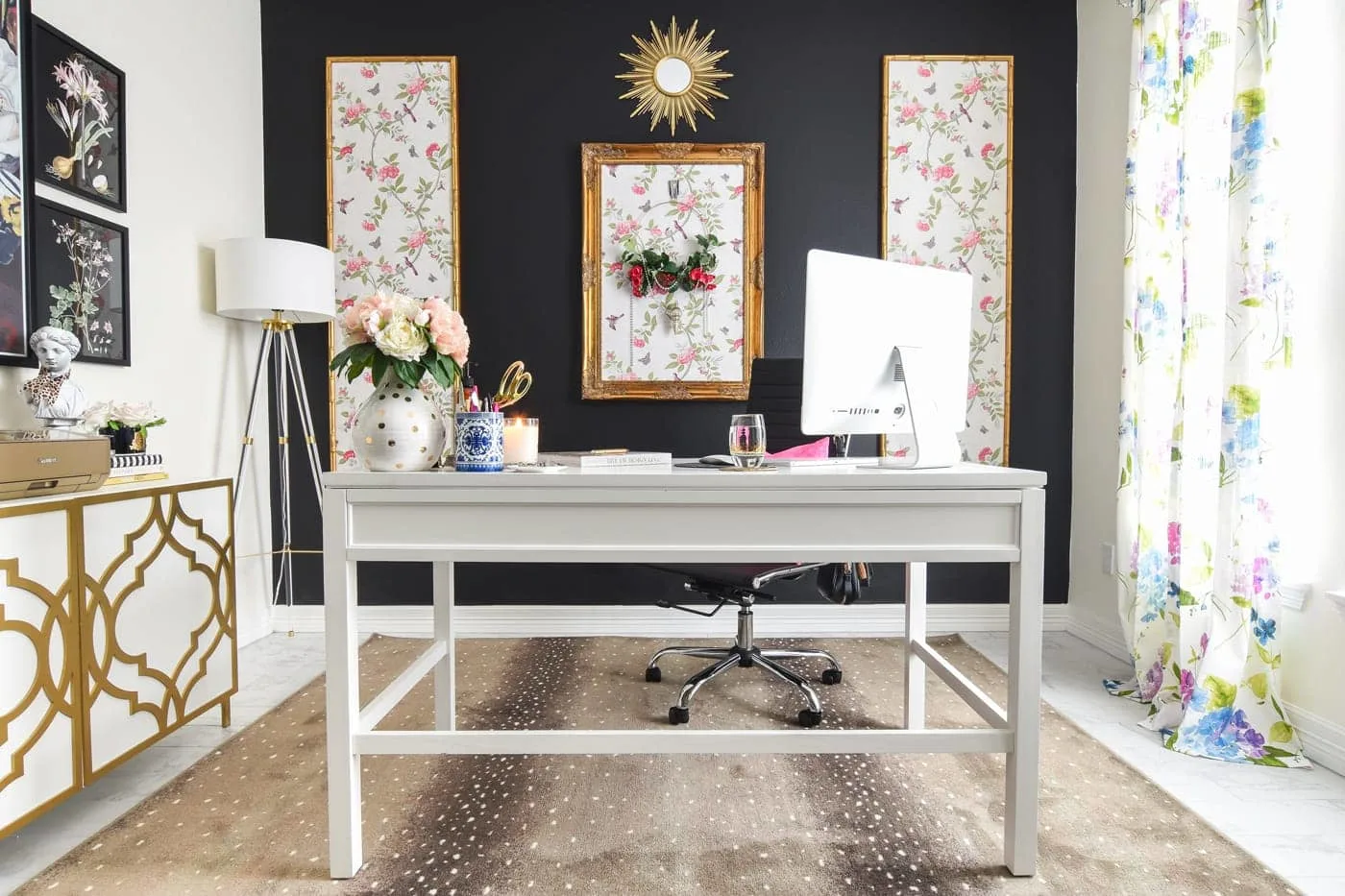 I know I haven't truly written a lot about this process. Back in November, I wrote about my DIY bamboo and chinoiserie wallpaper panels and I've shared tons of behind the scenes stuff on my Instagram stories, but not much here on the blog.
Home Office Decor Plan
The overall vibe I wanted in this space was organized, colorful, feminine and energizing.
When I get into a blogging groove, I spend hours in here, so I wanted it to be a place that sparked joy.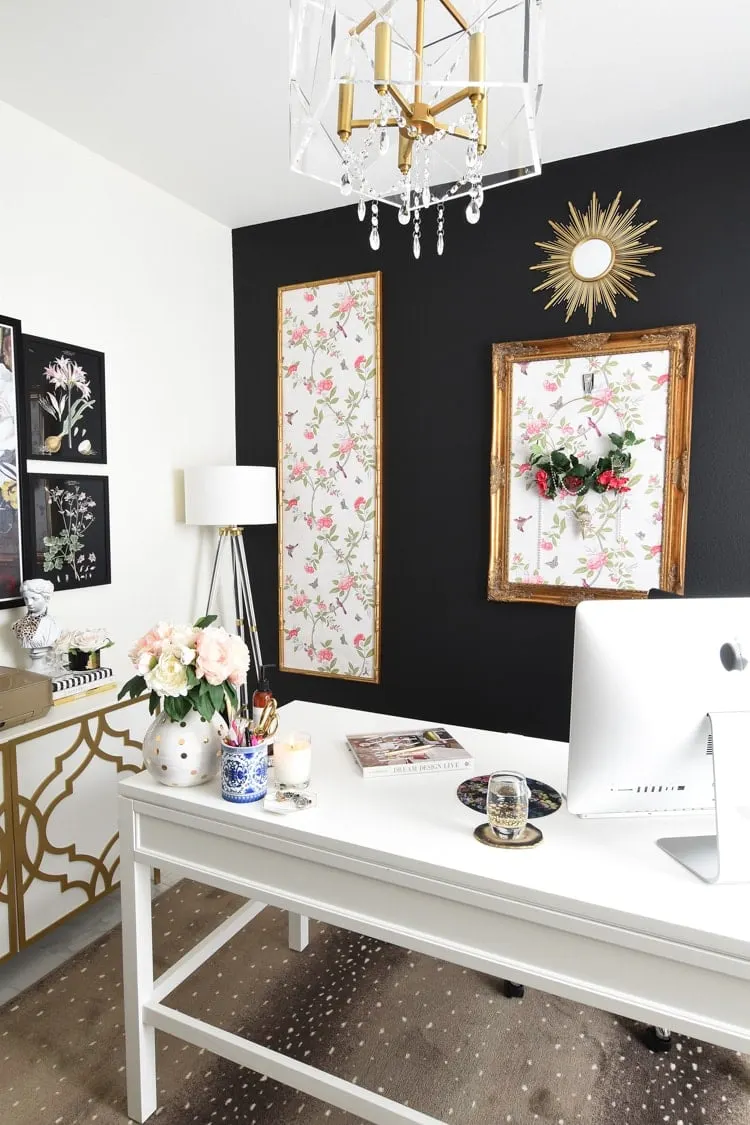 Furthermore, my sidekick and partner in crime Pee Wee had to have a comfy place to chill out with me so he can nap and bark at evil spirits.
Being the budget/frugal minded person I am, I wanted to reuse pieces we already owned to furnish the space. This is how the gorgeous olive green velvet chair and IKEA Besta chest (both formerly from the master bedroom) ended up in here.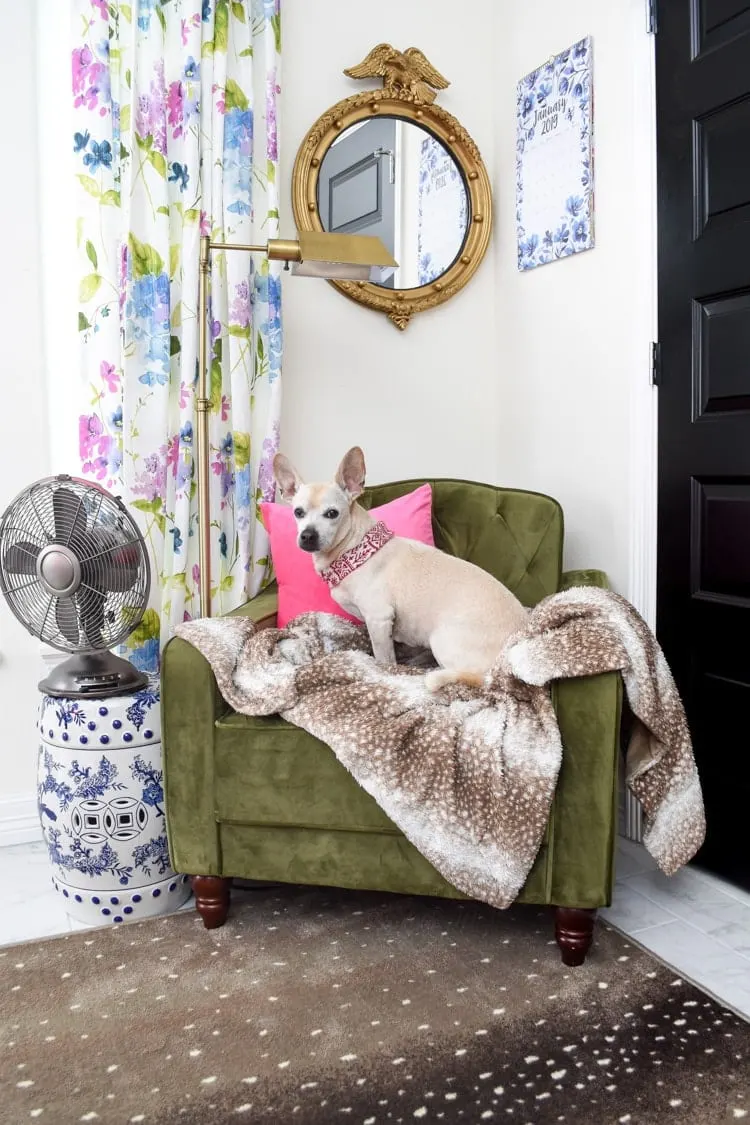 The only furniture I ended up spending money on was this beefy white craft desk. As lovely as it may look in the photos, I do not recommend this desk to anyone.
It's incredibly difficult to put together, desktop isn't flush, the drawers are about 1.5″ tall and overall…just literally buy any other desk.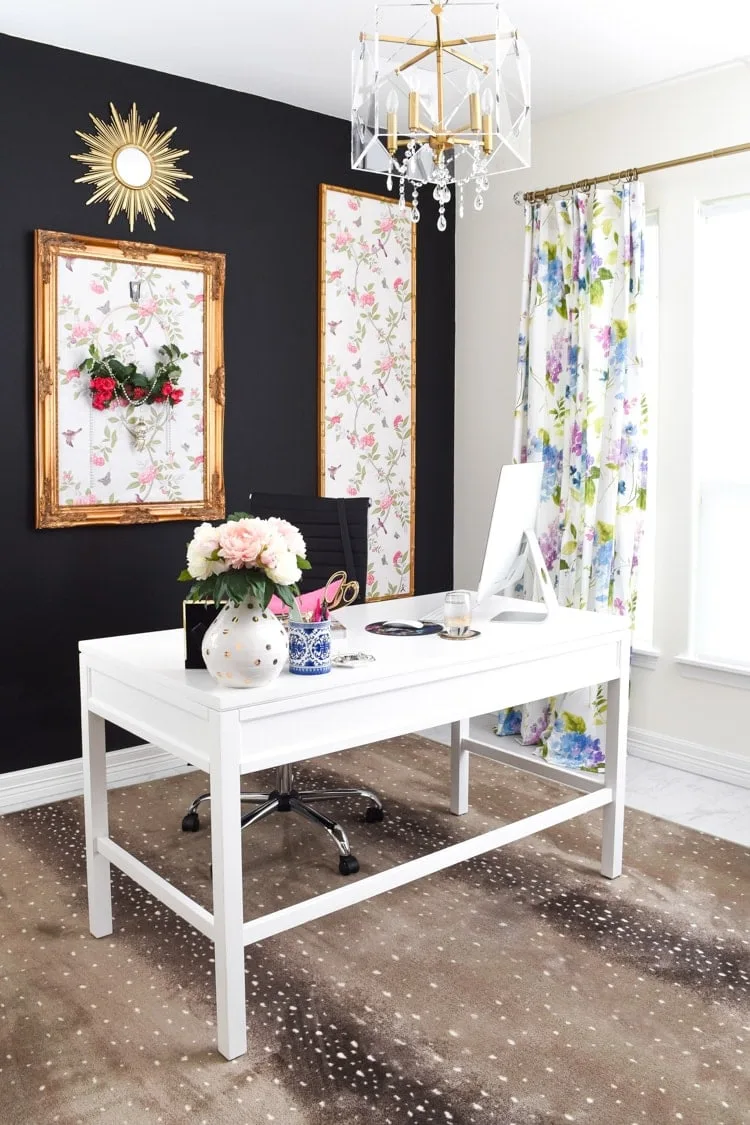 Home Office Decor & Art
To fill up the vast amount of wall space above the Besta unit, I hung up my floral art piece. I snagged that beauty in 2017 during a Black Friday sale. As luck would have it, I recently found the smaller art pieces on clearance at Ballard Designs and they all work together beautifully.
Generally I like to keep supplies tucked away in the closet or in the Besta unit, but somethings are too pretty to stow away. Plus, I love getting to enjoy the unique decor I find like the tobacco leaf porcelain box and the sassy bust statue. I gave her a leopard scarf to match her personality.
The beautiful O'verlays look amazing and elevate an otherwise super simple IKEA furniture piece.
This gallery wall makes my heart happy because it's colorful and curated. A hodge podge of stuff makes my teeth itch, as my boss would say.
The Besta unit actually holds quite a bit of stuff, and the rest is stored in the closet. I did a few things in there to maximize storage space and add lighting all for under $75 and in under two hours. I'll share all that soon.
I love a beautiful desktop, but even more so, I love a fairly clean and empty desktop…so the decor here is kept minimal and mostly useful.
Some flowers, all my fave pens, a sparkly pineapple, a candle and some rose peppermint hand lotion for my very dry hands. I have gotten so much use out of those faux peonies- I hope Pier 1 has a new version this year.
You all are likely going to roll your eyes at how "extra" this is, but after Christmas, my friend Jennifer from Dimples & Tangles shared that she bought a vase from Target on clearance and was using it as a trashcan. I then bought said giant vase and am also using it as a fancy office trash can. I mean, for $6 you can't beat the price!
Not even kidding, my husband and I have a weekly tradition of visiting our local HomeGoods. Well, my mom was in town over the holidays, and she must be my lucky charm because I found a four-pack of floral curtains for $40 that were MEANT TO BE in this space.
I have light filtering roller shades, but I love the extra little layer of filtering these beautiful floral panels add.
Chinoiserie Wall Panels
I partnered with PictureFrames.com on the custom bamboo gilt frames for my DIY chinoiserie wallpaper panels. I knew these bamboo wall panels would be the home office decor focal point.
I've worked with a few picture frame companies during my nearly 10 years of blogging, and I really feel like the quality, customer service and variety from Picture Frames is really outstanding. My order was packaged very well, and I am confident I will use their services again in the future.
The beautiful gold bamboo frames on the tricorn black accent wall really pops, and then my Karastan custom bound antelope PRINT rug really brings it all together to create a stunning space.
The framed chinoiserie panel in the center is a giant frame I bought at an estate sale, and I turned it into a memo board. I chose to use the same wallpaper to have it be cohesive.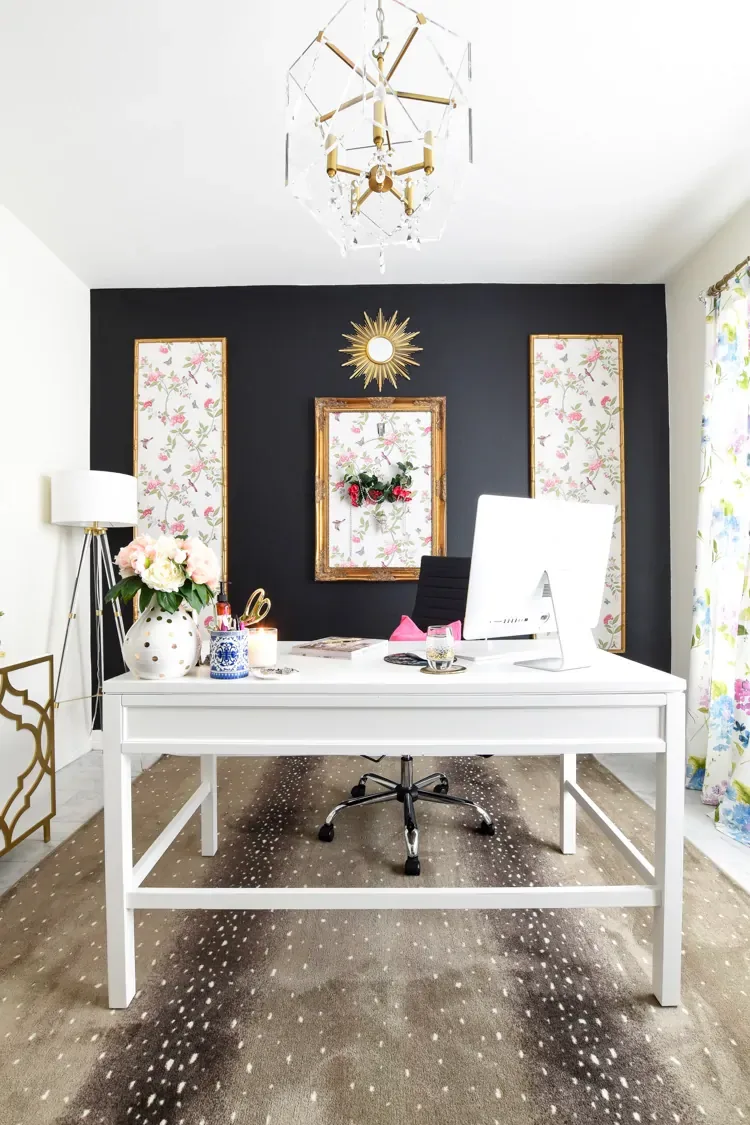 The home office decor is just what I envisioned, and the chinoiserie wallpaper panels is the cherry on top. I can't thank PictureFrames.com enough for supporting my vision and making it happen.
A special shoutout to Mark who is doing amazing work for them!
And a few final shots for those of you who aren't sick of all the photos yet. I actually added one more piece of furniture to this space, and you'll get to see it next Friday.
I did however post a sneak peak on my Instagram if you can't wait until then.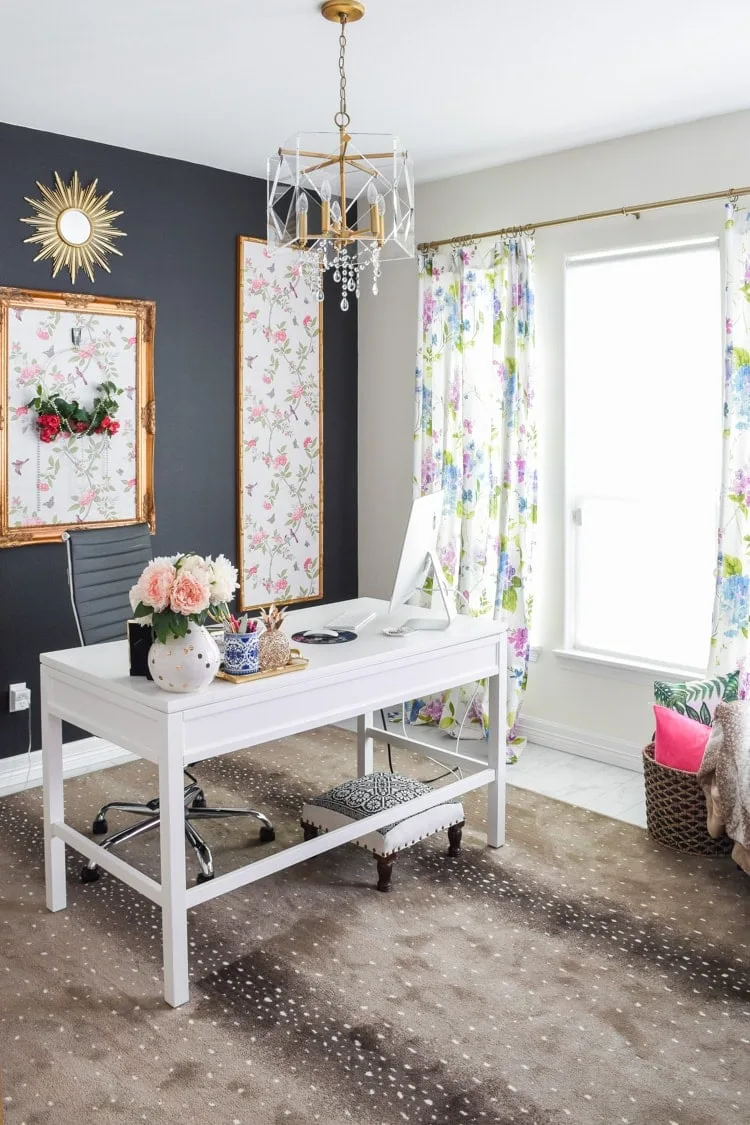 Thanks for coming along this journey with me, and another sincere thank you to Karastan and Picture Frames for partnering up with me.
What's your favorite part of the space? If you have any questions, please drop them in the comments.
DECOR SOURCES:
Antelope Print Rug | Bamboo Frames (DIY Tutorial Here)
Hot Pink Throw Pillow Covers (Set of 2)
| Lucite Chandelier
White Craft Desk | Lucite Chandelier (Tends to be cheaper here)
Chinoiserie Wallpaper (Similar)
| Lucite Floor Lamp
Gold File Holder | Floral Curtains (Similar)
Tufted Green Arm Chair | Crystal Pineapple