I wish I had some epic guest room makeover progress to show you all for the New Year New Room Challenge, but the reality is… I most definitely do not.
This guest room makeover will in all likelihood come together in the last half of the month due to things like shipping delays and life. I still haven't ordered the headboard because I keep forgetting, and I finally decided that due to time constraints I am not going to use the blue hydrangea wallpaper from Milton & King that I desperately wanted to use.
Installing wallpaper is something that should be done properly and meticulously, which is something that for me will not happen in the last two weeks of this month given I work a full-time job.
HOWEVER, I am excited to shift my focus to how you can make a big impact in a space without painting or doing anything major to the walls. This is where bold accessories, colorful furniture and fun accents will really bring the space to life.
Here's the vision:
I also remembered I have some giant vinyl gold shiny polka dots (aka: circles) that I can use to easily spruce up the wall behind the headboard.
Here's kinda what I am thinking: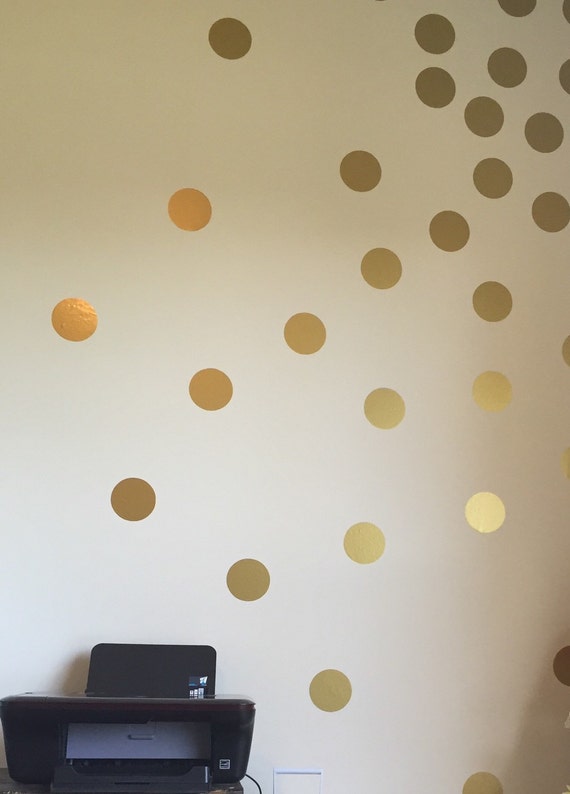 This week a lot of items will come in, so I pinky promise I will have some major updates. BUT I did finally clear out so much of the junk in the guest room thanks to Tidying Up and Marie Kondo. That show gave me so much anxiety, but on the other hand, it inspired me to leap into action and get rid of stuff that we hadn't used in forever.
Moving forward I'll definitely only be buying things that "spark joy", which will in turn save me money AND storage space (and dusting/cleaning time!)
Here's to progress next week! But for now, check out the updates the other New Year New Room Challenge participants have this week:
Casa Watkins Living // Domicile 37 // House Homemade // Iris Nacole // Monica Wants It //
Jeweled Interiors // Pocketful of Posies // This Is Our Bliss // Up To Date Interiors
And a big shout out to the amazing sponsors!