Gray green paint colors are having a bit of a moment right now in the home decor and interiors realm. In my own home I used a gray green color (Vert de Terre by Farrow and Ball) that to me has a distinctly French earthy vibe.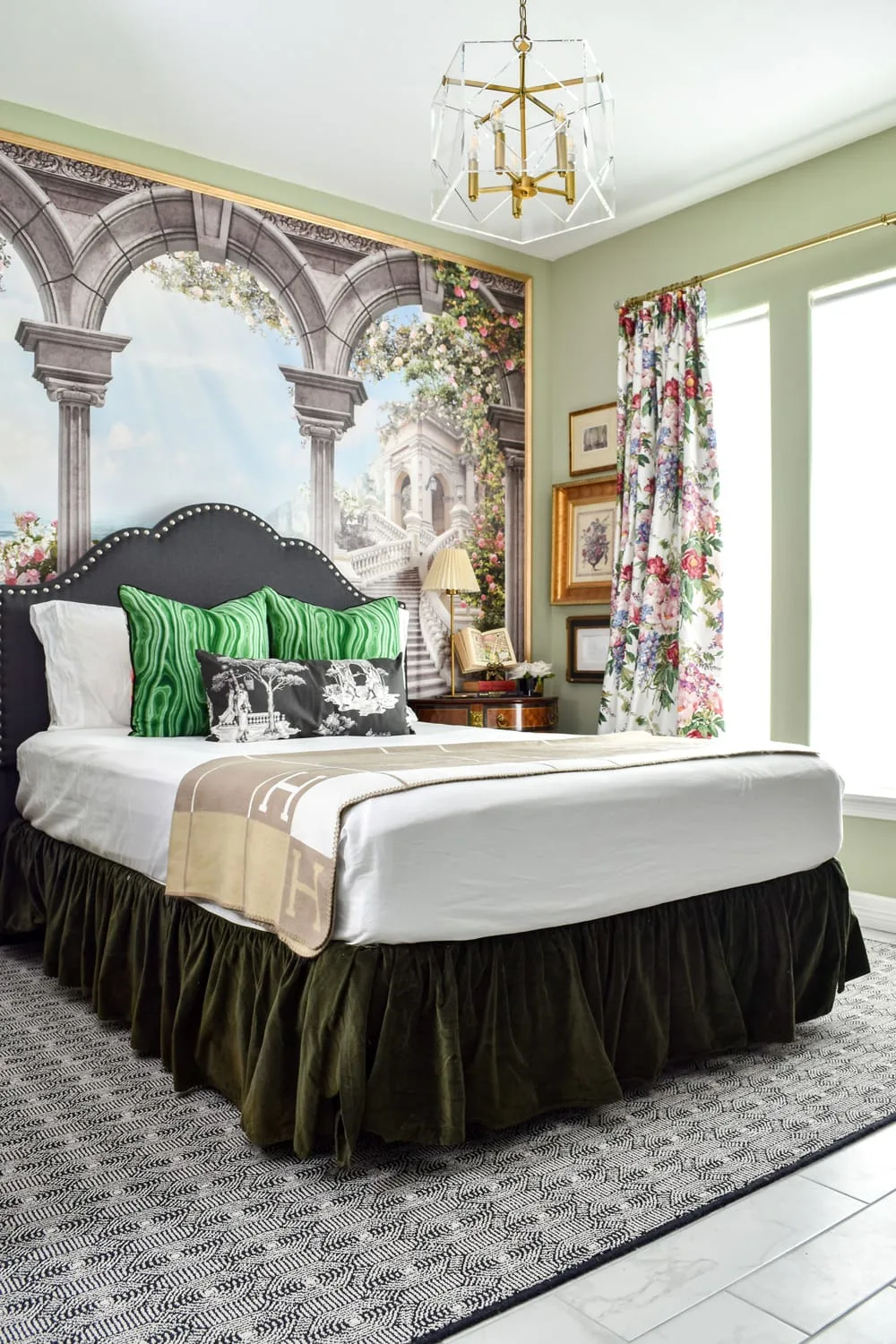 Why Gray Green Paint?
Most gray green paint colors will register as a neutral, so if you're a bit color averse in your home, this is a safe yet bold option.
Back in the 2010's, it was quite literally 50 shades of gray paint everywhere. Gray was THE color dujour no matter if it was on walls, front doors, exteriors, dressers and rugs.
And now… we're all kind of tired of it, right? But at its core, gray is a solid choice for a neutral vibe, but layering in a bit of that green paint color amps it up to a whole different level.
That's why choosing a greenish paint with a gray base allows you to either keep it all very neutral with wood tones, crisp white touches, and maybe some brass– think of Scandinavian design with a bit more color.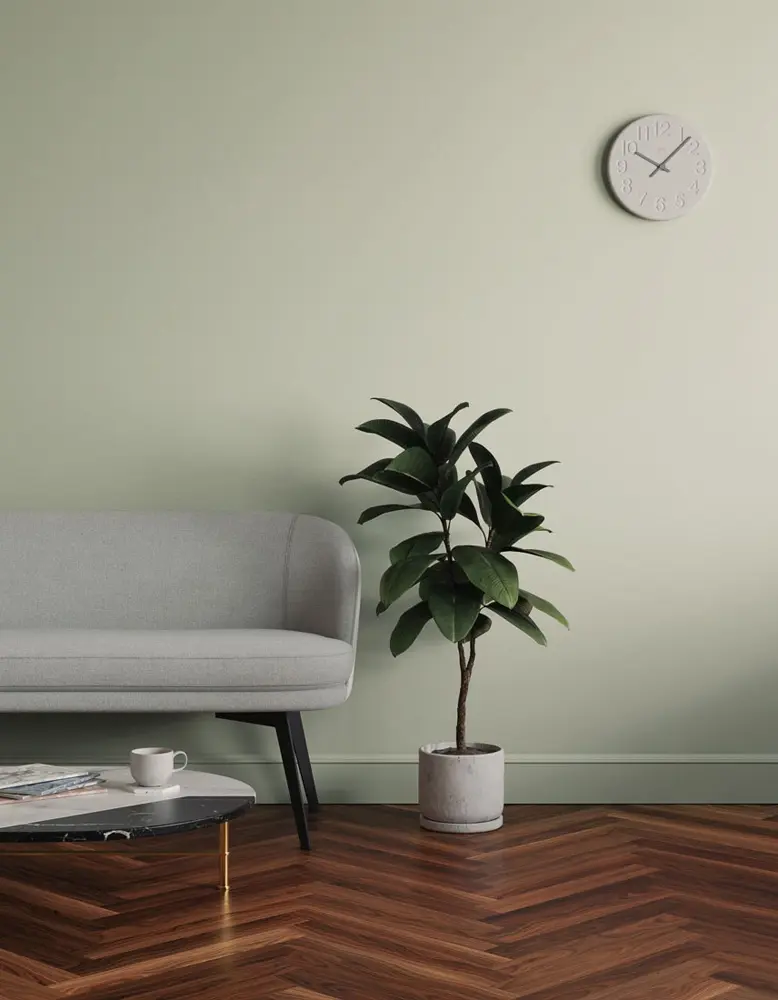 Or you can go nuts and incorporate chintz florals, bold animal prints, cabana stripes, etc and deck it out in a maximalist, Jungalow or bohemian style.
Bottom line- choosing a paint color in the shades of green below will serve you well for years to come and give you plenty of versatility when it comes to decor, rugs, art and furnishings.
I'm going to divvy up this post into my favorite gray green paints from Farrow & Ball, Sherwin Williams, Benjamin Moore and BEHR, as well as some other direct to home paint brands and companies that maybe aren't on your radar.
Farrow & Ball Green Gray Colors
Eddy
In late September 2022, Farrow and Ball released 11 new colors, and while I love most of them, the light color Eddy caught my eye.
It is decidedly a bit more on the gray side than green on my computer screen, and Farrow & Ball states it is lighter than French Gray, which is the next color on my list.
French Gray
This is a color I strongly considered for our guest bedroom, but it was a bit darker than what I wanted. This may be my favorite green paint color.
French Gray is a chic choice if you're wanting a moody vibe or have a lot of antiques. It envelops you without being too dark or bold.
Vert de Terre
As I mentioned earlier, we ended up using this perfect color for our guest bedroom. In the daytime, it is an earthy, uplifting green.
Once it's a little later in the day, it becomes a relaxing muddy gray green that is perfect for a small space. I treat this shade of green as a neutral color.
Ball Green
Ball Green in a room that doesn't have much natural light definitely leans gray. I'd recommend choosing this color if you have beige, ivory type furnishings paired with crisp linen drapery panels. Very timeless, neutral.
Card Room Green
Another guest room paint color contender that we didn't select is Card Room Green. In our space it was a bit dark, but this color would look fabulous for a library or formal sitting room. It's deep and moody without being overly dark.
Treron
The picture above stopped me in my scroll on Instagram when I first spotted it, and it's been living in my saved folder ever since.
Treron looks so good with velvets (and that black color combination…yasss!), plus that Anthro style mirror. Is it too soon to paint my office again?
---
Sherwin Williams Gray Green Paint Colors
Liveable Green
A solid choice for a gender neutral nursery wall color or a bathroom, Liveable Green is soft, delicate and will happily play the supporting role in a room makeover.
It's not a showstopping color, but it's an approachable option if you want a neutral backdrop so your furnishings can be the main act.
Evergreen Fog
This is a mid-tone color that would be a great option for a swanky bedroom makeover. Pair Evergreen Fog this with plaids, some equestrian artwork and warm wood tones and you have yourself a Pinterest worthy room.
I could also see this paint color working well in a small home office.
Silvermist
This color also has a hint of a blue undertone in it that may appeal to someone with a Coastal Chic (AKA: Coastal Grandma) vibe. What gives it some interest is that this color also features a bit of a sage undertone.
Silvermist would look great in a room that gets plenty of daylight so you can enjoy the color shifts as the day goes by.
Rosemary
Not just a delicious herb (rosemary on a steak with butter, yes please!) this color is perfection! It's not quite army green, it's not olive green, it's rosemary. I love this color in a kitchen, particularly on an island in a sea of white. This is a paint color where chrome or brass would look phenomenal.
Sage Green Light
If you're looking for a color that is a bit darker and has both sage and olive undertones with a dash of green… here you go! Sage Green Light is part of Sherwin Williams' Historic Color Collection, which means it's a timeless color that would be great for older homes, but also looks amazing in new ones. I love this tone on tone look with the door and trim.
Benjamin Moore Gray Green Paint
Mohegan Sage
Mentally, I've designed a speakeasy bar using this color. It's the darkest of the bunch thus far, and would be best suited for someone who has light colored furnishings and window treatments so that paint color sets it off. Definitely on the grayer side, but that hint of green is delicious.
Also? Perfect for a front door against a neutral exterior.
Gloucester Sage
This earthy hue with warm undertones is one of Benjamin Moore's most popular green shades. It's warm, has a bit of brown and is a color chameleon depending on the room's lighting. I think it would make a solid choice for an exterior color on a Craftsman style home or even a garage door.
Salem Gray
If your home features a lot of rustic, weathered furniture and oil rubbed bronze finishes, might I suggest that Salem Gray would be perfect in your home? I'd layer in some coffee hued velvet textiles, natural botanical prints and cuddle up with a good book in a room painted this color. A wonderful neutral paint color.
Crownsville Gray
Jewel tones come to mind with this green gray paint color. Think burgundy, eggplant type hues and brass touches galore. This color is warm, not too dark, not too light and would look amazing with most decor styles, especially transitional ones.
Grecian Green
Is your goal a light paint color with the slightest hint of green with a dash of gray? Grecian Green is the color you want. It is so incredibly soft that you'll likely have to squint to see the green. Perfect for a serene, calm space.
BEHR Green Gray Paint Colors
Jojoba
One of BEHR's most popular colors is Jojoba. The color is reminiscent of a spa-like environment to me. It exudes calming vibes and a slightly cool and minty undertone. This hue would complement cottage, shabby chic style decor, too.
Desert Springs
This is likely the LIGHTEST color on this entire list. It's a perfect neutral backdrop.
It is very nearly white, definitely has some gray to it and a dollop of green. People who are color averse but want to paint a room "not gray, but not white" will love this color. It's clean, airy and inoffensive with green undertones.
Laurel Garland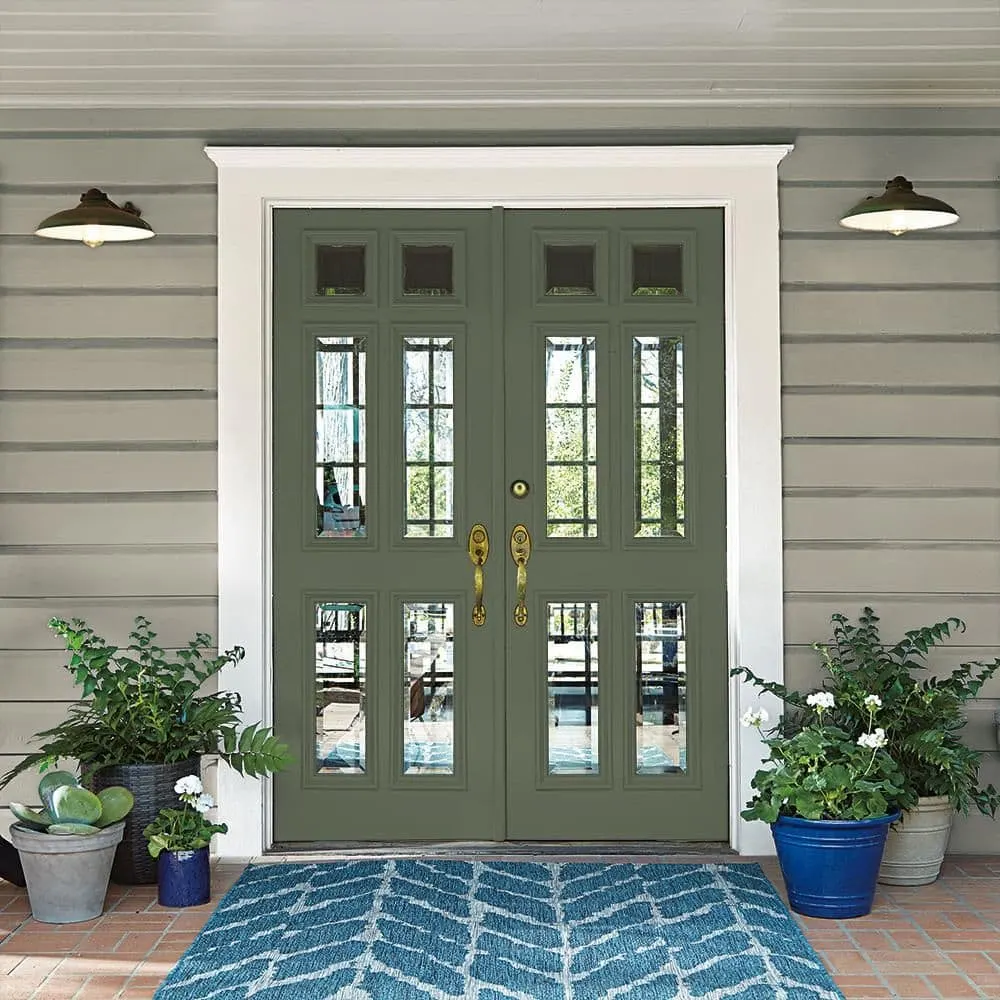 Let's say you have a lot of gray furniture and you're wanting a mid-tone, ever so slightly moody gray green paint to pair with it? Laurel Garland is the answer. It's crisp, not too olive, not too brown, not too cool toned.
Also a solid selection for kitchen cabinets or DIY furniture painting projects because it's essentially a versatile color.
LICK
If you've never heard of LICK, honestly neither had I up until maybe two weeks ago? They're a direct to your doorstep online shop that sells low VOC paint, wallpaper and supplies.
If you're the type where having 1600 different paint colors to choose from makes you feel overwhelmed, you'll love the chic, curated selection they offer.
Green 09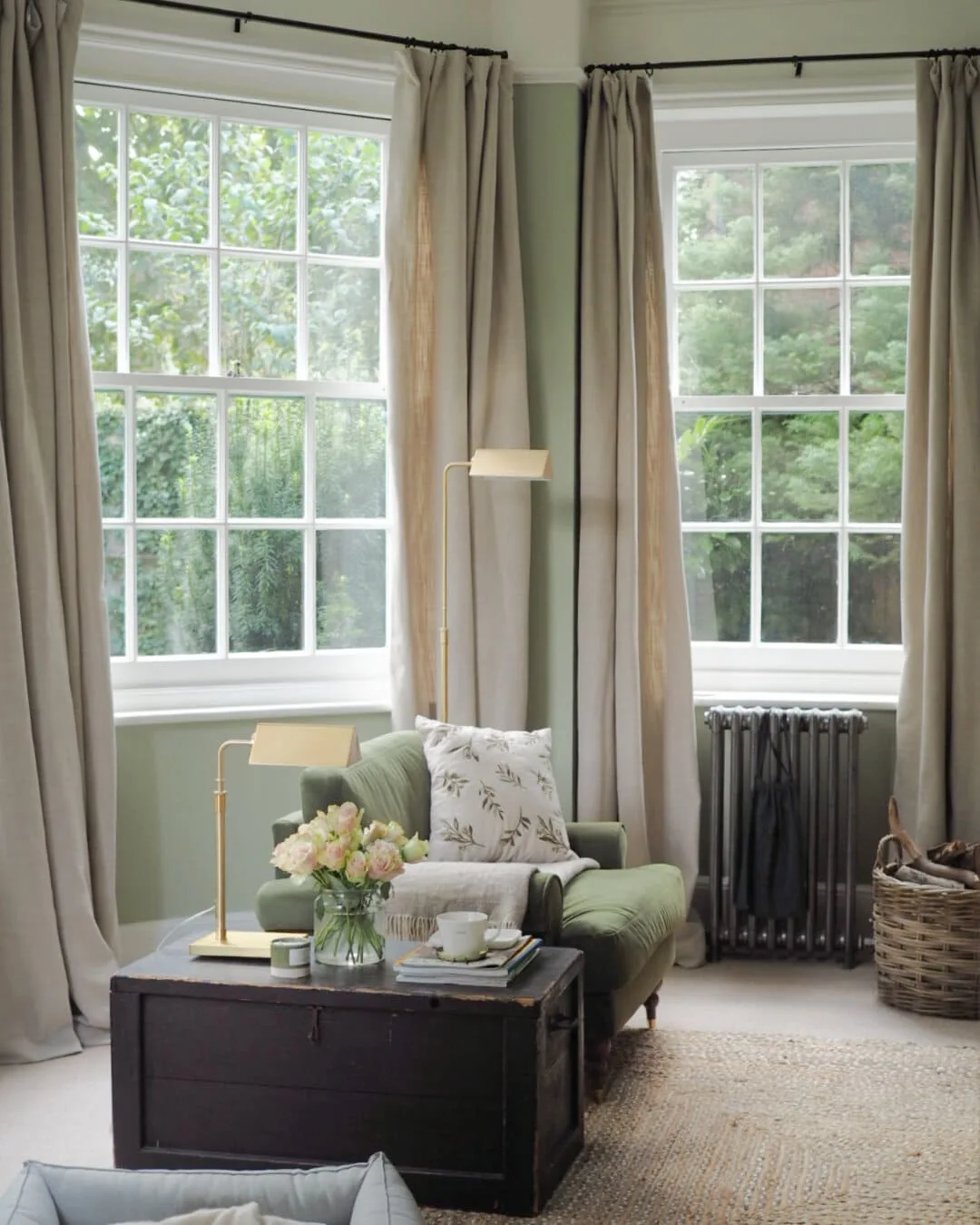 This gray green shade is bright, energizing and looks spectacular in the family room space below. Definitely can see the light gray undertones, but the green shines through without feeling too juvenile or like it was meant for a kids' room. Green 09 is absolutely a sophisticated shade.
Graham & Brown
You're likely thinking…the wallpaper company? Yup! Maybe a couple years ago they launched a small selection of paint colors that perfectly accompany their vast selection of wallpaper, and I feel like their paint colors are very well done and a little more daring.
Whirl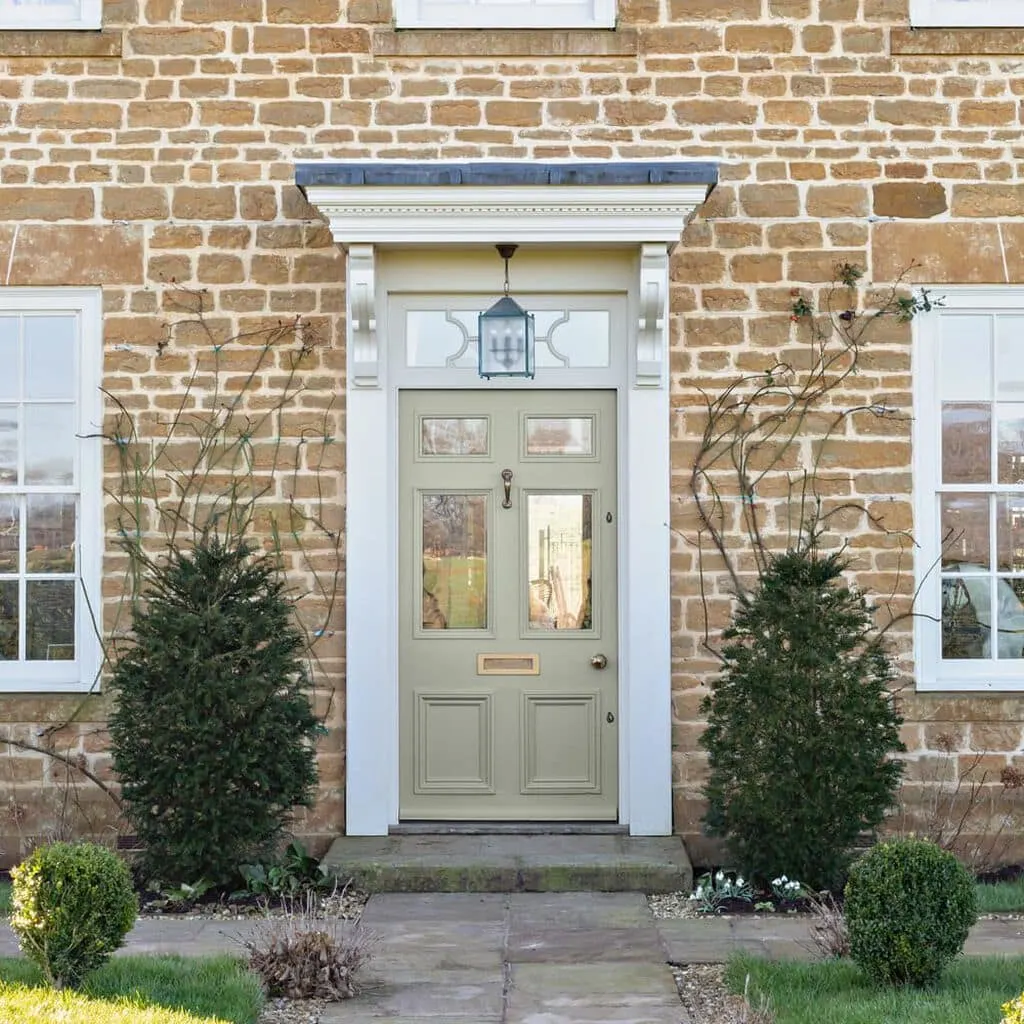 You'll want to give this unassuming sage green paint color a "Whirl!" (See what I did there?) It almost reads a little beige, but this color is not basic and boring. You could put modern decor with it and yet it'd also work in a period home.
Sampling Gray Green Paint Colors
So now you have 21 gray green paint colors in all sorts of undertones and hues to choose from for your next painting project. You truly cannot go wrong with any of these colors, but I do have a few tips so you don't need to order 21 samples.
There will likely be a handful of gray greens on this page that will capture your attention. Once you have them narrowed down to 3-5 choices, it's a good idea to order some sample swatches or sample pots for your wall for the best experience. Don't skip this expense.
After your paint swatches come in, place them on the wall in the room you want to paint. Observe how the color shifts depending on the time of day or even the weather. Turn on the lights in the room and make note of how it looks.
I can't tell you how many times I've ended up nixing a paint color because the lighting conditions made it look awful. I was set on Dead Salmon for my home office and once I put the swatch in I knew it was the wrong choice. I ended up choosing Sulking Room Pink instead.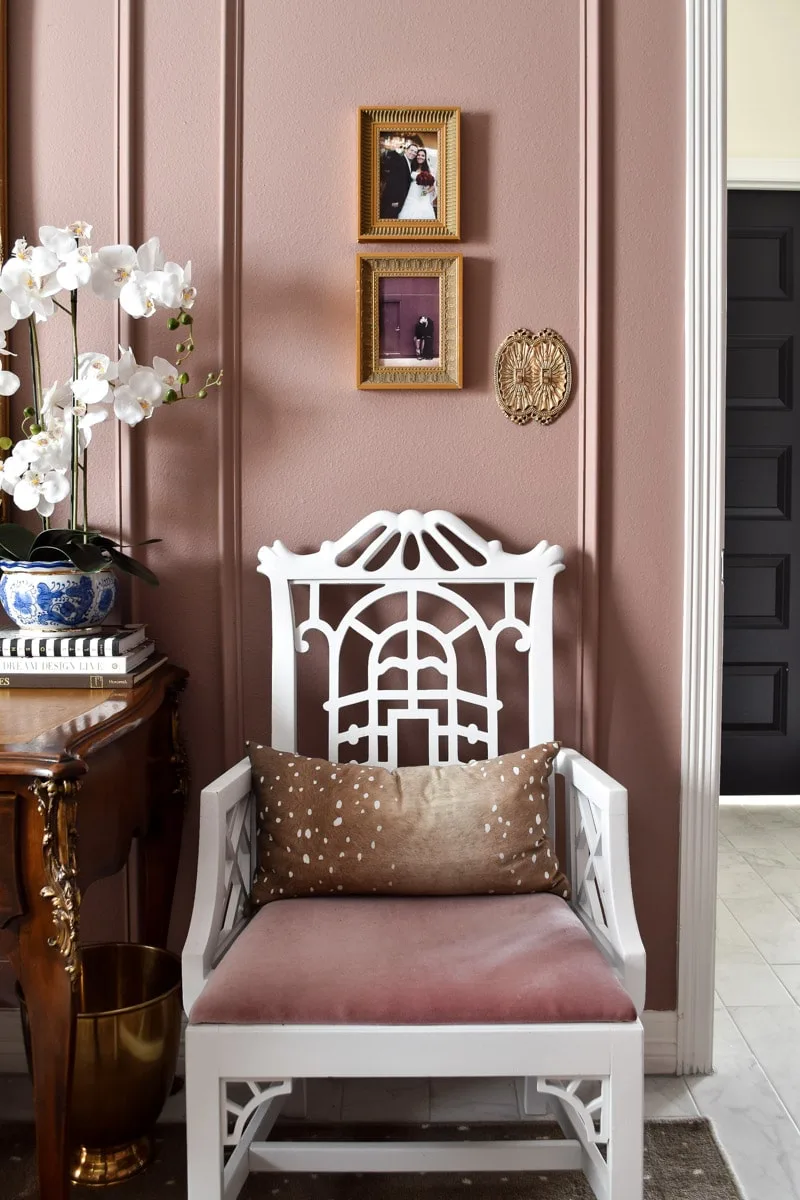 Once you've done that, MOVE that swatch around to other walls in the room and even put it up against the furniture, rugs and other large pieces that will be in there with it.
Chances are, you'll likely eliminate a few paint colors instantly that just don't work in real life for you, and then you keep refining from there until you land on THE ONE. Trust your gut- you'll know it when you see it.
---
---
Color Matching Gray Green Paint Colors
Moral of the story- you can totally take the swatch and have it color matched by nearly any paint shop. Heck, they might even already have the color codes and don't need the swatch, but it's good to take it with you just in case.
---