Today's Friday Lust post is all about dining tables and chairs. Ooh la la.
In my post earlier this week, I told you all about how much I hate our dining set. It was absolutely perfect for our apartment that we lived in from 2007-2010, but now it's just not what I envision for my home. It's also hard to scoot the stools/benches in once you sit down, and it's just…not me.
It's got 2 stools + 2 benches (and a wedge we're not using that connects the 2 benches to form a L shape), so it sits about 6 people. It's counter height and nearly impossible to find a table cover for. Sad face.
Here's what I'd rather have:
Traditional Dining Room by Burnsville Design-Build Firms Highmark Builders
Contemporary Dining Room by Lewis Center Interior Designers & Decorators Instyle Interiors
Traditional Dining Room by Centreville Photographers Buchanan Photography
Traditional Dining Room by Vancouver Architects & Designers Kerrisdale Design Inc
I want a gorgeous, weathered pedestal or trestle table with really beautiful chairs that have tufting or nailhead accents. The overall vibe I am wanting is sort of like if Restoration Hardware and ZGallerie hooked up for a one-night stand and had a baby. I WANT THAT BABY. Rustic, glamorous, classy and timeless. I also love the weathered, hand scraped table look because if a friend slams a glass on the table, or I drop a fork onto it, it just adds to the character. I don't want a normal, super smooth finish, cherry or espresso dining set.
And that may be why I can't find anything I can friggin afford. Here's what I have found so far. In a perfect world, I'd buy this table: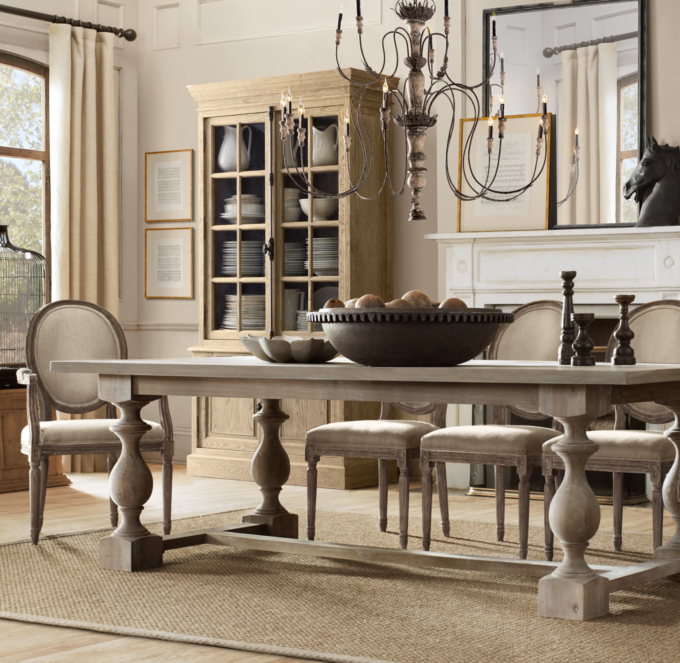 $1295 from Restoration Hardware
And then I'd buy 6 of these chairs: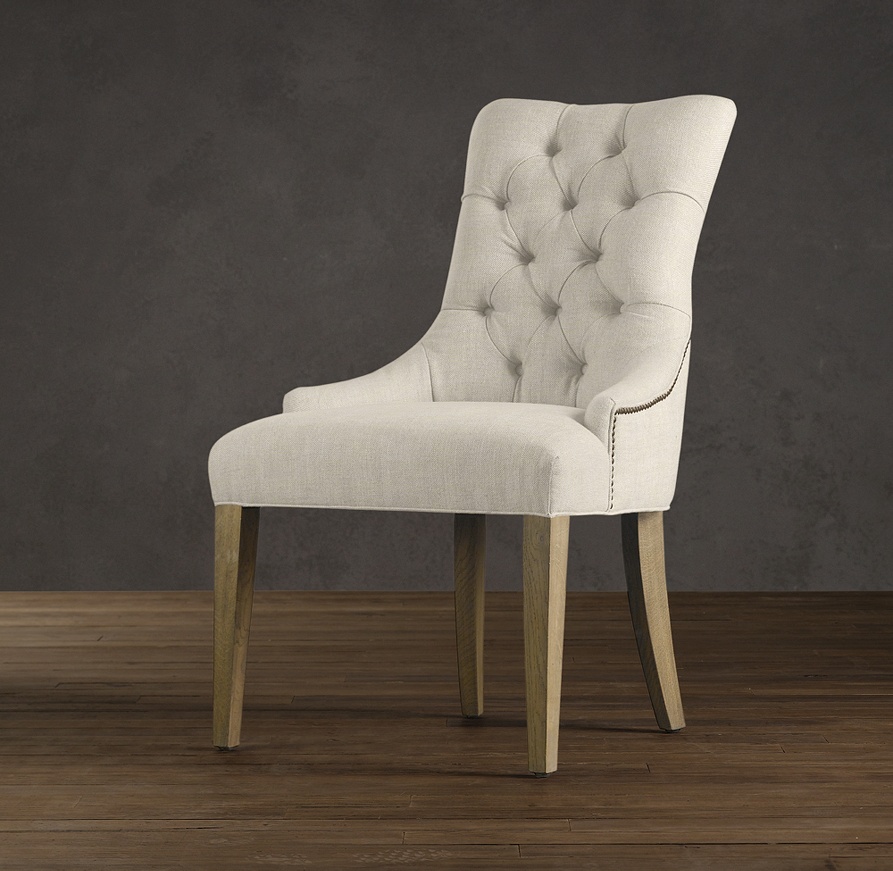 $449 each from Restoration Hardware
And then I'd move on with my life. But unfortunately, I don't have thousands to spend on this endeavor, so onto the copycat versions of these pieces. This table from World Market is a strong contender, but the finish is too dark…
On sale for $499 through 9/30/13 @ World Market.
Then there's the Cane Dining Table from Home Decorator's Collection– I called to get the specs, and it seems like it will only seat 4 because the overhang at the edges is only 9 inches. Although, in a pinch, I don't think it's awful…but then again I wouldn't be the one sitting at the edge. I'm also iffy on the color since it looks gray washed in one photo and really dark in another. On sale through 9/30/13- $599.
And another potential table from Home Decorator's, but I wonder if the 48" size would be too small for my space? I'd like to be able to fit 6 people, so this may not work. I'm also not 100% on board with a circular table.
On sale through 9/30/19 for $359.
However, I'm about to contradict myself because I LOVE this round table from Ballard Designs:
Chairs are easy enough to find, and although they're cheaper than RH's version, they're not that cheap, KWIM?
Sigh. I don't know what to do. I want what I want, and I know this is not a project I'd ever want to DIY, so do I just save up for my dream dining set? I've thought about freshening up my current set with some slipcovers or something, but finding slipcovers for the 2 benches is proving to be quite a task.
Advice, thoughts? If anyone cares to sponsor my entire dining set, please let me know. (Hey, it never hurts to ask) 🙂