Happy Holidays! This time of year is very exciting as so many content creators publish inspiration and photos for decorating your home. If you've landed here via House of Hipsters, welcome! Now let's dive in to talking about my French Christmas tree, as well as a few updates about this space in general.
I have been working SUPER HARD on the living/dining room spaces in my home, so you may notice a few changes in here if you've been following me awhile. I added picture frame moldings to the walls to give me 13′ walls some character.
Also, I chose to lighten up the dark gray fireplace by painting it a beautiful crisp white. And you all know how extra I am, so I chose to do a faux antique mirrored finish on the fireplace doors. Finally, switching around the layout of our living room added a ton more space and we were able to ditch the end tables.
I'm simply smitten with this whole space and am loving the French Christmas tree I've created using lots of ornaments I already had on hand, plus a few new additions.
How-To: French Christmas Tree
From my very brief time in Paris during spring 2020, I noticed a few things about the French. They love ornate, black and white is always a good idea, and florals are forever.
Rather than incorporate a ton of faux florals, I opted to add giant 4-inch and 5-inch floral glass ornaments that really stand out against the usual store bought shatterproof ornaments.
The other aspect I focused on this year was to add pops of color to the tree that compliment the florals- I have some blush, maroon, olive green and disco ball style gold and silver to help reflect more light. My French Christmas Tree is 9′ tall, but it is a SLIM style so every ornament I add has to add something to the tree motif to be on there.
Additionally, I used a ton of ribbons on my tree! If you haven't read my post on how to easily add ribbon to a Christmas tree, you'll want to go there, stat. It'll change your darn life and make creating a French Christmas tree, or any style of Christmas tree, easy peasy.
For this year's tree, I used a black and white striped ribbon from Sam's Club, some tapestry style ribbon from a local decor store that had an epic ribbon clearance last year, and some stunning beaded floral ribbon from Riverbend Home.
I think using 3-5 different types of ribbons really adds to the texture and vibe of a Christmas tree. You can even layer ribbons to create a really chic, curated and upscale look.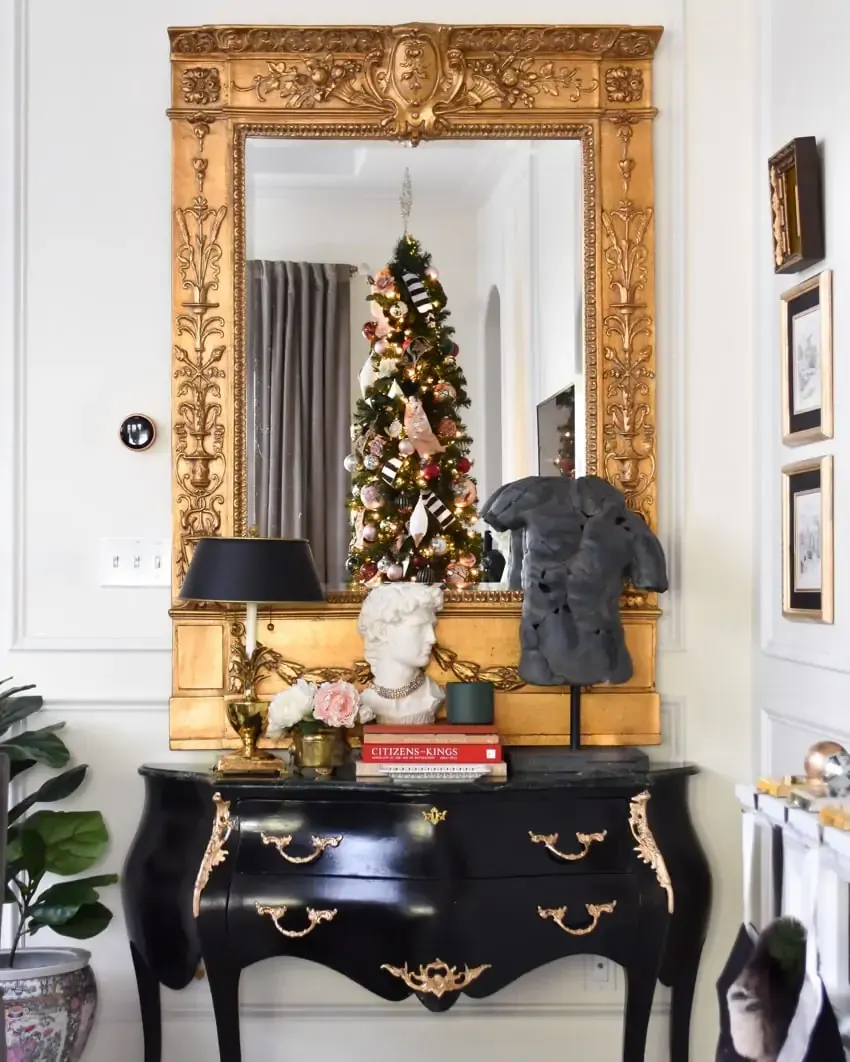 All in all, this tree at its core is rather simple. To recap, here's what I focused on for my French Christmas Tree:
Adding in LARGE floral ornaments
Using a 3 different style ribbons to add texture, color and movement
Pops of color to accent the floral motif
Disco ball style ornaments to add glamour and reflect extra light
I also applied these same principles to add some holiday oomph to my mantle. I'll show you all more of this space soon! I have some final touches to make.
I now send you over to Stephanie at Casa Watkins Living, who is the fabulous host of this Christmas Tree hop.

Monday
Casa Watkins Living // Up To Date Interiors // Mocha Girl Place // Kate Decorates // House of Hipsters // Monica Wants It
Tuesday
The Happy Housie // SKG Designs // Delineate Your Dwelling // Cuckoo 4 Design // Room Bloom Design // My Sweet Savannah
Wednesday
Iris Nacole // PMQ For Two // Stacies Spaces // Rebecca Propes // Liz Morrow Studios
Thursday
Au Petite Salon // Taryn Whiteaker Designs // The Honeycomb Home // Daly Digs // T Moore Home // Love Your Abode
Friday
Haneens Haven // Our Fifth House // Seeking Lavender Lane // Two Twenty One // Amber Oliver // Zig and Company