After about three months of work, my French Dining Room makeover is done! This all started when we decided to switch the guest room and my home office, and a domino effect happened that led us to finally address this space.
Our newly crowned French dining room was truly meant to be. A lot of things had to fall into place for this to end up as beautiful as it did. This space is like night and day…what a transformation.
Here's what it looked like initially:
And here's the new French dining room (ok, it's Parisian inspired, and we still live in Corpus Christi, but just play along!):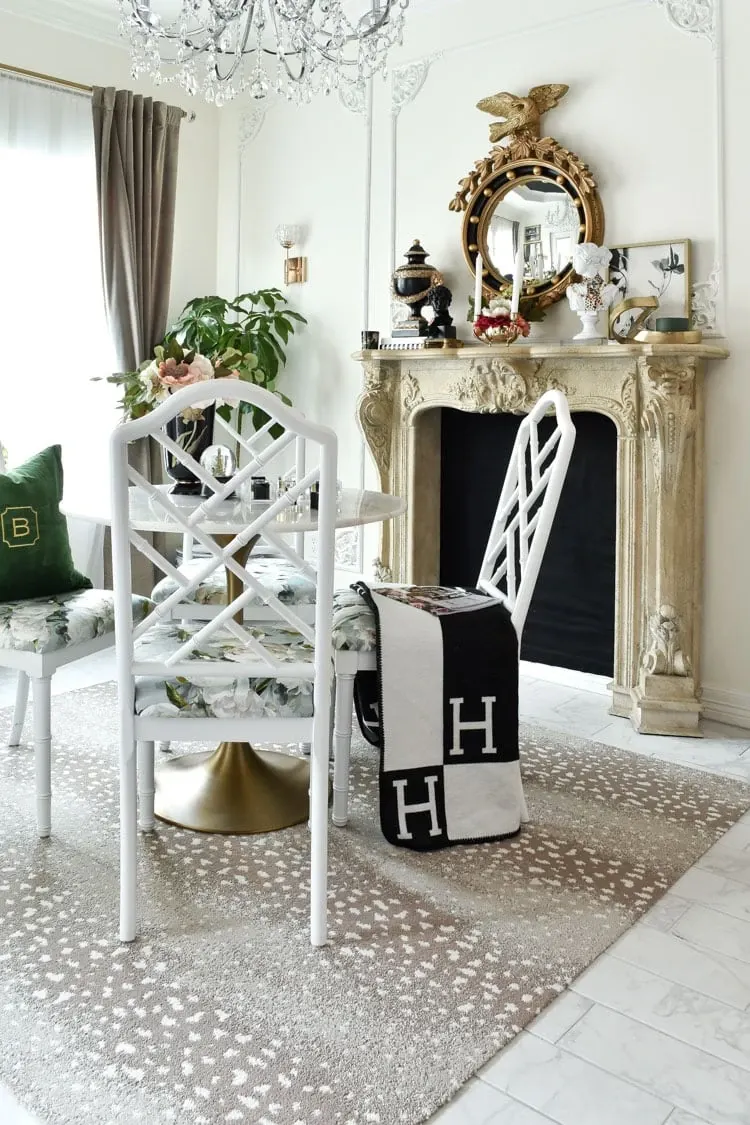 Let's dive in to the various details, additions and pieces that make this dining room makeover so fabulously chic.
Parisian Inspired Faux Fireplace Mantle
The dining room area has always flummoxed me because that wall where the fireplace mantle is is so darn wide! I have no idea what to do with it.
Then one day, I landed on Josh Young's website, and on the main landing page he has a faux fireplace with a beautiful mirror and it's striking. I knew a faux fireplace would give me that pizazz I wanted.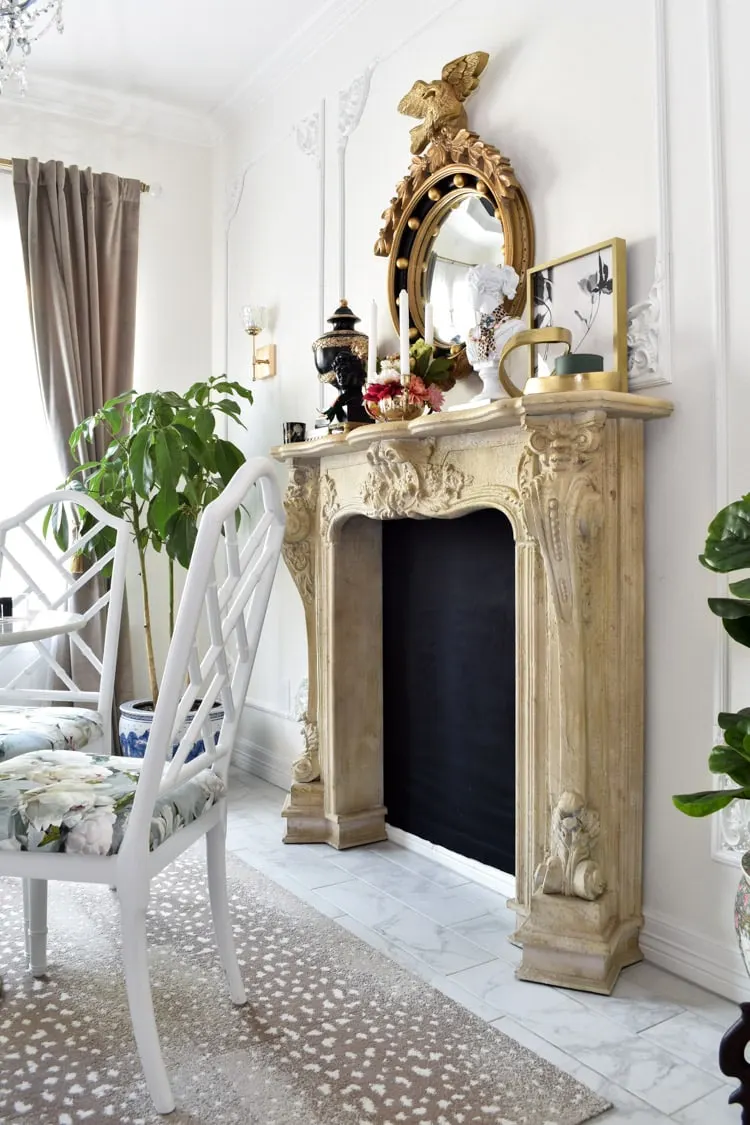 Originally, I thought about procuring a Hepplewhite style buffet, but given the dining room is about 10×11 or so, a lot of depth would be taken up by a 20″ deep buffet. This mantle takes up about 12″- every bit makes a difference in a small space.
I had spotted this exact fireplace mantle online, but LUCKY FOR ME a local shop owner had bought it and never used it, so she sold it to me. I'm telling you… meant to be!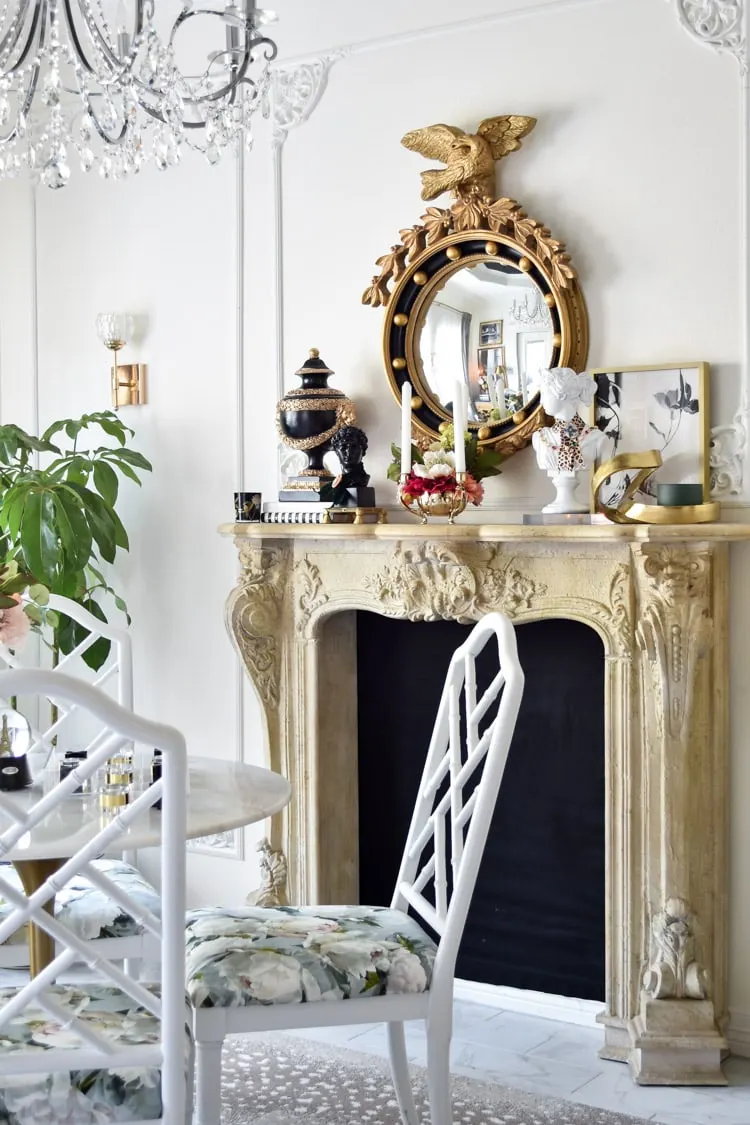 I am now on the prowl for the perfect "thing" for the firebox area, but for now I have some black muslin cloth that I adhered to the wall using liquid starch. Easy, temporary, and I like the look it gives for now.
Styling this mantle is so fun, and I cannot wait for you all to see my holiday dining room decor.
DIY French Inspired Panel Molding
Another very French thing is the addition of the panel molding. One day I was on Amazon, and I saw a dozen of these millwork corners for $36 TOTAL. Usually each corner is easily about $10-$14, so I snagged them up so fast.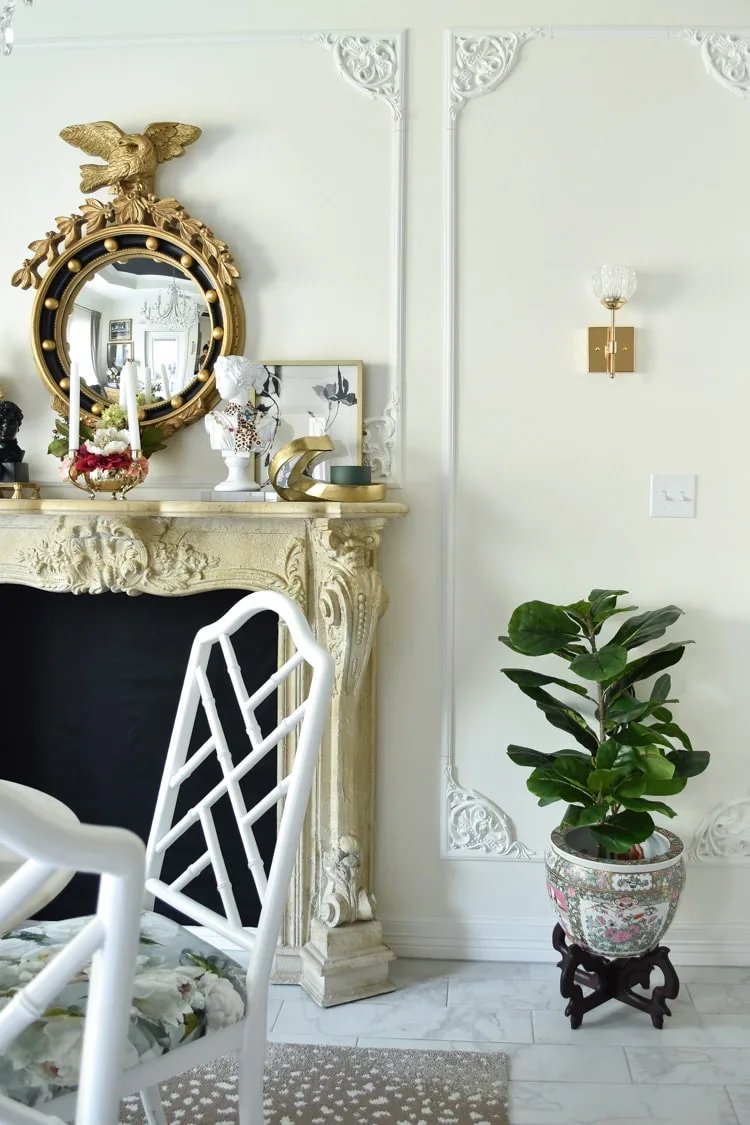 I have used the same brand of millwork (including the cheater corners, as I affectionately call them since they don't require miter cuts) in my main bedroom, and I LOVE how lightweight and easy they are to work with.
I painted them the same alabaster color as the wall, although since they're new, they are a smidge brighter. I then got the molding to connect the corners together, and using a miter box and a fine-toothed handsaw, I made a bunch of straight cuts and got it done in the span of one day.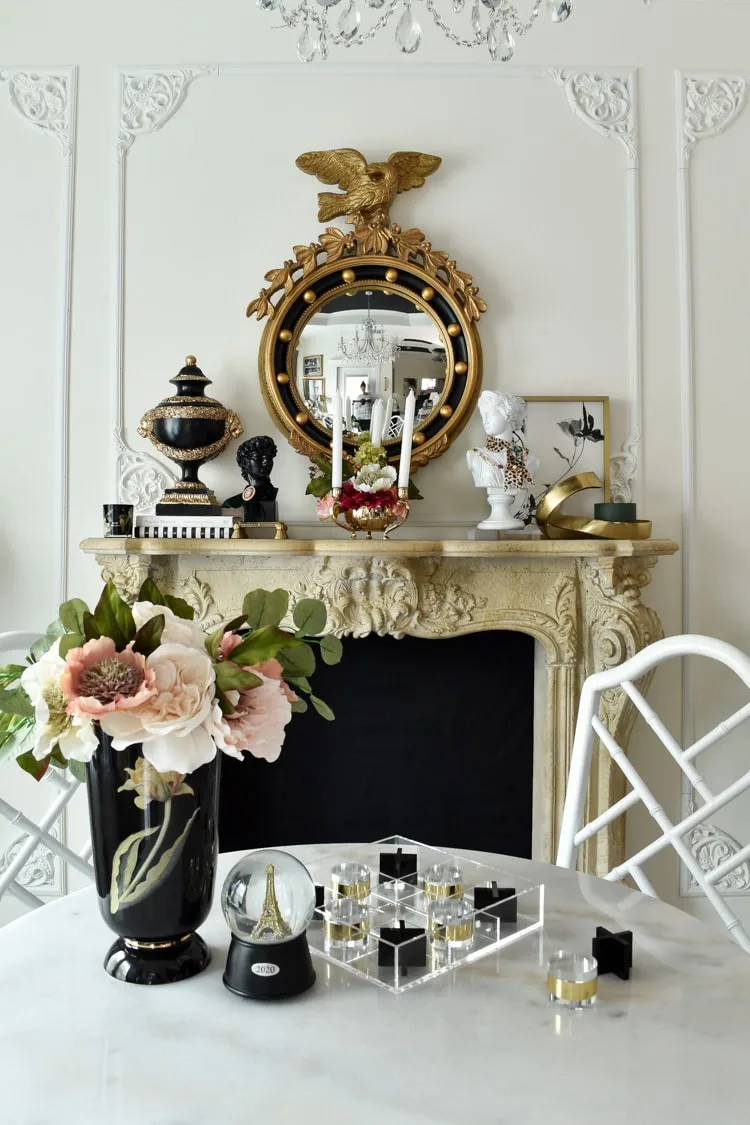 The addition of the wall moldings with the fireplace really MAKES the space. It adds value to our home, and now that vast span of wall is stylish, functional and timeless.
French Dining Room: Designers Guild Fabric & Marble Dining Table
You may notice that the chinoiserie chairs are the same ones I gushed about when I got them last year. I honestly thought I would love the Chiang Mai Dragon fabric waaaay more than I really did long term. I should have stuck to it on pillows.
One day, I was lamenting about this on Instagram, and the ever so kind Maura from Downfilled Designs graciously offered to gift me some fabric specifically for this makeover.
I chose this gorgeous floral by Designers Guild and I reupholstered OVER the dragon fabric in case I ever change my mind.
This fabric works so much better in this French dining room. It's floral, subtle, feminine and stands out, yet blends in.
You may also notice this dining table! We've actually had this awhile, but I don't think I've shown it on here. It's a 36″ marble dining table, and it's the perfect scale for the space.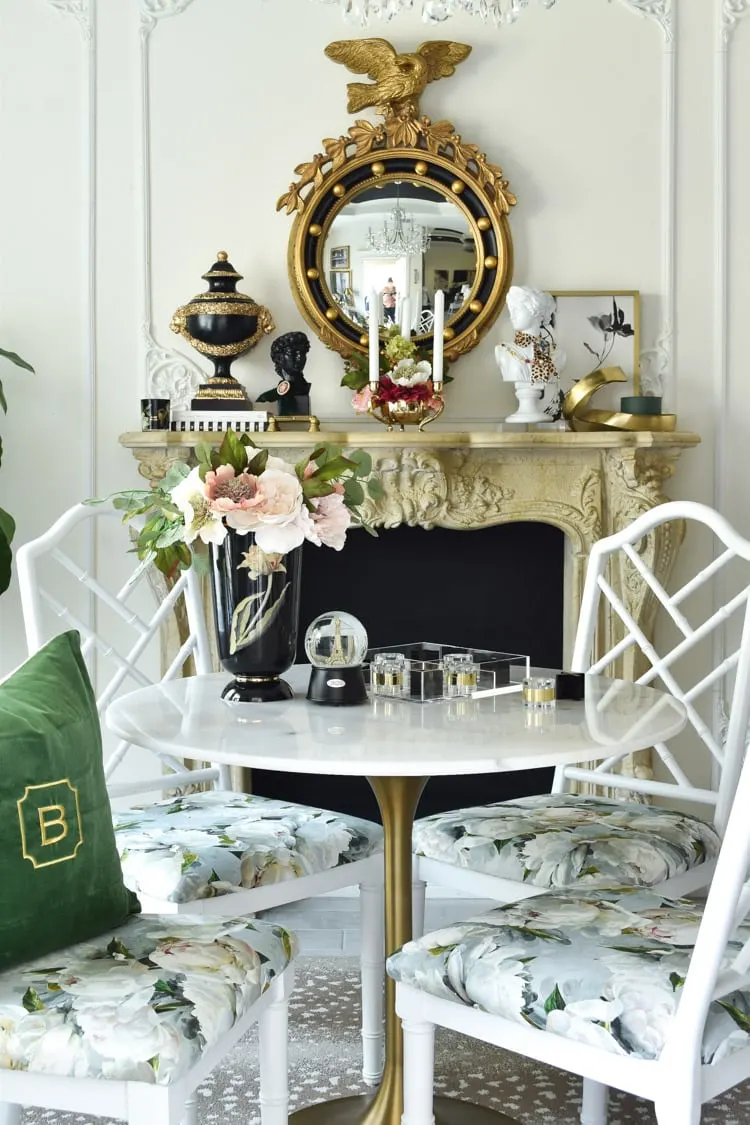 Sure, I can't do massive entertaining or tablescapes, but we also have a 9′ island that seats 4, for a total of 8 spots for dining.
This marble tulip dining table is sturdy and very easy to care for.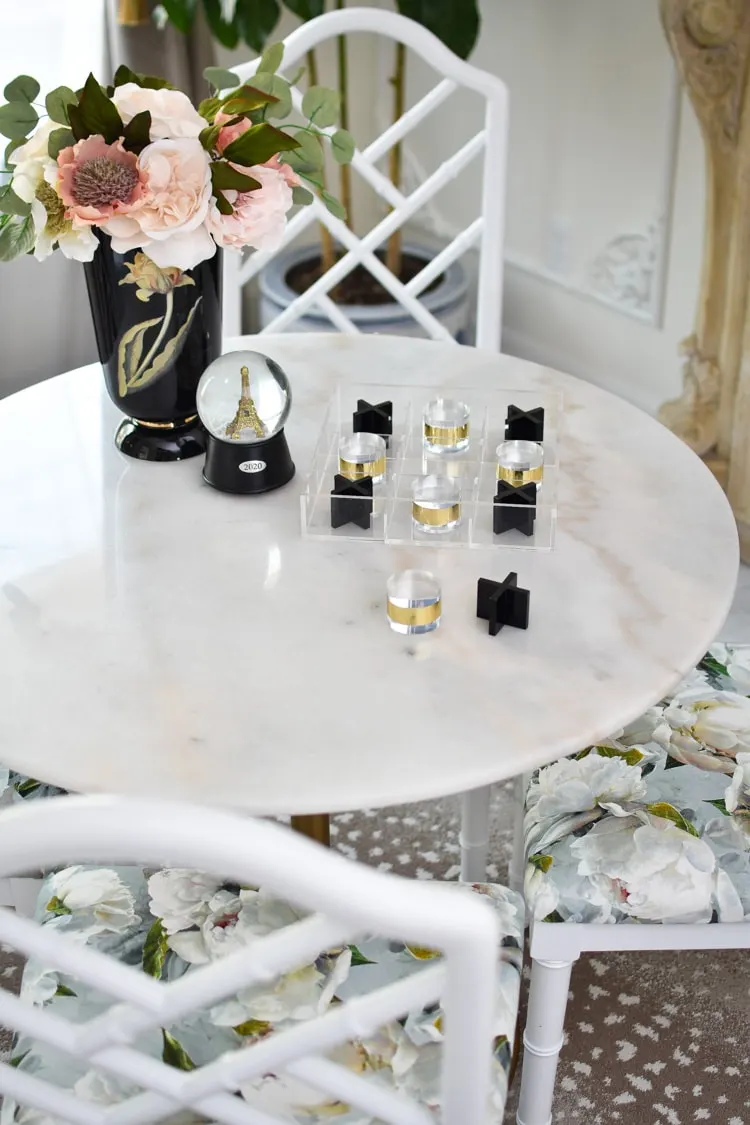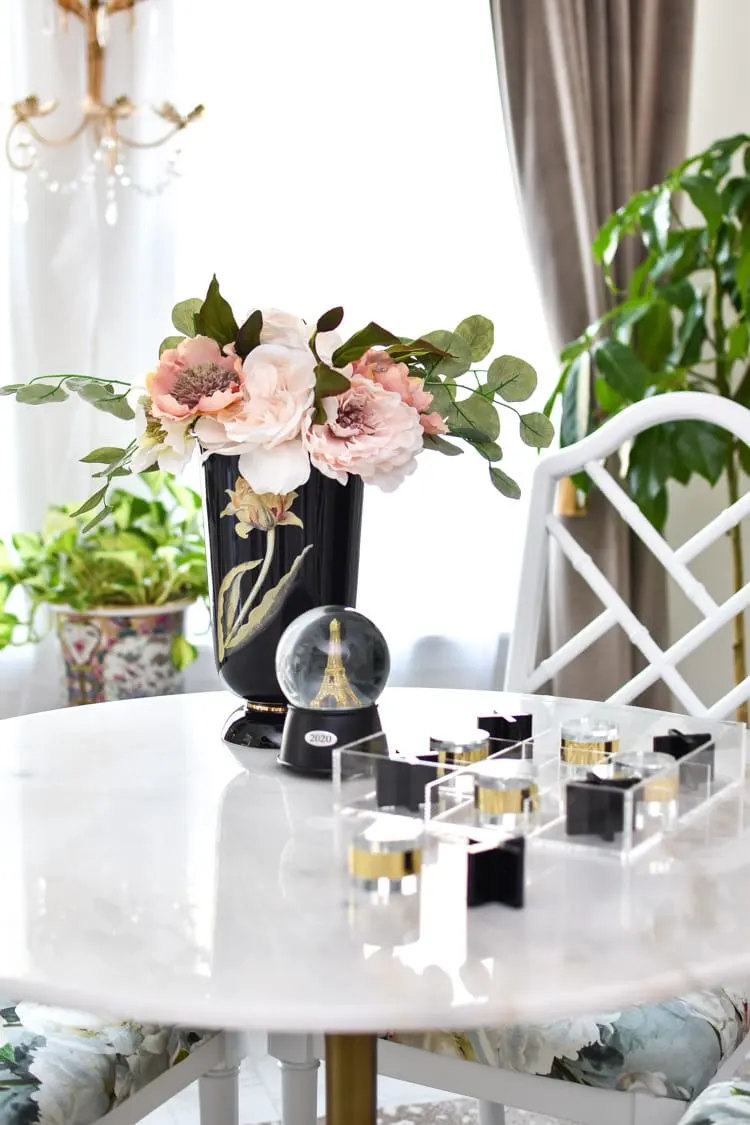 FLOR Doe Re Mi Antelope Rug
The hardest thing to find and decide on for this French dining room space was a rug. Initially, I was super set on a 6′ round or a 5×8 rectangle to play off the tray ceiling.
Neither worked well because both were too small for the chairs to work well on the rug if someone was seated. Then a few of my Instagram followers suggested a square rug…which I never thought of. Not once.
Then, I also decided that an antelope type print would look AMAZING…BUT it was hard to find in the square size I needed until I came across FLOR's Doe Re Mi carpet tiles.
It was a bit more than I wanted to spend, but given I have an elderly dog, I decided the ease of replacing a square was worth the investment (versus having to replace a whole rug). FLOR tiles can easily be washed, so I took the plunge and ordered 16 to make a nearly 7′ square under my dining room table.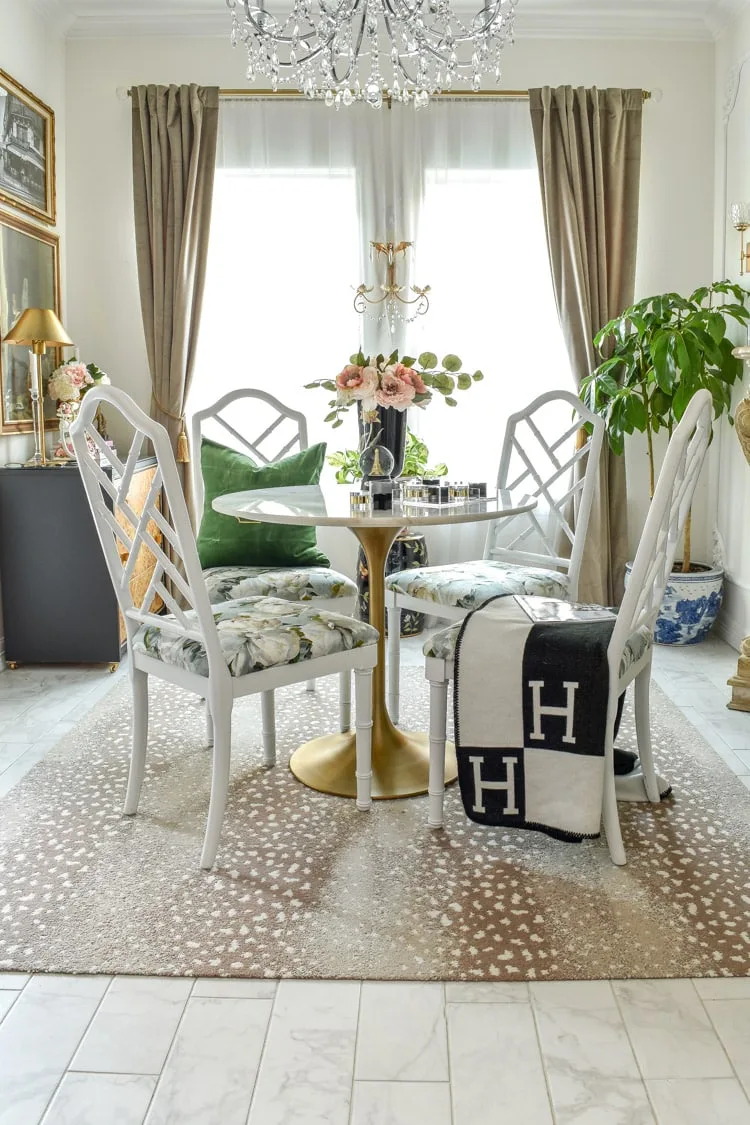 The pebble color way adds warmth to the space, and I love that Pee Wee's dog hair blends right in.
YOU GUYS… on the second day of having the rug, Pee Wee threw up on it after eating too fast and it washed right out with no issues. Overtime, the seams between the tiles will be less visible, but for now I am SMITTEN and highly recommend FLOR products.
$28 Thrifted Burl Wood Chest
You may have spotted that burl wood chest in the corner by the patio door, and that corner has been a dumping ground for my gardening stuff for too long. When I found this burl piece for $28 at a local thrift store, I knew I could turn it into something stylish and chic.
I will go into alllll the details (or you can head to my Instagram stories to see DIY video of the process) soon on the blog, but essentially I painted it black, added casters, got a piece of glass cut for the top that I then DIY'd an antique mirror finish on, and got new snazzy hardware.
The drawers provide so much storage for my gardening goodies, and I love styling the top. Initially I had it styled as a bar of sorts, but now it holds some of my recently thrifted goodies, like this frilly and fabulous phone.
Truly most of the things in this corner are thrifted: the burl wood piece, the phone, the pair of glass candlesticks, the riser for the vase, the foo dog incense burner and the art/frame above the piece. Thrifting is my cardio!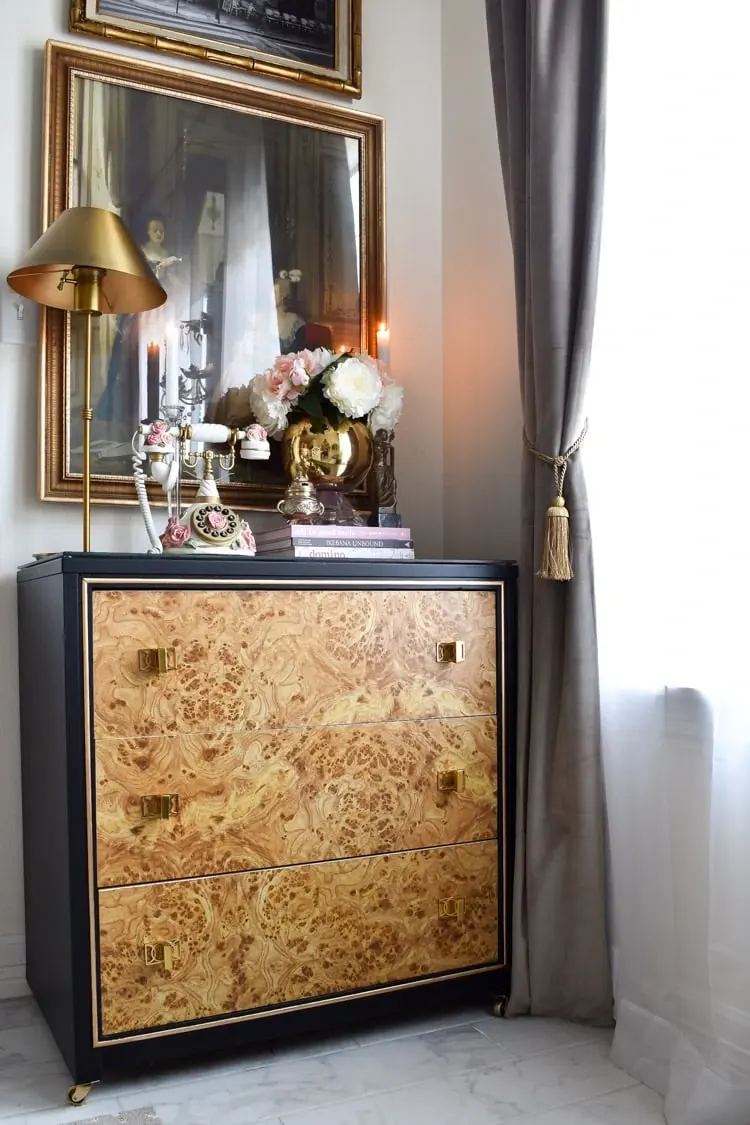 Once I got the burl wood chest in place, the original blue and white curtains that were in here just didn't feel right, so I got this mushroom velvet drapery panels that are neutral, chic and match with anything. They're probably my favorite curtains so far that I've bought for this house.
French Dining Room: Detail Shots
And now I know I've gone on and on for far too long, so I'll leave you with some final detail shots and links to any tutorials I've done on Instagram related to this room as well as links to relevant products.
If you love this makeover, I'd love it if you'd share it on social, pin it on Pinterest or drop a comment in the comments section.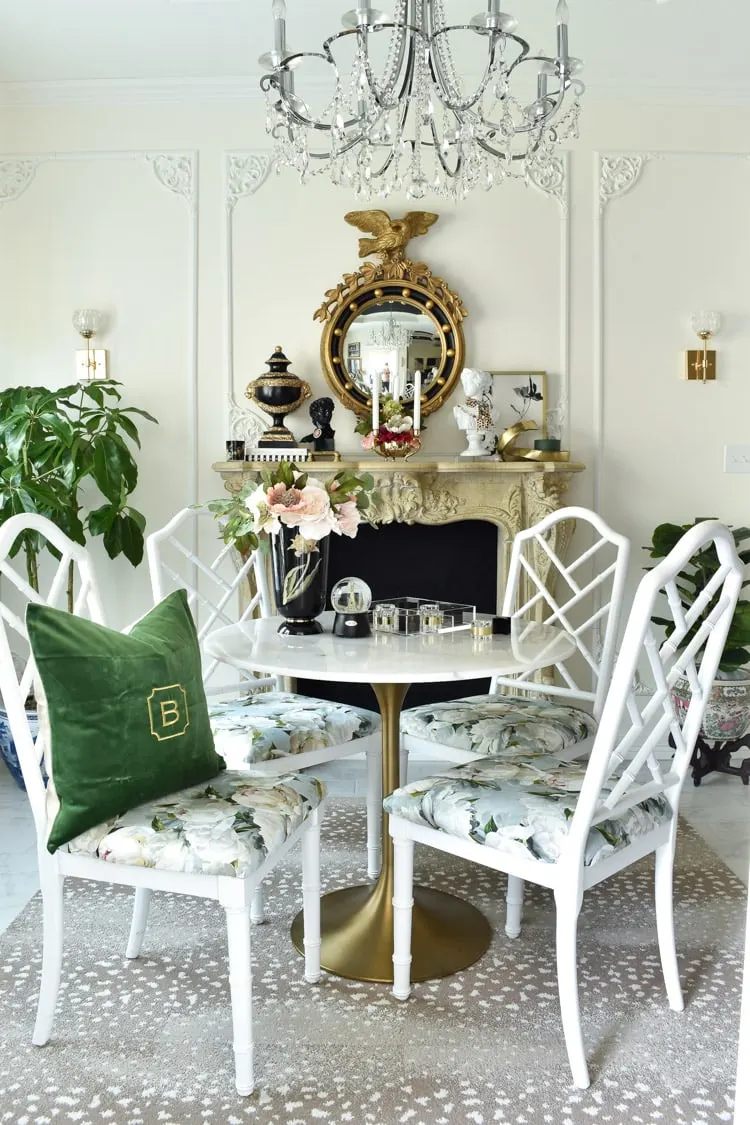 French Dining Room: Instagram Tutorial Links & Product Sources
Tutorials:
$13 wireless sconces | FLOR tile installation | DIY wall moldings | DIY Burl Wood Chest
Product Sources:
$13 wall sconces | Mushroom Drapery Panels | Gold Brass Cabinet Hardware
Fireplace Surround | Molding Corners | FLOR Tiles | Marble Dining Table
Gold Abstract Sculpture | Hermes Blanket Dupe
Misc:
Wall Color: Alabaster by Sherwin Williams (Flat)
Molding Color: Alabaster by Sherwin Williams (Satin)
Tray Ceiling: Tricorn Black by Sherwin Williams