If you're looking for free printable signs for home decor, you've come to the right place. I'm featuring the chicest free printables, free printable wall art and free printable signs to use in various spots in your home for personal use.
Affiliate links are used in this post, thanks for your support of my small business.
Where to Print Free Signs & Art Prints
Most of these signs featured below will be available to download in a ready to print PDF file. Some of them come in handy image formats such as JPG and PNG, too.
You can definitely print at home! I have a printer I love that is great for printing black and white or grayscale type prints. But, if I need to print in color, I typically don't print that in home unless it's a simple sign or document.
You can print locally somewhere like CVS, Walgreens, FedEx, or Office Depot, etc.
If you're planning on printing some of the more colorful, gallery wall art PDF files or signs, I definitely recommend spending the few bucks to print at Walgreens. I find that every week they usually have some sort of awesome deal.
How to Resize Free Printables
If you download an 8×10 that you'd love to resize to a smaller size, you should definitely try out Canva. It is an easy to use software that comes in handy for projects like resizing photos or printables.
It is also handy for creating smartphone wallpapers, invitations, gift tags, home decor signs and so much more. I've had a Canva Pro account for over three years, but truly even the free version is filled with fabulous features for the casual user.
How to Convert PDF to JPG
If you need or want to convert a PDF format to a JPG to upload to CVS, Walgreens, etc. you can use this easy and free online PDF to JPG converter from Adobe Acrobat.
Inexpensive Ideas for Framing Your Printable Signs
Thrift stores, garage sales and dollar stores are great places to find frames to use. You can simply remove the art that is already in there, and swap it with one of the free printables below and you have your own perfect signs and artwork for your home.
But before you spend even a dime on buying a frame, I encourage you to shop your own home. Do you have some framed artwork sitting in a closet that could be repurposed?
Do you have a picture frame that is not in use that could get updated with some spray paint, metallic gold paint or Rub N Buff for a whole new look? Or maybe ask a friend and do a decor swap.
Picture Frame Mats
If you're going for a more custom, upscale look with your printable DIY artwork or signs, adding in a mat is an easy way to make any art look more polished.
Many craft stores sell them in common sizes such as 8×10, 5×7 and even 4×6 options so you can grab and go. Don't forget to use a coupon or head over when there's a half off sale.
Additionally, I've noticed that some Dollar Tree frames have mats already, so you may want to scope out their product offerings to see if there's an all-in-one frame with mat that would fit your needs.
Free Press for Champagne Art Print
I created two versions of the popular "Press for Champagne" art print. One is rectangular and the other is oval. Both are chic, perfect for DIY printable artwork and FREE to my email subscribers.
Free Printable Christmas Decor Signs
Stores are filled with word art signs for the holiday season, and as cute as they sometimes may be, I think the DIY signs approach is more budget friendly. Just think about it- you can easily find inexpensive secondhand frames to use to create your own holiday artwork.
---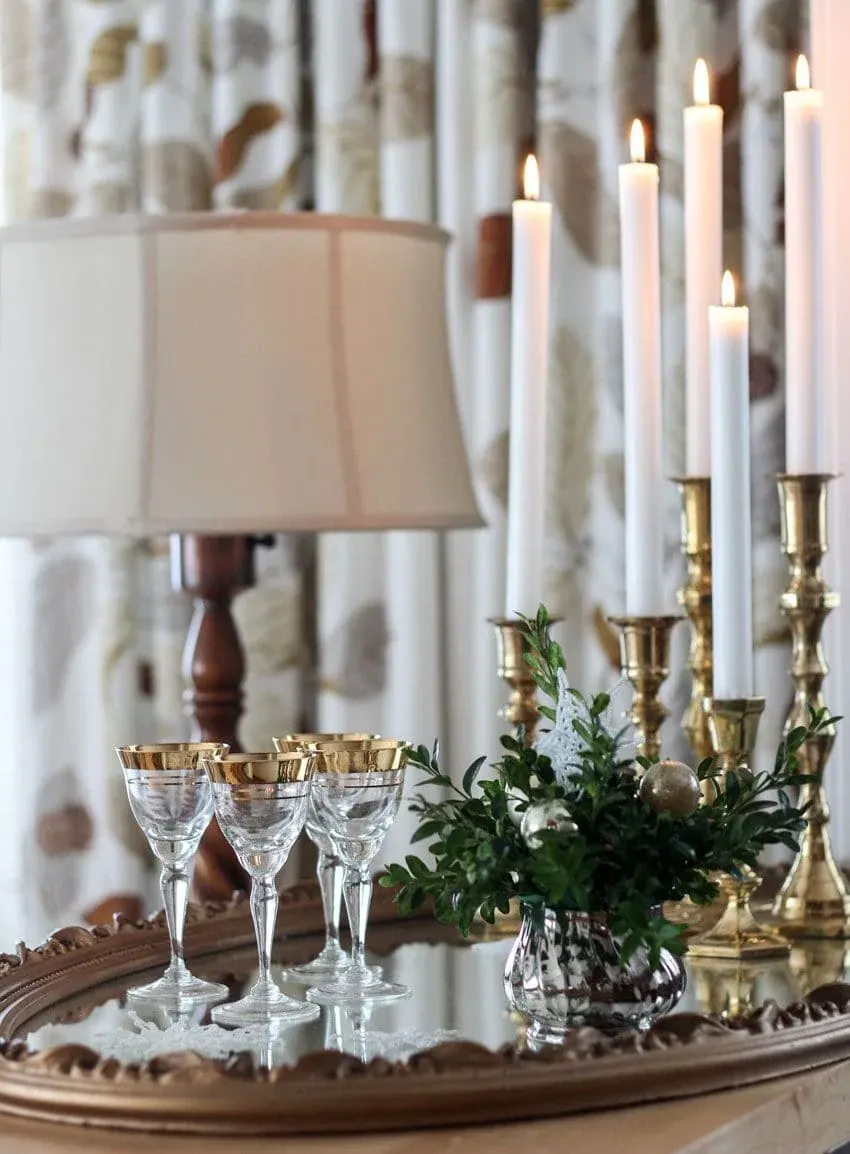 29+ Vintage French Decorating Ideas
Check out this post that features creative ideas for secondhand, vintage items to look for to achieve the french aesthetic.
---
Free 2023 Printable Calendars
I can't believe a new year is almost here! 2022 has flown by and now it's time to print some cute 2023 calendars.
A few of the options below would make a for a great handmade gift if you printed on linen cardstock and presented in a document box with a bow. Cute, useful and a frugal way to give a gift that is both useful and meaningful.
Free Fine Art Printables for Gallery Walls
One of my most popular posts ever delves into FREE museum artwork you can download (FOR FREE!) and print to use in your home.
I've downloaded well over 20+ museum paintings and sketches to use in my home, and I love the outcome!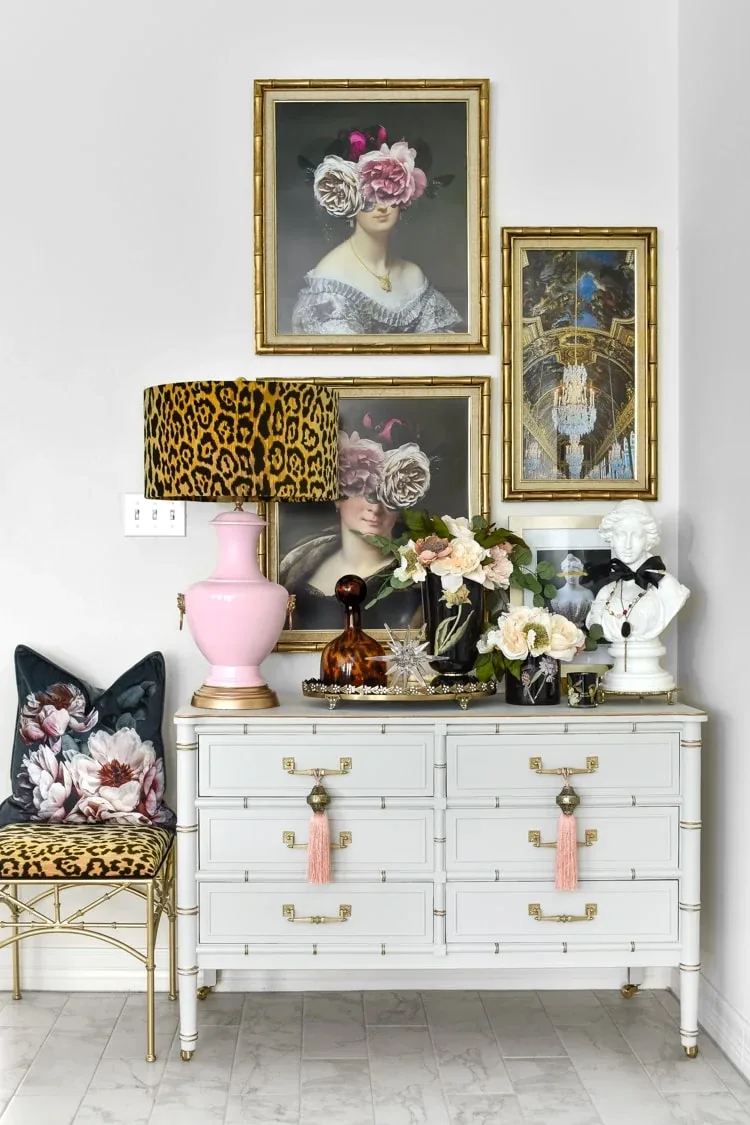 The best part is that these museum JPG or PNG files tend to be LARGE, so this gives you a ton of flexibility to either print them small or large. The ladies above are printed via Walgreens' poster prints, which tend to be 50-60% off every other week or so. This allowed me to print a large 24×36 size for about $15ish.
Want to download some gorgeous museum artwork? Click here to read my post all about it.
---
---
Free High-End Inspired Printable Artwork
Framed artwork can be pretty expensive at places like Frontgate, Ballard Designs and Williams Sonoma Home. Even at places like HomeGoods or Target, you're still looking at about $20+ for a decent sized piece of artwork. Below are some high quality options that will give you the luxe for way less than buying artwork.
Free Printable Abstract Wall Art
Sometimes I feel the best approach to art if you're not sure what you really like or love is to go for abstract. Art is so subjective, and at times I think us home decor lovers over complicate selecting it. These free printable abstract art selections below will hopefully jump start that gallery wall you've been putting off.
Free Printable Signs for Home: French Inspired
No post of mine is complete without some French decor options. There are many different designs and art options out there, but the ones featured in the list below are my absolute faves. I've included illustrations, abstract art and some photograph options for you to print and use.
Free Wifi Password Signs
You might find yourself needing a Wifi password sign if you have a guest room or if you have frequent visitors in your home. This is a great way to provide the Wifi and network info in an easy to use format so you can stop having to give out the password over and over.
I'll be adding more of my favorite free printable signs for home decor, so make sure to bookmark this page and stay tuned for updates.