Over on my Instagram, I've been going on and on about how you can and should use FREE MUSEUM ART to add unique, beautiful, museum-worthy art to your home on the cheap.
I was really surprised a lot of people did not know about this amazing resource, so I want to shout it from the rooftops because you cannot beat free. Now, I will say the art download itself is free, but of course if you want to print it out that will cost you money.
However, paying $2 for an 8×10 print or even $10 for an 11×14 is still a bargain. Think about all the art you see at home decor stores such as HomeGoods, Kirklands, Ross…it's mass produced and pretty meh, kinda generic most of the time and not exactly cheap.
Personal Use Disclaimer
SIDE NOTE: I am promoting this resource as a way to get museum quality art in your home…I have not read through all the legal jargon for every museum to know whether or not commercial use is allowed. Everything I am telling you today about this free museum art resource is with the understanding you're using it for your own personal use.
Affiliate links are used in this post– thanks for your support.
Where to Find Free Museum Art
There are many, many, many museums in the world, so this list below is by no means exhaustive. These are museums I love that I think have a broad range of art to suit most people's tastes and home decor.
There tends to be a very clear "DOWNLOAD" button or icon under images that are available for download, so it's super easy to download the files and go from there. If it doesn't have a download button, it's likely not free museum art.
Paris Museums: Make sure to look at "Images in the Public Domain" and also change the language to "EN" so you can understand what is on the page.
Rijksmuseum: If you love Dutch florals/still art, this is the place for you. You'll have to create a free Rijks Studio account to download the images, but it is worth it! I found the most stunning art here, but it is a little confusing to figure out how to download. They explain how to do it, so once you learn it's easy! I will say this site is WAY EASIER to use on a computer versus a phone.
The MET: You'll want to filter by "Open Access" and make sure the image you're downloading says "Public Domain" under it on the detail page. This lounging lady is one I downloaded and I added a gold leaf swash which is inspired by Josh Young Design House's art (more on that below).
The Art Institute of Chicago: You'll want to click on filter by "Public Domain" and make sure the image you're downloading says "Public Domain" under it on the detail page. Monet's Water Lilies is available for download, which is amazing!
Biodiversity Heritage Library: They have curated Flickr albums with beautiful images of birds, florals, insects, and other gorgeous living things.
Library of Congress: They have images of vintage ads and former presidents…so much American history, but overall some really cool DIY art potential.
Yale Center for British Art: Under "Rights" click on "Public Domain". From there you can search and filter some more. Lots of very British art in here, which includes cute dogs.
National Gallery of Art: Over 53,000 open access images of anything and everything. This one has a ton of variety.
National Galleries of Scotland: You'll be forced to create an account, but once you do, you can download high res files of a ton of art. If the art doesn't have the download button, it's not eligible. This beautiful portrait is though— I added a gold leaf effect to her eyes, too.
Where Do I Print the Free Museum Art Images?
There are so many options… I personally have been using and LOVING Walgreens. My local Walgreens does all sizes from 4×6 to 16×20 and offer them SAME DAY PICK-UP.
Anything 11×14 or larger, which is the size I use in my gallery wall in my office, is printed as a poster. Their posters have a satin sheen which I found to be perfect for this application, and the paper is also fairly thick.
You could also print canvas prints at one of the many numerous canvas print retailers available online. CVS also has options– bottom line, you have a ton of options. I tend to go with what is easiest, quickest and cheapest for this kind of thing.
I have not had any a single issue with getting asked about copyright or release forms, but just in case I do, I save the direct links to the museum page where it clearly shows that the image I am printing is part of the public domain/open access, etc. and I email it to myself to have it ready on the fly.
What Else Can I Do With This Art?
You can totally frame the art like I have done, but another super great and affordable way to add this art to your home is by using the JPG or PNG file to create your own wall mural via Photowall!
I recently installed this AMAZING mural from Photowall in my foyer, and it looks stunning! I've chronicled the whole process on my Instagram Stories if you want to take a peek!
Where Do I Find Frames for Free Museum Art?
Again, your options are endless! These frames are the ones I personally used in the gallery wall in my home office, which recently got a makeover!
Here it is with the original DIY abstract art in the frames: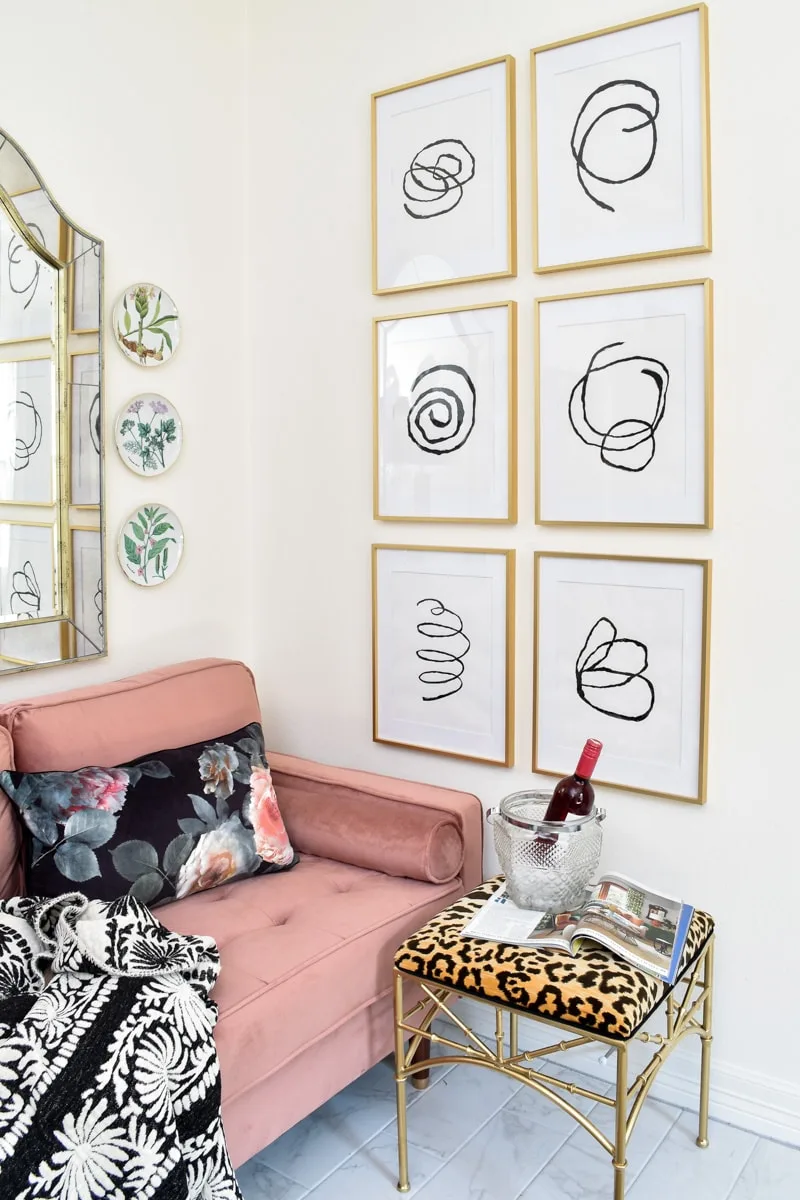 Thrift stores, rummage sales, garage sales and even dollar stores are great places to find frames for next to nothing. I recommend looking past the heinous art found in most frames at thrift stores and look for frames that match your home decor aesthetic.
Remember, you can easily remove ugly art and you can also easily update the frame color itself using spray paint, rub n buff or liquid gilding. You can do this!
If you want to just order frames online and move on with your day, here's my top 3 options for a sleek, simple, timeless look.
Gold Leaf Swash Over the Eyes
I got SO. MANY. DM'S. about how I put the gold leaf paint swash over the eyes of my portrait ladies, and most of the comments were more about how rather than why, so let me get to it.
I love Josh Young's portrait art, but for an 11×14 it would cost me $160. When I was looking at the free museum art, there's so many regal, unique and swoonworthy portrait paintings, so I decided to photoshop some gold leaf over their eyes as my interpretation of his art.
Many of you do not have Photoshop or maybe you do but still wouldn't know how to accomplish this effect, so I came up with an easy solution so you could add the same gold leaf swash I used to YOUR free museum art downloads in an easy way.
I figured that 8×10's and 11×14's would be the most common sizes you all would print at, so I created two templates (one for each size), for you all to use in Google Slides.
GOLD LEAF SWASH FILE DIRECTIONS:
You will have to have to use PowerPoint on your computer to use these templates.
You will have to do this on a computer.
Note: these directions are also overlaid on each file template, but here they are listed out in the notes section of each PowerPoint so you can reference, too.
You will download the template file (links below). Once downloaded, double-click the file to open up in Microsoft PowerPoint. THIS WILL NOT WORK IN GOOGLE SLIDES.
Click on the image and then right-click and click "Change Picture".
From there you'll select your free museum art that you should have already downloaded onto your computer. From there, the image will be replaced by your upload. Click on the image, then click the "Picture Format" tab in the upper toolbar. Make sure the dimensions are still 8×10 or 11×14 depending on the size you're using.
Now, click on the gold swash and you can resize using any of the four corners and you can also rotate to get the perfect angle using the rotating circle tool (seen below on her forehead). AGAIN, you have to click on the gold swash to do this.
Delete the red text box by right-clicking on it and clicking "delete" or using your delete button.
Select both the image AND the gold swash using CTRL+A (windows) or CMD+A (mac) or by going to "Edit" and "Select All". Now right-click and click "Save as Picture". This is the file you will upload to your photo print service.
NOTE: The directions are also saved in the notes of the PowerPoint so you can reference even after you delete the text box.
If at any point you mess up, click on either of the links below to download a fresh template and start again.
8×10 Gold Leaf Swash Free Museum Art Template
11×14 Gold Leaf Swash Free Museum Art Template
These are the only sizes I plan on offering– if you're wanting to change the size or orientation, you can do so after you download your copy by clicking on "File", "Page Set Up" and tweaking the inches.
Support Content Creators
Was this helpful? If so, please share this post on Pinterest or social media. Feeling extra generous, you can buy me a cup of coffee below!