College students from all across America are heading to campus soon! I work at a college, so this post about 27 dorm decor headboard ideas for every budget is particularly fun for me to curate.
This post contains affiliate links, which means I earn a commission from any items you may buy via my links. Thanks for supporting a content creator!
As an elder millennial, I have zero reasons to shop for cute dorm room headboards and other fun dorm decor, but I always look at the dorm decor collections each year because they are the perfect way to find small items for small spaces.
Dorm Decor Headboard FAQ's
Most college dorms have a twin bed for each student, so all of these below will be focused on that specific size.
As always, do research or get measurements beforehand. Often times colleges will have new student Facebook groups, or maybe you know someone who goes there who can help you out or you can always ask at new student orientation.
Additionally, many colleges and universities have robust websites filled with information for parents and college students that are well worth a thorough read before you buy a headboard or other furniture.
In my experience, these are common questions that the Student or Residence Life division is happy and well equipped to answer.
What size are the beds?
Is there a bed frame to mount a headboard to?
What is or isn't allowed to be put on the walls?
Is there an elevator or is it all stairs? (important to consider when you may be moving furniture in or out)
Are they regular or loft beds? Bunk beds?
What other furniture is included in the room?
I can still remember the excitement I felt when I moved into my college dorm room at UT Austin (Hook 'Em!), and there's definitely a ton more options available today than there were in 2003. Let's shop!
Technology Packed Headboards
Having plenty of outlets to charge smartphones, tablets and laptops can be at a premium, especially in some older dorms.
Of course you can always get USB power strips and hubs to place on the side of your bed or on your desk, but these nifty headboards below have USB ports built-in.
This headboard with USB ports and an outlet is definitely a dorm essential. At under $100, it's stylish and would totally look great in a first apartment, too, if you're thinking long run or long term. Bonus: it has a perfect 5-star review rating, which is rare.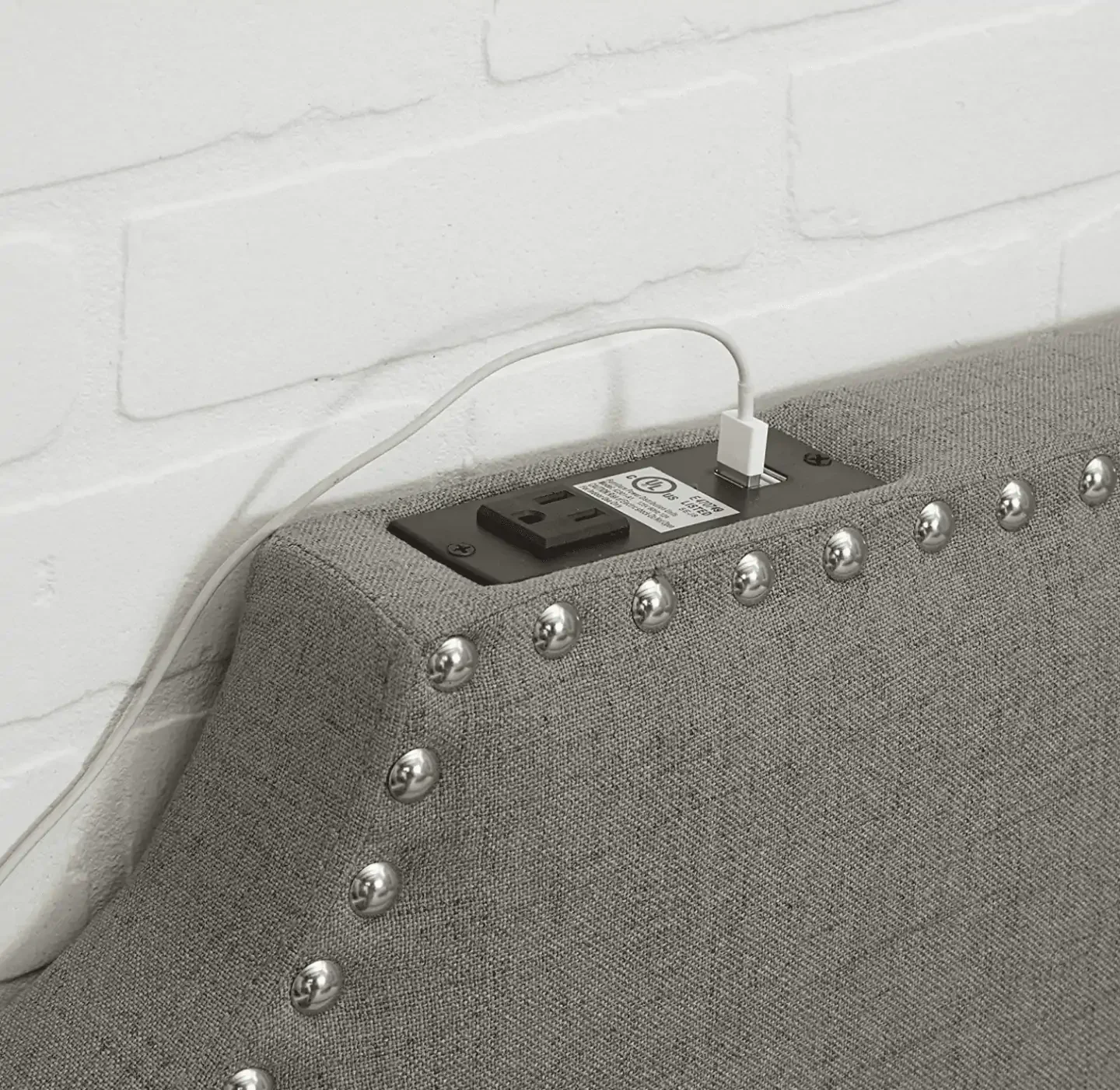 Simple and timeless, this gray slat headboard will work any dorm bedding color scheme and is super affordable: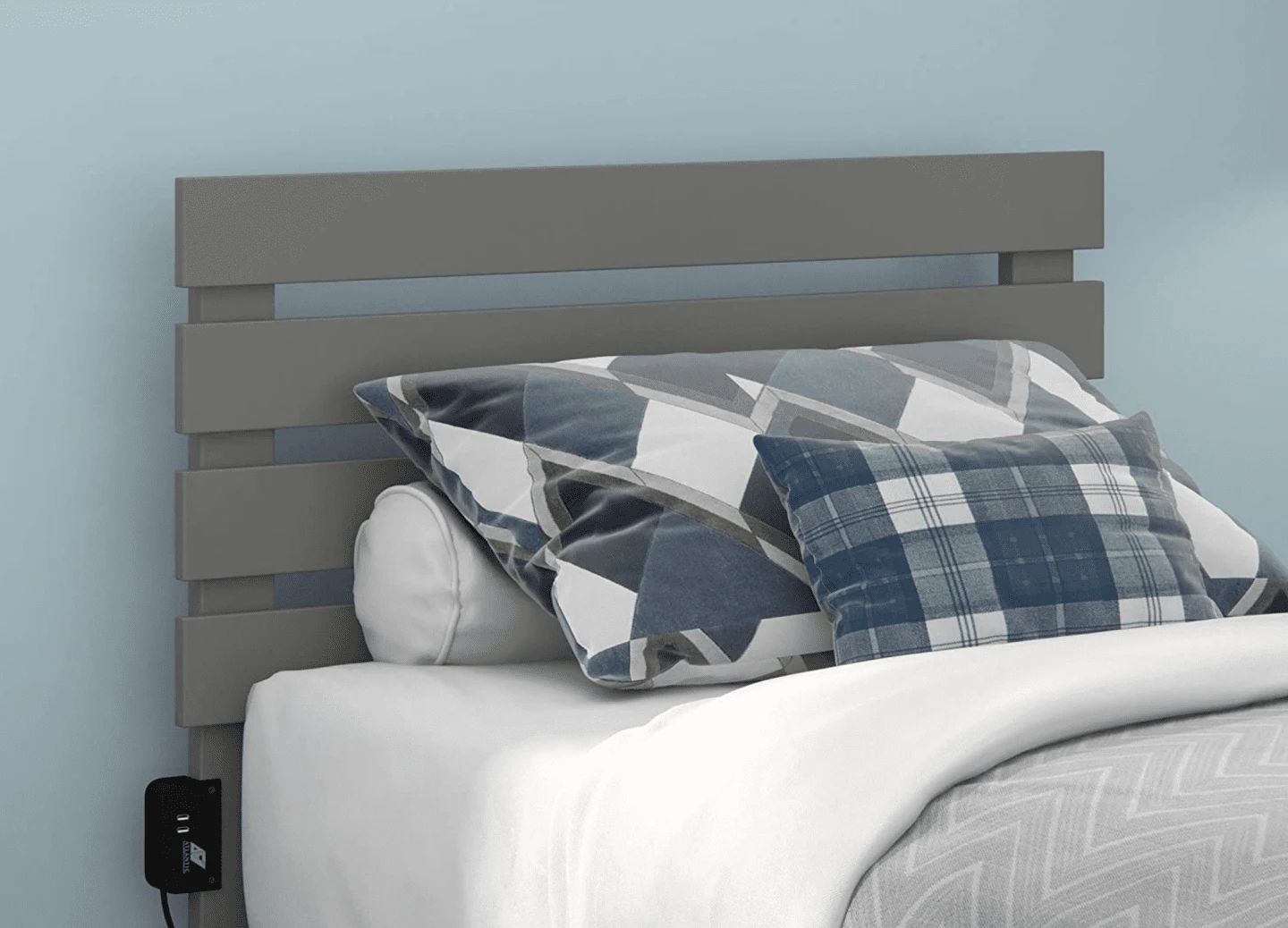 I love the rustic look of this headboard, which is perfect for guys as well, and it even has a built-in light for a triple function headboard. Talk about an easy way to solve the lack of lighting found in dorm rooms.
Pin for Later!
Upholstered Dorm Headboards
If your college student is used to having a stylish room at home, then an upholstered headboard is the way to go!
Often these are velvet headboard kind of products that come in different shapes and silhouettes. Overall, it'll look and feel luxurious plus will be comfortable to lean on during study sessions.
These peel and stick headboard cushions allow you to create the perfect size and color combo in not much time. Mix and match colors for a unique eclectic vibe.
Oh so glam! Button gathered fabric and a gorgeous silhouette make this headboard a luxe addition to someone's first dorm room.
A warm cognac faux leather headboard when paired with gingham or plaid is the perfect option for that preppy student in your life. And it's under $60 AND the height is adjustable.
Love modern design? I love how this design melds a cushioned headboard with metal for a modern, slightly industrial look.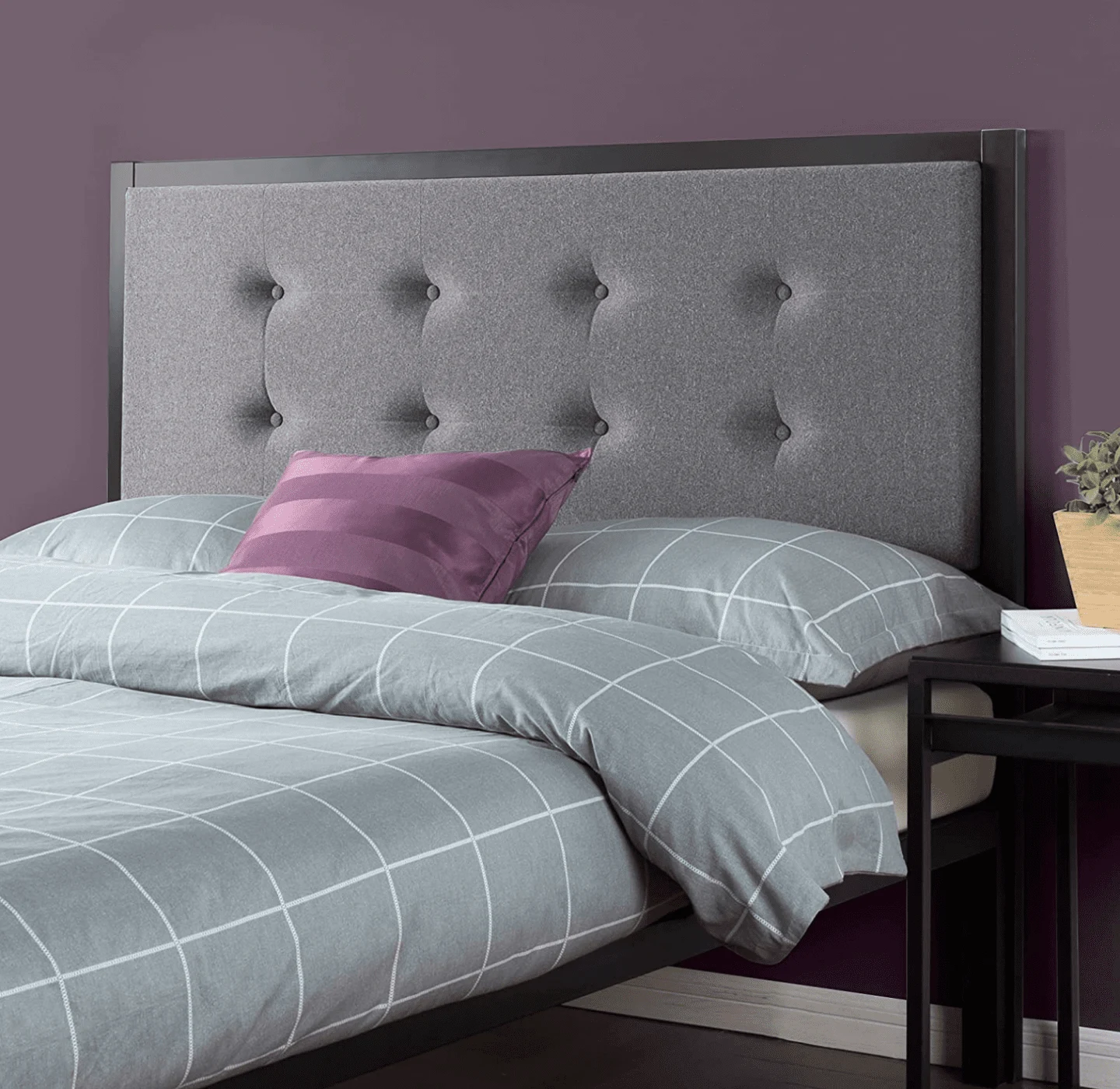 Pink lovers will rejoice over this super feminine headboard with crystal button tufts. Channel your inner Elle Woods with this glam headboard.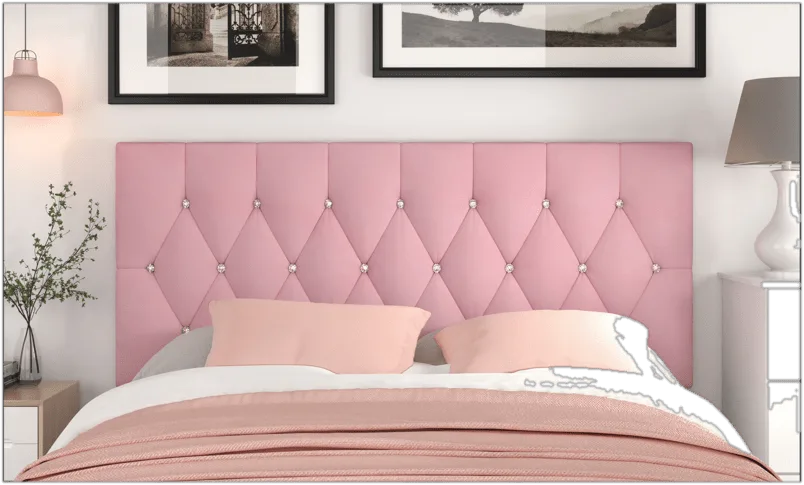 Greek Key is timeless, preppy, classy and a solid choice. I love the nail heads paired with gray and could imagine this Greek Key headboard with fun pillows to add a pop of color.
Tapestry Dorm Headboard Ideas
Tapestries are posters of today for this generation of college kids. Most tapestries are easily found for under $20 and in any theme or color you can imagine.
Moreover, tapestries are a great way to fill up a ton of wall space and the good news is that they can easily be swapped each semester for a new one to change things up a bit.
For the budding science major, this butterfly botanicals tapestry has a vintage feel thanks to the monochromatic design.
A different take on tapestry is going boho chic with a macrame wall hanging to use as a bed headboard. Clip on cute pics or add vines or florals for further cuteness.
Bookworms will love this library book tapestry that takes them to a magical world in a forest. Totally gives me Harry Potter vibes.
Sports are one of those things that unite college students. So you can rep your future alma mater or go for a classic All-American baseball tapestry.
It's no secret I am a massive Francophile, and if I were to decorate dorm room for myself, I'd definitely incorporate this Parisian Eiffel Tower tapestry. It blends in outdoor elements, florals and Paris. What more could I ask for?
If you have a special gamer in your life, this gaming tapestry will be a beacon for them to find other gamers in their dormitory to hang out with and make friends with.
Dorm Decor Headboards with Storage
Storage is so critical in a shared dorm room, so picking an over the bed storage solution makes a lot of sense. Not only does this add storage, it also adds opportunities for decor items such as succulents, picture frames and spirit gear for your school!
Please note, SAFETY FIRST. Do not put anything super heavy on these shelving kits such as printers or tons of books, and absolutely follow the manufacturer's instructions for assembling and securing or anchoring.
This super simple white headboard may not have a ton of unique style, but it is so practical for extra storage. With this type of headboard, the decor and pillows will be the focus for sure.
I am smitten with this gold etagere type over the bed storage option. It's glamorous, functional and so pretty! This item would definitely have good resale value on sites like Facebook Marketplace or OfferUp.
A more industrial feel, this black wire storage headboard with storage packs a ton of functionality. It includes a place for your backpack and you can clip on velcro pocket organizers to shelf sides to add even more storage.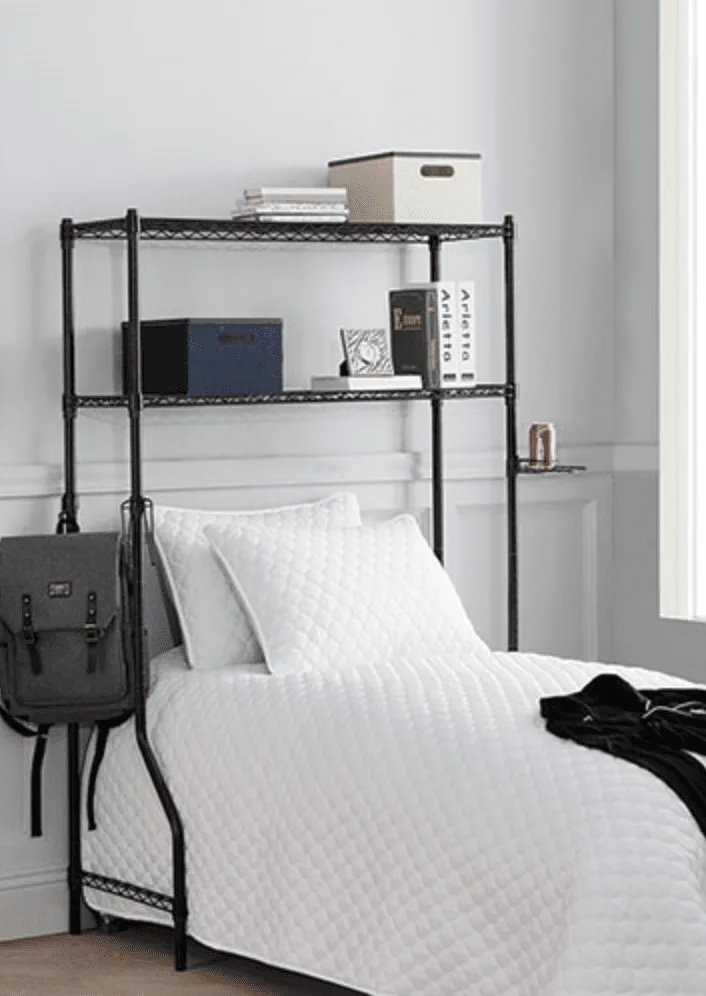 ---
Related Posts You May Find Useful
These posts feature renter/student friendly tips and tutorials.
---
Decal + Peel and Stick Headboards
Removable wallpaper and decals can definitely be used to define and create the illusion of a headboard. You might be thinking, aren't these essentially giant wall stickers? Essentially, yes.
There are SO MANY stylish options out there! Here's a few of my favorites that stood out to me.
This fun floral headboard decal would be uber beautiful when paired with a solid velvet euro sham for a rich, luxe look.
The florals give tons of colorful options to choose from, or you could always pair florals with a classic striped pillow sham for a coordinated look.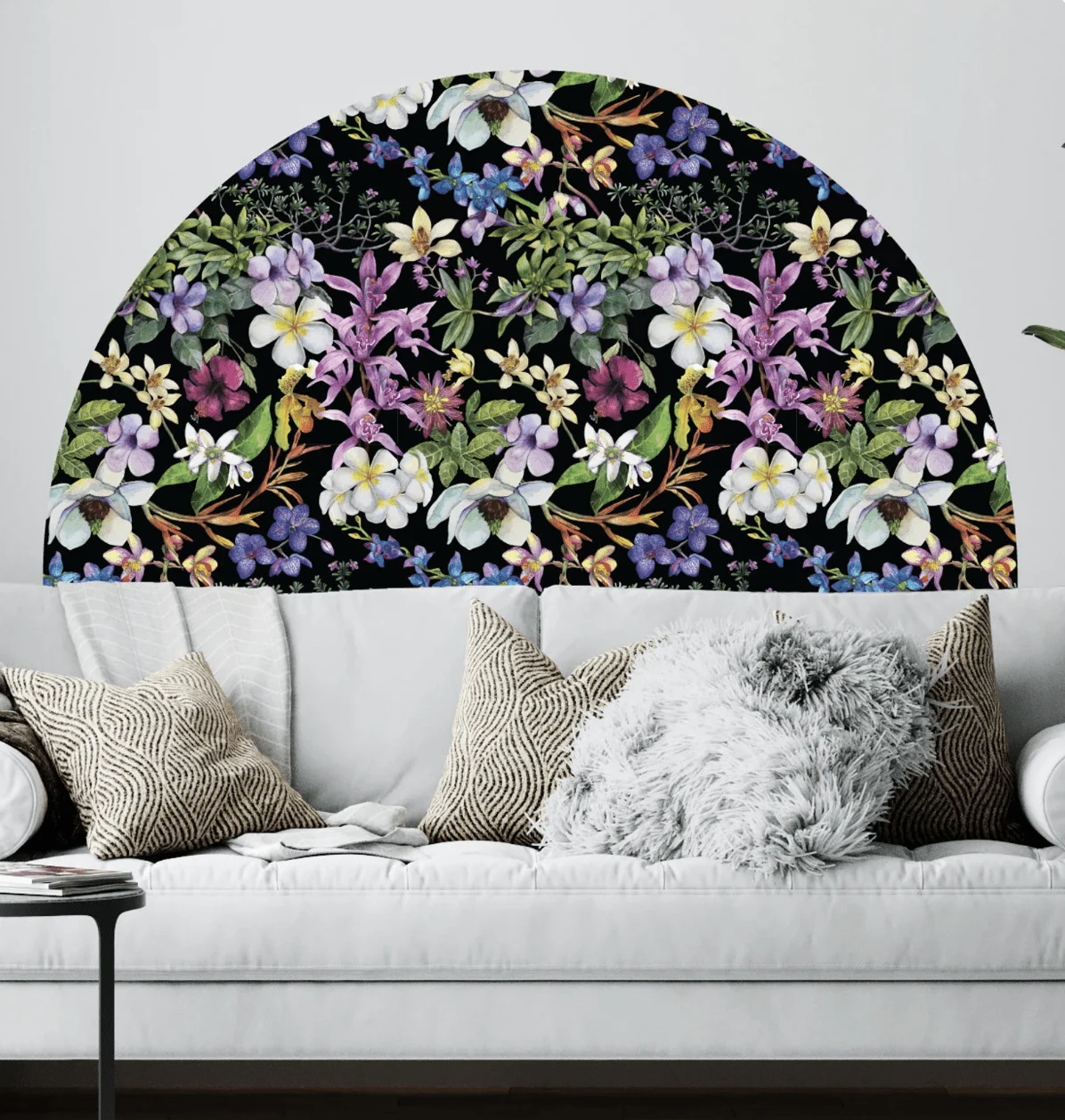 Eclectic and boho come to mind with this simple arched wall headboard decal. Depending on how tall the decal is and how high you put it on the wall, you could give yourself a giant headboard that adds interest and makes a bold statement.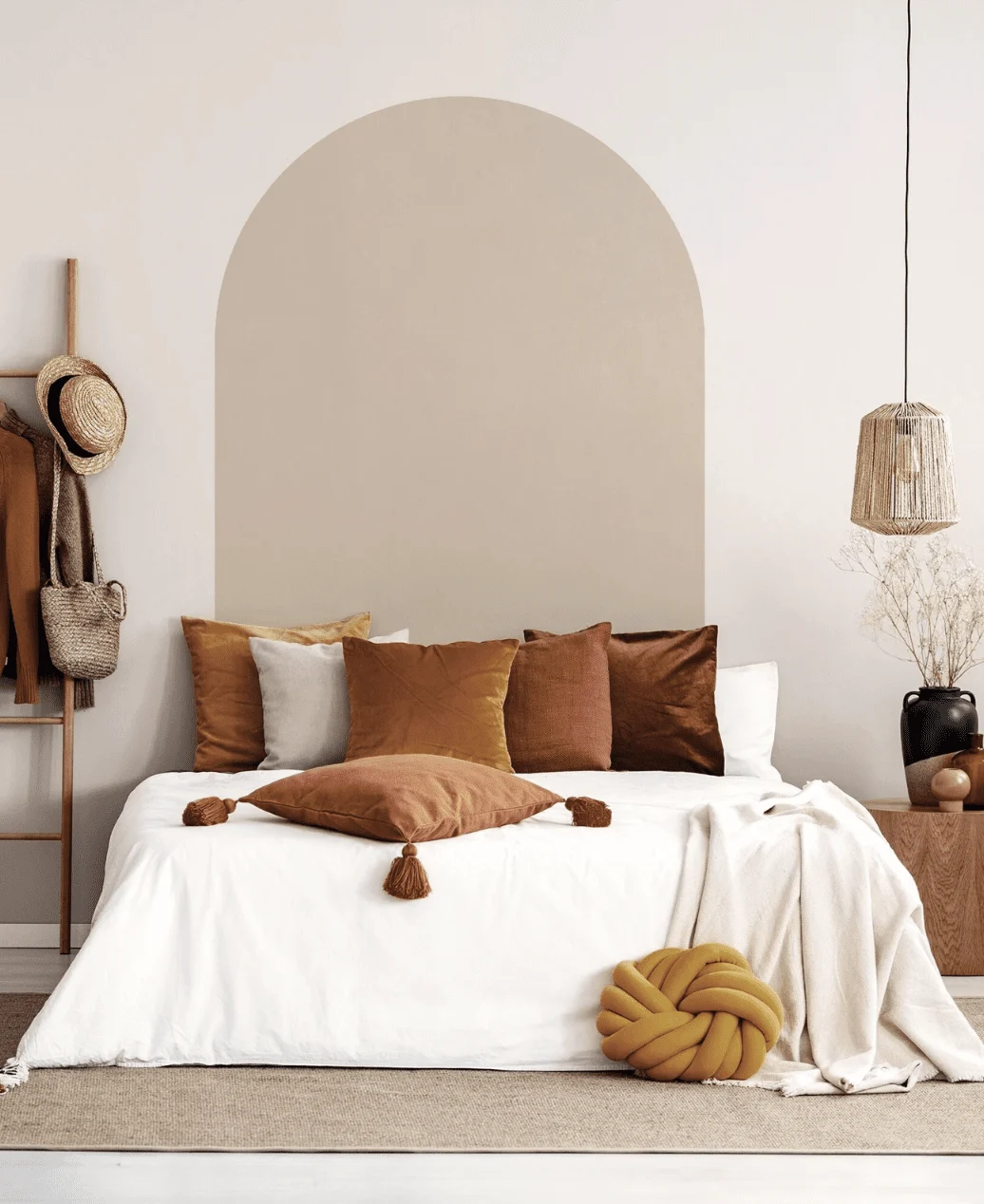 While I'm not known for loving rustic or farmhouse style, I do know there are many students out there who love the warm, comforting style of this decor, so these shiplap style peel and stick tiles would be so fun to create a headboard. You could even add these to plain drawer fronts for a coordinated dorm furniture look.
Wooden Dorm Decor Headboards
These are not your plain, boring wooden headboard options below. I found two cane options plus another that has a carved, worn medallion look.
Since these are a little bit more of an investment, I kept in mind selecting headboards that had staying power in terms of style, brand and quality for future apartments or to sell on a secondhand furniture marketplace.
I recently found a headboard similar to this one below, and you've just gotta love the black and cane look. It's chic and warm. New with a nod to vintage style. This style will be around for awhile. If you're looking for coordinating pieces, I suggest this line from Target, which is often on sale.
A free floating cane option, this retro inspired cane headboard gives me all the butterflies. You can pair this with any decor and it'll look great.
In the future, you could even use it above a bench or in a dining room for a decor piece. Totally worth the splurge.
I love this worn heavy duty carved headboard and could see it paired with terra cotta colors, macrame and some unique Southwest inspired textiles. This would be fun to pair with bold bedding and a coordinating washable rug.
Pillow Headboard Options
If you're on a tight budget and not really a tapestry kind of person, meet the headboard pillow.
Perfect to lean back and study on or watch TV with your roommate, these pillows are comfy and perfect to throw on a sofa or even on the floor once you transition to an apartment. Plus, when you move out there are all super lightweight to carry.
For the price, this is a superb headboard option. You'll see many Instagram and TikTok home influencers use several of these on a wall to define seats an eat-in dining nook, but just using ONE makes for a lovely headboard.
Not going to lie, I may buy this next pillow headboard featured. The wedge makes it perfect for reading in bed, BUT then you add in an adjustable bolster AND a pocket and you've sold me. Versatile, simple and classic. This is a for sure winner.
Bold, deep green and peacock hues are in right now, and that's why I recommend this cyan bolster headboard pillow. It'd be useful on a larger bed or couch down the road, but is totes comfy for now.
Helpful Supplies for Dorm Move-In Day
No matter if you buy one of the cute headboards mentioned in this post, or if you choose to look at some inspiration for DIY headboards, these are some items I'd recommend having on hand on move-in day. In fact, I'd recommend creating a little dorm move in kit and keeping all of the supplies in there (like a toolbox).
Most of these can easily be found at Dollar Tree, so don't feel the need to go to a big box store to buy fancy tools. For a dorm room, basic stuff will work totally fine.
Small level (for artwork or the headboard!)
Zip ties
Command Hooks (double check the weight limit)
Command Strips
Measuring tape (At least 12′)
Extension cord
Hammer
Screwdriver (both flat and Phillips head)
Allen wrench (common for IKEA and other ready to assemble furniture)
Duct tape (to tape down any cords on the floor)
I hope these 27 dorm decor headboard ideas have given you inspiration and a good starting point to creating a productive, stylish dorm space for you or your college student.
In the end, I wish you or your student a successful year at college and remember to make lots of memories, but most importantly, MAKE GOOD CHOICES. Have a great one!