I'm all for splurging on certain things, but other times it is fun to head to Dollar Tree and do a little dollar store DIY to save money. Dollar Tree organization is easy due to their vast inventory.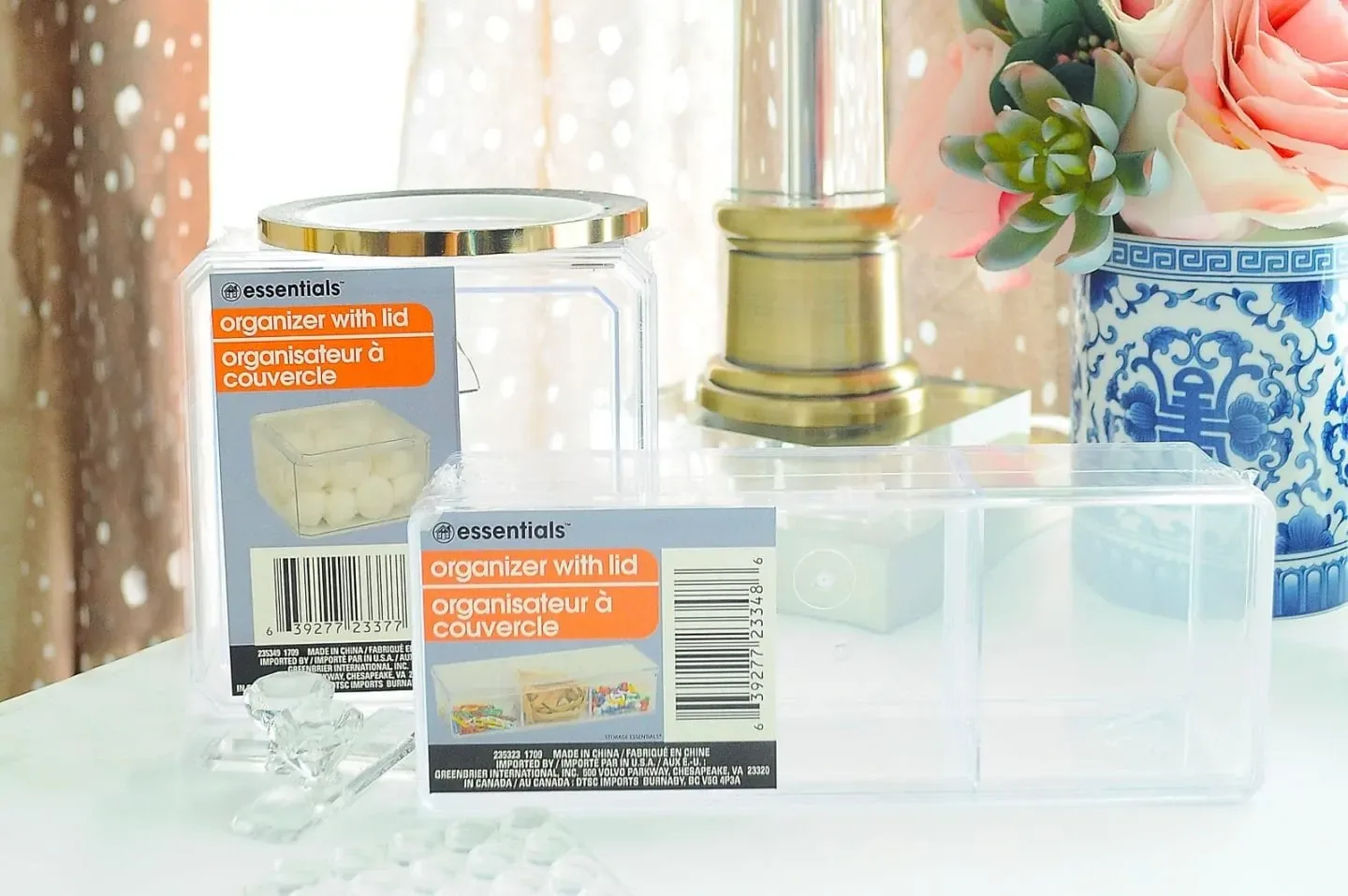 Dollar Tree Organization Ideas
I went to Dollar Tree for organization supplies with the mentality that I had to make something I truly needed and not just something to post about.
I've been annoyed at my lack of small stuff storage in my office and in my bathroom.
You know, the kind of containers where you want to store some paper clips, cotton balls, q-tips, bandaids, etc.
I found some acrylic/plastic/lucite containers that were perfect for the small stuff. And though they're perfectly fine as is, I wanted to fix my main issue with this type of storage…the lids!
Given they only cost a whole dollar, the lids seemingly always crack from repeated daily use.
I wandered the organization and storage aisles at Dollar Tree, and at an end cap they had these cute crystal Command Hook knobs that gave me an idea.
And at home I knew I had some (affiliate links) gold mylar tape and gold washi tape, so I was set. I paid my $4 plus tax for my two acrylic boxes and two knobs and was on my way home.
If you don't have gold foil tape at home, Dollar Tree did have some metallic/glittery type tape in their crafts section.
This project is so easy, and besides office or bathroom storage, this would be darling in a little girls room for her jewelry, or on a nightstand or vanity area.
Plenty of storage and organization options for these affordable containers.
DIY Dollar Tree Storage
Here are the supplies needed:
Instructions:
1.) Start by carefully removing the plastic from the acrylic storage/organizer container.
Place the clear bumpers, if you're using them, under each corner to protect your surfaces and counters.
2.) Remove the lid and do a dry fit of where you want the crystal knob to go. Once you're ready for permanent placement, cut the semi-circle end of the clear command strip that would be used to pull it off the wall (you don't need it nor want it to show).
3.) Then mount the strip onto the knob and put the knob on the lid.
Once you place the knob, it is hard to move the position, so be careful!
4.) Using your gold craft or mylar tape, place a continuous strip around the bottom part of the container or organizer.
I used some really thin mylar tape because I wanted the three stripes to look "real". If the tape goes on crooked, gently peel it back and try again.
Pick one side to be the "back" and have all the seams start and end on that side. You can do as many, or as few, stripes as you'd like. I did three and tried to space them equidistant.
5.) Place the lid back on and marvel at your glamorous dollar store organization and storage creation.
The simplicity of the design doesn't scream "dollar store" organization, and given that it's mostly clear, it blends into any space.
I love being able to clearly see what is inside, and overall it helps keep my office and craft space more organized.
And you can't beat the function for only a buck! I love having these little storage compartments to organize small odds and ends with.
Or use one larger one for odd shaped items.
Ultimately, these beauties are affordable, blend right in, and cost next to nothing since it's mostly dollar store products.
Other Organization Tutorials
Small Closet System DIY Installation
Small Closet System DIY Installation
There's plenty more inspiration to be had for just a few dollars by clicking over to the other organization projects linked below!
Another trip to Dollar Tree may be in order soon.
This is our Bliss || Southern State of Mind