This is a sponsored post written by me on behalf of Cricut. All opinions are 100% mine.
You all know I've been hit with the gardening bug lately, so making some DIY garden markers with my Cricut Maker has been on my to-do list.
I adore my Cricut Maker, and people are always surprised that I use it for anything and everything but paper crafts! This was my first time using the Cricut Maker with their cherry veneer sheets, and I was a little nervous about using the wood sheets, but it was such a breeze.
Cricut Maker: A Cutting Powerhouse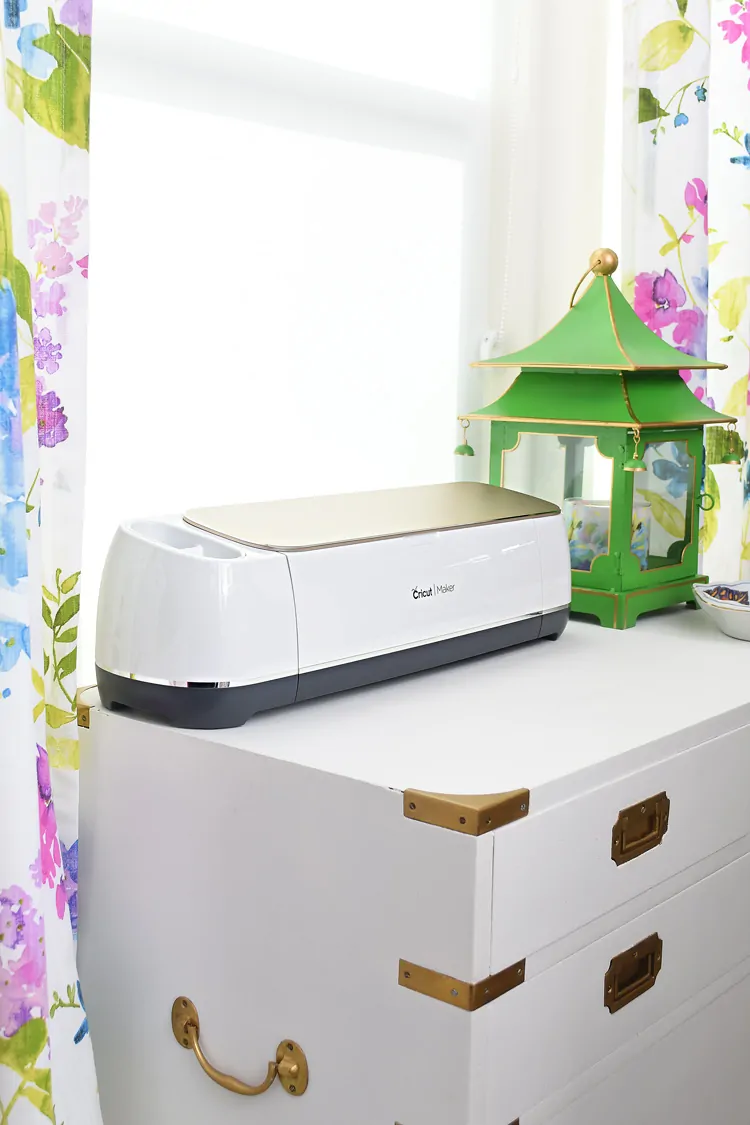 Today I'll be showing you all my simple DIY garden markers using wood, but did you know the Cricut Maker can cut a whole smorgasbord of materials?
Here's some examples of materials/mediums you may not have thought of along with an idea or two next to each type to get your creative wheels turning:
Leather: make cute coin purses or wallets
Felt: create your own cut outs for simple sewing projects like felt vegetables for children
Crepe paper: perfect for those beautiful, delicate tissue paper flowers used for party decor
Adhesive vinyl foil: add decorative, metallic elements to votive holders, vases and wedding decor
Basswood: create model airplanes or wooden monograms and die cuts you can paint
Cherry Veneer: DIY garden markers (see tutorial below!)
Various fabrics/interfacing: perfect way to cut out a bunch of strips to make your own festive garlands or speed up creating sewing templates
Iron-on vinyl: add custom designs to pillows, t-shirts, baby onesies, aprons
Outdoor vinyl: personalize your mailbox, add a decal to your car window, or something cute to your front door
What Else Can the Cricut Maker Do?
All of the projects I just mentioned focus on the cutting aspect of the Cricut Maker, but I would be doing this fabulous crafting machine a disservice by not mentioning the non-cutting things it can do.
Deboss: create a letterpress inspired finish on gift tags or add monograms to some stationery
Perforate: perfect for creating tickets or tear-off chore charts
Draw: add any design imaginable to paper for your own greeting or note cards
Score: useful for creating envelopes, origami art or anywhere you need a crisp fold
Engrave: beautiful for gift giving and home decor projects
Cricut is constantly innovating and finding ways to add more tools and features to the Cricut Maker arsenal to make it even more versatile. These options are what make this machine such a great value and investment.
Cricut Design Space & Cricut Access
I work with vectors and SVG files as part of my day job, so I am comfortable making my own designs.
BUT, nothing beats the convenience and ease of Cricut Design Space (software used to tell your machine what to do) and Cricut Access (where you can find tons of images and fonts).
I have an annual subscription to Cricut Access, and I love the access it gives me to thousands of high quality images and fonts that can be cut, drawn, etc. It's well worth it to not have to hunt down an SVG file. In fact, all of the images I used for the DIY garden markers can be found in Cricut Access.
I love that you can use Cricut Design Space on your computer or your smartphone.Yes, your smartphone! That's how simple and quick it is for whatever project you can imagine.
What I also like about Cricut Design Space is how easy it is to use. I don't feel overwhelmed when I'm working on a project, and it is very simple to weld, slice and group my artwork to get great results once I send the project to cut, draw, etc.
The images, assets and fonts are easy to mix, match, and customize with Cricut Design Space to put my own spin on anything I make.
DIY Garden Markers: Backyard Patio
Here's the whole gang in my backyard container garden. These DIY garden markers make a fun statement and incorporate my signature chinoiserie style even in the great outdoors.
How great would these be for gifts or party favors or a project with your children to start your own veggie garden? It's so simple and versatile!
The only bad thing is that you're going to want to make these for all your plants, and then you want to buy more plants and it's a vicious cycle. But when your plants can look this chic and pretty, then why not?
If you want to get more Cricut inspiration for your at home projects, you'll definitely want to head to inspiration.cricut.com. They have some amazing ideas that will have you creating beautiful things for all the rooms in your home.
Happy crafting!