I LOVE how these DIY Dollar Tree blue and white chinoiserie mod podge (aka: decoupage) Christmas ornaments turned out! Talk about budget friendly decor for the holiday season, and I have the full tutorial for you all below.
The great thing about this particular ornament tutorial is that you can apply it to ornaments of all sizes. I include examples of four different sizes in this post.
How to Use DIY Chinoiserie Ornaments
Once you start making these and get into a rhythm, you'll find you can knock out a ton of them quickly. This also a great, no concentration required craft for a girls night or with your kiddos.
These DIY ornaments are also very versatile. The craft supplies to make these are super cheap (seriously, I now buy my ModPodge at the dollar store).
This means you can make a ton of them to use as vase filler, gift tag adornments for presents, ornament wreaths, accents for shelfies or mantle decor, place cards for a beautiful dining table set-up, etc.
Tons of options, super easy, and you literally cannot mess these up.
Overall, I say these look best when you have a lot of them. They're showstoppers because of how timeless and chic blue and white chinoiserie is, and these DIY ornaments will be the crowning jewels of your holiday decor.
Tips for Making DIY Chinoiserie Ornaments
A few quick notes before we dive in to the meat and bones of this DIY chinoiserie ornament tutorial:
-I recommend using silver or white ornaments because the color of the ornament will peek through. If you want a slightly warmer hue, gold or bronze ornaments work better.
-Stick to shatterproof ornaments that are smooth (not textured with glitter or designs).
-Embrace that these will be imperfect. Given the napkins are thin, it's hard to get them perfectly smooth.
-Let them dry completely without touching one another! They do dry quickly, but allow each ornament to dry on its own so they don't stick together.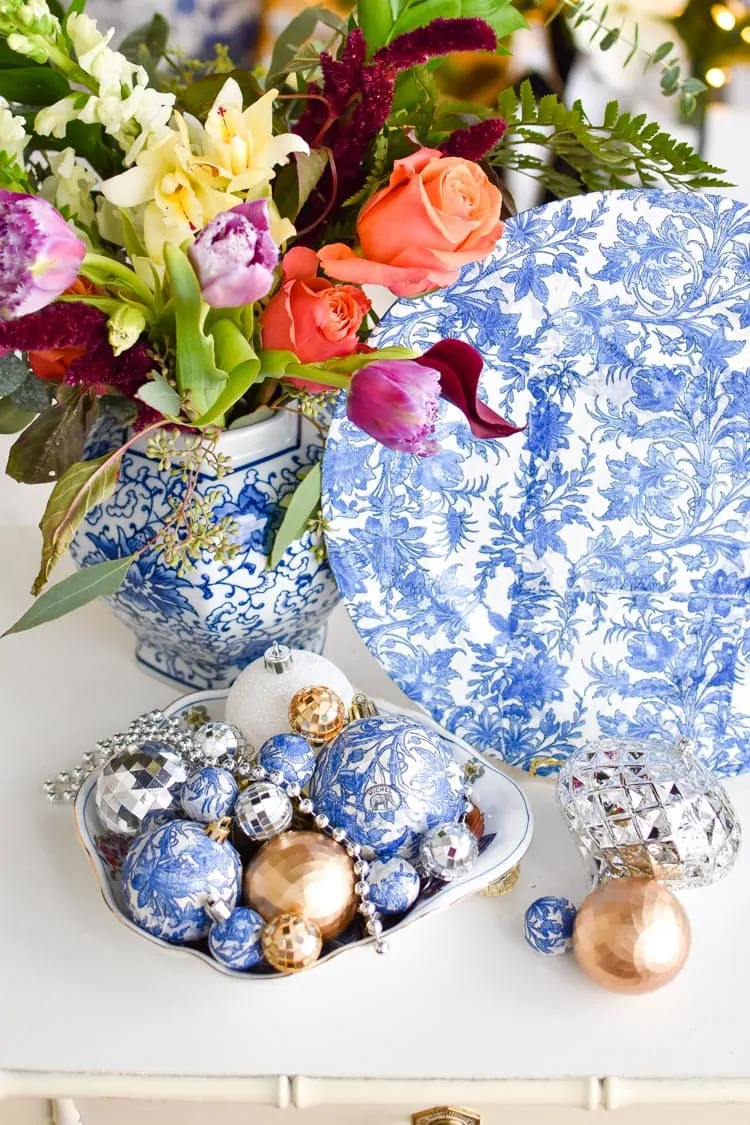 Love Blue & White Chinoiserie?
Here's another fun DIY project for you. Next time you're at the dollar store, pick up some simple charger plates to create your own DIY blue and white chinoiserie chargers. I have a step-by-step tutorial to guide you.
This post contains affiliate links. Thanks for your support!
DIY Blue & White Chinoiserie Ornament Tutorial:
And now here's the supply list and step-by-step process of how to make these DIY blue and white ginger jar
inspired Christmas ornaments.
Please note I linked the supplies, but truly most of these items CAN be found at the dollar store. If you need stylish napkins, look at Tuesday Morning, HomeGoods, etc. where they have a large variety for $3-4 a pack.
And that's all there is to it, friends.
I made all of these in under an hour one evening when I couldn't sleep. The little disco ball looking ornaments are also a Dollar Tree find. They come six to a pack for $1.
Another idea for using these year round is to rotate the DIY blue and white chinoiserie ornaments so that the ornament topper faces down. Then they just look like miniature carpet balls/vase filler. Throw some on a tray or vessel, and you have year-round decor.
My real motivation for making these DIY Chinoiserie and ginger jar holiday ornaments is that ready made ones can be prohibitively expensive. I was able to make over 40 of them for under $12 or so.
The crisp blue and white pattern is busy enough that each ornament is unique and beautiful.
And here's another display idea for these beauties- they seriously look good no matter how you use them.
This is the first of several dollar store decor projects I've worked on for this holiday season. Here's a few of my favorite dollar store projects from previous years:
I also have tons of thrifty and glam decor ideas in my holiday posts from previous years below:
View My Christmas Tours Here:
2014 | 2015 | 2016 | 2017 | 2017 Dining Room