Today's tutorial may be my favorite Cricut Maker project I've made to date. Using their new Infusible Ink Transfer Sheets, I created some beautiful custom ceramic coasters for my fall décor and an adorable baby bodysuit (onesie) that I'm giving away over on my Instagram.
This year my fall décor features a ton of blue and white chinoiserie décor and florals. A bit untraditional, I know, but I assure you I also incorporated tons of pumpkins.
Cricut Maker Home Decor Projects
The Cricut Maker is a versatile tool for your DIY home décor needs—I've created monogrammed dinner napkins, a personalized lucite/acrylic memo board, custom party and dinner menus, debossed gift tags, and even napkin ring bows.
If you are needing inspiration for some unique and beautiful Cricut Maker Project Ideas, then you'll want to follow my Pinterest board.
Cricut Infusible Ink Transfer Sheets
I have been wanting to try out the new Cricut Infusible Ink Transfer Sheets since they were announced earlier this year. There's plenty of solid colors to choose from, as well as some fun patterned sheets.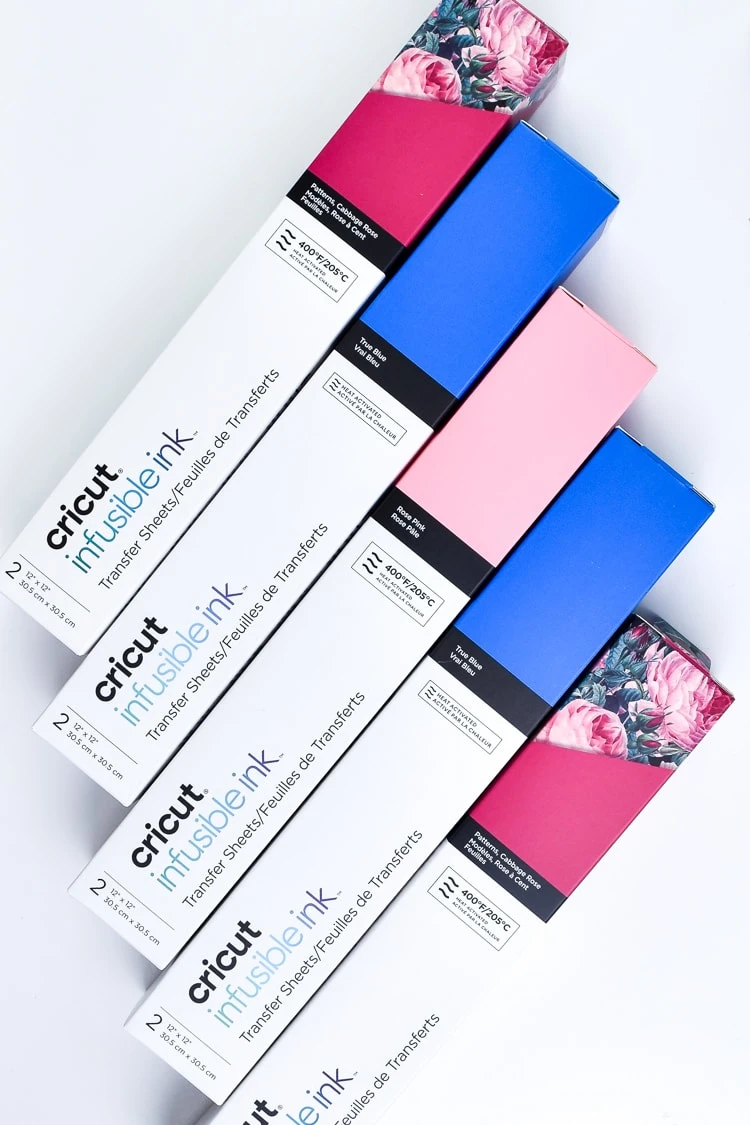 To get your creativity brewing, Cricut offers plenty of blank products for you to infuse ink onto including ceramic coasters, baby onesies, tote bags and adult t-shirts.
For this tutorial, I'm using the crisp white ceramic coasters that come four to a pack and a baby bodysuit (onesie).
I ended up using the blue ink transfer sheets and the floral cabbage rose ink transfer sheets to see how both the solid and patterned sheets work.
I've been smitten with some pricey blue and white coasters from an expensive decor store, so I used those loosely as my inspiration for two of the coasters.
Using a pagoda SVG I found online as the focal point, I then found some branches and cherry blossoms in Cricut Design Space that I welded together to create the decorative elements for the sides of the coaster.
For the other two, I went with a classic monogram using this free font. Because I love all things gold and shiny, I also added a gold rim to my coasters for a glam look.
Using the same cabbage rose infusible ink transfer sheet, I also had my Cricut Maker cut out a cute pagoda for a chinoiserie chic girly baby onesie.
Overall, these are Cricut Maker Infusible Ink Projects that are great for home décor, gifts for bridal/wedding showers, teachers, colleagues, and friends, or a fun girl's night in soiree.
Infusible Ink Transfer Sheet Tips
Make sure your hands are clean and dry whenever you are handling the ink transfer sheets. This also means free from lotions, oils, etc. on your skin. Try not to directly touch your designs once they're cut to prohibit the ink from transferring off the sheet.
I did want to address something that sort of gave me pause when first working with these ink transfer sheets—straight out of the package, the sheets look a little dull.
The colors do absolutely come alive once you use the Easypress and apply the ink transfer sheets to the item, as you can see below.
You'll also want to become familiar with product by watching this overview video followed by this tutorial video.
Initially I did a really intricate design—don't do that. The ink transfer sheets are paper-like, so simple is better to ensure your sheet doesn't rip/tear during the cutting process.
I also had to change the pressure to "less" from the default setting so the blade didn't tear through the liner.
I also found the instructions on the Cricut website to be super helpful with the temperature and time settings for the Easypress 2, as well as the order in which the layers go to ensure the transfer onto the item is successful.
DIY Infusible Ink Coasters Project Tutorial
I love how my coasters came out, and I wouldn't hesitate to use these on my dining table because they are that gorgeous.
The colors are vibrant, the ceramic is crisp, bright white, and it didn't take too much time to whip these together one afternoon.
I still have one more pack of blank coasters, and I'm debating which designs I'll put on them. Probably another chinoiserie inspired design, who am I kidding, right?
DIY Infusible Ink Baby Onesie Project
You're essentially following the exact same steps as above in terms of getting your design ready, but you can likely go a little bit bigger on the design for the baby bodysuit/onesie.
My pagoda ended up being about 4×4 inches overall for the 3-6 months sized onesie.
To prep the onesie, you'll want to use a lint roller all across the area you'll be applying the design to in order to remove any dust or fibers that can ruin the transfer.
You'll also need to insert a piece of cardstock IN the onesie to protect the back layer.
BEFORE you put the design, put a sheet of butcher paper over the onesie and apply the Easypress 2 for 15 seconds to get the area warmed up and pressed.
Now, you'll put the design liner side up (color/design side down) on the onesie and cover it with a sheet of butcher paper.
Apply the Easypress to the area at 385 degrees for 40 seconds making sure to not move it at all during that time or once the timer goes off. You do not want a ghosting effect!
Once the timer goes off, gently and carefully remove the Easypress and allow the item to cool before removing the butcher paper and liner.
As you can see, the color is vibrant and crisp, and due to the infusible ink technology it'll never crack or peel.
I'm impressed by the professional results achieved with these sheets on both ceramic coasters and this baby onesie.
I hope this tutorial inspires you to buy some Cricut Infusible Ink transfer sheets and create beautiful projects!
I'll definitely be sharing more tutorials using these sheets as the holidays approach, so make sure you subscribe to get the tutorials straight in your inbox.