It's August, so I think it is officially acceptable to post my first fall craft tutorial for a DIY blue and white china inspired chinoiserie pumpkin.
What I love about this DIY chinoiserie pumpkin is that it is easy, quick and so affordable if you can snag paper napkins for a great price and make a ton of them at once.
In case you're wondering, I purchased this size of blue and white napkins, and it's served me well for a HEAP of crafts.
I'm still on the same pack of napkins I bought to use for these DIY blue and white chinoiserie Christmas ornaments AND these DIY blue and white charger plates that were two of my most popular blog posts of 2018.
Chinoiserie décor, especially affordable chinoiserie décor you can DIY, is super hot right now in the interior design world. I love that this modern chinoiserie decor trend is in full swing because it's absolutely timeless and looks great no matter your style.
I think part of the reason modern chinoiserie is kind of a thing is that blue and white china, tobacco leaf and all of those patterns look good with literally any decor style. Farmhouse, eclectic, bohemian, rustic, glam or traditional with a twist…it simply works!
If you're looking for like-minded chinoiserie décor lovers, you'll want to make sure and join my new Chinoiserie Decor Lovers Facebook group. We talk about our thrift hauls, estate sale finds and share our mutual love of all things blue and white, including ginger jars, pagoda mirrors, Staffordshire dogs and all things chinoiserie.
Decorating with Blue & White Pumpkins
These chinoiserie blue and white china inspired pumpkins will look great in small clusters in dough bowls, on garlands on a mantle, on wreaths or clustered on top of cake pedestals, books, or placed randomly in vignettes all over your end tables in your home.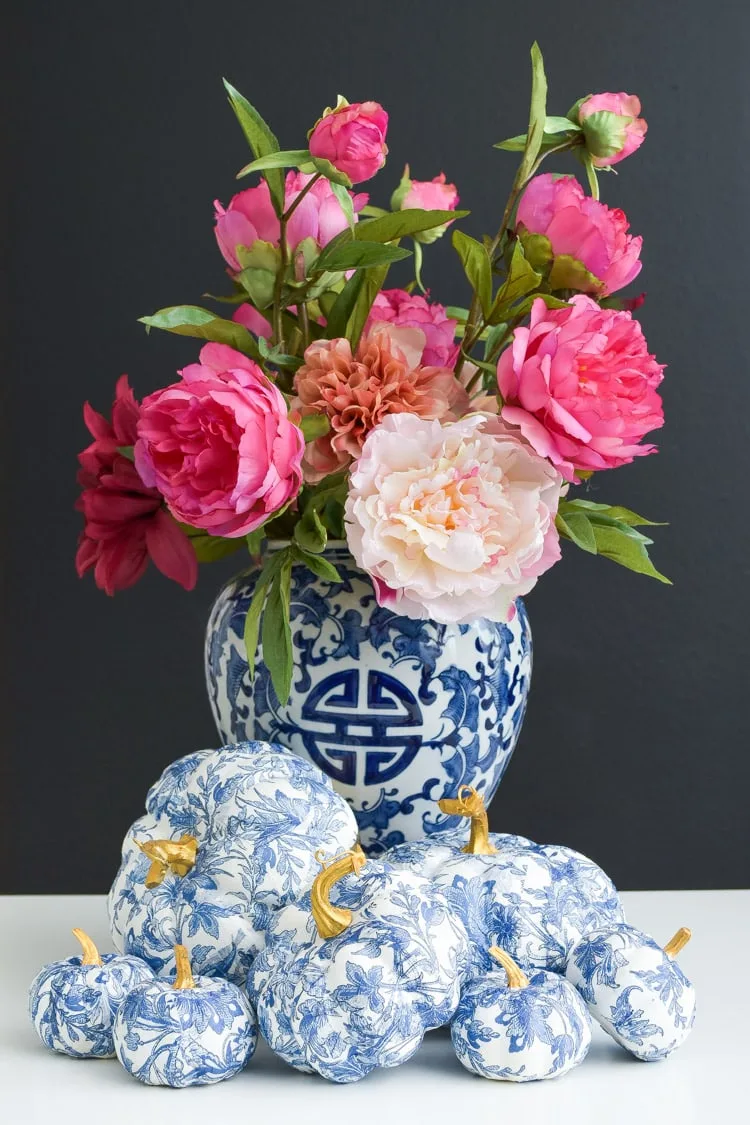 You could also pair these blue and white chinoiserie pumpkins with traditional orange pumpkins since orange is a color that works very well with blue and white. Velvet pumpkins would also look super luxe next to these pumpkins because of the contrast in patterns and textures.
For a more feminine vibe like mine, I'd suggest pairing the DIY chinoiserie pumpkins with big, colorful florals and blooms like I've done for these shots in this DIY pumpkin tutorial today.
If you made my Pinterest famous blue and white chinoiserie ornaments, you can totally use them for fall in a bowl as vase filler by simply rotating the ornament hanger to the bottom.
Truly, I suggest doing whatever makes your heart and home happy. If you love it, use it, display it, enjoy it.
Storing Decoupaged DIY Pumpkins
I did learn a tiny lesson last year when I made about 100 chinoiserie Christmas ornaments—if you live in a hot climate (like South Texas), you'll want to store these inside somewhere and NOT in the attic or garage.
The glue will kind of activate and become sticky/gummy in the heat and your DIY ornaments, chargers, pumpkins or whatever décor you decoupaged or put mod podge on will stick together. They will be thick as thieves, and if you try to pull them apart you will likely rip the napkins right off. No bueno!
This happens even if you seal them, so I would adopt my approach and put them in a big Rubbermaid tote, Ziploc bag, shoe box or some sort of storage vessel and keep them inside.
I personally kept my DIY blue and white ornaments in plastic bags and slung them on top of a shelf in a closet.
DIY Blue & White Chinoiserie Pumpkin Tutorial
My pumpkins are from Hobby Lobby, and I snagged them in various sizes when they were on sale for 40% off.
When selecting pumpkins for this kind of project, you have to keep in mind that the color of the pumpkin will show through, so I feel it's safest to stick to white/ivory type colors for these projects. Silver or gold metallic works, too.
I also suggest picking pumpkins that are matte and rather smooth in texture so that you don't end up with unnecessary bumps, texture or issues when applying the paper napkin onto it. You want these to chinoiserie chic and uncomplicated!
If you're a little DIY apprehensive about fall crafts, or crafting in general, I assure you there is no way to screw this up. Don't overthink it and embrace the imperfections!
I love how these turned out, and you all know I love me some gold finishes, so I used some liquid gold leaf on the stems of each pumpkin. Blue, white and gold look so beautiful together.
And truly, promise you won't make just one of these DIY chinoiserie pumpkins? They look best in multiples in varying sizes, so make an afternoon of it and make several or host a girls night crafting party!
I have a few more variations using this same technique (with a twist!), so you'll definitely want to make sure to subscribe so you don't miss any of the affordable chinoiserie DIY tutorials I have planned.
DIY Chinoiserie Pumpkins:
If you're more of a painting type, I have a tutorial on how to paint chinoiserie pumpkins:
For you tobacco leaf china lovers (by the way, have you read my guide to tobacco leaf china or the guide to removing paint from a tobacco leaf lamp?), I created a tobacco leaf china inspired pumpkin last year by using vinyl and a Cricut.
And another super popular (it was featured by Oprah Magazine, House Beautiful AND Elle Decor) pumpkin craft of mine, is this gold dipped pumpkin tutorial: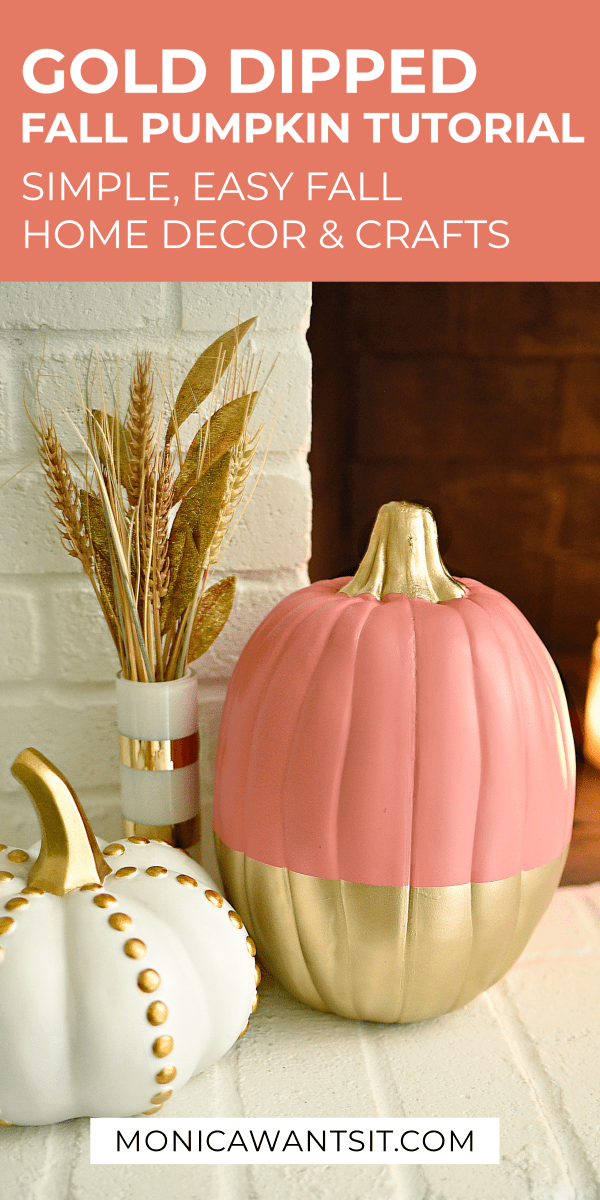 Not gonna lie, I'm totes in the mood for a pumpkin spice latte and some chilly weather.
Make sure to pin this on Pinterest or share on Facebook to spread the love. If you try this DIY chinoiserie pumpkin tutorial, share it on Instagram and make sure to tag me so I can show off your mad skills. xo!