I know it is early and HOT for a DIY chinoiserie pumpkin tutorial, but this little Cricut Joy project of mine got such amazing and positive feedback in my Instagram Stories, so I had to write up a tutorial to share with you all.
Now, I had zero intention of this being a blog tutorial, so I had to work somewhat backwards to create the content for this post, and I also ended up using some of the photos I shared in my stories for this DIY chinoiserie pumpkin tutorial.
Side note: this is not sponsored at all!
In other words, the process photos are kind of put together after the fact, but this is a simple project that is fairly straightforward.
Now, notice I said SIMPLE. I didn't say quick. This fall decor project did take me longer than I would have thought it would. If you've worked with vinyl and spherical/round type objects, you know it can be a little challenging.
I opted to NOT USE transfer paper– it was too hard on this kind of curved surface. I manually treated the decals as stickers essentially and transferred them by hand from the backing sheet to the pumpkin. Hence why I said time consuming.
Add in all the bumps and ridges of a pumpkin, and you'll understand quickly why this is more time consuming than a flat object. However, I absolutely guarantee it is worth it.
Cricut Joy for Fall Crafts
For this DIY chinoiserie pumpkin craft, I decided to use my Cricut Joy. It is small, sits on my desk almost 99% of the time, and it's perfect for quick vinyl decals for small home decor projects such as this one.
I used some Cricut metallic vinyl foil cut down to 4.5″ wide by 6.5″ tall and placed on my Cricut Joy standard grip (green) mat. I love that with the Cricut Joy I can use a mat OR I can use their Smart Vinyl which feeds directly into the machine and gives you a ton of extra length options.
I've made note cards, placecards, gift tags, storage/pantry labels, vinyl decals and even monograms to iron-on some napkins.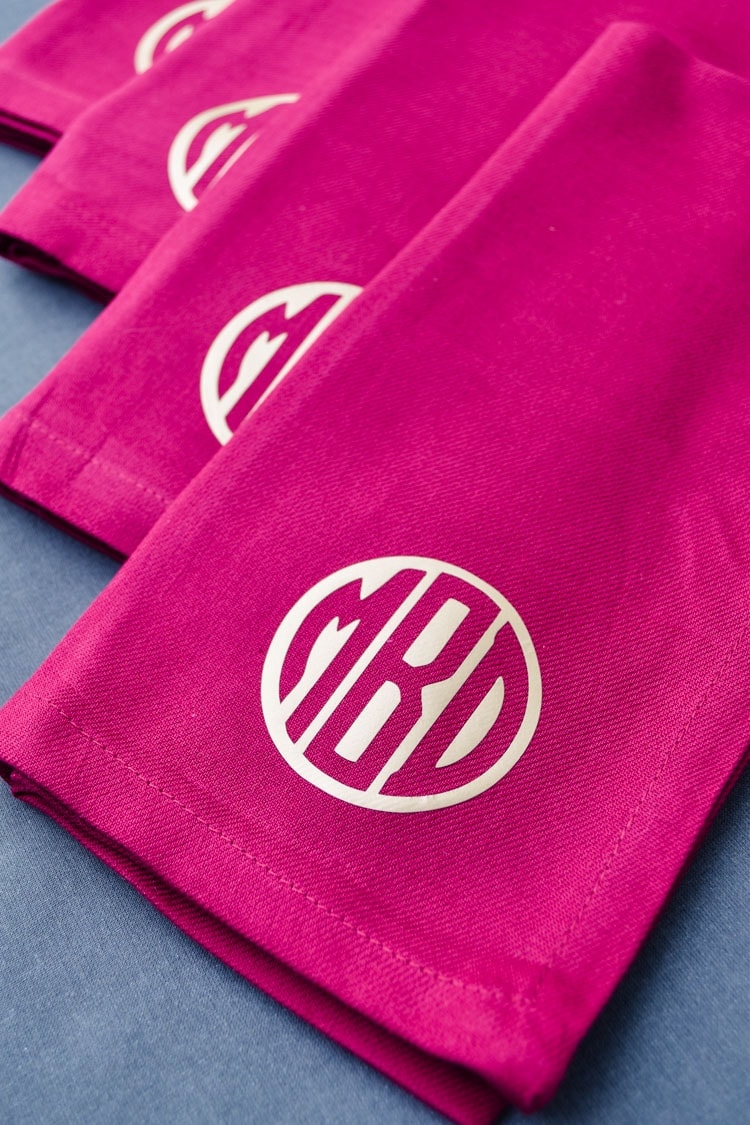 If you love doing simple, quick projects for your home, the Cricut Joy does PLENTY of stuff if the Cricut Maker intimidates you.
Also- for this tutorial I only used ONE image from Design Space. It really shows you how sometimes simple is better.
DIY Chinoiserie Pumpkin: Blue & Gold
I found these ceramic pumpkins in all their orange glory at a Goodwill store in San Antonio recently. I paid a whole $4 total ($2 each) for them, and I knew I'd find a way to make them pretty.
As much as I LOVE blue and white chinoiserie decor, I wanted something a little different. I published a very popular tutorial for how to DIY your own dollar store chinoiserie pumpkins last year.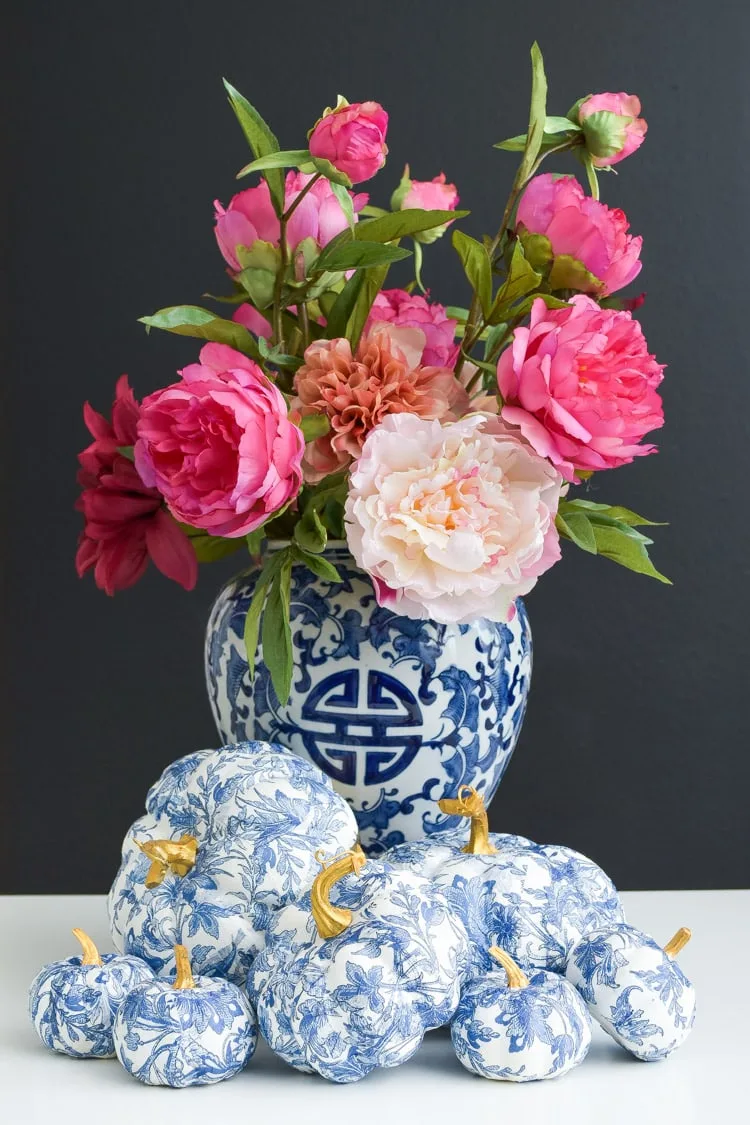 I wanted them to have gold details, be a really striking design and look beautiful with florals. I had a can of matte navy spray paint in the garage, gold vinyl, a Cricut Joy and thus this all came together beautifully.
I think I can safely say these pumpkins I created look high end, beautiful and will be a wonderful addition to my fall decor this year.
Let's dive in to this tutorial. If you want to see my Instagram Stories about this, I saved the details as a highlight titled "DIY Pumpkin" in my bio.
Fall Chinoiserie Pumpkin DIY Decor
I know this project on the surface seems bananas… WHO THE HELL would transfer intricate vinyl decals like this BY HAND? Well, trust me, I tried the transfer paper and it was just easier this way.
If the decal tore at all, I just overlapped it and you cannot even tell. I think I ended up accidentally tearing 3 of the 24 decals I ended up making for my two pumpkins.
I love the striking contrast between the blue and gold. Using matte spray paint was a great choice for this project- I do not think gloss would look that great with the foil, so definitely go matte or flat for this project, k?
With some faux florals, this whole pumpkin is sophisticated, moody, unexpected and totally chinoiserie chic!
I'd love to hear your thoughts about this! If you decide to try it out, let me know.
Fall Decor & DIY Ideas: